Details
According to Dean of Admissions Diane Anci, Kenyon's Class of 2021 is "a terrific tribute to the things that Kenyon values most. It is academically distinguished, among the most diverse classes we've enrolled, and its talent knows no bounds."
5,603  First-year applications received
460  First-year matriculants
19.8  Percentage of domestic students of color
8  Percentage of international students
19  Countries (including the U.S.) they call home
37  States they call home
9  Percentage of Pell-eligible students
69  Students with a relative who attended Kenyon
4.04  Mean high school GPA
40  Percentage of students who received need based scholarships
35 million  Total dollars spent on financial aid for all classes
It's Electric
Gambier is a new destination for electric-vehicle drivers wanting to charge their cars. Kenyon's Office of Green Initiatives partnered with Tesla this fall to install two Tesla chargers and a universal EV charger outside the Kenyon Inn, and they plan to install more outside the Kenyon Bookstore — an ideal place for drivers to grab coffee and a good read while topping off their cars.
Image credit: Steve Jurvetson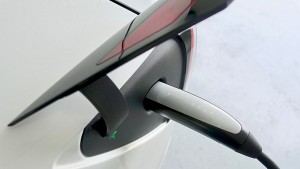 Washrooms fit for the Whitney
A sign posted in Rosse Hall directing guests to
"accessible restrooms" was meant to refer, of course, to facilities complying with ADA standards. Someone, however, chose to interpret "accessible" in the art-world sense of "easy to understand," and decided to provide another option: A second, smaller sign appeared, pointing the way toward "avant-garde restrooms" for those desiring a less pedestrian experience. No word on whether Marcel Duchamp's "Fountain" was a featured exhibit.
Cold Coyote
Visitors to the Brown Family Environmental Center might be in for a surprise if they raid the BFEC's fridge. Instead of ice cream and ice pops, the freezer contains a skinned coyote. "It was pretty tricky to get him in there," said manager Noelle Jordan, "because we also have a red-tailed hawk, a flying squirrel and five song birds." All of the chilled critters will become part of the BFEC's teaching collection.
'82
Abigail R. Esman describes living "the luckiest life on Earth," dividing her time among The Hague, Netherlands; Istanbul; and New York City "with forays to Paris and Gambier when I can!" She writes on art and design and on terrorism — "strange bedfellows, I know" — while doing some private art dealing and advising, and is currently shopping a book proposal on terrorism and domestic abuse, "which has had great feedback but no buyers — yet. Would love to hear from anyone, especially if you're planning a trip to Europe."
'05
Sara "Annie" Mark-Westfall moved to Berlin last year in her capacity as director of global program development for the Wildlife Conservation Society. In June, Annie and her husband welcomed a daughter, who joins a 2-year-old brother; all are enjoying "the sanity of German parental leave and family policies," she writes. Her monthly column, "Letters from Berlin," appears in the online magazine The Wild Word, also home to a column by Rachel C. Kessler '04, Kenyon's chaplain.
'76
Stephen W. Grant enjoys Thomaston, Maine, where he works as a teacher's aide in the sixth-grade resource program. James W. Kuhn, Hudson, Ohio, celebrates 37 years of marriage to Edie, and his two grandchildren and big English mastiff. "I get to see Richard W. Parke, Theodore V. Parran Jr. '78 and Michael B. Parran '86 regularly."