Gambier Cuisine
Good food on the Hill? Some say it's hard to find — but one writer says there's plenty to love.
Story by Robin Davis, photos by Will Shilling
When I decided to take a job in the Office of Public Affairs at Kenyon eighteen months ago, my new colleagues told me to be prepared for one reality: the food in Gambier can be a little uninspired — unless it's home-cooked.
People can be funny with me about food. I spent twenty years as a food writer, six of them as a restaurant critic in San Francisco, where I also earned an associate degree in culinary arts from the California Culinary Academy, and another three as an assistant editor at Bon Appetit magazine when it was still in Los Angeles. (Most recently, I was the food editor at the Columbus Dispatch in Ohio.) A resume like that comes with assumptions, the main one being that I must have unyielding expectations about "good" food.
So maybe folks were telling me to rein in any hopes I had about dining in Gambier because they didn't want me to set the bar too high. I like to believe it was also a backhanded compliment to the excellent home cooks on Kenyon's faculty and staff, of which there are many. Ben Locke, the Robert A. Oden Jr. Professor of Music, makes a legendary white-sauce lasagna every year to serve at an icebreaker dinner for the Chamber Singers. India isn't just the academic specialty of Wendy Singer, the Roy T. Wortman Distinguished Professor of History; it's her culinary expertise, too. Read Baldwin '84, associate professor of art, enjoys a reputation for being able to conjure up outstanding impromptu meals from the modest selections at the Village Market. And he's been playing with a collection of sweet pepper and cilantro sauces that insiders say should be bottled and sold.
Strong home cooks notwithstanding, those who ask where to get good food in Gambier are likely to be met with a chuckle. "When I visit other college towns, they have a restaurant or two, often run by alumni, that serve interesting healthy food," said David Lynn '76, editor of the Kenyon Review and professor of English. "I would kill for that here."
Baldwin agrees that restaurant choices on the Hill can seem limited. "One of the great additions to the community would be wood-fired pizza," Baldwin said. "Or a noodle bar."
Certainly one could make the argument that Gambier lacks culinary diversity. The Indian restaurant Bay Leaf in Mount Vernon earned widespread praise when it made a brief attempt to operate a food cart along Middle Path last spring (the cart, along with the restaurant, are now closed). Aside from the occasional dal at the Village Inn or plates of hummus at the Gambier Deli or Wiggin Street Coffee, offerings on the Hill remain heavily slanted toward American fare. Even the more upscale food with an international accent at the Kenyon Inn is going to be more peasant style than princely: stews in the form of bouillabaisse, casseroles such as paella. Customers won't see mile-high presentations or savory foams or vapors, either.
But some perspective might be in order. I'm reminded of the tiny village of Montefollonico in the Siena region of Italy, home to about seven hundred people, that I visited many years ago. All of the town's restaurants are Italian. Maybe the residents complain. Maybe they say, "If I have to eat one more bowl of pappa al pomodoro, I'll die." But I bet not. They have something great, and they know it.
I feel the same about Gambier. I've found plenty of good food — so much, in fact, that I've created my own "top five" list: five dishes that I'd not only be happy to eat any day of the week, but that I'd ask my fancy foodie friends to eat, too. Of course, any time you make a list of any kind, you end up with a few things that don't quite fit but still deserve some attention. I have a fair number of these as well, that I label honorable mentions.
In the end, these are my favorites. You may not agree. You may have your own list, or you may side with those who don't think there's much to offer in the way of good food in Gambier. I respectfully stand by my choices (which appear here in no particular order). It may not be food that you'd find at a Thomas Keller or Jean-George Vongerichten restaurant. But it's solidly good food, often made with locally sourced ingredients from central Ohio farmland. It's food even a food snob like me can like.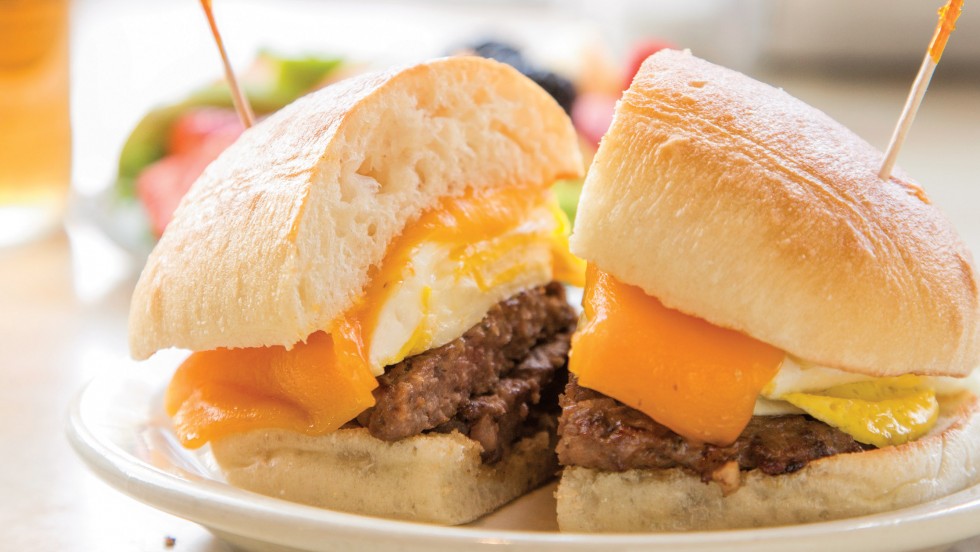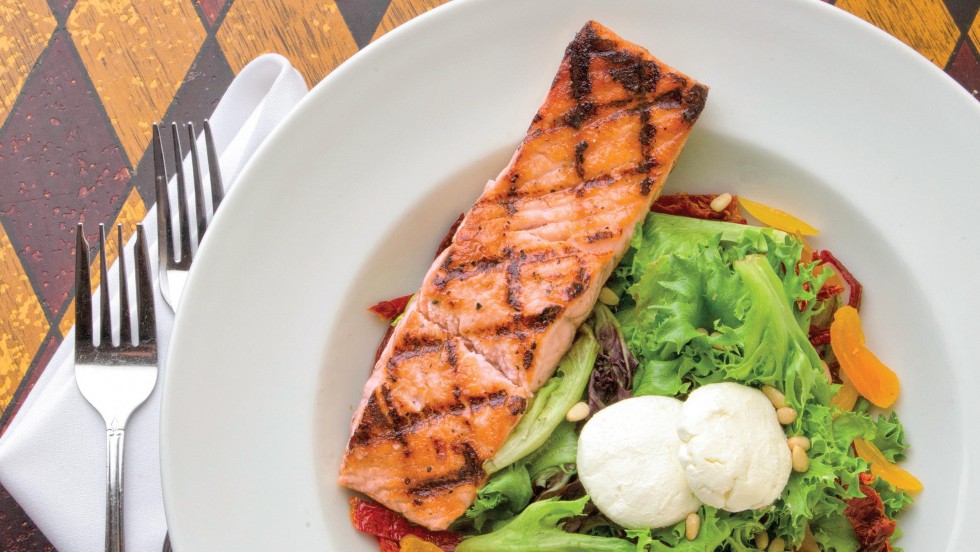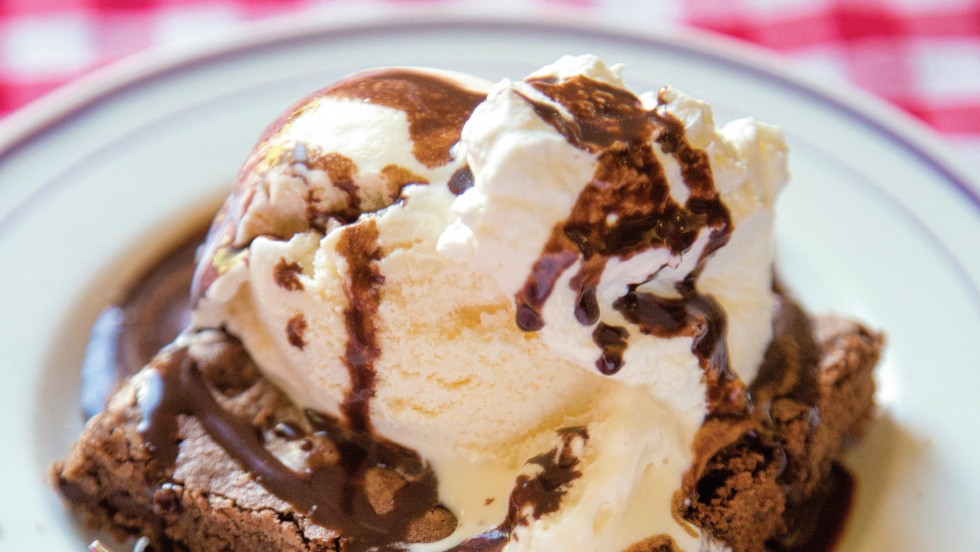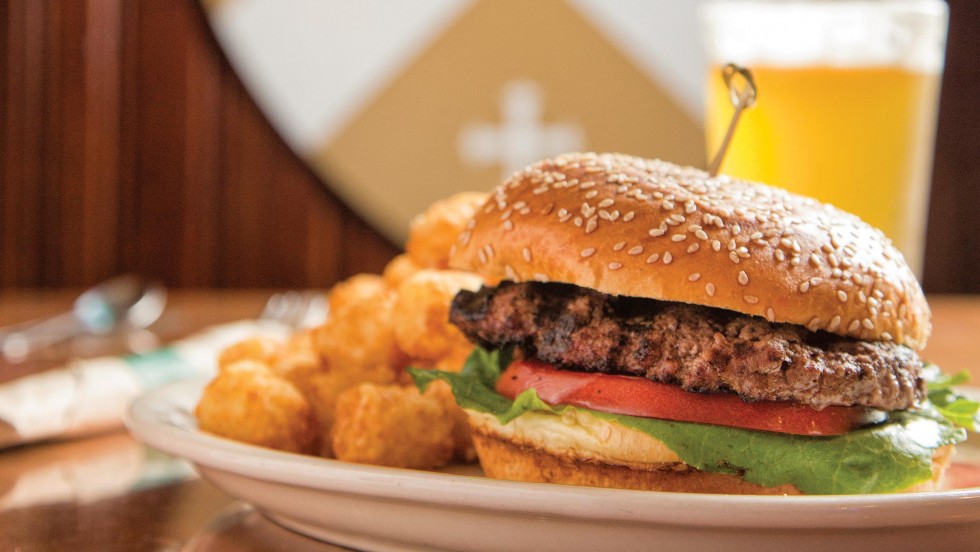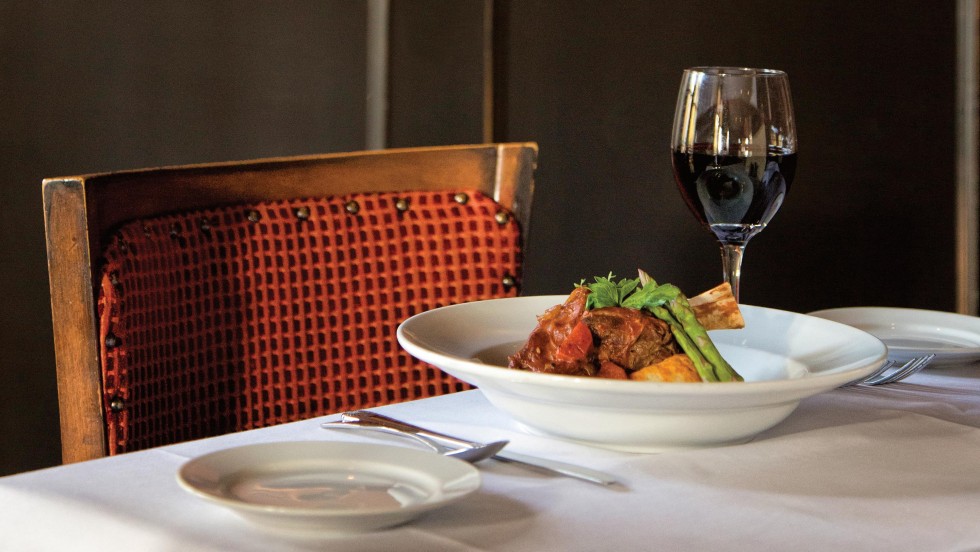 The Top Five Dishes in Gambier
Sausage, Egg and Cheese Sandwich, Gambier Deli
I have not eaten my way through the entire menu at the Gambier Deli, and I admire Kelsey Hamilton '15 and Kevin Pan '15 for attempting this exploit (read about their quest at thekenyonthrill.com, a student-run blog). But over a couple of months, I made a good dent, and found more than a few things to love. My favorite comes from the breakfast menu: the sausage, egg, and cheese sandwich on ciabatta. It features two eggs cooked how you like, two sausage patties, and a slice of cheese piled on a ciabatta-style roll — a great sandwich any time of day.
Mixed Green Salad with Salmon, Kenyon Inn
Good food doesn't have to be heavy. The Kenyon Inn offers great salads, my favorite being the mixed greens with basil vinaigrette. Dotted with sun-dried tomatoes, sweet slivers of dried apricots, and a couple of coins of creamy goat cheese, it's an especially good salad to turn into a main course topped with grilled salmon. The inn uses salmon from the Bay of Fundy in the Atlantic, a fish with just the right amount of fat for maximum flavor. (Caveat: I realize it's an Italian no-no to serve fish with cheese, so order it without if you follow the rule religiously. Personally, it works for me here.)
Brownie Ice Cream Sundae, Friday Cafe
Pop-up restaurants are all the rage. But Friday Café, which started 35 years ago, was well ahead of the curve. It now serves home-cooked meals on most Fridays during the academic year at the Harcourt Parish House. No matter what the main course of the day is—soup, chili, lasagna, quiche—true Friday Café lovers will admit they're going for the dessert. If I have to pick just one for this list, it would probably be the brownie ice cream sundae. Or maybe the chocolate cake. But I like the plum tart, too. And the fresh peach cake. You get the idea. Dessert at Friday Café equals a perfect kick-off to any weekend.
Hamburger, Village Inn
Every college town needs a good burger, and in Gambier that honor goes to the Village Inn. Half-pound burgers are grilled—not fried on a flat-top (unless that's what the customer requests) — so they come out tasting like something off your own backyard Weber. The VI offers burgers many ways: with barbecue sauce and bacon, blue cheese and portobello mushrooms, jerk seasoning. For my list, simplicity reigns. I like the plain hamburger just as it is, nestled in its sesame-speckled bun with ketchup, a lettuce leaf, and a slice of tomato. Sometimes I go wild and have the kitchen slap on some cheese. As a side dish, skip the fries and go with the tater tots. Yes, they're commercially produced, straight-out-of-the-freezer potato nuggets, but when they come fresh from the deep fryer, I find them irresistible. (One complaint I do have about food in Gambier is that the fries served everywhere are lacking. Hint: The secret is frying them twice.)
Braised Lamb Shank Espagnole, Kenyon Inn
I pick the lamb shank almost by default because all of the lamb at the Kenyon Inn is good. Tristan Haas, general manager, said the kitchen uses locally raised lamb, which makes all the difference. The feta-studded lamb burger is phenomenal, but because I have a burger elsewhere on the list, I selected the braised lamb shank. The kitchen cooks it slowly in broth with onions, carrots, and celery until it's just shy of falling from the bone. Then they reduce the cooking liquid and mix in some tomato paste to create the luscious sauce that goes over it. The tender shank, propped against a mound of mashed potatoes, makes about as heartwarming a dish as you'll find anywhere on a cold winter day.
Honorable Mentions
It's hard to make a list of just five favorites of anything, even in a village as small as Gambier. When it comes to local cuisine, some foods, drinks and even places might not fit squarely on the Tip Five list but deserve some recognition.
Peirce Hall
I tried to find one dish that won out over all the others at Peirce, but the dining hall needs its own separate category. Let's just say this: If you can't find something you like on any given day at Peirce, you just don't like food. Where else can you get homemade butternut squash soup, stir-fried beef over brown rice, spicy kale salad and squares of tres leches cake? Even the salad bar (or especially the salad bar), which is often packed with locally grown vegetables when they're in season, is terrific.
Wiggin Street Coffee
Colleges are fuelled by coffee, and the best coffee on campus is, not surprisingly, at Wiggin Street Coffee. Formerly Middle Ground and before that the Red Door, this corner café is a central Ohio independent with two other locations under the River Road Coffeehouse name. Read Baldwin '84 says one of his favorite food finds on campus is the cappuccino here. I agree, though I've slugged down my share of lattes, mochas and plain cups of Joe, too.
Wiggin Street cookies
Kenyon's admissions literature call the College "a small place to think big thoughts." The culinary corollary would be "a small place to eat big cookies." All the cookies on the Hill seem to be dinner-plate size. I'm not complaining, because when I want ice cream after dinner I just tell myself I ate only one cookie earlier (good food writers are particularly adept at justification). The best cookie is the oatmeal-raisin cookie at Wiggin Street Coffee, with its pinch of spices to keep the flavors interesting, but I'm in love with the ginger cookie, too.
Students' Request at the Gambier Deli
Vegetarians, whether part-time or hardcore, aren't left out of the Gambier dining scene. This sandwich of toasted wheat bread spread with cream cheese and topped with fresh spinach, roasted red peppers and cucumbers or spouts, satisfies the meatless side to my personality.
Amish fry pies at the Village Market
After you eat one of these, you'll swear off sugar and fatty foods for a month. But it's worth every bite of the thick, sweet fruit filling — peach, cherry, black raspberry — enclosed in pie pastry that's deep-fried and tossed in the kind of sugar glaze used on doughnuts.
Kenyon's campus again stars as the setting for a feature film, this one by Karl Shefelman '80.
Read The Story
Emily Gould '03 has blogged and tweeted her way to a literary career that reflects the allure and perils of sharing…
Read The Story
When Venezuelan opposition leader Leopoldo López '93 H'07 was imprisoned, a group of media-savvy Kenyon alumni…
Read The Story