Readers React
In the previous Alumni Bulletin we asked readers to share their thoughts, stories and questions regarding diversity, equity and inclusion at Kenyon. To everyone who took the time to respond to the call for letters: Thank you. The (many) notes we received were candid, thoughtful, thought-provoking and moving. Some were deeply personal while others were critical. Exploring these issues, and others, in an honest and meaningful way is central to the mission of this magazine. And we can't do it without you.
Painting Party
Kenyon students, faculty and staff came together for a community art project on Sept . 29 to transform a 575-foot-long, 12-foot-high construction barrier into a public canvas that will evolve during the two year construction of the Kenyon Commons library.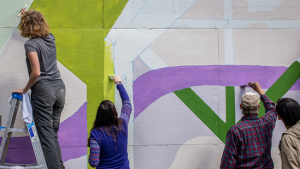 A Load of Bologna
Although the namesake lunch meat was nowhere to be found, Kenyon's traditional Bologna Loaf lunches — which date back to 1987 and take their name from a Calvin and Hobbes comic strip — drew students and faculty alike to the Science Quad on Wednesday afternoons this summer. Serving as both a delicious free lunch and a chance to socialize and take a break from research, the fortnightly event regularly attracts more than 150 attendees. Kenyon provides a main course, and research groups take turns bringing desserts from strawberry shortcake to dairy-free almond-amaretto cupcakes with chocolate frosting.
'58
Martin A. Berg, Chagrin Falls, Ohio, is in his fifth year as assistant football coach at John Jay High School in Cleveland. Alongside head coach Rodney C. Decipeda '96, Marty is "preparing young men to be responsible and caring adults," he writes. The team has won the Cleveland city championship for the last three years.

'06
Melanie J. Wender, Elkins Park, Pennsylvania, was named to the 2018 list of Super Lawyers in Pennsylvania, an award based on peer recognition and professional achievement. A press release from Williams Family Law notes that Melanie "has successfully handled complex custody cases ranging from unmarried same-sex couples to custody agreements between long-distance parents." She is a board member of the Bucks County Bar Foundation and donates her services pro bono to protection-from-abuse actions.
'72
Alan S. Bamberger, San Francisco, has run the website artbusiness.com since 1998. "In addition to appraising art and writing about the art business," he explains, "I consult and advise artists, buyers, sellers, collectors and anyone else needing assistance on art-related matters." Little, Brown recently published an enlarged, updated British edition of his book "The Art of Buying Art."