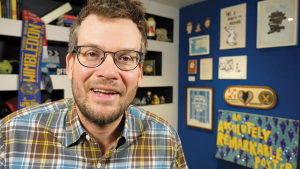 Congratulations from John Green
Knowing that the newly admitted Class of 2024 would miss out on a traditional high school graduation, bestselling author John Green '00 shared a message of encouragement and, as he's apt to do, a good story. When Green missed his own Commencement, the late Professor of Religious Studies Donald Rogan threw him a non-traditional ceremony that was even more meaningful.
The Best of Both Worlds
The "Music and Entrepreneurship" course taught by Professor of Music Ted Buehrer '91 had a viral moment on TikTok thanks to a class visit from LA-based composer Kenneth Burgomaster '91.
Maeve Griffin '23 recorded a clip of the Zoom video conference in which Burgomaster explained how he used samples of Miley Cyrus' voice to write a series of short transitional riffs for the TV show "Hannah Montana" — micro-compositions that have found fame in their own right as a popular TikTok sound.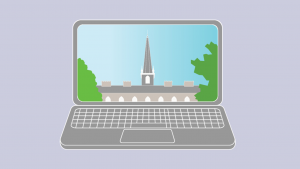 Kenyon From Your Couch
Amid concerns over the COVID-19 pandemic, Kenyon has suspended all on- and off-campus alumni events. Stay connected with your fellow alumni by joining one of our virtual "Kenyon from Your Couch" events, which range from readings and discussions to campus tours and performances.
'85
Kathleen Waller, Hilliard, Ohio, proudly rejoices at the graduation of daughter Laurel J. Waller '19, a double major in classics and drama. "We took a three-week trip to Italy and Greece in June to celebrate this and our 30th anniversary," Kathy updates. Husband Chris is "counting down the months to retirement from the Upper Arlington Police Department, and I'm still busy teaching English as a Second Language to 130 students at Columbus Preparatory Academy."
'13
Lauren H. Schick O'Connell was married in March 2019. Attending were Laura C. McHenry '13, Kendra J. Lechtenberg '13, Ryan J. Eick '13, Noah S.G. Detzer '13 and Nicholas W. Lehn '13. Lauren and Dan moved into their new home in Washington, D.C., and she began a new job in arts administration at The Washington Chorus.
'68
Michael C. Johnston, Stratham, New Hampshire, collaborated with Joel A. Fisher '69 on a project involving video interviews with artists who "reflect on the increasing rigor that experience brings to one's work, as well as the possibility that later work might be inaccessible to a younger audience." Mike explains: "When we were both in Paris in 2008, Joel asked me to video his interview with Irving Petlin, an artist activist during the Vietnam War." At the time, Petlin had been planning his painting "The Eleventh of January (2009)," now at the Kent Gallery in New York. Mike adds, "It is thrilling to reconnect with Joel and move this effort forward."