Readers React
In the previous Alumni Bulletin we asked readers to share their thoughts, stories and questions regarding diversity, equity and inclusion at Kenyon. To everyone who took the time to respond to the call for letters: Thank you. The (many) notes we received were candid, thoughtful, thought-provoking and moving. Some were deeply personal while others were critical. Exploring these issues, and others, in an honest and meaningful way is central to the mission of this magazine. And we can't do it without you.
Painting Party
Kenyon students, faculty and staff came together for a community art project on Sept . 29 to transform a 575-foot-long, 12-foot-high construction barrier into a public canvas that will evolve during the two year construction of the Kenyon Commons library.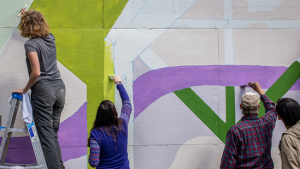 A Load of Bologna
Although the namesake lunch meat was nowhere to be found, Kenyon's traditional Bologna Loaf lunches — which date back to 1987 and take their name from a Calvin and Hobbes comic strip — drew students and faculty alike to the Science Quad on Wednesday afternoons this summer. Serving as both a delicious free lunch and a chance to socialize and take a break from research, the fortnightly event regularly attracts more than 150 attendees. Kenyon provides a main course, and research groups take turns bringing desserts from strawberry shortcake to dairy-free almond-amaretto cupcakes with chocolate frosting.
'09
Catherine D. Norbeck, San Ramon, California, was promoted to director of learning and development at Prologis. She and her husband celebrated their first anniversary in a tiny house, have found a small local theater they like, and are "now looking for food as good as Kenyon's Friday Café," she reports.
'74
Peter Smagorinsky, Athens, Georgia, was one of two recipients of the inaugural International Federation for the Teaching of English Award for making internationally distinguished contributions to scholarship in the field of English in education. Heinemann is now publishing the second edition of his "Teaching English by Design," first released in 2008.
'17
Jennifer L. Wendler completed a stint with City Year Boston and spent last summer as a visitor assistant at the city's Institute of Contemporary Art. In the spring she was selected as a teaching assistant at the Acadèmie d'Amiens in France. This fall she begins work as an English language assistant in a collège and lycée in Creil, leading conversation and culture lessons in English for French students.