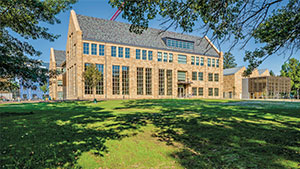 Middle Path Has Two Sides Again
In the fall of 2018, a plywood construction wall went up alongside the west side of Middle Path as construction began on the new Chalmers Library. Now that the library is open and the fence is down, we're relearning how to walk in a straight line, like the first time you go bowling without using the bumpers.
Recognition Returns
As masks come off outdoors on campus (at least sometimes ... thanks, Delta variant), we're back to Piaget's sensorimotor stage as we begin to recognize entire human faces. Start working on new excuses for why you can't remember the names of the people you wave to every day on your way to class.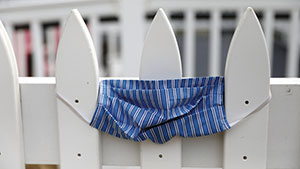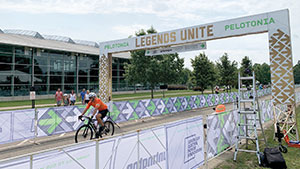 Show Up and Show Out
Trendy Peloton exercise bikes were a lifeline for many during the pandemic and will run you a few thousand bucks, but the return of Pelotonia to Gambier racked up a few million. After missing a year, riders in Ohio State's annual cycling event to raise money for cancer research rolled past Kenyon's Lowry Center in August once again, raising a total of $19,313,532.
'62
Michael S. Kischner, Seattle, updates, "Beret and I have spent the year Zooming maskless around the globe for birthdays, weddings, concerts, ballet and theater performances, and even an exploration of Easter Island. At home, I've continued to be active in Wider Horizons, our virtual village of persons aging in their own homes." Michael reports that despite suspended in-person activities, the group gained more new members than usual, which he attributes to "our having ready-made support systems for those experiencing isolation, boredom or anxiety. Over our phone tree, everybody got called regularly, and over Zoom we've read plays, exchanged stories and had bi-weekly meetings with three discussion topics to choose from. And you didn't have to lug casseroles or salads to potlucks!"
'00
Samantha (Grover) Aguayo, Washington, D.C., is deputy executive director and chief policy counsel at an intellectual property law association. Sam lives near and remains close to Martha N. HolleyMiers, Elizabeth G. Dunning '99, Matilda Bode '99, Kate (Druschel) Griffin '99 and Jamie E. Smith '99. "We've been having socially distant outdoor hangouts regularly."
'17
I've done it! I've recently signed with a literary agent whom I will be working with on my upcoming graphic novels! It has always been my dream to be a writer and cartoonist, and to see that dream come to life is incredible. Be on the lookout for stories Kenyon students might know!