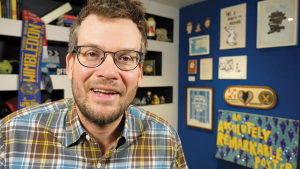 Congratulations from John Green
Knowing that the newly admitted Class of 2024 would miss out on a traditional high school graduation, bestselling author John Green '00 shared a message of encouragement and, as he's apt to do, a good story. When Green missed his own Commencement, the late Professor of Religious Studies Donald Rogan threw him a non-traditional ceremony that was even more meaningful.
The Best of Both Worlds
The "Music and Entrepreneurship" course taught by Professor of Music Ted Buehrer '91 had a viral moment on TikTok thanks to a class visit from LA-based composer Kenneth Burgomaster '91.
Maeve Griffin '23 recorded a clip of the Zoom video conference in which Burgomaster explained how he used samples of Miley Cyrus' voice to write a series of short transitional riffs for the TV show "Hannah Montana" — micro-compositions that have found fame in their own right as a popular TikTok sound.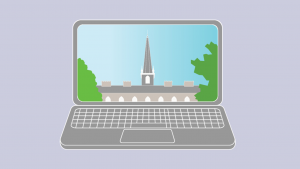 Kenyon From Your Couch
Amid concerns over the COVID-19 pandemic, Kenyon has suspended all on- and off-campus alumni events. Stay connected with your fellow alumni by joining one of our virtual "Kenyon from Your Couch" events, which range from readings and discussions to campus tours and performances.
'77
Jerome Mindes, Rockville, Maryland, reports: "Hosted my third dinner of classmates traveling to and living in the D.C. area. October 2019's dinner featured visiting guest Michael J. Spetrino '77, Diane K. Braunstein '77, Amy (Kirshbaum) Harbison '77 and John H. Harbison '79, John J. Bogasky '77 and Sarah E. Allen '79. All welcome at Chez Jerome."
'80
Karl J. Shefelman, New York City, continues to pursue his pledge to make a film a year ever since "Looking for the Jackalope" (shot at Kenyon). His latest, a short film called "Man on the Tower," is a "fictionalized account of my memory of witnessing the 1966 Charles Whitman sniper shooting on the University of Texas campus," he writes. From his backyard in Austin, Karl saw the event, fearing for his father, who was teaching an architecture course at that moment. "While the film is not intended to be overtly political," he explains, "it will hopefully generate conversation about what to do about the horrible mass shootings that have plagued our nation ever since. Hoping to hit the festival circuit hard, followed by online distribution. Stay tuned!"
'64
Philip J. Harter, Decatur, Georgia, laments downsizing: "Fifty-five years of accumulating treasures, storing them in a large house with a two-car garage, only to require that they be weeded and pruned to fit in a graduate school-sized apartment. The pits. Oh, the agony. But we did it." Phil adds, "We are, remarkably, still married; we even usually speak." The farm in Vermont where Phil and Nancy spent much time over the last 30 years absorbed some of the overflow.