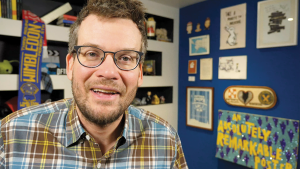 Congratulations from John Green
Knowing that the newly admitted Class of 2024 would miss out on a traditional high school graduation, bestselling author John Green '00 shared a message of encouragement and, as he's apt to do, a good story. When Green missed his own Commencement, the late Professor of Religious Studies Donald Rogan threw him a non-traditional ceremony that was even more meaningful.
The Best of Both Worlds
The "Music and Entrepreneurship" course taught by Professor of Music Ted Buehrer '91 had a viral moment on TikTok thanks to a class visit from LA-based composer Kenneth Burgomaster '91.
Maeve Griffin '23 recorded a clip of the Zoom video conference in which Burgomaster explained how he used samples of Miley Cyrus' voice to write a series of short transitional riffs for the TV show "Hannah Montana" — micro-compositions that have found fame in their own right as a popular TikTok sound.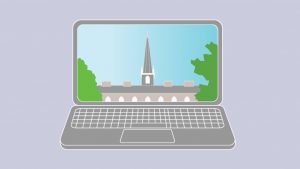 Kenyon From Your Couch
Amid concerns over the COVID-19 pandemic, Kenyon has suspended all on- and off-campus alumni events. Stay connected with your fellow alumni by joining one of our virtual "Kenyon from Your Couch" events, which range from readings and discussions to campus tours and performances.
'89
Sarah F. Cassidy, Duvall, Washington, and her husband, Luke Woodward, started a farm-to-table restaurant in the Snoqualmie Valley region outside Seattle. Called The Grange, its wood-fired dishes showcase the produce and meat they raise at Hearth Farm, which the family has run for 20 years now. "Pondering the next arduous, non-lucrative (but exhilarating) business venture we can embark on," Sarah writes. "Canadian yarn art, perhaps?"
'60
David J. Gury, Ocean Ridge, Florida, married Elias Baez III on Sept. 28. Last summer they visited Paris and took a river cruise from St. Petersburg to Moscow. In August they stopped by Gambier to visit granddaughter Cameron J. Peters '20. "All the buildings on campus and other Gambier developments are amazing," he adds.
'10
Natalie E. West works for the World Food Programme and, after three years at headquarters in Rome, has relocated to Niamey, Niger. "I'm really happy to be in the field and working in French full-time," she reports. "I work on analysis of economic access to nutritious foods, and I'm learning tons about markets, agriculture and resilience programming in the Sahel. Along with Niger, I lead analyses in Mali and Mauritania."