Snapshots of Life on the Hill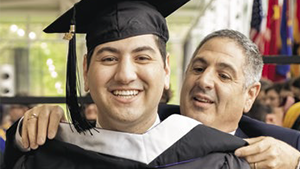 Family Ties
Every year at Commencement, Kenyon alumni are invited to take part in the hooding ceremonies of their graduating children. Pictured here, Myles H. Alderman Jr. '82 P'14, '18, participates in the hooding of his son, Brooks H. Alderman '18, on May 19. The younger Alderman graduated from Kenyon with a degree in political science.
Quad Pods
Four temporary modular units were installed on campus in the spring. Starting in the fall, the units will house library services and provide study space during construction of the new library. Three modular units on Ransom Lawn, totaling about 14,000 square feet of space, will host the library's core services, including circulation, research and reference, Helpline, special collections and archives, public printers, periodicals, new books, computer workstations and study spaces. A
3,000-square-foot modular building between Watson and Norton halls will provide seating for more than 100 students.
Bells of Success
Kenyon's third annual Bell-A-Thon raised $687,044 in donations with the help of 1,075 donors and a one-to-one trustee match. Live streamed from the belltower of the Church of the Holy Spirit, the event featured performances from student groups such as the Kokosingers and ballroom dance team, and conversations with professors like P.F. Kluge '64 and Perry Lentz '64.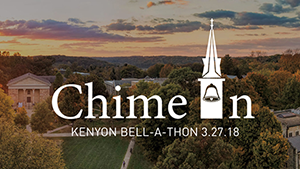 '06
Christopher F. Loud celebrated the arrival of a daughter on Feb. 10 in Traverse City, Michigan, and writes, "Fiona is in the 99.5th percentile in length, so we're thinking Kenyon volleyball, but we're also open to tallest female U.S. president in history. Send food."
'17
Alexandra J. Hansen studied this year at the Johns Hopkins-Nanjing University Center in Nanjing, China, taking graduate-level courses on U.S.-China relations and foreign policy in Mandarin. Upon receiving her graduate certificate in Chinese and American studies this June, she looks forward to a career in international affairs.
'04
Marjorie L. "Maggie" Rathgeber and Daniel Harrell were married on March 3. They reside in Baltimore.