Snapshots of Life on the Hill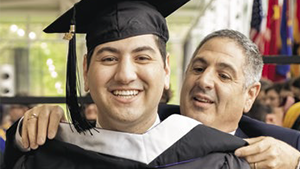 Family Ties
Every year at Commencement, Kenyon alumni are invited to take part in the hooding ceremonies of their graduating children. Pictured here, Myles H. Alderman Jr. '82 P'14, '18, participates in the hooding of his son, Brooks H. Alderman '18, on May 19. The younger Alderman graduated from Kenyon with a degree in political science.
Quad Pods
Four temporary modular units were installed on campus in the spring. Starting in the fall, the units will house library services and provide study space during construction of the new library. Three modular units on Ransom Lawn, totaling about 14,000 square feet of space, will host the library's core services, including circulation, research and reference, Helpline, special collections and archives, public printers, periodicals, new books, computer workstations and study spaces. A
3,000-square-foot modular building between Watson and Norton halls will provide seating for more than 100 students.
Bells of Success
Kenyon's third annual Bell-A-Thon raised $687,044 in donations with the help of 1,075 donors and a one-to-one trustee match. Live streamed from the belltower of the Church of the Holy Spirit, the event featured performances from student groups such as the Kokosingers and ballroom dance team, and conversations with professors like P.F. Kluge '64 and Perry Lentz '64.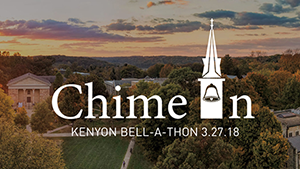 '01
Michael A. White updates: "After nearly 14 years OCONUS" — that's outside the continental United States for us nonmilitary folks — "I've moved back to the lower 48 and settled in Coral Gables, Florida. At the U.S. Southern Command I am the country officer for Argentina, Chile and Uruguay. It's strange to be back in the States, but nice."
'13
Adrian E. Natale, East Haddam, Connecticut, currently teaches middle school French and Spanish but is thrilled to have been accepted to Yale's master's program in archaeology for this fall.
'63
Col. Lester D. Alford and his wife, Judy, celebrated their Golden Anniversary with a trip to east Africa, where their daughter, Karen, is a nurse practitioner in the refugee settlements of Uganda. "Over 2 million refugees from six neighboring countries are in Uganda, with about 1,000 more arriving per day," Les describes. Following their visit, Les and Judy went on safari in Tanzania and Kenya, a highlight of which was a celebration of their 50th wedding anniversary in a traditional Maasai ceremony.