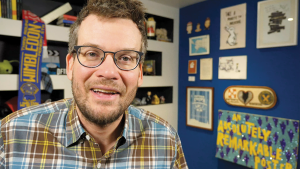 Congratulations from John Green
Knowing that the newly admitted Class of 2024 would miss out on a traditional high school graduation, bestselling author John Green '00 shared a message of encouragement and, as he's apt to do, a good story. When Green missed his own Commencement, the late Professor of Religious Studies Donald Rogan threw him a non-traditional ceremony that was even more meaningful.
The Best of Both Worlds
The "Music and Entrepreneurship" course taught by Professor of Music Ted Buehrer '91 had a viral moment on TikTok thanks to a class visit from LA-based composer Kenneth Burgomaster '91.
Maeve Griffin '23 recorded a clip of the Zoom video conference in which Burgomaster explained how he used samples of Miley Cyrus' voice to write a series of short transitional riffs for the TV show "Hannah Montana" — micro-compositions that have found fame in their own right as a popular TikTok sound.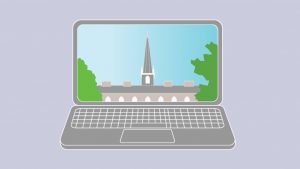 Kenyon From Your Couch
Amid concerns over the COVID-19 pandemic, Kenyon has suspended all on- and off-campus alumni events. Stay connected with your fellow alumni by joining one of our virtual "Kenyon from Your Couch" events, which range from readings and discussions to campus tours and performances.
'04
Cassandra D. Nelson Craig enjoys life in Indianapolis and her work as the upper school counselor at Park Tudor School. Cassie's daughter, Iris, is in kindergarten there. "It is special to be able to share the same community," she notes. "I'm reminded how the days are long but the years are short." Last year she and Kyle celebrated their 10th anniversary, and she got to share Kenyon with her family at the reunion.
'94
David A. Pilgrim and Lauren Johnson Pilgrim '96 live in Chicago—"in the city, not the suburbs" — with son Andrew, a high school freshman. At Publicis (Sapient), Dave is leading business development for retail in North America, while Lauren is active with the Chicago Waldorf School. Dave writes that the cover band he formed a few years ago would be happy to play your next party or event. They're called "Mostly Dave," because four of the original five members were named Dave (check out his photos and song catalog at mostlydave.com).

'90
Sonya D. Broeren concluded 15 years of working at Kenyon: "The time has come for a change," she writes. "I am now the admissions dean for West Coast and international for Union College (in Schenectady, New York). The change in jobs brings a bonus to my life: After 30+ years, Sean Ward '90 and I are back together and living in Newport Beach, California. It's funny how life makes full circles."