Join the Kenyon Alumni Book Club
Get back to the third floor of Ascension or campus coffee shop state of mind by discussing today's trending literary works.
The Kenyon Review and the Office of Alumni Engagement have joined forces to create an online forum just for Kenyon readers. A new selection will be voted on every few months, and participants will share reactions, critiques and insights in a moderated forum.
In honor of the 2019 Kenyon Review Literary Festival award winner, the inaugural selection was T.C. Boyle's "The Relive Box and Other Stories." The next selection will be "The Vexations" by Caitlin Horrocks '02. Sign up today at bookclub.kenyon.edu.
Flashback: The Black Student Union
Organized in 1969 and formally recognized in 1970, the Black Student Union (BSU), which celebrated its 50th anniversary in September, addressed the need for support for the growing number of black students at Kenyon. In the 1974 Reveille, Geraldine Coleman Tucker '74, the first woman president of the BSU, wrote, "The Black Student Union has become the central organ of the black students at Kenyon. It provides a forum in which we can exchange ideas and work toward the improvement of campus life for both present and future black students."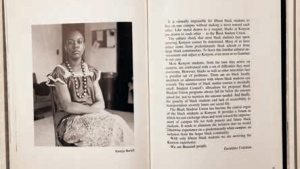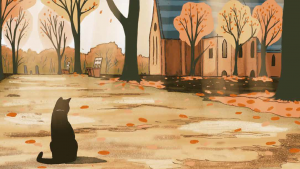 Capturing the Campus Cat
After graduating, Anna Katherine Zibas '19 missed seeing Moxie, Kenyon's beloved, unofficial campus cat. So she "decided to make art out of him,"
she writes. "Here he is surveying his kingdom." 
Postcards and prints of the illustration are now for sale at the Kenyon College Bookstore.
'73
Kim S. Booth, Cumberland Center, Maine, retired after 42 years in hospital laboratory management. He and his wife, Lynn, enjoy their three children and three grandchildren in Portland, Maine, and welcome visitors.
'10
Matthew P. Colburn, Bethesda, Maryland, teaches at two institutions, both of which honored his work. Matt won the 2018 Outstanding Adjunct Faculty of the Year Award at the University of the District of Columbia Community College, and a 2018-19 Part-time Faculty Excellence in Teaching/Counseling Award at Montgomery College. According to the latter, his students like his teaching and find his online videos helpful — youtube.com/ColburnClassroom has more than 500 subscribers.
'06
Kelly P. Burke and husband David welcomed Andrew Owen Liu to the world last January. "We live in Cambridge, Massachusetts," she writes, "where I'm in the midst of my medical oncology fellowship. I would love to hear from other alums in the area."