Join the Kenyon Alumni Book Club
Get back to the third floor of Ascension or campus coffee shop state of mind by discussing today's trending literary works.
The Kenyon Review and the Office of Alumni Engagement have joined forces to create an online forum just for Kenyon readers. A new selection will be voted on every few months, and participants will share reactions, critiques and insights in a moderated forum.
In honor of the 2019 Kenyon Review Literary Festival award winner, the inaugural selection was T.C. Boyle's "The Relive Box and Other Stories." The next selection will be "The Vexations" by Caitlin Horrocks '02. Sign up today at bookclub.kenyon.edu.
Flashback: The Black Student Union
Organized in 1969 and formally recognized in 1970, the Black Student Union (BSU), which celebrated its 50th anniversary in September, addressed the need for support for the growing number of black students at Kenyon. In the 1974 Reveille, Geraldine Coleman Tucker '74, the first woman president of the BSU, wrote, "The Black Student Union has become the central organ of the black students at Kenyon. It provides a forum in which we can exchange ideas and work toward the improvement of campus life for both present and future black students."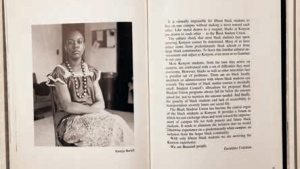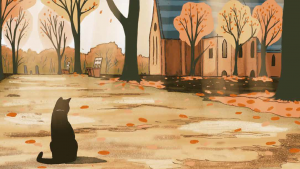 Capturing the Campus Cat
After graduating, Anna Katherine Zibas '19 missed seeing Moxie, Kenyon's beloved, unofficial campus cat. So she "decided to make art out of him,"
she writes. "Here he is surveying his kingdom." 
Postcards and prints of the illustration are now for sale at the Kenyon College Bookstore.
'91
Anthony H. Jones, Jersey City, New Jersey, left careers in law, justice system consulting and sandwich-making "to pursue something I have been passionate about since 1995—wine," he updates. "In 2014, I started as a wine runner at Balthazar (at $12 an hour) and then worked at a retail wine store on the Lower East Side of New York City. From there I transitioned to working as a sommelier at various restaurants." In September 2019 he became a sommelier at Le Coucou, a Michelin star restaurant in SoHo, where everyone now calls him "Bones."
'58
Dale A. Neuman stayed active during his second winter in Maine as part of the cast of the Gilbert and Sullivan Society of Maine's production of "Iolanthe." He also sings with Evensong, the "musical arm of Hancock County Hospice," he informs. "I participate in the poetry group and the writing group at Parker Ridge Independent Living Community, where I live in Blue Hill, about 75 miles from my daughter and her family. So I get to see them several times a month instead of once a year, as when I lived in Kansas City."
'73
Lauren Elliott Woolcott, Middleburg, Virginia, reunited for walks, talks, sharing and support with friends of 50 years Ann Sugrue Kransdorf, Laurie B. Sherwood,and Cathi S. Gilmore.