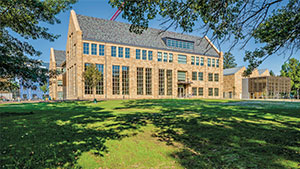 Middle Path Has Two Sides Again
In the fall of 2018, a plywood construction wall went up alongside the west side of Middle Path as construction began on the new Chalmers Library. Now that the library is open and the fence is down, we're relearning how to walk in a straight line, like the first time you go bowling without using the bumpers.
Recognition Returns
As masks come off outdoors on campus (at least sometimes ... thanks, Delta variant), we're back to Piaget's sensorimotor stage as we begin to recognize entire human faces. Start working on new excuses for why you can't remember the names of the people you wave to every day on your way to class.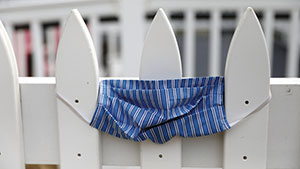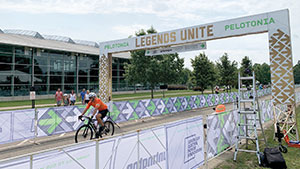 Show Up and Show Out
Trendy Peloton exercise bikes were a lifeline for many during the pandemic and will run you a few thousand bucks, but the return of Pelotonia to Gambier racked up a few million. After missing a year, riders in Ohio State's annual cycling event to raise money for cancer research rolled past Kenyon's Lowry Center in August once again, raising a total of $19,313,532.
'59
"All quiet on the Southern front — except for local political endeavors and pondering when we can put our antique boats in the water. We both are in good health and still have a positive outlook!"
— Brig. Gen. Roger C. Smith, Moneta, Virginia
'09
Dublin, Ohio, writes, "Life in lockdown has been sweet, with my husband, Brady, and my three cats! I have been working from home for a year with Advocacy and Protective Services, Inc., a nonprofit offering guardianship services to over 3,200 individuals with disabilities. The writing and research skills I acquired at Kenyon serve me well as I prepare a variety of legal documents! My cats love the camera interaction of video calls and lying on my papers." Toni has been cooking with her sister virtually, picking a recipe and cooking together on their Alexa Echos.
'93
Kevin C. Kropf, Ozark, Missouri, earned his doctorate in educational leadership with a higher education focus in 2019, and is now in his fifth year as the executive vice president of enrollment management at Drury University in Springfield, Missouri. "What's brought me joy in this unusual year are the 30 books I've read," he offers, "and a new tradition — Saturday night candlelight dinners, complete with questions like 'What was hard for you this week?' 'What helped?' 'What brought you joy?'"