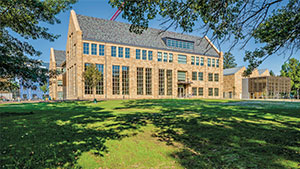 Middle Path Has Two Sides Again
In the fall of 2018, a plywood construction wall went up alongside the west side of Middle Path as construction began on the new Chalmers Library. Now that the library is open and the fence is down, we're relearning how to walk in a straight line, like the first time you go bowling without using the bumpers.
Recognition Returns
As masks come off outdoors on campus (at least sometimes ... thanks, Delta variant), we're back to Piaget's sensorimotor stage as we begin to recognize entire human faces. Start working on new excuses for why you can't remember the names of the people you wave to every day on your way to class.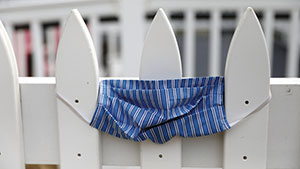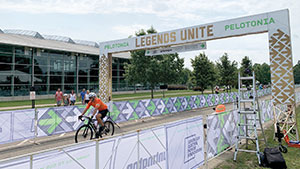 Show Up and Show Out
Trendy Peloton exercise bikes were a lifeline for many during the pandemic and will run you a few thousand bucks, but the return of Pelotonia to Gambier racked up a few million. After missing a year, riders in Ohio State's annual cycling event to raise money for cancer research rolled past Kenyon's Lowry Center in August once again, raising a total of $19,313,532.
'93
Kevin C. Kropf, Ozark, Missouri, earned his doctorate in educational leadership with a higher education focus in 2019, and is now in his fifth year as the executive vice president of enrollment management at Drury University in Springfield, Missouri. "What's brought me joy in this unusual year are the 30 books I've read," he offers, "and a new tradition — Saturday night candlelight dinners, complete with questions like 'What was hard for you this week?' 'What helped?' 'What brought you joy?'"
'77
Joseph M. Dreher has relocated to a newly purchased thousand-acre farm in Liberty Township, Ohio, 12 miles from Gambier — Dreher's Grey Horse Farm. He welcomed Jayne S. Danska and her daughter Fiona D. Guidos '22 on their recent visit upon Fiona's return to campus after the COVID break, Joe reports.
'18
Heather M. Pacheco informs she was very excited to see the cherry blossoms bloom for the first time as a brand-new resident of Washington, D.C.