Snapshots of Life on the Hill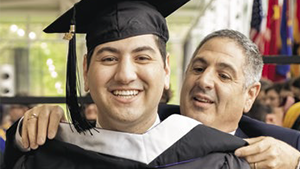 Family Ties
Every year at Commencement, Kenyon alumni are invited to take part in the hooding ceremonies of their graduating children. Pictured here, Myles H. Alderman Jr. '82 P'14, '18, participates in the hooding of his son, Brooks H. Alderman '18, on May 19. The younger Alderman graduated from Kenyon with a degree in political science.
Quad Pods
Four temporary modular units were installed on campus in the spring. Starting in the fall, the units will house library services and provide study space during construction of the new library. Three modular units on Ransom Lawn, totaling about 14,000 square feet of space, will host the library's core services, including circulation, research and reference, Helpline, special collections and archives, public printers, periodicals, new books, computer workstations and study spaces. A
3,000-square-foot modular building between Watson and Norton halls will provide seating for more than 100 students.
Bells of Success
Kenyon's third annual Bell-A-Thon raised $687,044 in donations with the help of 1,075 donors and a one-to-one trustee match. Live streamed from the belltower of the Church of the Holy Spirit, the event featured performances from student groups such as the Kokosingers and ballroom dance team, and conversations with professors like P.F. Kluge '64 and Perry Lentz '64.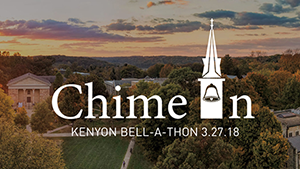 '94
Katherine Larson Farnham is a senior architectural historian with AECOM in Conshohocken, Pennsylvania. Last November, she assessed damage from Hurricanes Irma and Maria to six historic government buildings in the U.S. Virgin Islands. "It was a humbling and amazing experience," Kate reports, "sleeping in a nearly destroyed resort, flying on terrifying little planes and being serenaded by stray roosters everywhere we went."
'66
Gary E. Friedlaender still works full-time despite stepping down after 30 years as chair of orthopedics and rehabilitation at Yale. His wife, Linda, is senior curator of education at Yale's Center for British Art, daughter Eron works in pediatric emergency medicine at Children's Hospital in Philadelphia specializing in the autism spectrum, and son Ari is a marine biologist focused on whale ecology at the University of California, Santa Cruz.
'89
Peter A. Groustra, Brookline, Massachusetts, celebrates his daughter's entrance into the freshman class this fall. "We are very excited for Sarah, and she is very excited to start her Kenyon journey," he reports. "Kristen Bruno McClusky '89 suggested that I get a big 'P'22' tattoo, but I am thinking that a 'Kenyon Parent' coffee mug is more my speed," he jokes.