Hot Takes: What's Trending in the Kenyon-verse
Crashing Courses
On Facebook recently, the mysterious account known only as Lorde Kenyon posed the challenge: "Ruin a Kenyon course title by changing one letter." Some of our favorites from the 100+ responses:
ENGL 213:
Sexting: Reading Like an English Major
HIST 360:
Porn, Farming and the Roots of American Cultures
RLST 470:
Moanings of Death
PSCI 300:
Congress and Public Policyfaking
Serendipitous SMS
Many of our inboxes were blowing up with campaign-related messages this election season, but at least one of them sparked a Kenyon connection instead of ending up in the trash bin. Alise Shuart Barrett '92, texting on behalf of New Jersey Democrats, was randomly connected with Sophie Silberman '19, working for Ohio Democrats. Silberman took to Twitter to share her "heartwarming textbank story" of intergenerational Gambier goodwill.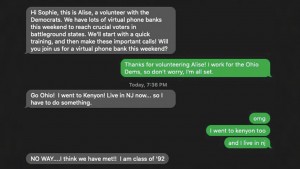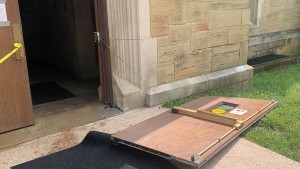 Doorway Disaster
Reflecting how many of us have felt since March, the double doors of Peirce Dining Hall simply decided to give up, lie down and take a nap a few weeks into Kenyon's fall semester. After all, enough else has gone wrong in 2020 — how much worse could a bit of ingress inconvenience make it? The faulty door was quickly set back on its hinges, but not before achieving minor Twitter fame.
Tofoodies
Tofu: Is there anything these little soy-based rectangles can't do? The versatile vegan staple has been a cornerstone of Peirce Hall's modified operations this year, so several first-year students started an Instagram account, @kenyontofu, to rank each day's offerings, which range from "cooked sponge" to "crispy on the outside, actually seasoned." Come for the Tofu Bingo and stay for special guest appearances from tofu's sidekick, "eatloaf."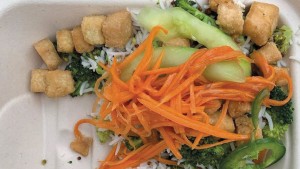 West Winging It
Twitter buzzed with excitement at seeing Allison Janney '82 resume her role as Aaron Sorkin's iconic White House press secretary CJ Cregg in a "The West Wing" TV special benefiting Michelle Obama's organization When We All Vote.
The staged reading of the season three episode "Hartsfield's Landing" reunited the cast and garnered online praise, including, "CJ at the podium again, how I've missed this," and, "I have a queen and her name is CJ Cregg."
Sadly, there was no reprise of "The Jackal."
'10
Matthew D. Sargent married Brenna Kelly in New York on Nov. 9, 2019. "Liberal arts students dominated the guest list," Matt reports, "as the bride graduated from Davidson College (Kenyon of the South?) in 2010. Chase T. Kreuter '10 delivered a reading while Basil M. Kahwash '10 and Nathaniel F. Gray '10 kept the guests in line as ushers." Additional Kenyon guests included Justin J. Bain '10, Christopher G. Freedman '12, Sydnee M. Lindblom '14, William H. VandenBerg '10, Daniel E. Verhave '10 and Charles A. Yukevich '10.
'73
Amy (Goodwin) Aldrich, Washington, D.C., describes her Chevy Chase home as "something of a WeWork thing, with our two adult sons joining us for telework, coffee breaks, neighborhood walks and family dinners. A true silver lining during unsettled times." Amy sends her deep gratitude for the cheering messages last fall when she was ill. "I hope you are safe and healthy, and that we will soon gather in person, either in Gambier or elsewhere for mini-reunions."
'17
Reagan L. Neviska finally learned to drive at age 24, she informs. She recently accepted a position in the Office of Information Technology at Ohio University, and is a newly inducted board member of the Survivor Advocacy Outreach Program. She has been baking lots of bread and scones, which is "probably her best achievement," she submits.