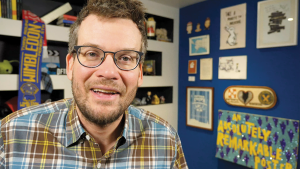 Congratulations from John Green
Knowing that the newly admitted Class of 2024 would miss out on a traditional high school graduation, bestselling author John Green '00 shared a message of encouragement and, as he's apt to do, a good story. When Green missed his own Commencement, the late Professor of Religious Studies Donald Rogan threw him a non-traditional ceremony that was even more meaningful.
The Best of Both Worlds
The "Music and Entrepreneurship" course taught by Professor of Music Ted Buehrer '91 had a viral moment on TikTok thanks to a class visit from LA-based composer Kenneth Burgomaster '91.
Maeve Griffin '23 recorded a clip of the Zoom video conference in which Burgomaster explained how he used samples of Miley Cyrus' voice to write a series of short transitional riffs for the TV show "Hannah Montana" — micro-compositions that have found fame in their own right as a popular TikTok sound.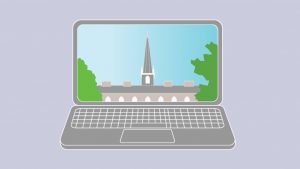 Kenyon From Your Couch
Amid concerns over the COVID-19 pandemic, Kenyon has suspended all on- and off-campus alumni events. Stay connected with your fellow alumni by joining one of our virtual "Kenyon from Your Couch" events, which range from readings and discussions to campus tours and performances.
'05
Megan L. Harvey, Houston, works at NASA's Johnson Space Center on the International Space Station program. "This summer I was the lead Russian liaison for Increment 59," she informs. She recommends the podcast "The Adventure Zone" and a Bill Bryson book titled "One Summer: America 1927," which was "part of a syllabus listed in one of the Kenyon Alumni Bulletins."
'58
David F. Taber, Winfield, Illinois, and his wife, Jennifer, downsized two years ago. Their daughter, Madeline, visits from Denver.
'65
John A. Lynn, Indianapolis, reports that he and Elizabeth "survived our 53-day maiden RV voyage" last summer, then a "63-day Western ministerial itinerary" from October to December. "As for my now 65-month battle against bone marrow cancer," he reports, "on paper my blood numbers still need to improve significantly, but I don't feel sick at all." A highlight was a San Francisco trip to see a Golden State Warriors game in which their friend, NBA star Kevon Looney, played.