Hot Takes: What's Trending in the Kenyon-verse
Crashing Courses
On Facebook recently, the mysterious account known only as Lorde Kenyon posed the challenge: "Ruin a Kenyon course title by changing one letter." Some of our favorites from the 100+ responses:
ENGL 213:
Sexting: Reading Like an English Major
HIST 360:
Porn, Farming and the Roots of American Cultures
RLST 470:
Moanings of Death
PSCI 300:
Congress and Public Policyfaking
Serendipitous SMS
Many of our inboxes were blowing up with campaign-related messages this election season, but at least one of them sparked a Kenyon connection instead of ending up in the trash bin. Alise Shuart Barrett '92, texting on behalf of New Jersey Democrats, was randomly connected with Sophie Silberman '19, working for Ohio Democrats. Silberman took to Twitter to share her "heartwarming textbank story" of intergenerational Gambier goodwill.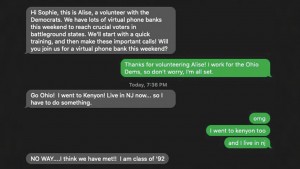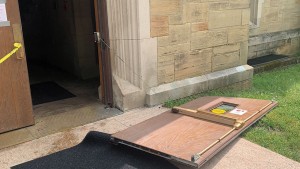 Doorway Disaster
Reflecting how many of us have felt since March, the double doors of Peirce Dining Hall simply decided to give up, lie down and take a nap a few weeks into Kenyon's fall semester. After all, enough else has gone wrong in 2020 — how much worse could a bit of ingress inconvenience make it? The faulty door was quickly set back on its hinges, but not before achieving minor Twitter fame.
Tofoodies
Tofu: Is there anything these little soy-based rectangles can't do? The versatile vegan staple has been a cornerstone of Peirce Hall's modified operations this year, so several first-year students started an Instagram account, @kenyontofu, to rank each day's offerings, which range from "cooked sponge" to "crispy on the outside, actually seasoned." Come for the Tofu Bingo and stay for special guest appearances from tofu's sidekick, "eatloaf."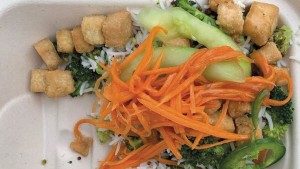 West Winging It
Twitter buzzed with excitement at seeing Allison Janney '82 resume her role as Aaron Sorkin's iconic White House press secretary CJ Cregg in a "The West Wing" TV special benefiting Michelle Obama's organization When We All Vote.
The staged reading of the season three episode "Hartsfield's Landing" reunited the cast and garnered online praise, including, "CJ at the podium again, how I've missed this," and, "I have a queen and her name is CJ Cregg."
Sadly, there was no reprise of "The Jackal."
'88
Lawrence J. Apke, Hillsborough, Calif., runs a nonprofit called the Job Hackers, training people at no cost to help them find meaningful employment. "For the past three years we've provided over $2 million of free training," he informs. "Our participants are finding good jobs even in this pandemic. We even had at least one Kenyon grad join our over 1,000 participants." Larry and Zhanna have lived in the SF Bay Area for six years, currently with all three children, ages 14 to 29. "In my new 'day' job, I lead big data teams for Pacific Gas and Electric, facing numerous challenges with climate change and our California customers."
'20
Srila H. Chadalavada is a post-baccalaureate research fellow at the National Institute of Mental Health in Bethesda, Maryland. In her neural coding lab, she's researching the visual pathway and how it ties into decision-making and reward valuation.
'90
Thaddeus C. Camp, Tucson, Arizona, reports that his teaching position at the University of Arizona "was a victim of COVID, but that means I can now finally commit to inverting what my teachers used to write on my report cards. Rather than 'stop doodling' and 'pay attention,' I've decided to stop paying attention and focus on my 'doodling.'" Thad is sharing his art, mostly oil paintings, in Tucson and Phoenix and at thaddeuscamp.com. "I continue to live in Tucson with my front-line, kick-butt pediatrician wife, Rachel, and our daughter Phoebe (5)."