Hot Takes: What's Trending in the Kenyon-verse
Crashing Courses
On Facebook recently, the mysterious account known only as Lorde Kenyon posed the challenge: "Ruin a Kenyon course title by changing one letter." Some of our favorites from the 100+ responses:
ENGL 213:
Sexting: Reading Like an English Major
HIST 360:
Porn, Farming and the Roots of American Cultures
RLST 470:
Moanings of Death
PSCI 300:
Congress and Public Policyfaking
Serendipitous SMS
Many of our inboxes were blowing up with campaign-related messages this election season, but at least one of them sparked a Kenyon connection instead of ending up in the trash bin. Alise Shuart Barrett '92, texting on behalf of New Jersey Democrats, was randomly connected with Sophie Silberman '19, working for Ohio Democrats. Silberman took to Twitter to share her "heartwarming textbank story" of intergenerational Gambier goodwill.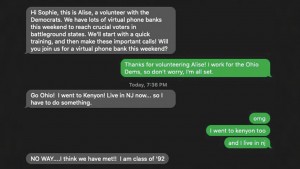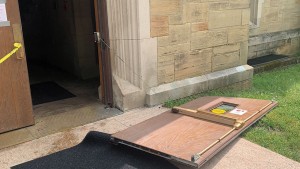 Doorway Disaster
Reflecting how many of us have felt since March, the double doors of Peirce Dining Hall simply decided to give up, lie down and take a nap a few weeks into Kenyon's fall semester. After all, enough else has gone wrong in 2020 — how much worse could a bit of ingress inconvenience make it? The faulty door was quickly set back on its hinges, but not before achieving minor Twitter fame.
Tofoodies
Tofu: Is there anything these little soy-based rectangles can't do? The versatile vegan staple has been a cornerstone of Peirce Hall's modified operations this year, so several first-year students started an Instagram account, @kenyontofu, to rank each day's offerings, which range from "cooked sponge" to "crispy on the outside, actually seasoned." Come for the Tofu Bingo and stay for special guest appearances from tofu's sidekick, "eatloaf."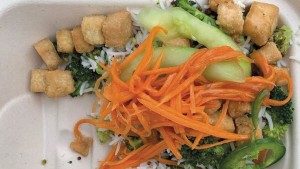 West Winging It
Twitter buzzed with excitement at seeing Allison Janney '82 resume her role as Aaron Sorkin's iconic White House press secretary CJ Cregg in a "The West Wing" TV special benefiting Michelle Obama's organization When We All Vote.
The staged reading of the season three episode "Hartsfield's Landing" reunited the cast and garnered online praise, including, "CJ at the podium again, how I've missed this," and, "I have a queen and her name is CJ Cregg."
Sadly, there was no reprise of "The Jackal."
'91
Mary (LaFlamme) Sarkisian, Lithia, Florida, and her husband work from home, enjoying the Florida lifestyle. "We are thrilled that our son, John, was accepted into
Kenyon's Class of 2025 and will be on the Hill this fall. He is so excited and plans to major in English with a concentration in creative writing and minor in film. We cannot be happier for him and are looking forward to our visits to Kenyon over the next four years. We will need to buy him a winter coat!" Daughter Grace
is a sophomore at the University of Alabama, majoring in journalism.
'10
"Say goodbye to Matt Colburn, adjunct professor of English. Say hello to Matt Colburn, full-time instructional designer at Howard Community College."
— Matthew P. Colburn, Bethesda, Maryland
'04
Mara D. Bernstein, Bloomington, Indiana, works for Indiana University Libraries, informing alumni and donors "about the amazing teaching, learning and research that takes place on campus," she submits. "It is a fun job of 'other duties as assigned' that my Kenyon anthropology and art history majors prepared me for."