60-Second Syllabus: PSCI 374
Professor Jacqueline McAllister offers a peek into her "Civil Wars and Failed States" class.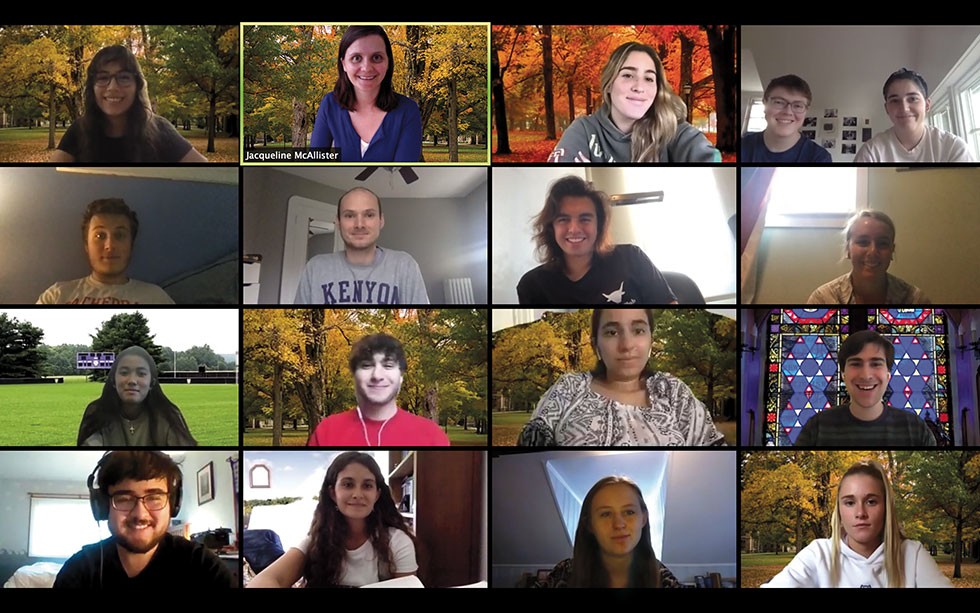 Tuesdays and Thursdays, 9:40 - 11 a.m. on Zoom
Taught by Jacqueline McAllister, associate professor of political science
There are plenty of Kenyon courses that discuss how to build a more just society and a better world — but what about when it all goes wrong? The seminar "Civil Wars and Failed States," taught remotely this semester by international relations and human rights expert Jackie McAllister, examines how a functioning country can descend into chaos. "It's an interesting puzzle, because getting people to go kill other people is actually really hard to do," McAllister said. "How do you break them down enough to do it?"
With case studies ranging from Yugoslavia to Sudan to Iraq, students explore both the conflicts themselves and international responses in the forms of peacekeeping and humanitarian aid. In-class visits by authors of the U.S. military's counterinsurgency manual provide "not just the academic, but also the practitioner and policymaker perspective in the class," McAllister said.
While the syllabus includes a traditional reading list, McAllister also encourages her students to keep up with podcasts covering current events and to follow experts in the field on Twitter. "These are literally the people on the cutting edge, so that's how I get the best up-to-date information," McAllister said. "You have to be critical in how you do it, but Twitter's a great tool."
In a year marked by increasing polarization and even violence in the U.S., the course also provides a framework to analyze political concerns at home. "Our state institutions are still working and checking, maybe not as much as some of us would like," McAllister said. "But there are certain parallels to seeing the rise of nationalist leaders to what we're seeing now. It's not quite the same thing, but there is a warning there of how much further we let this happen."
Recommended Reading
"New and Old Wars: Organized Violence in a Global Era," by Mary Kaldor
"The Logic of Violence in Civil War," by Stathis N. Kalyvas
"Balkan Ghosts: A Journey Through History," by Robert D. Kaplan
Recommended Viewing
"Losing Iraq," PBS Frontline (S32:E18)
"Once Upon a Time in Iraq," PBS Frontline (S38:E21)
OB-GYN and public health scholar Karen A. Scott '98 is leading a new research project — the first of its kind…
Read The Story
When her senior drama thesis performance was canceled due to COVID-19, Talia Light Rake '20 turned Zoom into art…
Read The Story