Same Hill, New World
View scenes from life at Kenyon at the start of an unprecedented fall semester.
In August, Kenyon welcomed back to campus a cohort of first-years, sophomores and transfer students (while juniors and seniors participated in classes remotely). Before the students' arrival in Gambier, faculty and staff redesigned classroom set-ups, posted social distancing markers around campus, and re-envisioned all aspects of student life and learning in the midst of a pandemic.
"I have felt really proud and fortunate to be part of an institution that has done its best to take care of students and look out for its people," said Associate Professor of English Sarah Heidt '97, who taught a mix of in-person and remote courses this year. "I do my best, every class session, to help my students feel that they have a place where they belong, and where they have a community, in a time that often feels frightening, lonely and overwhelming. And being with my students is nourishing, challenging and regenerating all at the same time. This year has kept me thinking about how and why what we do at Kenyon matters — and why it matters to all of us to do it at Kenyon."
We asked Columbus-based photojournalist Maddie McGarvey to capture scenes from life at Kenyon at the start of an unprecedented fall semester.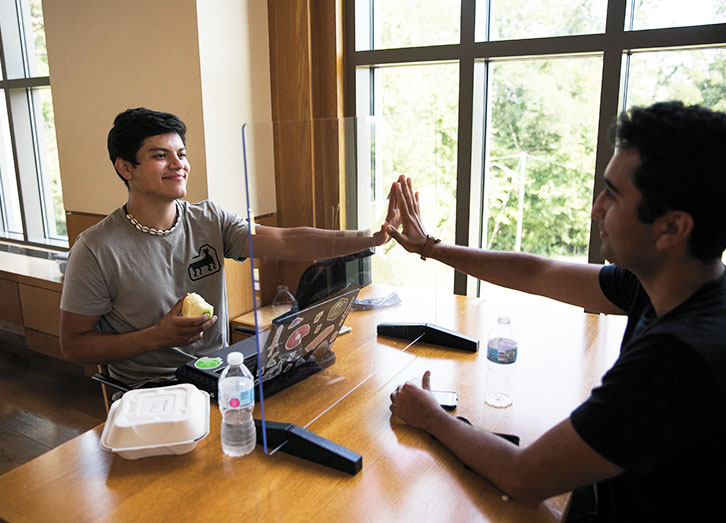 Jonathan Pastor '23, left, of Gambier, Ohio, multitasked in Peirce Dining Hall with friend Bijan Khaghani '23. "Since March, my life has slowly become more and more of my responsibility," he said. During the initial quiet period, "it was up to me to strive for self-improvement. I was not able to use friends or my usual support system to motivate me to make sure everything gets done. Since everything has been so modified, being on campus again and attending classes almost feels like a different reality," he added.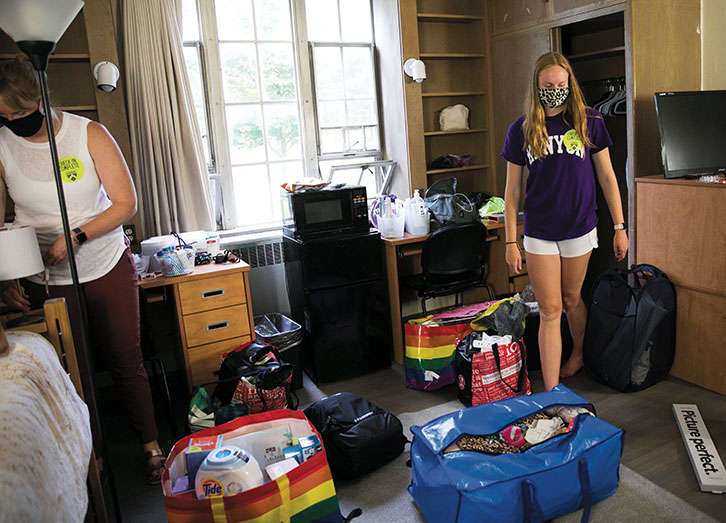 Grace Neuger '24 of Dundas, Minnesota, moved into Norton Residence Hall at the start of fall semester — with fewer students living on campus this fall, everyone lived in single rooms.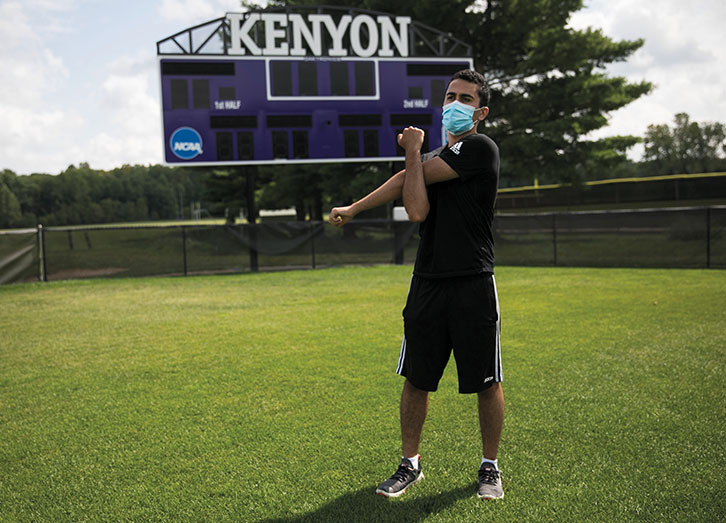 Bijan Khaghani '23, from Chicago, kept in shape during the quiet period by taking daily runs in the field behind the Lowry Center (formerly known as the Kenyon Athletic Center).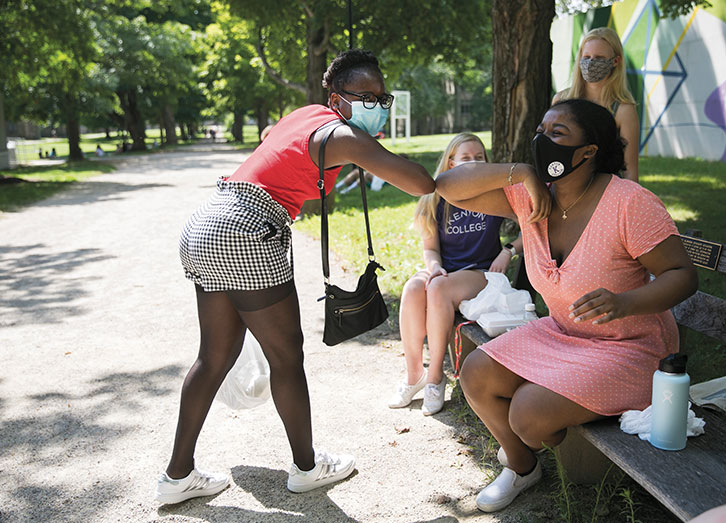 Ubongabasi Asuquo '23, an international student from Nigeria, left, greeted friends on Middle Path with socially distant elbow bumps.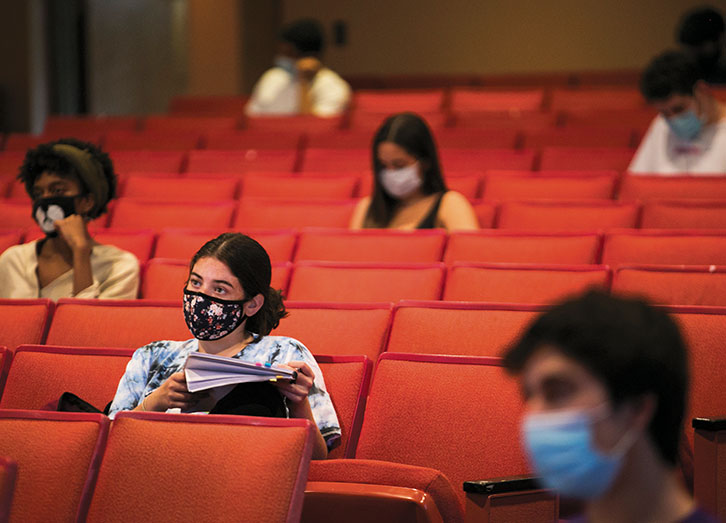 Assistant Professor of Psychology Leah Dickens moved her "Intro to Psychology" classroom to Rosse Hall to accommodate distancing requirements. "It's an odd experience, being on a literal stage, but one I've gotten used to," she said.
When her senior drama thesis performance was canceled due to COVID-19, Talia Light Rake '20 turned Zoom into art…
Read The Story
OB-GYN and public health scholar Karen A. Scott '98 is leading a new research project — the first of its kind…
Read The Story