Book Shelf
New releases from members of the Kenyon community.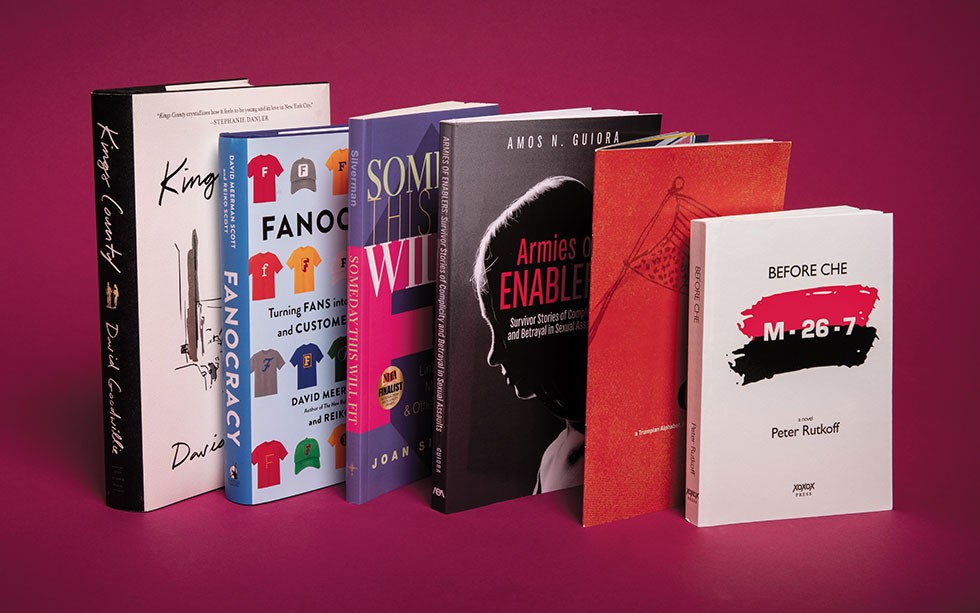 Editor's Note: Any of the books mentioned here can be ordered through the Kenyon College Bookstore at shopkenyon.com.
'Fanocracy: Turning Fans Into Customers And Customers Into Fans'
BY DAVID MEERMAN SCOTT '83 AND REIKO SCOTT
Meerman Scott is a business growth strategist, entrepreneur and the author of 10 other nonfiction books. "Fanocracy," a Wall Street Journal bestseller co-written with his daughter, argues that fandom can be "rocket fuel for any business or non-profit that chooses to focus on inspiring and nurturing true fans." (Portfolio/Penguin)
'Someday This Will Fit: Linked Essays, Meditations & Other Midlife Follies'
BY JOAN SILVERMAN '73
Silverman has written short essays on "the things that matter — family and friendship, Dove Bars and thank-you notes" — for publications ranging from The Boston Globe to the Los Angeles Daily News. This debut collection gives Silverman's "midlife observations" a second act, and was recently named a National Indie Excellence Awards finalist. (Bauhan Publishing LLC)
'Armies of Enablers: Survivor Stories of Complicity and Betrayal in Sexual Assaults'
BY AMOS GUIORA '79
In his 12th book, Guiora, a law professor at the University of Utah, asks, "What do sexual assault survivors expect of the enabler-bystander?" Focusing on recent notorious abuse scandals, he exposes "how individual and institutional enablers allow predators to perpetrate their crimes through silence and other failures to act." (American Bar Association Publishing)
'A is for Autocrat: A Trumpian Alphabet, Illustrated'
BY D.B. DOWD '83
Author and illustrator Dowd describes "A is for Autocrat" as an illustrated "alphabet book that takes on Donald Trump in 26 different ways." Written, the author notes, over a frenzied eight-week period, it is reminiscent of the children's board book, "A is for Activist," but for grown-ups who have grown weary of doom-scrolling on social media. (Spartan Holiday Books)
'Before Che'
BY PETER RUTKOFF
Professor of American Studies Peter Rutkoff's 10th book, a novel, probes the origins of the Cuban Revolution of 1953-59 and centers on a real-life character, Oliver Law — a communist and labor organizer who fought for the Republic in the Spanish Civil War and was the first African American to lead an integrated military force. Rutkoff connects those times and events to the early days of the M-26-7 movement and the Cuban revolutionary struggle before Che Guevara's arrival in 1955. Rutkoff plans to retire from Kenyon this year. (XOXOX Press)
---
Additional Releases
Sarah Bamford Seidelmann '89 (with Alice the Elephant), "How Good Are You Willing To Let It Get? Daily FEELGOOD Inspiration for Creatives, Healers, and Helpers"
Michael Berick '00, "Relentless Visionary: Alessandro Volta"
Scott Carney '00, "The Wedge: Evolution, Consciousness, Stress, and the Key to Human Resilience"
David M. DiPasquale '90, "Alfarabi's Book of Dialectic (Kitāb al-Jadal): On the Starting Point of Islamic Philosophy"
Douglas London '74, "Sinister Silence"
Scott Kenemore '00, "Lake of Darkness"
P.F. Kluge '64, "Keepers: Home & Away"
Warren Martin '78, "Winning in the 21st Century: Business Principles & Processes That Really Work"
Jon Rakestraw '90, "The Mostly True Stories of Trudi Hierholzer"
Caitlin Starling '12, "The Luminous Dead"
Doug Wilhelm '74, "Street of Storytellers"
When her senior drama thesis performance was canceled due to COVID-19, Talia Light Rake '20 turned Zoom into art…
Read The Story
OB-GYN and public health scholar Karen A. Scott '98 is leading a new research project — the first of its kind…
Read The Story