A Taste of Peircegiving
Add a pinch of Gambier to your holiday season with this classic autumnal Kenyon recipe.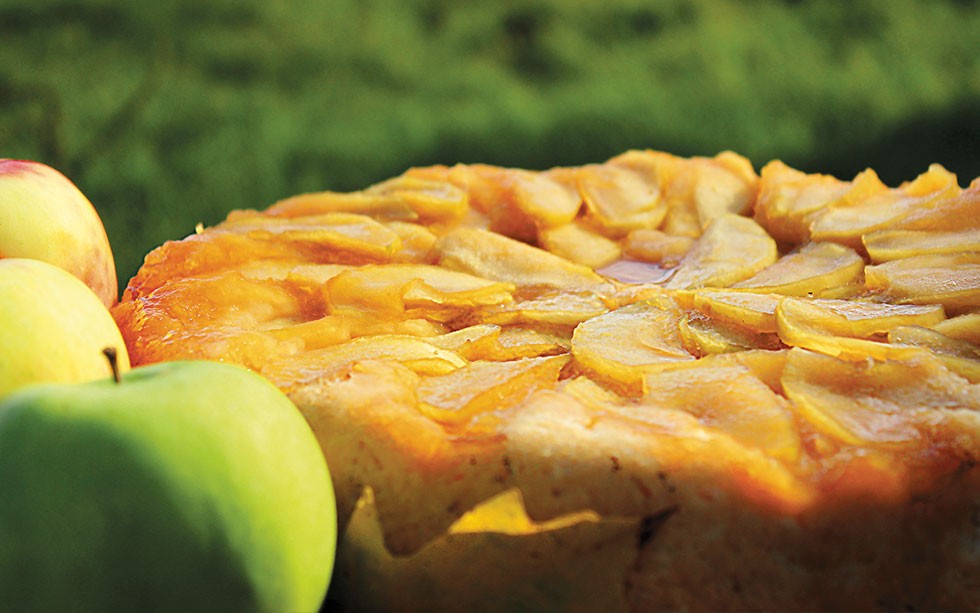 Each year on the third Thursday of November, a line begins to form at Peirce Dining Hall hours before the doors open for dinner — not just any dinner, but Peircegiving, a bacchanal of too much turkey, competitively claimed tables and general merriment that marks the final chance to share a meal with friends before the Thanksgiving exodus from Gambier begins.
This year, Peirce's dedicated staff hosted Peirce-giving of a sort, but many Kenyon students who are studying remotely — not to mention thousands of nostalgic alumni — missed out on the festive feast. We asked AVI pastry chef Bethany Fonner to share a classic autumnal Kenyon recipe to bring a taste of Gambier into your own holiday season at home.
Maple Apple Upside Down Cake
1 tablespoon pure vanilla extract
1 cup dark maple syrup
3 large, fresh, firm apples, cores removed, peeled and cut into 1/8" thin slices
4 cups all-purpose flour
2 cups granulated sugar
4 teaspoons baking powder
2 teaspoons kosher salt
1 ¾ cups buttermilk
½ cup canola oil, plus extra for the pan
1. Preheat your oven to 350 degrees. Generously grease the inside of an 11 ¾" or 12" cast iron skillet with canola oil. Pour the maple syrup into the bottom of the pan, and arrange the apple slices in concentric circles.
2. In a mixing bowl, whisk together the flour, sugar, baking powder and kosher salt. In a separate bowl, whisk together the buttermilk, canola oil and vanilla extract. Pour into the flour mixture and use a silicone spatula or wooden spoon to stir until no dry pockets remain. Scoop in dollops over the apples, and gently spread until level.
3. Bake for 35-38 minutes or until the top has browned a bit and a toothpick inserted in the center comes out clean. Let the cake cool for 10 minutes on the stovetop.
4. To transfer to a plate or cake stand, run a thin knife or spatula around the inside of the pan. Invert a plate or cake stand that is larger than the circumference of the pan over it. Carefully hold the plate to the pan as you invert the whole thing. The cake should come out of the pan easily, but if it needs a little encouragement, smack the bottom of the pan firmly with your hands a few times. Carefully remove the pan. The maple syrup will run down the sides of the cake onto the platter. Serve warm, room temperature or cool. Leftovers can be stored tightly wrapped at room temperature for five days.
OB-GYN and public health scholar Karen A. Scott '98 is leading a new research project — the first of its kind…
Read The Story
When her senior drama thesis performance was canceled due to COVID-19, Talia Light Rake '20 turned Zoom into art…
Read The Story