'He Doesn't Rest'
From music to writing to history, Allen Ballard '52 H'04 keeps breaking new ground.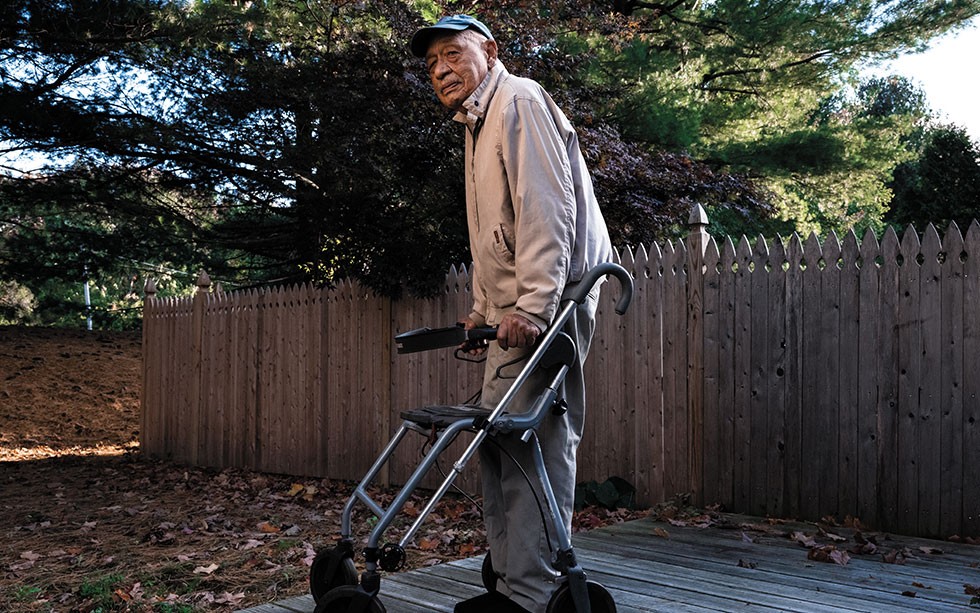 Allen B. Ballard Jr. '52 H'04 was leaving his job as a busboy at Linton's restaurant when a mob of white men began chasing him with baseball bats. It was August 1944, and hundreds of white transit workers were protesting the promotion of Black trolley car drivers in Philadelphia. Workers around the city relied on trolleys to shuttle them to factories that supplied materials for World War II. But white transit workers did not want their Black colleagues to hold such highly skilled jobs. During what became known as the Philadelphia Transit Strike, they smashed store windows, dragged people from their cars and beat them in the streets.
Ballard, who was just 14, ran home to his grandfather's house, where he was met by a group of Black men with bats. Ballard knew those men would protect him, but not every Black child in the city was so lucky. On the third day of the strike, two white men shot a 13-year-old boy in a drive-by shooting. "It kind of imprinted upon me the fact of actual white anger," Ballard said of the experience. He knew he would have to face that fury, in one form or another, for the rest of his life. He also knew his community would look out for him. "It made me much more African American," Ballard said. "It stamped me as being African American."
Four years after the strike, Ballard and classmate Stanley Jackson '52 became the first Black students to integrate Kenyon. And he carried the lessons he learned as a frightened teenager into his academic career. In the 1960s he designed a program to help desegregate the City College of New York, opening its doors to more Black and Puerto Rican students from surrounding neighborhoods. The SEEK program became the model for racial and economic equity initiatives at colleges around the country.
After joining the University at Albany-SUNY in 1986, Ballard taught Russian history, African- American studies and civil rights, while being active in that university's educational opportunity program. In the mid-1990s, Ballard began teaching classes on the Civil War, in part because he wanted to write a novel about a Black Civil War regiment.
"This is Allen — he doesn't rest," said Professor and Collins Fellow Richard F. Hamm, Ballard's former colleague in the history department. "He's just entranced with trying to do new things." Ballard eventually published four nonfiction books and two works of fiction, including the Civil War novel, "Where I'm Bound," which was named a 2001 Washington Post "Notable Book of the Year." As his social and intellectual accomplishments mounted, Ballard found that music and a deep spiritual life sustained him. He grew up in a neighborhood where music from a gospel radio station poured out of every doorway on Sunday mornings. As a toddler, he listened to his grandmother sing while she ironed clothes as a laundress for white clients, and his aunts played the piano so well it was "like hearing a full orchestra," Ballard once told a reporter. He played the guitar his entire life, including in Russia, where he was a Harvard University graduate student working on his dissertation on Russian history at the Agricultural Academy in Moscow. One of his favorite memories is of singing folk songs while drinking vodka and eating bread and cheese with a group of friends there. "I don't know how I could've made it without music," Ballard said.
During his three decades in Albany, Ballard was a member of Mount Calvary Baptist Church. He sang in the male choir and eventually directed it. Deacon Persell McDowell, a friend of Ballard's for more than 40 years, said he was especially effective in mentoring the younger men in the church. "The guy was so soft-spoken that everybody wanted to hear what he had to say," McDowell recalled.
On Saturday mornings, Ballard would wake at 5 a.m. to cook in the church's soup kitchen, feeding a crowd of more than 100 people some weeks. There were some "real ruffians" who showed up for the free meals, McDowell said, but Ballard knew how to handle them in his quiet way.
"That was such a satisfying job," Ballard said. "It kept me grounded into the world of folks who just were not as privileged as I was" — particularly the children who would otherwise have gone hungry.
As he enters his 10th decade, the former Kenyon football player is not as physically active as he once was, but his enthusiasm for life is undiminished. He likes to exercise every morning, lifting weights and going on walks using his rollator — a walker that includes wheels and a seat. (In 2018, Ballard published a book — "Keep on Moving!" — about his journey into the world of alternative vehicles for seniors and others who are not able to drive.) Shoulder trouble forced him to give up the guitar, but he recently taught himself to play the harmonica.
Ballard said his time at Kenyon gave him "a curiosity about the word and how it connects," along with the ability to adapt to changing circumstances. And that, more than anything, has led to a revelation about growing older. "I've been surprised at my own resilience," Ballard said.
"Without difficulty, there's no advancement."
When her senior drama thesis performance was canceled due to COVID-19, Talia Light Rake '20 turned Zoom into art…
Read The Story
OB-GYN and public health scholar Karen A. Scott '98 is leading a new research project — the first of its kind…
Read The Story