Big League
William E. Lowry Jr. '56 H'99 is a heavy hitter in sports and life.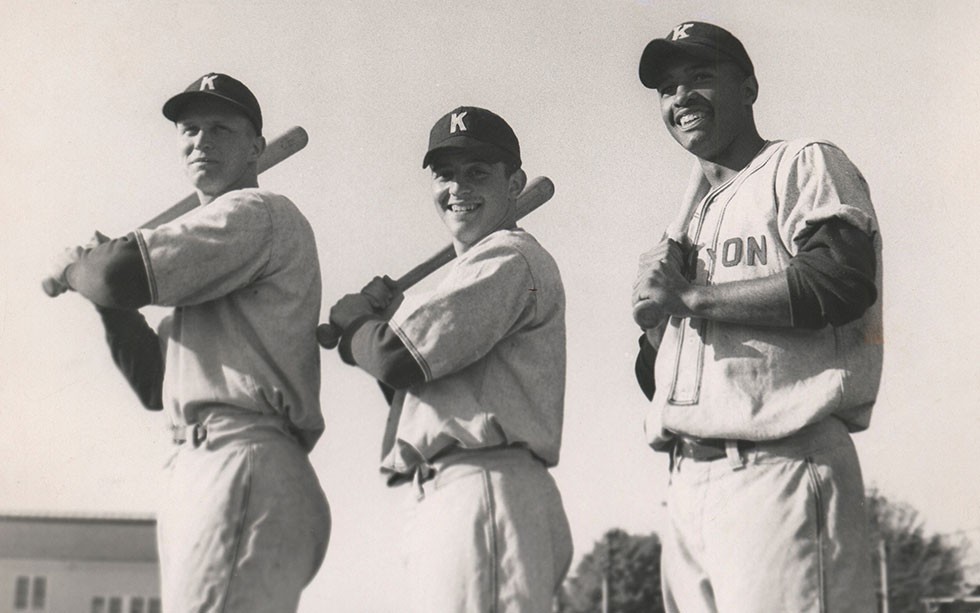 William E. Lowry Jr. '56 H'99 (above, on the far right) is no stranger to breaking down barriers. The fifth Black student to graduate from Kenyon and the first Black student in the nation initiated into Beta Theta Pi (which was not without controversy), he also served as student body president and captained the baseball, basketball and football teams. His career in the corporate and civic arenas included three decades with Inland Steel Industries, Inc., and its subsidiaries, and a role as vice president and senior advisor to the president of the John D. and Catherine T. MacArthur Foundation.
To honor Lowry's impact and legacy at Kenyon and beyond, the Board of Trustees voted in October to rename Kenyon's athletic facility in his honor: It will now be known as the Lowry Center. "To me this building is one of the most significant buildings that we have on campus and to know that my name will be attached to it is beyond comprehension, quite frankly," said Lowry of the honor. In addition, Board Vice Chair Joseph E. Lipscomb '87 P'19 made a lead gift to create a scholarship for underrepresented students in Lowry's name.
OB-GYN and public health scholar Karen A. Scott '98 is leading a new research project — the first of its kind…
Read The Story
When her senior drama thesis performance was canceled due to COVID-19, Talia Light Rake '20 turned Zoom into art…
Read The Story