Find A Way or Make One
When her senior drama thesis performance was canceled due to COVID-19, Talia Light Rake '20 turned Zoom into art.
Story by Liz Logan | Illustration by Avalon Nuovo
It's 3 a.m. and two college students, Charlie and Catherine, are hanging up a Zoom call. They have been lovers for months, but now they're separated by quarantine and don't know when they'll see each other again. "Goodnight, love you," Catherine says breezily.
"Ummm …" Charlie responds, and the camera moves with him as he suddenly sits up straight. In the awkward conversation that ensues, the two are forced to define the exact nature of their relationship.
This scene is the beginning of the short play "Hangups," by Sarah Groustra '22. In normal times, such a work might be performed in the Harlene Marley Theater on campus. Instead, due to COVID-19, the play was performed by professional actors — Hayley Orrantia and Marcus Scribner (of the TV shows "The Goldbergs" and "Black-ish," respectively) — recorded and streamed live as part of Playdate, a virtual theater production company founded, in the wake of crisis, by Talia Light Rake '20. Playdate's first livestreamed festival took place over three nights in July and August. It featured a number of well-known actors and raised more than $16,000 for charitable causes.
In March, Light Rake learned that she wouldn't be returning to campus to finish out her senior year and celebrate graduation with her friends. Also canceled was the culmination of her senior drama thesis in acting, a performance of "Athena" by Gracie Gardner '13 that would have gone up on March 28. The play is about two teenage girls who are fencing competitors, and Light Rake had spent months learning how to fence. After graduation, she planned to move to New York City and start work as the artistic office assistant at the Manhattan Theatre Club. But suddenly everything was up in the air.
"I was heartbroken. As a drama major, you spend four years looking forward to your senior thesis," Light Rake said. "I needed a way to deal with the change. Because I love making theater, naturally, I turned to it as a way to try to fill up the newly found empty space."
Light Rake was used to having a packed schedule, between classes, rehearsals and the like, so even before she got official word that she wouldn't be returning to campus, she was restless during her extended spring break.
From her childhood bedroom in the Hancock Park neighborhood of Los Angeles, she began emailing emerging playwrights she knew to ask if they were interested in using their quarantine time to generate some new plays. She reached out to people she'd met as an intern at the Kenyon Playwrights Conference and as an apprentice at the Williamstown Theatre Festival. When she saw that there was some interest, she started planning an ad-hoc play development conference, in which playwrights would draft short plays and give feedback to fellow playwrights.
"For my thesis, I had some back-and-forth with Gracie Gardner about changes she had to her play, so I knew it was possible to have a collaborative theater-making process from a distance," she recalled.
Soon, 50 playwrights had signed up for a five-day conference.
"I was hungry to collaborate, even if it wasn't in person."
Talia Light Rake '20, on founding Playdate, a virtual theater company, during the pandemic
"The plays that came in were so beautiful, I wanted to put them into production," Light Rake said. But she didn't have a stage. To bring these plays to life, she realized, she'd have to create a virtual stage. So she decided to do a second round of the conference and asked playwrights to pen plays that could be performed through a computer — "screen-plays," she called them. The theatrical experiences happening online at the time were monologues, readings or plays staged over Zoom — with characters speaking to each other as if they were in a video conference. Light Rake envisioned a new form that would add cinematic elements to the mix — allowing viewers to, say, see a character's screen as they scroll through Netflix and Twitter, or watch a live cam of another character. The screenplays would bring together the best of both worlds.
"I was watching a reading, and I heard a stage direction being read aloud," she said. "At that moment, I thought, 'There must be a better way.' I wanted to see a play that was really taking advantage of Zoom as a medium and turning the screen itself into a stage."
This time, 70 playwrights took part.
The conference started with the writing prompt, "Find a way or make one," a translation of "aut viam inveniam aut faciam," the motto of Light Rake's sorority, Theta Delta Phi. "I was missing my fellow Thetas," she said, "and I found the motto especially resonant because I was determined to make this art happen." A team of trusted readers from her network — including Kenyon peers Samara Handelsman '21, Claire McPartland '20 and Sean Seu '19 — helped Light Rake select six plays to put into production.
Light Rake's father, Jeff Rake, is the showrunner of the TV show "Manifest," so she was familiar with the Hollywood scene. First, she called actor-writer-director Mark Feuerstein — best known as the star of the show "Royal Pains" — who is a close family friend. "We had talked about doing something together," Light Rake said, "and I had a feeling he might fall in love with some of the plays." She was right. Feuerstein signed on as a festival producer, director of "Hangups," and an actor in "You Me and the Space Between," a play about two middle-aged people who met through an app and are going on a first date on Zoom. Together, Feuerstein and Light Rake used their networks to cast major acting and directing talents, including Michaela Watkins ("Casual"), Ed Weeks ("The Mindy Project") and Caroline Aaron ("The Marvelous Mrs. Maisel").
The project "ripped me out of my doldrums," Feuerstein said. "'Hangups' is a perfect comedy in eight minutes. When I read it, I thought the writer must be on staff at Netflix or Hulu. Turns out it was Sarah, who was a junior at Kenyon."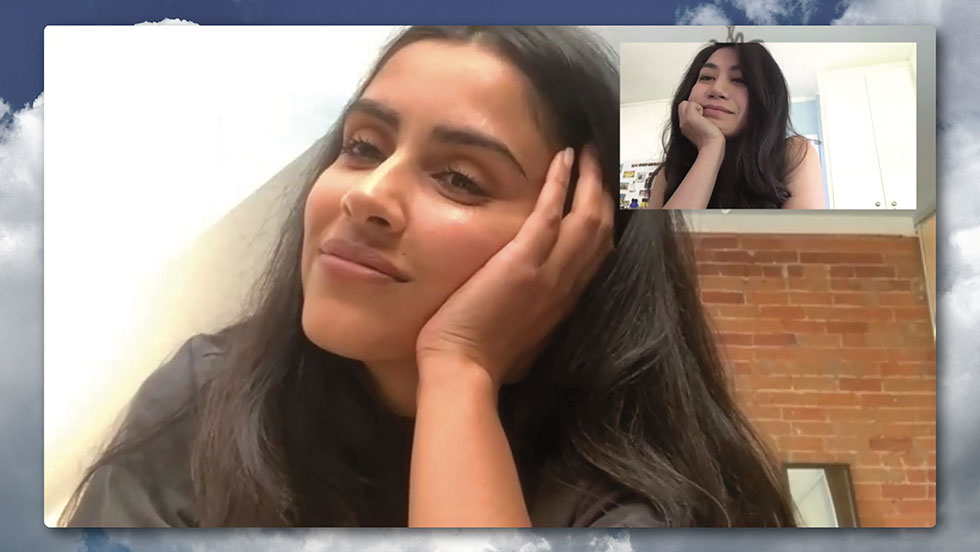 The playwrights used the limitations of virtual theater in interesting and sometimes hilarious ways. Half of the plays were Zoom or FaceTime calls between two people, including "Hangups." Groustra, the author of that play, said, "So many of the conventions we're used to being able to use in traditional theater don't exist onscreen. The hardest thing for me to give up was that characters lose the ability to touch each other and interact with each other physically. That's why I decided to use the familiar phone call format. I thought it wouldn't force the audience to suspend their disbelief too much." The way Charlie and Catherine both gaze directly into their respective cameras creates a certain intimacy with the audience; viewers see exactly what the characters see.
Other playwrights took a more idiosyncratic approach. In "Waze," the protagonist, Casey (played by Jay Jay Warren), is interviewing for a job at the tech giant Waze, while his grandmother (played by Caroline Aaron) is outside his bedroom door, berating him for betraying the legacy of his family, which is famous for making paper maps. The viewer is watching Casey's computer screen, and his grandmother appears via a hidden camera, which he has set up to ensure she won't interrupt.
The visual effects and editing came courtesy of a team of virtual designers led by technical director Miles Shebar '20 (he also designed the website where the recorded plays were livestreamed). The designers included Jacob Gusentine '20, Elizabeth Iduma '20 and Ashley Martens Montgomery '18. For "Are You Still?" a play about a woman who's struggling to pull herself away from the internet, Shebar re-created Netflix and Twitter for the screen. Various websites speak to the main character through voiceovers. A baking website, for example, calls "Are you still there?" in a dulcet Southern accent, voiced by Melinda Page Hamilton ("Messiah").
The festival also had an eye on current events. In "Hangups," the two college students in quarantine acknowledge that they don't know when they'll see each other in-person again. "AUT VIAM INVENIAM AUT FACIAM" tells the story of Charlie (Meg DeLacy, "The Fosters"), a college student who is quarantined at home and struggling to focus on her schoolwork while grappling with her student debt.
From the beginning, Light Rake envisioned the festival as a fundraiser for COVID-19 relief, via the YWCA Greater Los Angeles. As production went on, protests against racial inequity moved Light Rake and her team to add Color of Change, a nonprofit dedicated to racial justice, as a beneficiary. "We were stepping back and making art during this time, which not everyone has the privilege to do," Light Rake said. "So we wanted to be thoughtful about that. Having a charitable element was a way of honoring the moment and holding both truths."
The films were livestreamed in three shows and drew audiences of roughly 150 people each night. Audiences had to buy tickets and tune in live. "I really wanted to pay homage to the act of going to the theater, so it was important to make it a communal experience," Light Rake said. Ultimately, the festival raised $16,000 to be split between the two organizations.
Samara Handelsman '21, who served as director of artistic operations for Playdate, is excited about where Playdate could go in the future. "With virtual theater, there's a new level of accessibility that I think is important," she said, "because theater can be very elitist."
Wendy MacLeod '81 P'15,'17, Kenyon's James Michael Playwright-in-Residence and a professor of drama, has been a mentor to Light Rake and said, "I knew she would become an artistic director. I just didn't know that it would happen within a few months of graduating. It's exciting to see her company producing plays for the virtual space, as opposed to trying to jerry-rig plays that are meant to be seen onstage."
Light Rake plans to keep Playdate going. "My goal is to turn Playdate into a proper nonprofit theater festival that will bring up new voices," she said. "I'm excited about how virtual theater can bring together the worlds of theater and film for cross-contamination. I'm in uncharted territory, but I'm glad to have found my place within it."
---
Liz Logan is an arts and design writer who is social-distancing in Chicago with her husband, two-year-old daughter and two cats.
OB-GYN and public health scholar Karen A. Scott '98 is leading a new research project — the first of its kind…
Read The Story