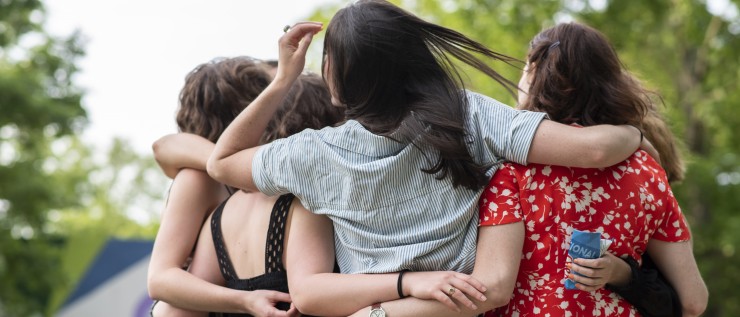 Alumnae from the Class of 2014 embrace at Reunion 2019, which drew more than 1,200 people to Gambier. Photography by Rebecca Kiger.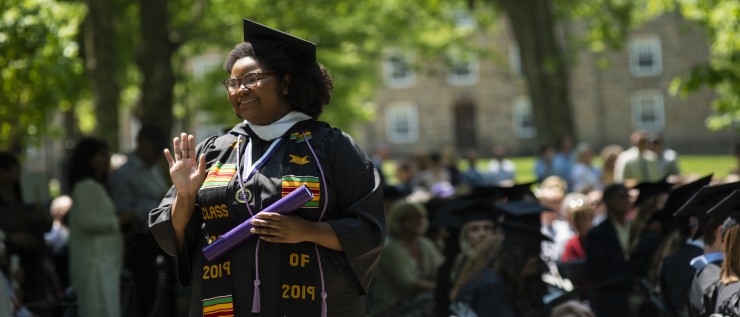 Michaela Jenkins '19 waves to her family after receiving her diploma at Commencement. Photography by Rebecca Kiger.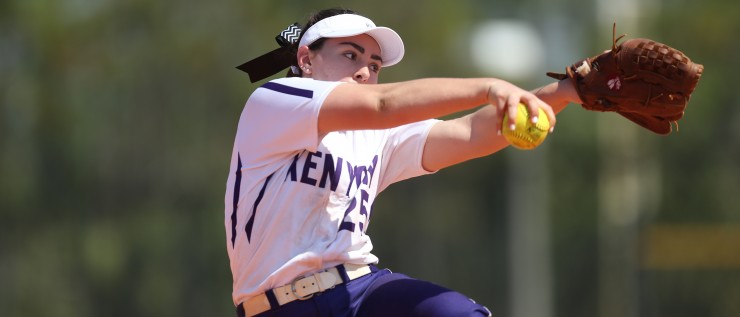 With help from Emily Pater '22, the softball team reached the NCAC tournament for the first time since 2013. Photography by Greg Wagner.
General Kenyon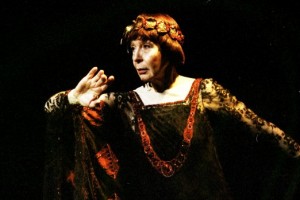 Alumni reflect on the Kenyon women who influenced them.
Read More
Alumni News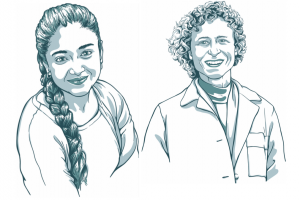 Deborah Reeder '85 and Sriya Chadalavada '19 swap words of wisdom for life beyond campus.
Read More
Student Life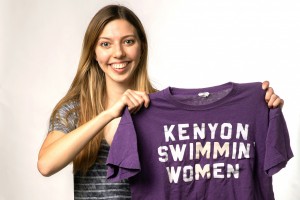 History major Hanna Feuer '21 digs into the physical culture of women at Kenyon.
Read More
Arts & Culture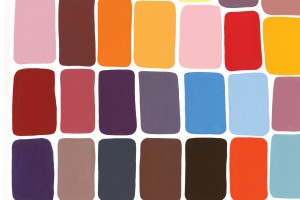 Painter Meg Cranston '82 explores the popularity of colors in fashion and retail.
Read More
General Kenyon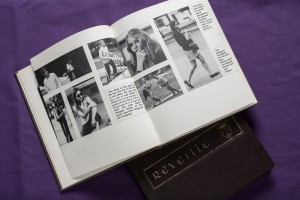 Here are some eyebrow-raising moments from the history of coeducation at Kenyon.
Read More
Kenyon in Quotes
"Robert A. Oden, Jr. Professor of Biology Joan Slonczewski taught me to think critically and gave me opportunities that snowballed into a lifetime of small achievements."
Kenyon in Quotes
"Without ever saying anything overtly to our political science class, Professor Emerita of Political Science Pam Jensen somehow managed to encourage intellectual rigor outside the class, and respectful engagement with a wide range of ideas within it. She became a model for me of what a scholar, instructor, mentor and guide could, and should, be."
General Kenyon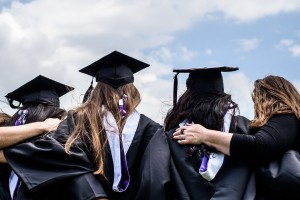 Editor Elizabeth Weinstein shares her approach for this special issue of the Bulletin.
Read More
Alumni News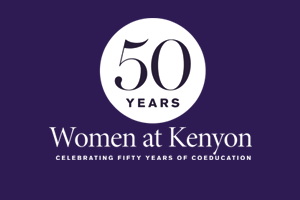 The influence of all Kenyon women will be celebrated during the upcoming year.
Read More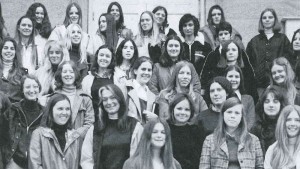 Lives of the Pioneers
In honor of the 25th anniversary of coeducation, the Spring 1995 Alumni Bulletin explored the lives of Kenyon's women pioneers.
How Women Came to Kenyon
To mark the 40th anniversary of coeducation, the Fall 2013 Alumni Bulletin recalled how coeducation came about — from the fiscal crisis, to the clamor, to the uneven welcome on the Hill.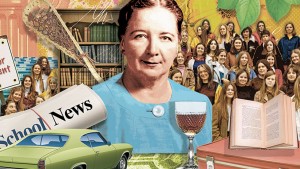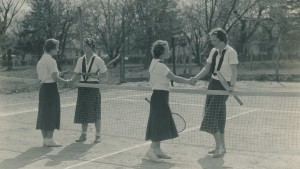 Share Your Photos
Submit photos of your favorite and most poignant memories from the College — highlighting women at Kenyon! Along with the photo, please identify individuals in the image and include a brief description and an approximate date.
'08
W. Neil Johnston, Bridgewater, New Jersey, recently accepted a job at Temple University as the associate director for graduate student experience at the Fox School of Business. "My wife and I are looking forward to getting settled in the Philadelphia area and catching up with Kenyon alums nearby!" he informs.
'97
Jeremy R. Collins moved to Cincinnati and started working as the senior network administrator at Shepherd Material Sciences. "My partner has started working at TriHealth as a laborist, and we are currently looking for a house," Jeremy updates. "We currently live downtown and enjoyed the Bengals' playoff run. We are within walking distance of the stadium and enjoyed the sense of excitement that permeated downtown during the playoffs."
'17
Kyra A.T. Green, Arlington, Virginia, works at Georgetown University as the inaugural assistant director of diversity, equity and inclusion for the Graduate School of Arts and Sciences.