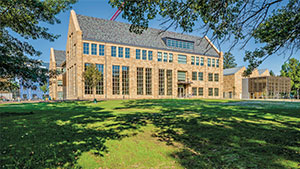 Middle Path Has Two Sides Again
In the fall of 2018, a plywood construction wall went up alongside the west side of Middle Path as construction began on the new Chalmers Library. Now that the library is open and the fence is down, we're relearning how to walk in a straight line, like the first time you go bowling without using the bumpers.
Recognition Returns
As masks come off outdoors on campus (at least sometimes ... thanks, Delta variant), we're back to Piaget's sensorimotor stage as we begin to recognize entire human faces. Start working on new excuses for why you can't remember the names of the people you wave to every day on your way to class.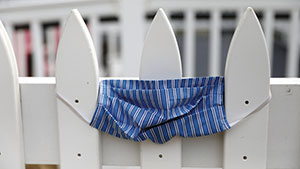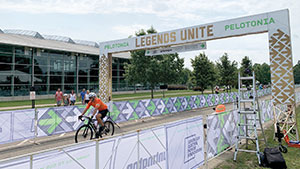 Show Up and Show Out
Trendy Peloton exercise bikes were a lifeline for many during the pandemic and will run you a few thousand bucks, but the return of Pelotonia to Gambier racked up a few million. After missing a year, riders in Ohio State's annual cycling event to raise money for cancer research rolled past Kenyon's Lowry Center in August once again, raising a total of $19,313,532.
'02
Rebecca M. Capasso, New York City, returned to Bellevue Hospital inpatient psychiatry in March as the associate director of inpatient services. "My two children are both in elementary school now." She enjoys catching up with Rebecca S. Stauffer, Gina M. Sorrentino and Sarah Daily often.
'82
"Time spent at Kenyon has remained a sweet spot in my memory! Four healthy grandkids whom we love — I hope one might land at Kenyon. I became director of integrative health at Ohio State this year, and it has been a wild ride. Our mindfulness program (mindfulnessinmotion.osu.edu) has been adopted by hospital systems/organizations all the way to the West Coast. The reductions in burnout and stress speak for themselves, but the research data is what people want. I especially love seeing college freshmen breathe easier, along with the healthcare professionals who have risked their own wellness over the pandemic.
"
— Maryanna (Danis) Klatt, Columbus, Ohio
'61
Daniel O. Holland, Waynesboro, Virginia, shares, "I always knew I would be grateful for attending Kenyon. However, not until I retired and could compose poetry to my heart's content — and to the dismay of my Facebook friends — did I realize the magnitude of my indebtedness to our alma mater, in particular to Mr. Ransom and Dr. Roelofs!" Dan is active in a poetry group and Shenandoah Valley Trout Unlimited. "Virginia continues to confirm our decision to flee Wisconsin winters. Out of the blue, Patty got a call begging her to teach bassoon at Virginia Tech. So now each week she drives two hours to teach for an hour. She is not complaining. The Feb. 20 Waynesboro Symphony concert was an absolutely triumphal affair; her being able to play both bassoon and contrabassoon with such a marvelous orchestra brings us great joy."