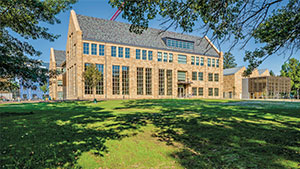 Middle Path Has Two Sides Again
In the fall of 2018, a plywood construction wall went up alongside the west side of Middle Path as construction began on the new Chalmers Library. Now that the library is open and the fence is down, we're relearning how to walk in a straight line, like the first time you go bowling without using the bumpers.
Recognition Returns
As masks come off outdoors on campus (at least sometimes ... thanks, Delta variant), we're back to Piaget's sensorimotor stage as we begin to recognize entire human faces. Start working on new excuses for why you can't remember the names of the people you wave to every day on your way to class.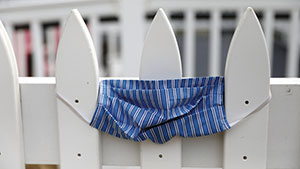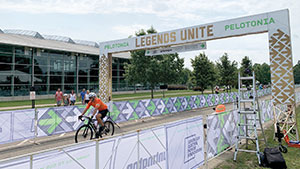 Show Up and Show Out
Trendy Peloton exercise bikes were a lifeline for many during the pandemic and will run you a few thousand bucks, but the return of Pelotonia to Gambier racked up a few million. After missing a year, riders in Ohio State's annual cycling event to raise money for cancer research rolled past Kenyon's Lowry Center in August once again, raising a total of $19,313,532.
'90
Anne Christine Seiler, Chico, California, shares her gratitude for the abundance of northern California and "the many fruit and nut trees and proliferating peppers and tomatoes of our two-acre rental home. Even more grateful for the internet, which has enabled me to continue telehealth work as a clinical psychologist — and to Zoom with Michele L. Petrucci, E. McAllister 'Calli' Towne, Kathryn 'Kate' Flanders and Melissa (Uhlig) Wright.t."
'75
Meg Merckens, Amana, Iowa, and her husband, Tom, recently moved into a smaller house in the Amana Colonies, a couple of villages over from their previous home of 25 years. "I worked on stage at the Old Creamery Theatre (in Garrison and Amana) for 31 years," she updates, "and then Tom and I started a small, 99-seat nonprofit theater in 2008 called the Iowa Theatre Artists Company. We'll be closing the doors on that company this year, and I will continue to freelance as an actor/storyteller."
'86
Lawrence J. Apke, Burlingame, California, updates, "In addition to a new day job, I continue to run a nonprofit called The Job Hackers, which has given away over $2.5 million of free training to the unemployed in less than four years. Along with my co-founder, I was recognized with the Jefferson Award Silver Medal in the Bay Area." Larry's oldest, Igor, soon turns 30, while his youngest, Darien (15), is a freshman at Burlingame High School. cdavid cottrill, Portland, Oregon, business agent for IATSE Local 488 Studio Mechanics of the Pacific Northwest, stayed busy representing motion picture and video production crews, he reports. "Helping members with unemployment issues, figuring out protocols for us to return to work safely, and making sure their families had basic necessities. Since July (2020), we have been back to work making binge-worthy content for you and America." COVID stress hit everyone, cdavid adds. "Zoom happy hours with the Mather Fourth Floor Artsy Fartsy Wing and other friend groups provided laughter and love to get me through."