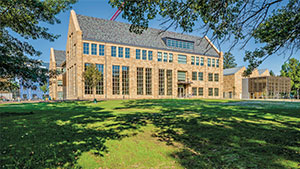 Middle Path Has Two Sides Again
In the fall of 2018, a plywood construction wall went up alongside the west side of Middle Path as construction began on the new Chalmers Library. Now that the library is open and the fence is down, we're relearning how to walk in a straight line, like the first time you go bowling without using the bumpers.
Recognition Returns
As masks come off outdoors on campus (at least sometimes ... thanks, Delta variant), we're back to Piaget's sensorimotor stage as we begin to recognize entire human faces. Start working on new excuses for why you can't remember the names of the people you wave to every day on your way to class.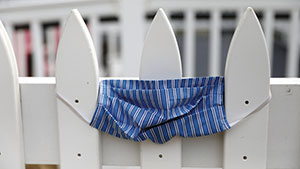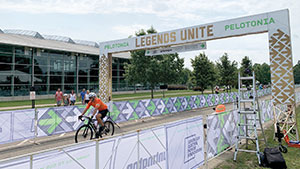 Show Up and Show Out
Trendy Peloton exercise bikes were a lifeline for many during the pandemic and will run you a few thousand bucks, but the return of Pelotonia to Gambier racked up a few million. After missing a year, riders in Ohio State's annual cycling event to raise money for cancer research rolled past Kenyon's Lowry Center in August once again, raising a total of $19,313,532.
'70
Arthur Vedder calls Santa Cruz, California, "This Side of Paradise. Enjoying my 44th year of medical practice, although now the abridged version. Our son, daughter and four grandsons (ages 2 to 7) live in the New York City area. We fly over Ohio's Magic Mountain frequently to visit."
'10
Alexandra C. Shaeffer notes, "After living in the Midwest and East Coast for the last 15+ years, I'm returning back to the SF Bay Area for the long haul. Still working as a freelance research coach but also teaching college French and developing a fully online low-cost first-year French class that will launch this fall."
'64
William F. Brooks, New Haven, Vermont, retired after 10 years as executive director of the Henry Sheldon Museum in Middlebury. Bill was honored for his leadership in history and art education by the Middlebury College Museum in May 2022 and by the trustees of the museum at a gala reception last July. Last summer and fall, Bill enjoyed visits to Vermont by Anthony W. Ridgway '66 and his family, and by Philip J. Harter. In February and March, Bill visited Ann and R. Barry Tatgenhorst '67 in Coral Gables, Florida, and the Ridgways in Naples. Joel D. Kellman, Huntington Woods, Michigan, sits on the boards of a large Detroit-based food bank and a community park in Detroit, and he participates with the trustees of the Detroit Symphony. "Happy to be able to continue playing tennis," he updates, "albeit with less pace. Not old enough for golf. Betsy and I are fortunate to spend some time in Arizona and northern Michigan — and, more important, to live near our son and daughter and our three grandchildren."