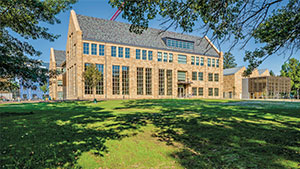 Middle Path Has Two Sides Again
In the fall of 2018, a plywood construction wall went up alongside the west side of Middle Path as construction began on the new Chalmers Library. Now that the library is open and the fence is down, we're relearning how to walk in a straight line, like the first time you go bowling without using the bumpers.
Recognition Returns
As masks come off outdoors on campus (at least sometimes ... thanks, Delta variant), we're back to Piaget's sensorimotor stage as we begin to recognize entire human faces. Start working on new excuses for why you can't remember the names of the people you wave to every day on your way to class.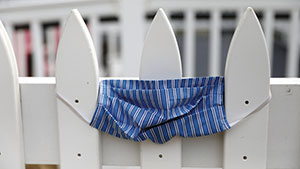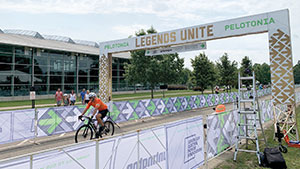 Show Up and Show Out
Trendy Peloton exercise bikes were a lifeline for many during the pandemic and will run you a few thousand bucks, but the return of Pelotonia to Gambier racked up a few million. After missing a year, riders in Ohio State's annual cycling event to raise money for cancer research rolled past Kenyon's Lowry Center in August once again, raising a total of $19,313,532.
'63
"Our first full year in SoCal has introduced us to many differences from our 35 years in central Oregon. We are learning to say, 'Hey, how 'bout them Rams and Dodgers?' in nine different languages. (Seriously, our utility bill is printed in nine languages.) Driving 80–85 mph keeps us up with the flow of traffic on 'the Five,' which is the SoCal pronunciation for I-5. Except for during rush hour, when 5 mph is a good day. This year we plan to take up surfing."
— Lester D. Alford, Fontana, California
'00
Benjamin D. Bagocius, Alexandria, Virginia, is an associate professor of the humanities with the Bard Sequence Program, a division of Bard Early College. He teaches Bard College classes at public charter high schools in Washington, D.C. Ben published his first book of poetry, "The Canaanite Woman," last summer, and his second, "The Gospel According to B.," is slated for publication in 2024. Ben's academic articles, book reviews and poetry are regularly published — "including two poems in Kristopher J. Armstrong's exquisite literary journal 'Tomorrow and Tomorrow.' I'm founding director of the Institute for Spiritual Poetry, which hosts workshops to write and talk (join us!) and a literary journal (publish your poetry and short prose with us!)." His poem "Apple or Baby Jesus" was recently nominated for a Best of the Net award for 2022.
'13
William J. Plaschke, Overland Park, Kansas, married Alisha Morris in June, with Kenneth J. Fedorko, Daniel J. Katz, Nathan W. Huey and John Rancatore '14 standing alongside him. "We were so glad to see some other dear Kenyon friends make the trip," he informs. The couple traveled to Italy, Greece and Turkey on honeymoon. "It was the best two weeks ever." Willie is a content editor for a tech company focused on law firms, and on weekends is blogging, releasing music and starting a meditation practice.