Join the Kenyon Alumni Book Club
Get back to the third floor of Ascension or campus coffee shop state of mind by discussing today's trending literary works.
The Kenyon Review and the Office of Alumni Engagement have joined forces to create an online forum just for Kenyon readers. A new selection will be voted on every few months, and participants will share reactions, critiques and insights in a moderated forum.
In honor of the 2019 Kenyon Review Literary Festival award winner, the inaugural selection was T.C. Boyle's "The Relive Box and Other Stories." The next selection will be "The Vexations" by Caitlin Horrocks '02. Sign up today at bookclub.kenyon.edu.
Flashback: The Black Student Union
Organized in 1969 and formally recognized in 1970, the Black Student Union (BSU), which celebrated its 50th anniversary in September, addressed the need for support for the growing number of black students at Kenyon. In the 1974 Reveille, Geraldine Coleman Tucker '74, the first woman president of the BSU, wrote, "The Black Student Union has become the central organ of the black students at Kenyon. It provides a forum in which we can exchange ideas and work toward the improvement of campus life for both present and future black students."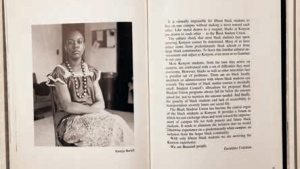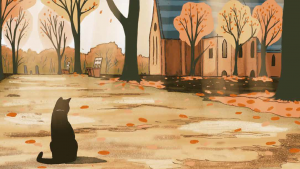 Capturing the Campus Cat
After graduating, Anna Katherine Zibas '19 missed seeing Moxie, Kenyon's beloved, unofficial campus cat. So she "decided to make art out of him,"
she writes. "Here he is surveying his kingdom." 
Postcards and prints of the illustration are now for sale at the Kenyon College Bookstore.
'19
Emma H. Garschagen has been working since fall 2019 as a professional sailor. "As the first mate and boat captain for 59 North Sailing," Emma explains, "I lead our crew on offshore sailing adventures and am responsible for the safe operation and upkeep of the ship. We sail a 1991 Swan 59 called ICEBEAR, on which I have logged over 15,000 ocean miles since 2019. In 2022, I will make my second Atlantic crossing, then sailing far north to the Arctic. When not sailing, I live on the dry land of Boulder, Colorado, and work as 59 North Sailing's creative director." Listen to the podcast at 59-north.com/podcast.
'15
"I got my doctorate in April, with a focus on eating disorders in athletes, and in May gave birth to our daughter, Felicity! Being a mom (or mum, here) is amazing' as cliche as it sounds! Now figuring out how to balance work and family life in a whole new way.
"
— Hannah F. L. (Cooper) Stoyel, London, England
'06
John D. Sadoff, Somerville, Massachusetts, continues to run his own chess tutoring business, ChessMate Tutors. "Business has picked up since the release of the Netflix show 'The Queen's Gambit,'" Johnny notes.