Join the Kenyon Alumni Book Club
Get back to the third floor of Ascension or campus coffee shop state of mind by discussing today's trending literary works.
The Kenyon Review and the Office of Alumni Engagement have joined forces to create an online forum just for Kenyon readers. A new selection will be voted on every few months, and participants will share reactions, critiques and insights in a moderated forum.
In honor of the 2019 Kenyon Review Literary Festival award winner, the inaugural selection was T.C. Boyle's "The Relive Box and Other Stories." The next selection will be "The Vexations" by Caitlin Horrocks '02. Sign up today at bookclub.kenyon.edu.
Flashback: The Black Student Union
Organized in 1969 and formally recognized in 1970, the Black Student Union (BSU), which celebrated its 50th anniversary in September, addressed the need for support for the growing number of black students at Kenyon. In the 1974 Reveille, Geraldine Coleman Tucker '74, the first woman president of the BSU, wrote, "The Black Student Union has become the central organ of the black students at Kenyon. It provides a forum in which we can exchange ideas and work toward the improvement of campus life for both present and future black students."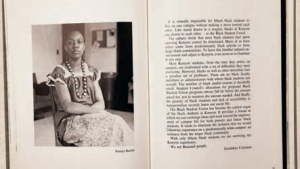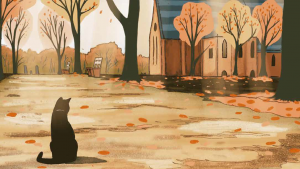 Capturing the Campus Cat
After graduating, Anna Katherine Zibas '19 missed seeing Moxie, Kenyon's beloved, unofficial campus cat. So she "decided to make art out of him,"
she writes. "Here he is surveying his kingdom." 
Postcards and prints of the illustration are now for sale at the Kenyon College Bookstore.
'06
C. Hayes Wong had dreamed of joining Doctors without Borders since her freshman year when she ran between pre-med and international studies classes. Now a board-certified emergency physician based in New York City, she worked with the organization in South Sudan for much of 2019, overseeing "the emergency department and the malnutrition unit of a large field hospital in a camp for South Sudanese who were displaced by civil war," Hayes reports. "Exhausting but incredibly fulfilling work."
'17
Pankti V. Dalal completed her master's in education and works alongside Gabriel M. Avis '17 at St. Paul's School, now as a full-time teacher in the math department. She and Gabe "have a great time going to Trader Joe's and exploring the downtown farmers market to eat cider doughnuts," she reports.

'71
Norman E. Schmidt, Cleveland, enjoys regular visits with Susan Paley Weaver '73, John H. Emack '72, James F. Loomis '73, Arthur B. "Chip" Sansom '73 and a few other northeastern Ohio alums. He and Roger J. Kalbrunner '70 visited the Baseball Museum at League Park, where early 20th-century Cleveland clubs played. With another friend, Norm also attended a Nobel Committee–sponsored conference on the changing climate at Gustavus Adolphus College in Minnesota.