Join the Kenyon Alumni Book Club
Get back to the third floor of Ascension or campus coffee shop state of mind by discussing today's trending literary works.
The Kenyon Review and the Office of Alumni Engagement have joined forces to create an online forum just for Kenyon readers. A new selection will be voted on every few months, and participants will share reactions, critiques and insights in a moderated forum.
In honor of the 2019 Kenyon Review Literary Festival award winner, the inaugural selection was T.C. Boyle's "The Relive Box and Other Stories." The next selection will be "The Vexations" by Caitlin Horrocks '02. Sign up today at bookclub.kenyon.edu.
Flashback: The Black Student Union
Organized in 1969 and formally recognized in 1970, the Black Student Union (BSU), which celebrated its 50th anniversary in September, addressed the need for support for the growing number of black students at Kenyon. In the 1974 Reveille, Geraldine Coleman Tucker '74, the first woman president of the BSU, wrote, "The Black Student Union has become the central organ of the black students at Kenyon. It provides a forum in which we can exchange ideas and work toward the improvement of campus life for both present and future black students."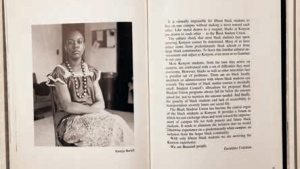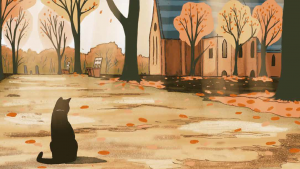 Capturing the Campus Cat
After graduating, Anna Katherine Zibas '19 missed seeing Moxie, Kenyon's beloved, unofficial campus cat. So she "decided to make art out of him,"
she writes. "Here he is surveying his kingdom." 
Postcards and prints of the illustration are now for sale at the Kenyon College Bookstore.
'12
Leigha K. Grosh joined the Title IX team at the Ohio State University as an intake and outreach coordinator. "In my role," she explains, "I provide resources and support options to students and employees who have experienced sex or gender discrimination, including sexual violence."
'18
Houlder L. Hudgins, Richmond, Virginia, performed laboratory vaccine research before taking a position at the United Network for Organ Sharing, a nonprofit that manages the U.S. organ transplant system. He helps to match donated organs with patients in need across the country. He welcomes anyone visiting the area.
'18
Colleen E. Kelley moved to a rural Ugandan village which, she writes, is "surprisingly smaller than Gambier!" A Princeton Africa Fellow, she serves as the field communications manager and videographer for the Nyaka AIDS Orphans Project. "Despite having no hot water and missing the KAC showers," she reports, "I still spend my free time running through the Ugandan hills!"