Join the Kenyon Alumni Book Club
Get back to the third floor of Ascension or campus coffee shop state of mind by discussing today's trending literary works.
The Kenyon Review and the Office of Alumni Engagement have joined forces to create an online forum just for Kenyon readers. A new selection will be voted on every few months, and participants will share reactions, critiques and insights in a moderated forum.
In honor of the 2019 Kenyon Review Literary Festival award winner, the inaugural selection was T.C. Boyle's "The Relive Box and Other Stories." The next selection will be "The Vexations" by Caitlin Horrocks '02. Sign up today at bookclub.kenyon.edu.
Flashback: The Black Student Union
Organized in 1969 and formally recognized in 1970, the Black Student Union (BSU), which celebrated its 50th anniversary in September, addressed the need for support for the growing number of black students at Kenyon. In the 1974 Reveille, Geraldine Coleman Tucker '74, the first woman president of the BSU, wrote, "The Black Student Union has become the central organ of the black students at Kenyon. It provides a forum in which we can exchange ideas and work toward the improvement of campus life for both present and future black students."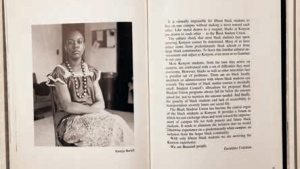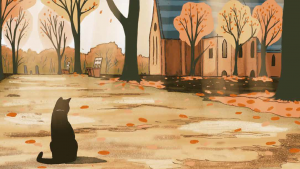 Capturing the Campus Cat
After graduating, Anna Katherine Zibas '19 missed seeing Moxie, Kenyon's beloved, unofficial campus cat. So she "decided to make art out of him,"
she writes. "Here he is surveying his kingdom." 
Postcards and prints of the illustration are now for sale at the Kenyon College Bookstore.
'73
"I paused my weekly newsletter, Retirement Income Journal, and celebrated with trout fishing near Akureyri, Iceland. I've started some new writing projects on retirement finance, including a monograph on Iceland's pension system. Back to 80 percent self-employed workaholic mode. A hip issue eliminated running, but I can hike and wade. Since cataract removal, I can see the dry fly on the fishing line. It's all good ... or at least not too bad."
— Kerry H. Pechter, Emmaus, Pennsylvania
'09
"Years of hard work finally paid off! In March, my first story for children was published in Cricket magazine. In April, I gave birth to my first child with hubby Sean Sun — healthy, happy Juniper (Juni) Evelyn Sun. Over the summer, I completed my second master's, in speech-language pathology, and began working for a small private speech-language therapy practice with a focus on literacy."
— Helle A. Sun, San Francisco
'64
Jeffrey C. Breaks, Gloucester Point, Virginia, appreciated the Bexley Hall article in the fall Bulletin. "It brought back memories. In September of 1960, I and about a dozen others were housed on the third floor of Bexley as an overflow dorm. Maids made our beds and tidied up — the last year for that! — and plenty of study rooms were on the floors below. The walk down Middle Path, even in the snow, was not bad at all! There were bats in the attic. Ledges outside the windows provided a convenient way to get from room to room if you didn't want to use the hall. I took physics at Kenyon (before semiconductor chips), worked for 41 years in the aerospace and defense industries, and retired 17 years ago. I began volunteering at the Mariners' Museum in Newport News, Virginia, going through old documents and doing other people's taxes for free with the AARP Tax-Aide Program. I have also done four books on family ancestors and have three more to go."