Join the Kenyon Alumni Book Club
Get back to the third floor of Ascension or campus coffee shop state of mind by discussing today's trending literary works.
The Kenyon Review and the Office of Alumni Engagement have joined forces to create an online forum just for Kenyon readers. A new selection will be voted on every few months, and participants will share reactions, critiques and insights in a moderated forum.
In honor of the 2019 Kenyon Review Literary Festival award winner, the inaugural selection was T.C. Boyle's "The Relive Box and Other Stories." The next selection will be "The Vexations" by Caitlin Horrocks '02. Sign up today at bookclub.kenyon.edu.
Flashback: The Black Student Union
Organized in 1969 and formally recognized in 1970, the Black Student Union (BSU), which celebrated its 50th anniversary in September, addressed the need for support for the growing number of black students at Kenyon. In the 1974 Reveille, Geraldine Coleman Tucker '74, the first woman president of the BSU, wrote, "The Black Student Union has become the central organ of the black students at Kenyon. It provides a forum in which we can exchange ideas and work toward the improvement of campus life for both present and future black students."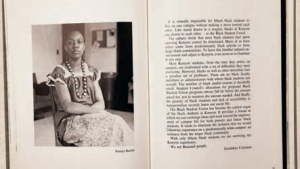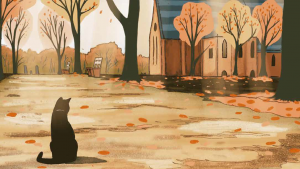 Capturing the Campus Cat
After graduating, Anna Katherine Zibas '19 missed seeing Moxie, Kenyon's beloved, unofficial campus cat. So she "decided to make art out of him,"
she writes. "Here he is surveying his kingdom." 
Postcards and prints of the illustration are now for sale at the Kenyon College Bookstore.
'75
Steven C. Durning, Holliston, Massachusetts, retired from his career as a high school English teacher. "It turned out that being an English major was vocational training for me," Steve submits. "I spend my time now writing recreationally: personal essay writing groups and, on my own, verse in the style of the New York School, I guess. I tutor a severely disabled high school junior. I spend time in the woods with our dog. My partner, younger than I, continues to work. I live a contemplative life."
'97
Alisoun (Davis) Bertsch, Athens, Pennsylvania, described her quarantine: "We watched Italy singing and decided that, being a Chamber Singer living in a small town, we would go that route. So we ran out to Walmart at midnight and got the last microphone to hook up to our speaker. We text the neighborhood what time we are coming, put the speaker out the car sun roof, and play music and talk to people over the microphone. We are on the street; they are on the sidewalk or porches. We pray together, sing, see if anyone needs anything. In the early days, we passed out books. I wear crazy wigs. Shout out to the Kenyon language, music, drama and religious studies departments for inspiring these things — and to Robert C. (Butch) King '97, who has shown us that bringing the beat brings a lot!" Each morning Alisoun's kids (16, 13 and 10) send off their dad, a physician at a regional hospital, with a poignant "love you, be safe," and upon his return they wait for him to wash up and change clothes before they hug him — tightly.
'00
Naomi Raquel Enright, Brooklyn, New York, published her first book, "Strength of Soul," with 2Leaf Press in April 2019. Her essay "Gratitude For the Sun" was published in the anthology "Sharing Gratitude: Daily Reflections" (Library Partners Press) last December. Meanwhile, she is a bilingual clinical supervisor at the Hunter School of Education, mentoring and assessing student teachers in dual-language classrooms in both public and private schools. "My husband and I are a bit in shock," she adds, "that our son is now 9, in fourth grade and an avid basketball player. The years are most certainly short."