Join the Kenyon Alumni Book Club
Get back to the third floor of Ascension or campus coffee shop state of mind by discussing today's trending literary works.
The Kenyon Review and the Office of Alumni Engagement have joined forces to create an online forum just for Kenyon readers. A new selection will be voted on every few months, and participants will share reactions, critiques and insights in a moderated forum.
In honor of the 2019 Kenyon Review Literary Festival award winner, the inaugural selection was T.C. Boyle's "The Relive Box and Other Stories." The next selection will be "The Vexations" by Caitlin Horrocks '02. Sign up today at bookclub.kenyon.edu.
Flashback: The Black Student Union
Organized in 1969 and formally recognized in 1970, the Black Student Union (BSU), which celebrated its 50th anniversary in September, addressed the need for support for the growing number of black students at Kenyon. In the 1974 Reveille, Geraldine Coleman Tucker '74, the first woman president of the BSU, wrote, "The Black Student Union has become the central organ of the black students at Kenyon. It provides a forum in which we can exchange ideas and work toward the improvement of campus life for both present and future black students."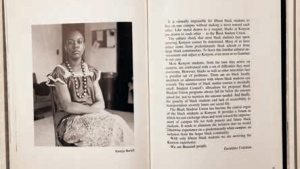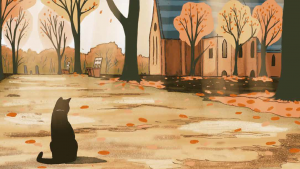 Capturing the Campus Cat
After graduating, Anna Katherine Zibas '19 missed seeing Moxie, Kenyon's beloved, unofficial campus cat. So she "decided to make art out of him,"
she writes. "Here he is surveying his kingdom." 
Postcards and prints of the illustration are now for sale at the Kenyon College Bookstore.
'16
Kelsey A. Ewing, Bedford, New Hampshire, has been ski patrolling for Alta ski resort, "one of the best in the country," she shares, and works summers as a whitewater raft guide in Glacier National Park.
'19
In the decades-long two years since graduating, I only feel closer to Kenyon and the people who made it special. Seeing all of these conversations about racism, equity, inclusion and justice continuing on and off campus reminds me just how special this place is. We can keep growing and learning and changing because we trust in the potential of the Kenyon community. Though I am not going to be a part of Alumni Council for much longer, I am always here as a listening ear!
'07
"I am surviving the pandemic as a grad student (again!) in Lafayette, Louisiana I pass the time observing rogue chickens and roosters that fly into a giant cypress that's in my yard and crow at all hours. This past year I've had poems published in Always Crashing, Blue Earth Review, Dream Pop Journal and Landfill Journal."
— Spencer E. Silverthorne