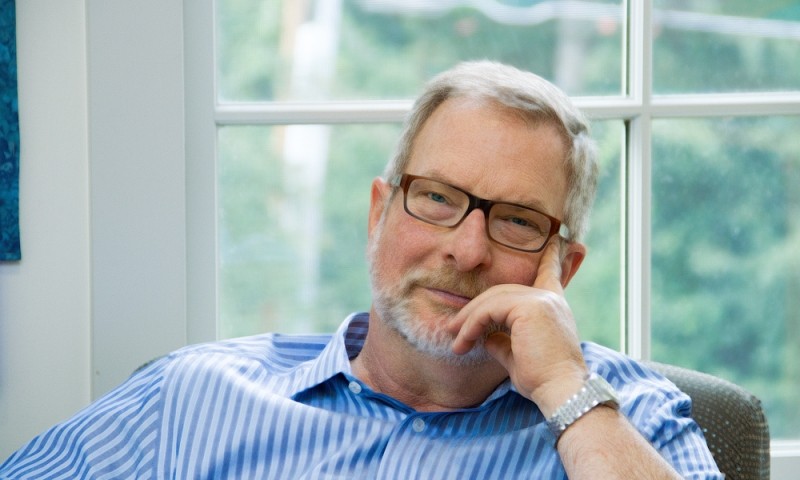 The past year has been a big one for David H. Lynn '76. He announced that in the spring of 2020 he will retire as editor of the Kenyon Review after 26 years — a period during which he led the journal from the brink of collapse to brimming health.
He also published his third short-story collection, "Children of God" (Braddock Avenue Books). The stories range over locales that have been important in Lynn's life — Detroit, where he grew up; India; and academic villages that resemble Gambier. In these vividly rendered settings, dramas of inner life play out. The excerpt here is from the book's opening story, "Divergence," which won an O. Henry Prize in 2016. The protagonist, Jeremy, crashed his bike when a groundhog darted in front of him and now finds himself in the hospital, discovering a strange alteration in the way he sees everything in his life, including his Indian-born wife, Shivani.
EXCERPT
He didn't know what to say.
He remembered the groundhog.
"Your helmet split on the pavement just like it's supposed to, but you were knocked cold anyway. The rest of us were nothing but cuts and scrapes." Shivani was struggling with her own helplessness.
He closed his eyes. Her voice, its elite Delhi-wallah cadence, more British than the Queen, was scraping, grating — annoying. It had never bothered him before. He knew that. But all this emotion, the concern and guilt, was radiating from her too. Demanding a response in kind. Was he supposed to provide sympathy?
A quick surge of anger shivered him. His head was throbbing harder.
The flame of his little rage expired almost instantly, leaving him frail, a spent wick on the hospital bed. He could not move.
Jeremy groaned. Shivani stroked her cool hand across his forehead.
She had been at his bedside when he woke — he remembered this too — and he'd recognized her right off, her eyes tired, the stylish flair of her short hair, unusually mussed in the non-time of the hospital.
He'd known who she was.
He'd been glad to see her, truly, to sip the cool water through a straw, grateful not to be alone in this strange place. But now as he considered, and he was panting slightly through his mouth, he realized that even in that first moment awake he'd also felt — what? — different. Distanced. Dislocated. Watching this lovely woman from very far away. His wife. Hugging a silk shawl against the arid chill. Someone he knew so very well. And yet it seemed as though a tether between them had snapped, like a tendon torn at the bone hinge.
A question occurred to him and he opened his eyes once more. "How long?" he whispered.
She hesitated, searching his face. "You've been here for two weeks."
That stopped him. It took a while to make sense.
"Two weeks? I was out for two weeks?"
Shivani nodded, and now she was looking sad and worried and guilty again and relieved all at once, tears in her eyes.
He turned his head. He figured the groundhog must have got away free and clear.