An Expat in Exeter
Cameron Peters '20 shares visual vignettes from a year abroad.
Standing in the never-ending early morning international line at Heathrow's Passport Control in September 2018, I crossed into a nation struggling with division, fear and uncertainty. The similarities with America's crisis of division were not lost on me as I traveled from the heart of America's Midwest to a country nearly 4,000 miles from home. I chose England for my junior year abroad because it offered the familiarity of an English-speaking country while serving as a gateway to the diversity, history and culture of Europe.
Joining me on the journey to Exeter were 23 Kenyon students and two incredible English professors, Sarah Heidt '97 and Sergei Lobanov-Rostovsky. It was an intense, stimulating and exciting year of learning together, forging new friendships, and studying and creating in a new culture.
Drawn to the intersection of mediums, I used my final project as an opportunity to document my explorations of Exeter's geographic, artistic, intellectual and political histories through photography and oral history. The images on these pages represent a few highlights from a transformational year.
---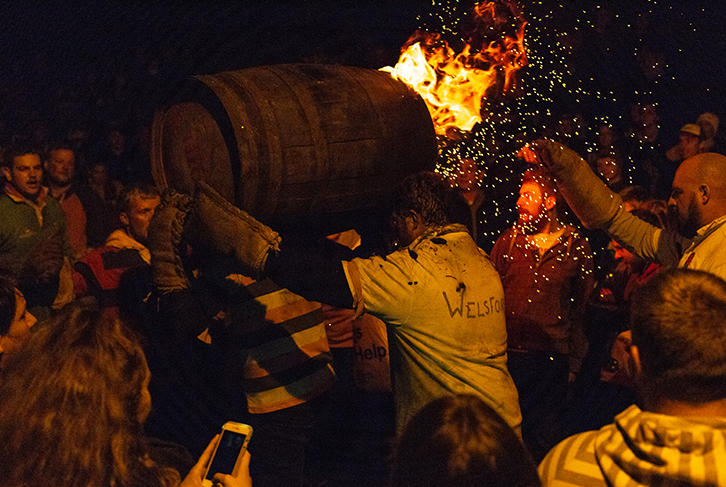 Fall: Bonfire Night in Ottery St. Mary
The Fifth of November is believed to have emerged from the Gunpowder Plot, a foiled terrorist conspiracy to ignite the Parliament House on Nov. 5, 1605. While festivals, fireworks and parties erupt across the nation, in Ottery St. Mary, Bonfire Night is a unique spectacle — a physical enactment of one's identity, fraternity and belonging within the community. A scorching glow erupts from the 120-kilogram flaming barrel standing a couple of feet in front of me. Heat radiates outward. Charcoal-colored smoke spews out one end of a barrel as mitten gloves suppress the flames.
---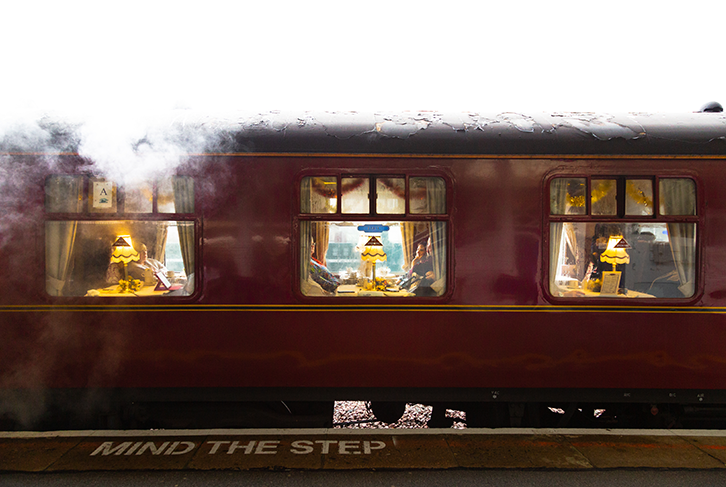 Winter: Exeter St. David's Station
A red steam train rests at Platform 5, momentarily stopped in Exeter. As I head toward a growing crowd, steam rises into the cloud-filled sky as condensation builds on the train's windows, making the air oddly humid for a cold winter day. The whistle blows and the steam train rocks forward, picking up speed as it makes its way out of the station. As I glance over at the sudden movement, my eyes catch the warm glow of table lamps illuminating passengers immersed in newspapers and conversations, or gazing out the window.
---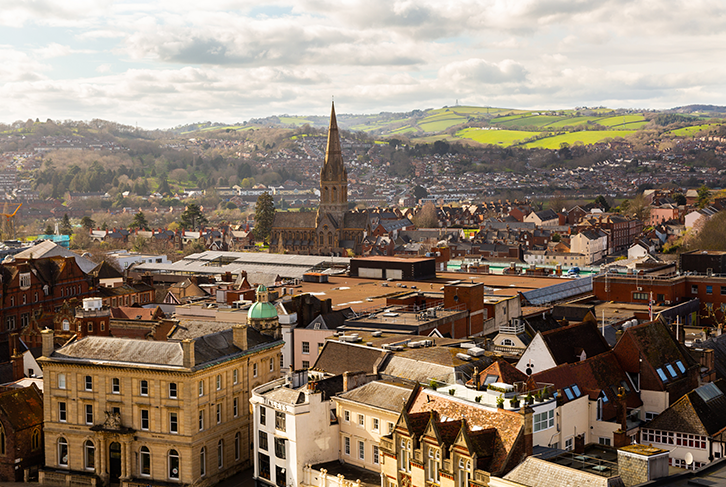 Spring: View from the Exeter Cathedral roof
In my downtime I walk the city, following a familiar path, camera in hand always. It is a rainy day when I decide to take a tour of the Exeter Cathedral rooftop. Fortunately, the sun comes out 40 minutes before the tour is to be canceled. The tour guide, Maurice Hopper, a longtime resident of Exeter and physical geographer by training, takes my group up to the towers.
Street portrait of
Peter Baker
Peter Baker, a city tour guide, pauses for a portrait at the end of the day in Southernhay W., Exeter. Everyday moments like this weave their way into my final project. In the brief conversations that lead to each portrait, I am offered a moment of vulnerability and trust. Each portrait becomes a practice in bridge-building.
The "River of the Little Owls," and the communities found along it, have shaped much of Kenyon's sense of place…
Read The Story
How a boy from Boston waxed philosophical at Kenyon, hitched a ride to the White House with a hotshot senator and…
Read The Story
Character takes top priority as the Lords work to turn around a football program that historically produces more…
Read The Story