Grit on the Gridiron
Character takes top priority as the Lords work to turn around a football program that historically produces more losses than wins
Story by Robin Yocum | Photography by Brooke Lavalley
Two days before 73 young men he barely knows are to report for football camp, James Rosenbury is as energized as any head coach could be. For Kenyon, for himself, for those young athletes, a fresh start is just 48 hours away. To say he is excited about the possibilities would be something of an understatement. This, in spite of the fact that the task before him is Herculean.
Rosenbury has been charged with turning around a football program that has managed just 33 winning seasons since it began in 1890, and 12 of those winning seasons came before 1915, when Woodrow Wilson was still in his first term as president. As Kenyon begins its 130th year of football, the Lords have yet to produce a single perfect season or win an outright championship. (The highlights of Kenyon's football fortunes are the 7-0-1 team in 1972 and the 5-4-1 team of 1989, which tied for first place in the North Coast Athletic Conference.)
So what makes this 34-year-old, first-time head coach certain he can turn around a program that has produced 37 zero- or one-win seasons? And what motivates these players to show up and suit up for a team that's riding a 26-game losing streak at the start of the 2019 season?
Confidence, baby, confidence.
In the heart of football-rich Ohio
Rosenbury grew up in what he called "a big football family" near Salt Lake City. Two uncles played for the Nebraska Cornhuskers, and Rosenbury was a standout at Juan Diego Catholic High School in Draper, Utah. At Case Western Reserve University, he was a two-time all-conference running back.
His early career followed a nomadic path familiar to many assistant football coaches. After stints at Case Western Reserve University, Grinnell College and the University of Redlands, Rosenbury became an assistant at Macalester College, where he also directed football operations and recruiting.
Rosenbury, who knew of Kenyon from his playing days, was intrigued when the Lords announced that they were in the market for a new coach. His best day as a collegiate running back came against the Lords in 2004, when he rushed for more than 200 yards and scored four touchdowns in a 46-24 win.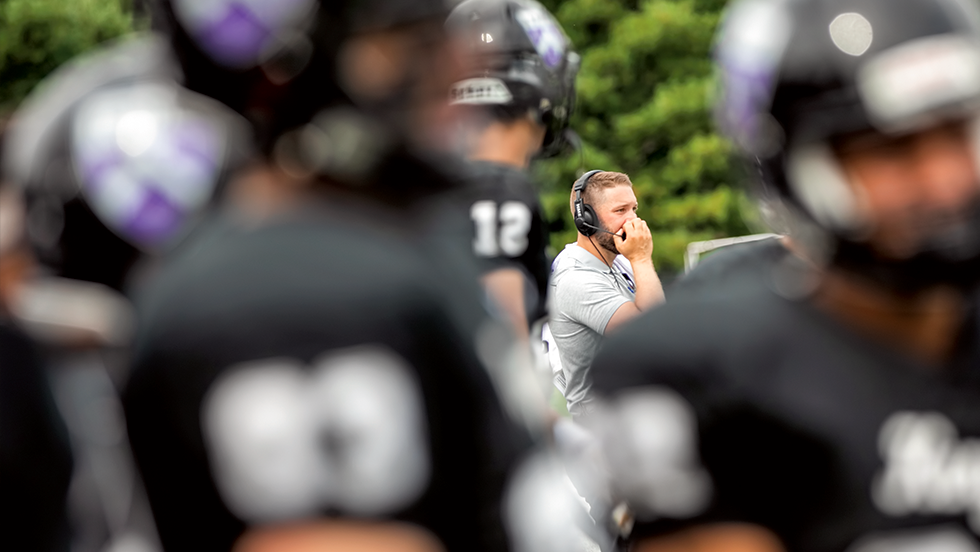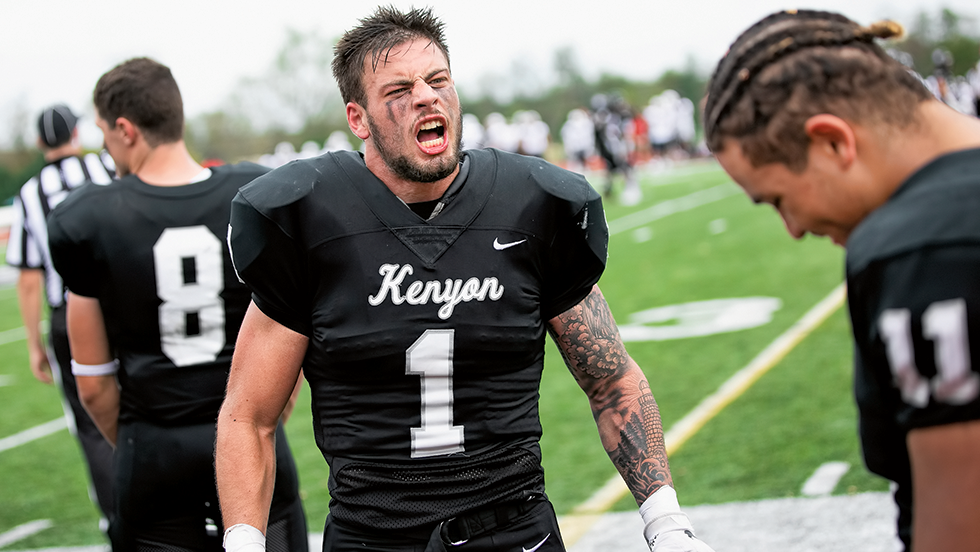 Kenyon, Rosenbury said, checked a lot of the boxes he wanted in a head coaching position. It was a Division III school with an excellent reputation for academics; it was in the heart of football-rich Ohio; and he liked the challenge of turning around a program. He applied for the job.
"I had to find a coach who was going to be a good fit for Kenyon," said Director of Athletics, Fitness and Recreation Jill McCartney, who arrived at Kenyon in 2018. "I couldn't bring in a coach who was going to say, 'Here's my model for coaching, and Kenyon needs to adapt to it.' That won't fly around here. I needed a coach who understood Kenyon's culture and could adapt his coaching style to our model."
Rosenbury was McCartney's first major hire. She wants to change the narrative around football at Kenyon. She — and the College — are committed to football, but they don't expect immediate change.
"James and I are learning together," she said. "We both understand that it's going to be a gradual process. Right now, we don't have a solid foundation. In fact, it's been a bit of a roller coaster here. I expect James to set a foundation and build upon it. He gets that. I love his positivity."
'It's no fun losing 26 games in a row.'
Positivity was in short supply on the Kenyon gridiron the three previous seasons as the Lords went 3-27 and lost 26 games in a row. Thomas Merkle '20, Sam Dickey '20 and Trevor Brown '20 are three seniors who have absorbed the brunt of the losing streak.
They all came from successful high school programs. Merkle, a quarterback, led his York, Pennsylvania, Suburban High School to an undefeated conference championship. Brown, a three-year starter on the Kenyon defensive line, was part of an Archbishop Curley team in Middle River, Maryland, that won a conference championship en route to a perfect 11-0 season. Dickey, a three-year starter at middle linebacker, was part of a program at St. Paul's School in Concord, New Hampshire, that fielded consistently winning teams.
In short, none of the three were used to losing. And make no mistake about it, they were tired of losing. They carry among them a collective football mentality. In some respects, it is an us-against-the-world approach. They believe they can course-correct, and that this can be their year. An outright championship or undefeated season may be unrealistic, but they desperately want their class to be remembered for turning around the fortunes of Kenyon football.
"It's been a challenge," Brown said of enduring the losing streak. "I want to win … bad."
But beyond wins and losses, the three players speak of a higher mission, of being good role models for the younger players, of setting an example on and off the field that will, ultimately, lead to a turnaround of the program. "We want to establish a culture we can be proud of," Brown said.
They took this to heart last winter when, following the departure of former head coach Chris Monfiletto, the then-juniors called a team meeting to organize player-led 6 a.m. workouts while the program was between coaches.
"We had a team meeting and I said that we were never going to have more responsibility to the team than this spring," said Merkle, who explained that the early morning workouts were voluntary, smiling and making air quotes with his fingers around the word "voluntary." In other words, his teammates were expected to be there.
The team lost some players who were unwilling to drag themselves out of bed for the offseason commitment. Dickey, a hard-nosed linebacker, was blunt in his assessment of those who packed their bags. "They decided it wasn't worth it. Fine," Dickey said. "We need people committed to the team."
The truth was that losing, and attempting to overcome that adversity, had brought them closer as a team.
"It's impossible not to use the word 'brotherhood' when I'm talking about the guys on the team," Dickey said. "When you're trying to overcome failure, you learn to trust and love each other through the hard times. I won't lie; it's no fun losing 26 games in a row. But these guys are my best friends. I wouldn't even consider transferring to a school where I could go undefeated if it meant giving up these friendships."
By every barometer, Merkle is the team leader — the quarterback, captain and four-year starter. As that leader, he personally shoulders the responsibility for righting the ship.
"As players, we understand there are certain things we can control," Merkle said. "Attitude is one of those things. As upperclassmen, we need to be positive in our habits of preparation and consistency. Those are the things that will lead to wins. If we do the right thing consistently and don't fall back on bad habits, we can change the culture."
Merkle is a competitor, so the losses sting. He sometimes speaks of the on-field frustration, of racking up 56 points in a game against Hiram only to give up 62, and of the inability "to put it together on both sides of the ball."
Still, he has no regrets. Like his teammates, Merkle said the total Kenyon experience, including the bond he has solidified with his teammates, far outweighs his on-field frustrations.
"There've been times when it has just been so frustrating to lose, but I have never questioned my decision to come here," he said. "Not for a minute."
'I wanted to be part of this.'
It's the second week of training camp and 95 degrees on the Kenyon turf. It is almost noon, near the end of practice, and tempers are short. That's when a wide receiver gets mouthy with a defensive back during a passing drill.
"I don't want to hear you talking anymore," Rosenbury yells at him. "You're so busy talking that you're not doing the right thing."
The student feels compelled to explain himself and when he does, the temperature on the turf rises by several degrees. "Quit talking," the coach barks.
Rosenbury and his 73 charges are still getting to know one another. It's a bit of a dance. He's trying to put names with faces, speed on the corners, beef and mental toughness in the trenches. There are a lot of moving parts for him to align.
It's simpler for the players. They're looking for someone to lead them to the promised land. There is not a player on the field who doesn't covet a conference championship. And no one wants that more than Rosenbury.
He knows it can be done; he saw it happen at Macalester, where he previously coached. At one point, the school was recognized by ESPN as having the No. 2 worst football program in the country, once losing 50 straight games. But a football revival at Macalester earned the Scots a 2014 Midwest Conference championship and an NCAA playoff bid — a hard-fought reward that was a decade in the making.
Still, Rosenbury acknowledges, those success stories take time, and his challenges in Gambier are significant, starting with recruiting. His staff is tasked with finding talented football players who can both meet Kenyon's high academic standards and afford its tuition. Division III isn't allowed to offer athletic scholarships, so players must meet the same standards as non-athletes and compete for merit-based scholarships and grants. With these constraints in mind, Rosenbury will scour the country to fill his roster. He hopes to bring in about 25 quality recruits a year.
"I've been recruiting for the 2020 season and I've been honest with the kids," said Rosenbury. "I tell them we haven't had a lot of success in football. But I believe you build a good program with great people. I may bring in a kid who is not a great football player, but if he's a good football player and a great person, I believe we can give him the tools to succeed."
The record of losses did not deter Finn Murray '23, the newest quarterback on the Lords roster. A two-sport star at Acton-Boxborough Regional High School in Acton, Massachusetts, he first was contacted by the lacrosse coach but, during a campus visit, was drawn to the camaraderie among the football players.
"I never saw the losing streak as an obstacle," he said. "When I hung out with the guys, it certainly didn't seem like they were part of a losing culture. And I never got the impression that they didn't care about winning. I wanted to be part of this."
Darryl Shands '23, who came to Kenyon from a winning program at Freedom High School in Bethlehem, Pennsylvania, had a similar impression. "I really liked the energy," he said of the team, adding that he is optimistic about what his freshman class can achieve. "When you have good chemistry, it's easier to turn things around."
'Make them believe they can win.'
The team has huddles around Rosenbury at the end of practice. It's time for lunch, then an afternoon in the weight room, attending meetings and a special-teams walk-through. His message is upbeat but simple: "Let's get excited about playing college football."
Before they leave the field, Rosenbury pulls his chatty wide receiver aside. The coach is no longer yelling. It's time for explanation and understanding. Actions like trash-talking will cost the team a 15-yard penalty in a game. A team trying to break a 26-game losing streak cannot afford senseless penalties, but more importantly, it does not fit into the culture Rosenbury is working hard to create.
"We'll get there," he said. "In the past, our guys were terrified to fail. We need to change that mindset and get them to take chances on the field. As a coaching staff, we have to make them believe they can win." He grins. "It's true, you can learn a lot from losing. You just don't want to major in it."
Snapping their streak
It's Sept. 7 — 1,077 days since the Kenyon football team has last tasted victory. A crowd of 600 people is gathered in Washington, D.C., for the Lords' season opener. Hopes for victory are high, but not unrealistic. In the last minute of a nail-bitingly close game against Catholic University, the Lords snap their losing streak, winning a double-overtime thriller, 32-31.
"I don't know the words to describe (my reaction)," Merkle tells the Kenyon Collegian about the moment he realized they had won. "I turned, took my helmet off and tried to find some of my teammates."
The Quest for Perfection: Looking back on the "magical" season of 1972
The 1972 Kenyon football team posted the best record in College history at 7-0-1. Only a muffed snap on an extra point kept the Lords from a perfect season.
Mark Leonard '76, a freshman defensive end on that team, called the season "magical."
"There were a lot of close calls," said Leonard, describing a winning field goal in the season opener that looked like it went right over the upright. "But we kept eking out victories."
In the closing seconds of the next-to-last game of the season against Wilmington College, the Quakers completed a long pass; defensive back Dave Utlak '74 caught the Wilmington receiver just short of the goal line. The Lords stopped Wilmington on the next three plays to clinch the win.
"It was like that all season," Leonard said. "That team had a Band of Brothers mentality. Statistically, we got our butts beat quite a bit, but we always found a way to win."
The Lords were 5-4 and 3-6 in 1970 and 1971. "We competed, but struggled to win," said Dan Handel '73, quarterback and co-captain of the 1972 team. "We didn't have a tradition of dominance. Other teams in the conference would look at us and think, 'We can beat them.'"
Underperforming those two previous years provided motivation for improving in 1972. "We didn't talk about going undefeated," Handel said. "Our goal was always to just win the next game. We found our identity and it wasn't in the individual; it was as a team."
In the final game of the season, the Lords hosted Centre College. By the middle of the third quarter, Kenyon was firmly in command and the realization of an undefeated season settled in on the Kenyon sideline.
"A couple of years ago, Mike Duffy '73 sent me a photo of the sidelines as the game ended," Handel said. "We were all jumping around and running out on the field in celebration. I didn't know I could jump that high. After the game, everyone in the locker room was saying, 'Can you believe this?'"
So how close did the Lords come to perfection? Two games into the season, on the last play against Washington & Jefferson College, Handel completed a touchdown pass to Tom Samstag '73 to tie the game at 13. However, the extra-point snap rolled back to the holder; the kick never got off the ground and the Lords had to settle for a tie.
The "River of the Little Owls," and the communities found along it, have shaped much of Kenyon's sense of place…
Read The Story
How a boy from Boston waxed philosophical at Kenyon, hitched a ride to the White House with a hotshot senator and…
Read The Story