Connected by the Kokosing
The "River of the Little Owls," and the communities found along it, have shaped much of Kenyon's sense of place.
Story by Dan Laskin | Photography by Rebecca Kiger
"We are like Kokosing," goes one of Kenyon's favorite songs. Indeed, the College's Knox County setting takes much of its character from the 57-mile Kokosing River, with two branches threading the landscape through towns, farms and forest, connecting people — and their work and play — with place.
To capture this broader sense of belonging, we asked photographer Rebecca Kiger to explore some of the communities on or near the Kokosing this past September.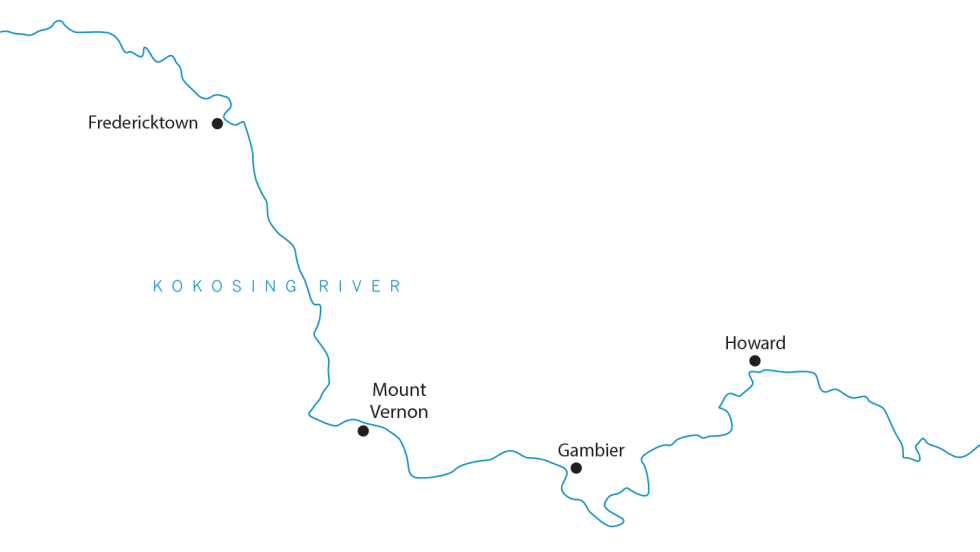 Whether she is pursuing documentary projects in her native West Virginia, taking portraits or shooting campus scenes (as she frequently does for Kenyon), Kiger has a gift for connecting with people. Personality, patience and a practiced eye yield images both beautiful and intimate. That's certainly the case with the picture that opens this photo essay, of 5-year-old Trey Bowen playing with his bath toys in Kokosing Lake, which is formed by a flood-control dam on the north branch of the river.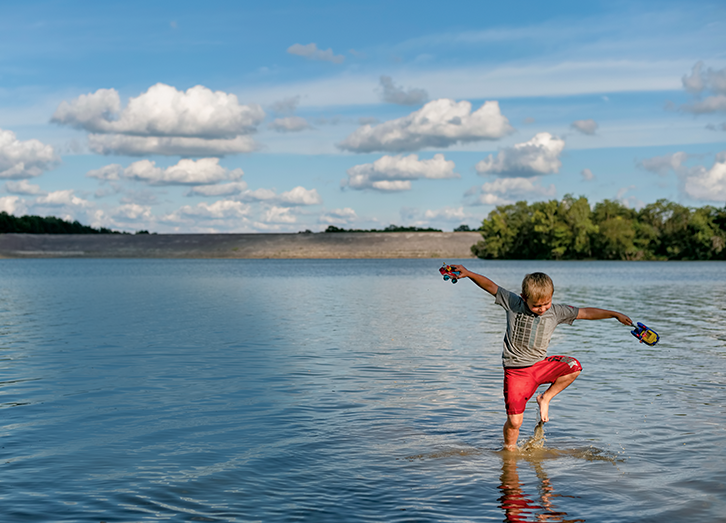 The photographs that follow offer equally striking images of life along the Kokosing, a name believed to be used by the Algonquin Indians that translates loosely to "River of the Little Owls."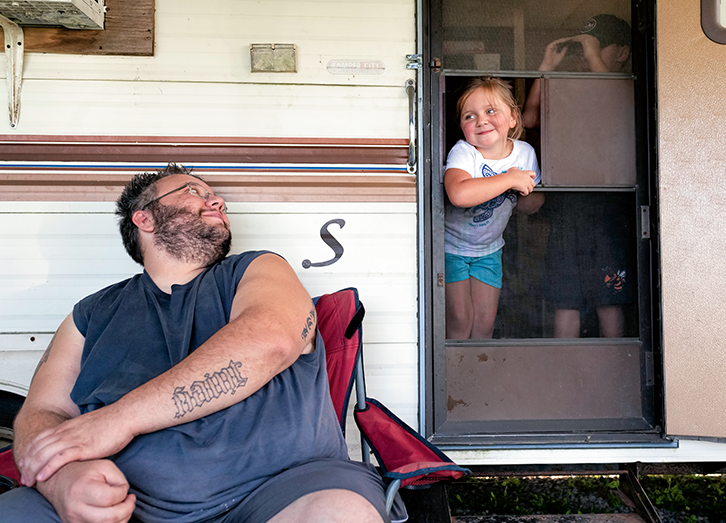 Family time: Andrew Flack exchanges a playful glance with his daughter Dallis, standing beside her brother Ceagen just inside the door of their camper. They were spending a day at Kokosing Lake, not far from Fredericktown and less than 20 miles from Kenyon. At the lake, camping and picnic grounds offer a relaxing spot for family gatherings. On this evening, the grownups were having a campfire dinner while the kids (including Trey, pictured above) ran to and from the water. Established in 1971, the 1,113-acre Kokosing Lake Wildlife Area also welcomes hunters and fishermen. "We enjoy nature, we enjoy camping and we enjoy our grandchildren," said Christina Flack, Andrew's mother, who recently took a job as the campground host.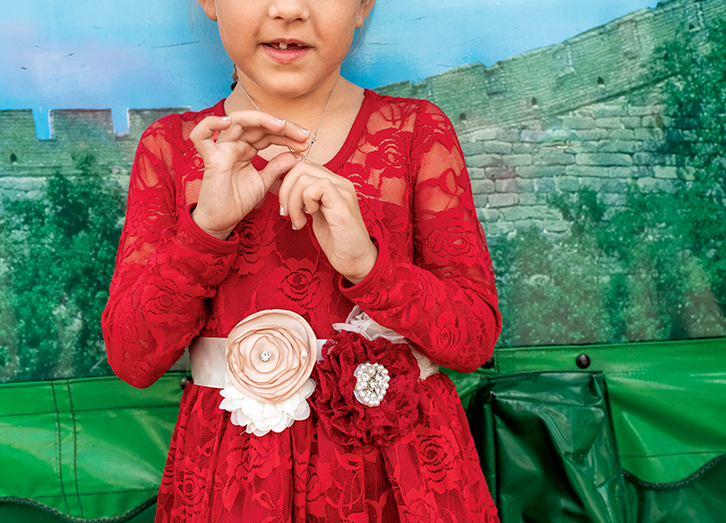 Judge's choice: Nothing says red quite like a tomato, and in taking a portrait of 6-year-old Claire Sheriff — winner of the Little Miss Tomato Contest at the 2019 Fredericktown Tomato Show — Kiger chose to focus on Claire's red dress, her expressive hands and the delicate way she was playing with her necklace. An international touch: Claire appears to be standing in front of the Great Wall of China, which is actually a photo on the side of a food stand.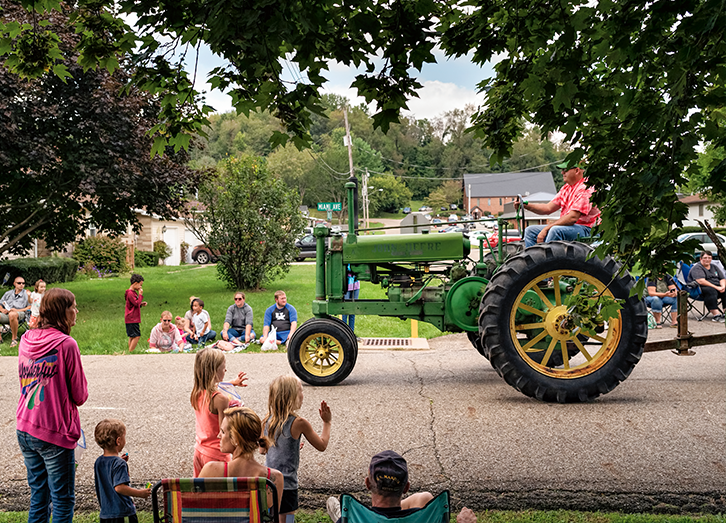 On parade: A highlight of the Fredericktown Tomato Show, the Saturday parade features antique tractors and cars along with a variety of floats. Started in 1976, this annual street fair opens on the Wednesday after Labor Day and runs through Saturday. There are exhibits and auctions, a craft show, races (bathtub, Big Wheels), a lip sync contest, musical entertainment and fair food galore. Judges rate baked goods, canned goods, vegetables and, of course, tomatoes and tomato products. The cutest event is the baby crawling contest. The messiest? That would be the tomato toss in which two-person teams, well, throw, catch and splatter. (Rain ponchos are recommended.) Fredericktown is one of seven villages in Knox County. Mount Vernon is the only city.
The Owl Creek Produce Auction in Fredericktown serves as a "direct connection between farmers and consumers," says auction manager Kelly Brown, whose family has produced maple syrup in nearby Waterford for five generations. Many of the farmers who sell at the auction are Amish. Customers include local markets, restaurants and Kenyon food services.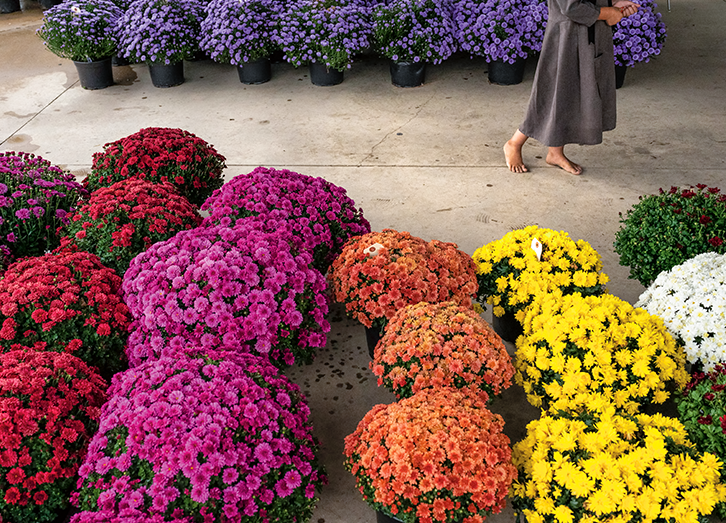 In season: Autumn brings plentiful supplies of mums to the auction. But whatever the season, Amish farmers who don't live close enough to come by horse and wagon have to depend on rides. That's where the auction bulletin board comes in, with its offers of transportation.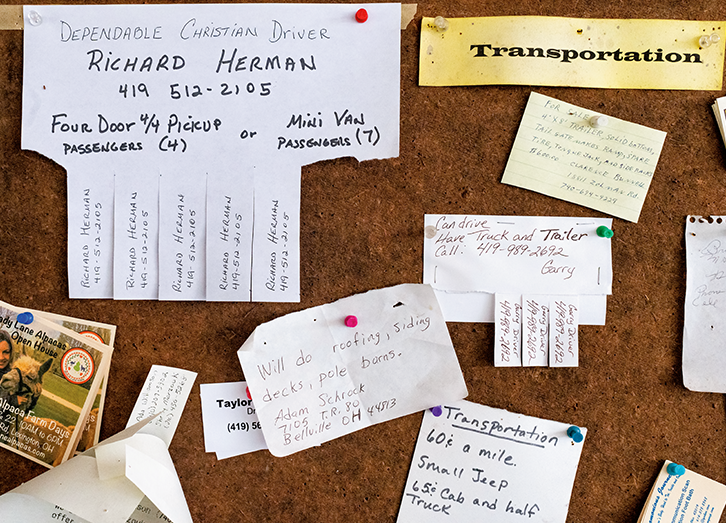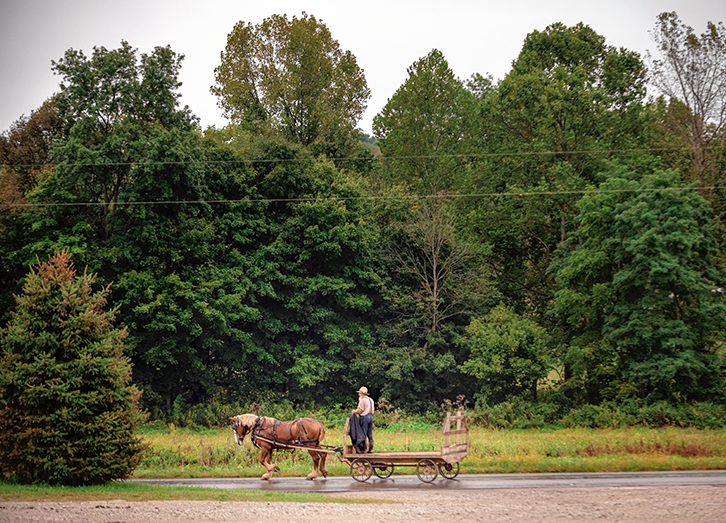 An auction for all: Sales at the Owl Creek Produce Auction follow the seasons, from early spring with its flats of vegetable seedlings through the cornucopia of summer and fall. "We sell to everyone from a grandma who wants to can beets to multi-store local grocery chains," auction manager Kelly Brown said in an interview with Ohio's Country Journal magazine.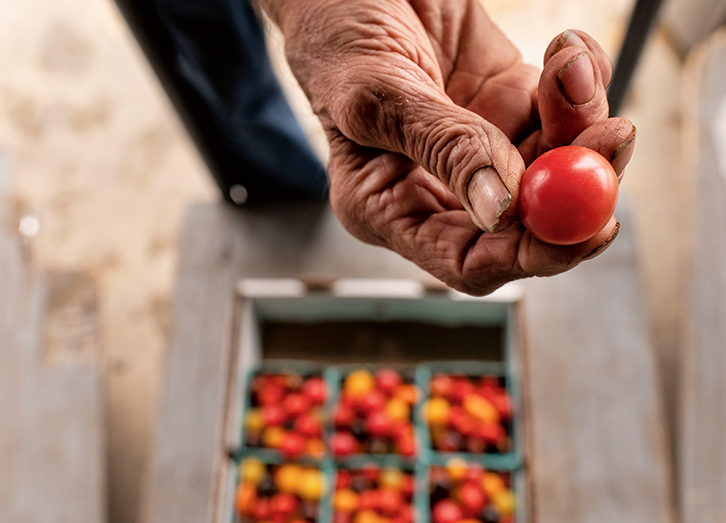 Started in 2006 and open three days a week during much of the growing season, the auction provides a vital outlet for Amish families in the area. And then there are sellers like the elderly cattle farmer who had to quit after an injury but brings cherry tomatoes to the auction. Photographing the auction, Kiger was struck by the exquisite tomatoes and the weathered hands of the grower. "Hands can tell so much about a person's life."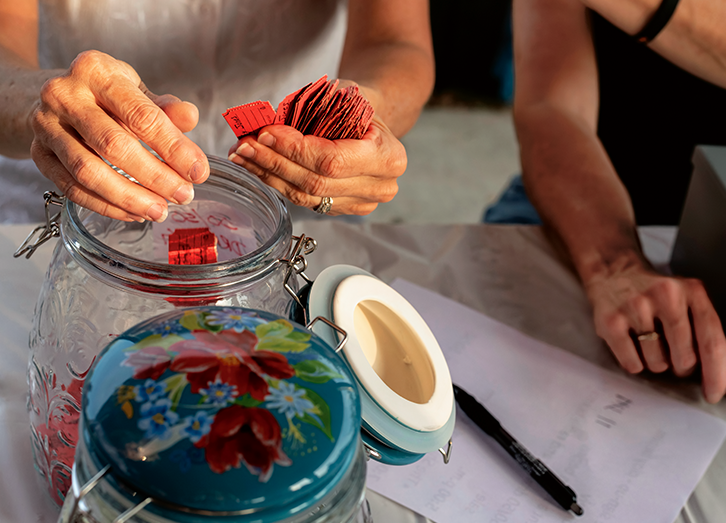 A loving community: Raffle tickets helped raise money for a teenager's recovery costs after he was seriously injured in a car accident. Dozens of friends, teammates and teachers joined family members in Mount Vernon's Ariel Foundation Park for the fundraiser, which included a cookout and silent auction.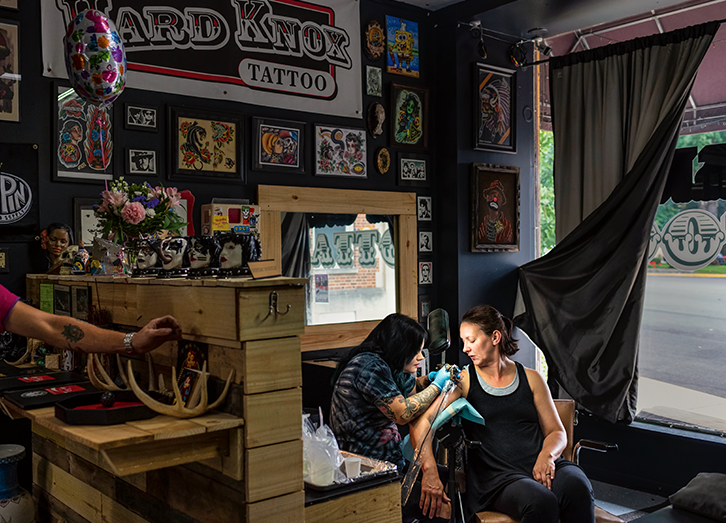 Artist's touch: Tattoo artist Gwen Crawford brings a phoenix to life on the arm of Betsy Ferrell in Hard Knox Tattoo, located on the Public Square in Mount Vernon. The tattoo shop, which opened in 2009, threw a 10th-anniversary party this past October. On hand: 13 tattooists offering tattoos for $50, live music and free beer.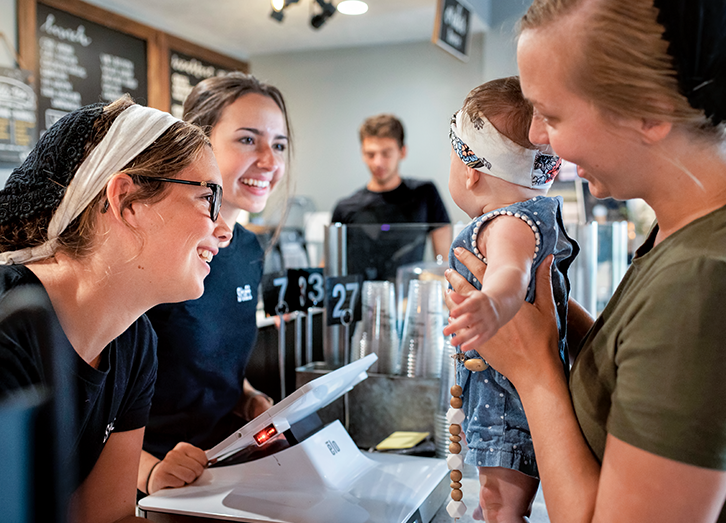 All smiles: Christina Miller's daughter Savannah captivates the staff at the North Main Café in Mount Vernon. Since opening in 2017, the restaurant has become a popular breakfast and lunch spot.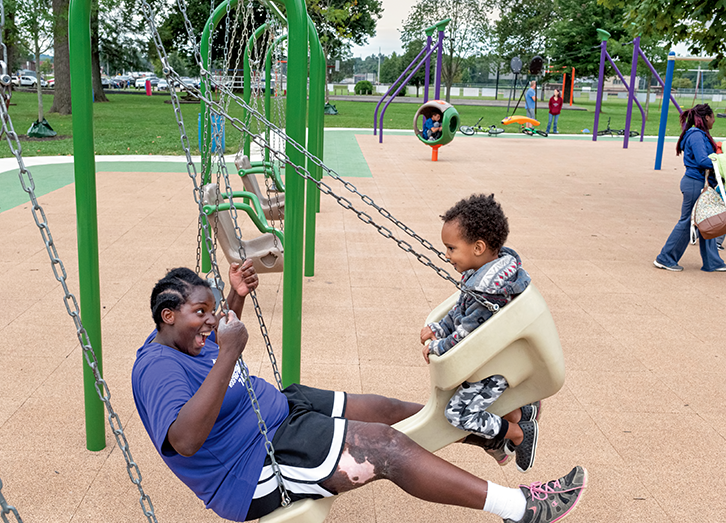 Two-part harmony: Esther Chester and her son, Colton, enjoy the swings in Harmony Playground, an inclusive facility where all the equipment is accessible to children with disabilities and special needs. Located in Mount Vernon's Memorial Park, the playground opened in early 2019 after a community-wide effort that raised more than $600,000. Sponsors included local foundations and businesses as well as the county Board of Developmental Disabilities.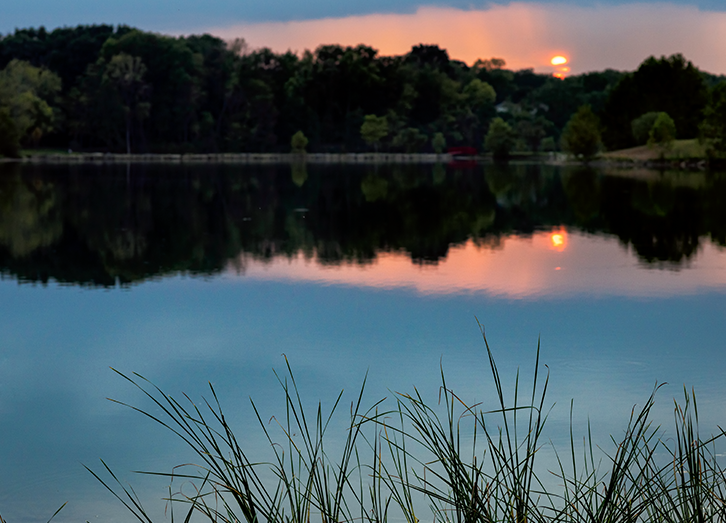 Ruins and riches: The September sun sets over one of the lakes in Ariel-Foundation Park, an extraordinary community resource and a civic success story in Mount Vernon. A model for "adaptive reuse," the 250-acre park was created on the site of a glass factory that had closed in 1976. The park's three lakes were once quarries for a sand and gravel company. Architectural ruins along with steel and glass sculptures evoke the park's industrial past, as does a soaring smokestack re-purposed as an observation tower encircled by a spiral staircase. Visitors enjoy walking paths and picnic pavilions, as well as an events center hosting a summer concert series. The park opened on July 4, 2015, after years of work involving land acquisition, demolition, reclamation and landscaping. Leading the effort were the Mount Vernon-based Ariel Corporation, the Knox County Foundation, and business and civic leader Ted Schnormeier.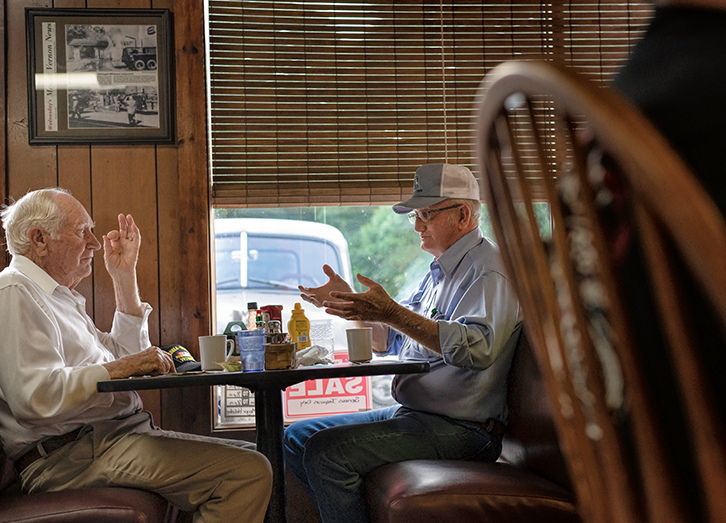 Morning ritual: Fred Stephens, left, and his friend Lon Lebley have met for breakfast at Spearman's Restaurant in Millwood since the 1970s. Comfort food and irresistible pies drew many local diners, including Kenyon folks, who made the eight-mile drive from campus until the diner closed its doors permanently in December 2019.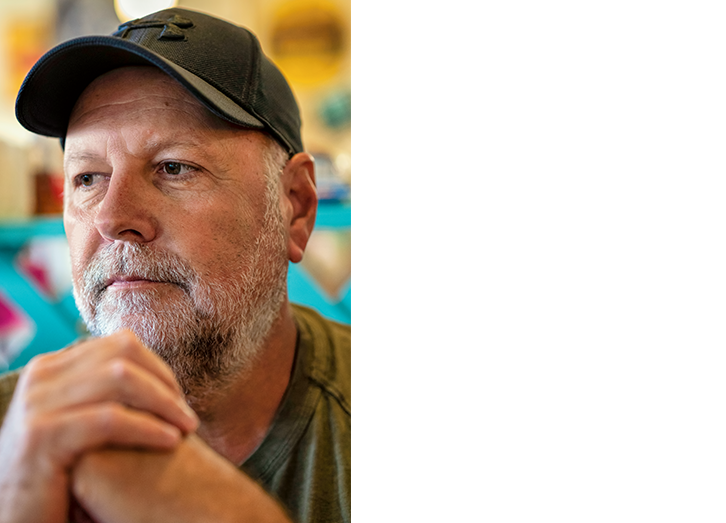 Pensive pause: Gary Shaffer used to work as a fabricator at the Siemens plant in Mount Vernon, which shut down in 2018, costing hundreds of jobs and a part of the city's proud heritage. Siemens had bought the factory from Rolls-Royce Energy Systems, which in turn had replaced Cooper Industries, a company tracing its local origins to 1833.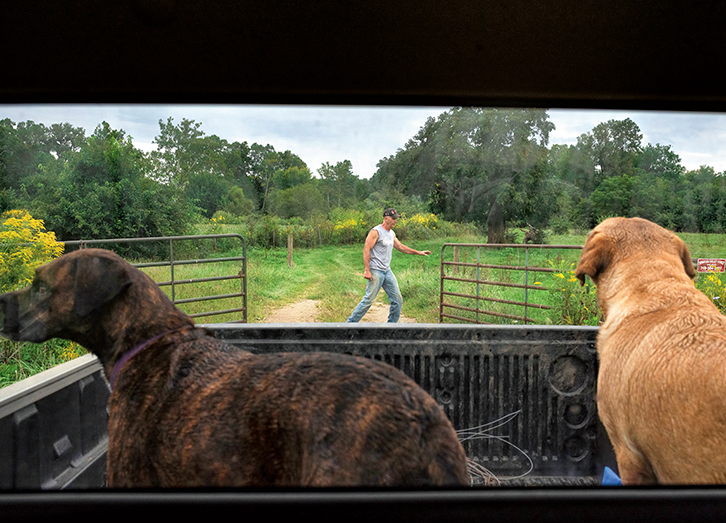 Farming legacy: Alan Cassell closes the gate after taking his dogs Echo and Willow down to the Kokosing to play. The river cuts through the Cassell family cattle farm, where the house dates from 1886 and the barn from 1835. Alan represents the seventh generation of his family on the farm, between Mount Vernon and Fredericktown. He's also known locally as the former coach of the Mount Vernon High School boys' volleyball team. During his nine-year stint, the team won seven conference championships and twice made it to the state final four.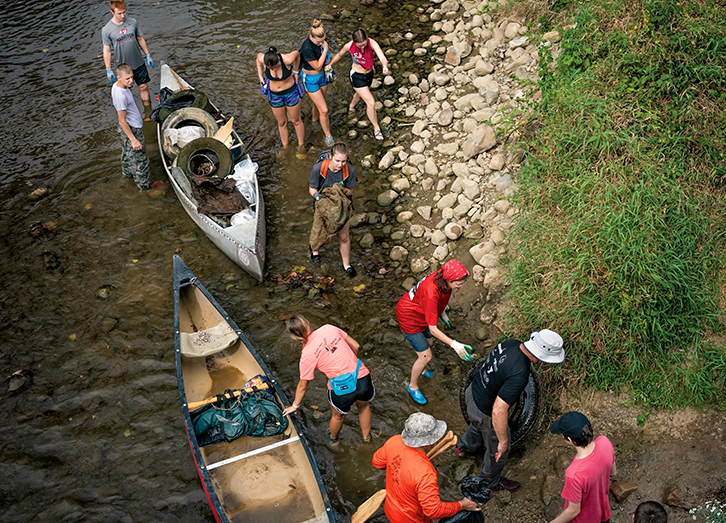 A group of Kenyon students volunteering for the annual Kokosing River clean-up effort in September.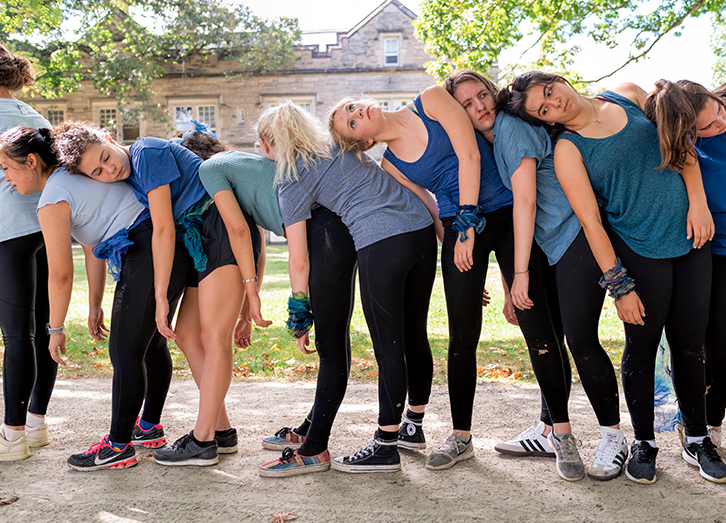 Climate crisis: As part of a two-day "climate teach-in" held during the week of international climate strikes last fall, a Kenyon dance class created a "movement response to themes of climate change." Other contributions came from students and faculty in biology, mathematics, international studies, anthropology, philosophy, religious studies and English literature.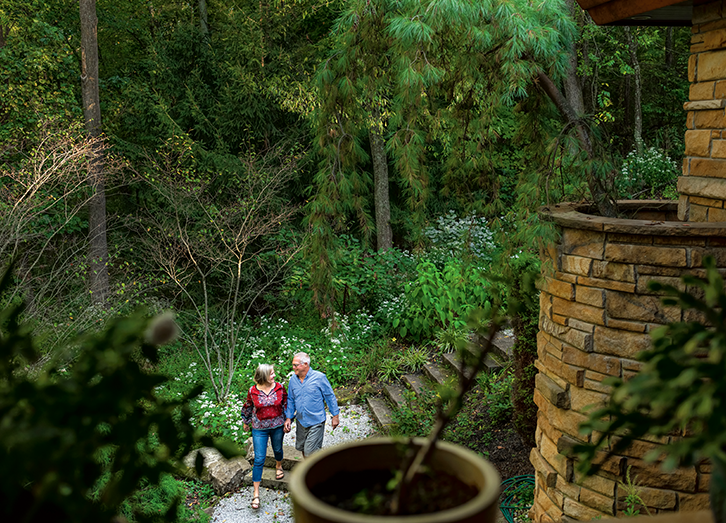 Devotion to the land: Kenyon actively helps to preserve the rural character of Knox County through the Philander Chase Conservancy, a land trust founded in 2000 to conserve open space, farmland and important natural habitats near campus. The conservancy — the only trust of its kind created by a college or university in the U.S. — works closely with farmers, landowners, environmental groups and government agencies, using legal tools like conservation and agricultural easements to protect land from development.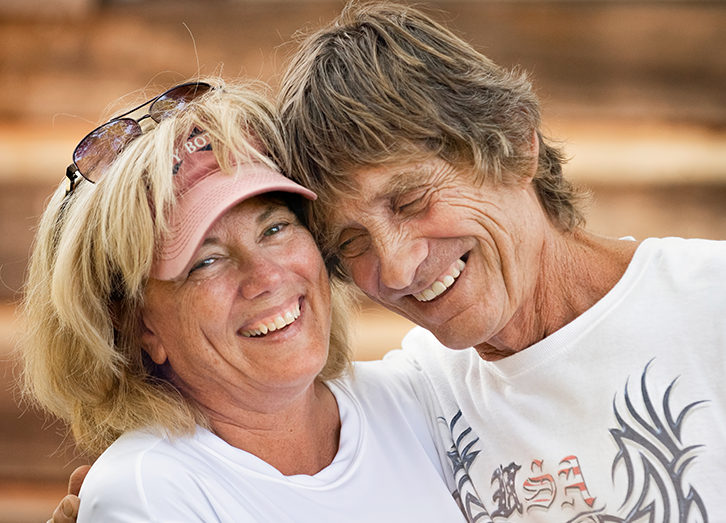 The College benefits by safeguarding the natural beauty that contributes to its identity. Participating landowners exchange their development rights for tax relief and/or funding, and welcome the chance to conserve a precious resource. That has certainly been the case for Mike and Krys Clifton (above), whose 200 acres of land include a tree farm as well as extensive woods and pasture; and for Jim Giles '76 and his wife, Kim, whose 41 acres, mainly woodland, overlook the Kokosing River. Both families worked with the Conservancy to obtain conservation easements.
Kokosing 101: Immersing students in local communities and landscapes
In the seminar "Life Along the Kokosing," students get a chance to learn about Knox County through field trips as well as in-class study. Taught by Professor of Anthropology Bruce Hardy, the course (Anthropology 157) explores such subjects as ecology, agriculture and the rural economy. Hardy's course continues efforts that began 25 years ago, when Professor of Sociology (now emeritus) Howard Sacks created the Family Farm Project, followed by the Rural Life Center. Through these initiatives students engage with the local area as a realm for research and documentary projects in the spirit of neighborly appreciation, and with an interest in sustainability. As with those earlier efforts, Hardy's course focuses on "sense of place" as a vital idea and culminates in a public project, so that students can share their insights.
A SEMINAR SAMPLING
Some of the topics and questions that students explore in the seminar:
Working the land
How do various agricultural practices — family farming, agribusiness and Amish farming — affect the environment, society and culture?
Local industry
What was the industrial character of Mount Vernon, and how do local characteristics shape the economic fortunes of working people?
Rural diversity
What were the contours of African American life in Knox County, and in what sense can we talk about a "black community"?
Rural planning
What is the vision for Knox County's future? How is that vision determined, and by whom? What forces shape the community's prospects?
Community and place
What do we mean by a sustainable community? How can we ensure rural vitality? What is our role in this process as Knox County residents? Why does it matter? What is the significance of connection to place?
Character takes top priority as the Lords work to turn around a football program that historically produces more…
Read The Story
How a boy from Boston waxed philosophical at Kenyon, hitched a ride to the White House with a hotshot senator and…
Read The Story