When in Seattle
Thinking about a visit to Washington's largest city? Seattle resident Abbe Jacobson '89 has some tips.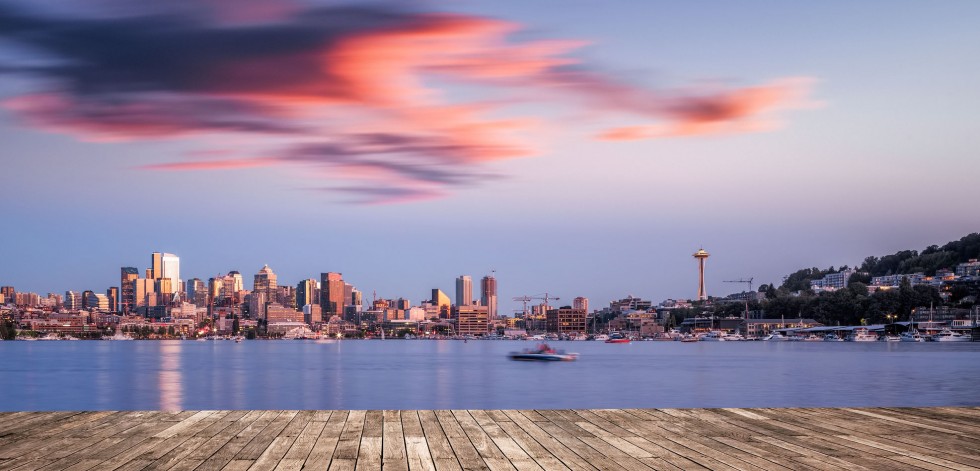 Major at Kenyon:
Political science
City of birth:
Iowa City, Iowa
Occupation:
Small business owner, health and life coach at Abbe Jacobson Coaching, LLC
How long have you lived in Seattle?
20 years
What brought you here?
My husband, Curtis Kopf, took a job with Amazon back in the early days. We are New England transplants who now claim the great Pacific Northwest as our home. Our two kids, Sam (23) and Ellie (20), are true Seattleites.
Best part of living in Seattle:
Easy access to the great outdoors, innovation everywhere (home to high-tech giants Amazon and Microsoft, among many others), amazing restaurants, a hip local music scene, views for miles (Mt. Rainier, the Space Needle, lakes, ocean, mountains and many beautiful sunsets), Seahawks games at CenturyLink, and, of course, coffee! Seattle is well-known for its amazing locally owned coffee shops (not Starbucks!).
Worst part of living in Seattle:
High cost of living due to it being such a desirable place to live. It's also become crowded thanks to the success of Amazon and other major high-tech giants with regional Seattle offices (Google, Facebook, Expedia).
A place in Seattle that reminds you most of Kenyon:
Elliott Bay Books brings me back to the days when we would hang out in the Kenyon bookstore, passing time and reading without a care in the world. I can get lost in Elliott Bay Books.
Best hidden gem in your city:
The Seattle Art Museum's Olympic Sculpture Park is a great place to take in the cool monumental sculptures while strolling along Elliott Bay. Chihuly Garden and Glass Museum at Seattle Center — don't miss the chance to see some of Dale Chihuly's most breathtaking pieces of art in the shadow of the Space Needle. The new and iconic Amazon Spheres which house 40,000 plants of 400 species in the heart of South Lake Union. And to save the best for last, the uber-cool Seattle Central Library building, 11 stories of glass and steel designed by Rem Koolhaus and Joshua Prince-Ramus.
Live in or near Seattle? Learn more about the Seattle Regional Association for Kenyon alumni.
The "River of the Little Owls," and the communities found along it, have shaped much of Kenyon's sense of place…
Read The Story
How a boy from Boston waxed philosophical at Kenyon, hitched a ride to the White House with a hotshot senator and…
Read The Story
Character takes top priority as the Lords work to turn around a football program that historically produces more…
Read The Story