60-Second Syllabus: English 291.02
Visiting Instructor Thea J. Autry offers a 60-second glimpse of her English class "Racescapes."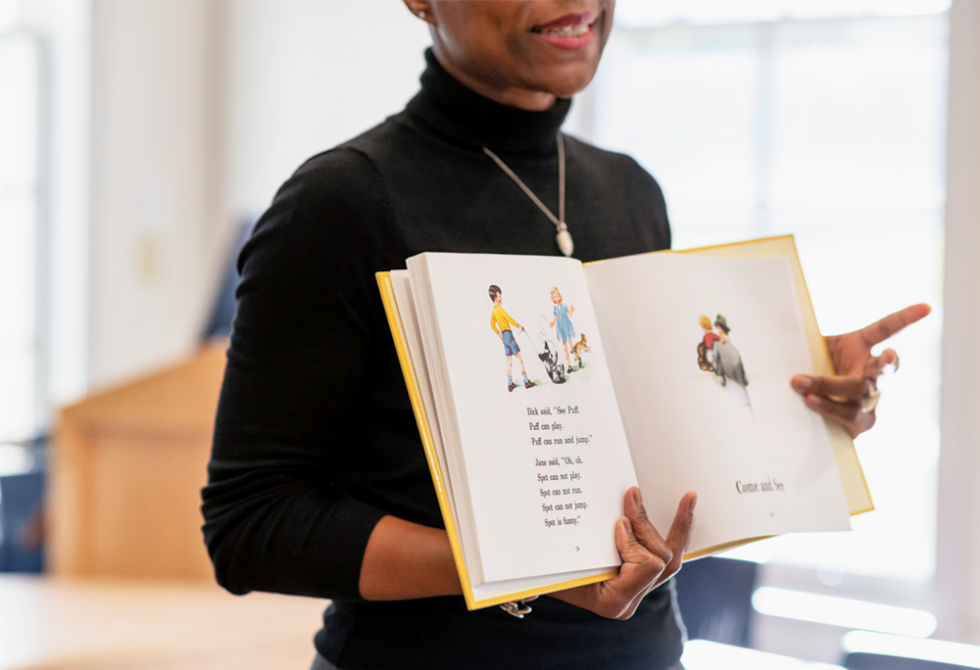 MWF 10:10 - 11 a.m.
Lentz House 104
Taught by Thea J. Autry, visiting instructor of English
Students in "Racescapes" take a visual and narrative journey from the plantations of the antebellum U.S. South to the cities and suburbs of the contemporary U.S. North. Along the way, they examine how we talk about and experience race and how the images we consume shape those conversations.
Through a variety of genres and media, students study the ways in which whiteness and blackness take on meaning in relation to geographical and topographical contexts. "Taking a deep dive into an interdisciplinary methodology was really intriguing to me," explained Autry, who noted that teaching visual arts and literature together can be more accessible for those who are new to literary analysis.
Books like "Dick and Jane" (pictured above) take on new meaning as students read them from the perspective of place — in this case, the suburbs — and its influence on how we see one another. After the class studied artist Romare Bearden's six-panel collage of life on a Harlem street, "The Block," with accompanying poems by Langston Hughes, students ultimately suggested a final group project that surprised Autry: a reinterpretation of Bearden and Hughes' work, tracing the trajectory of the course in mixed media (an art project incorporating poetry).
"I was blown away by the ways they had synthesized the course material, drew connections to their own lives and built off of one another's ideas," Autry said.
---
Recommended Reading:
"Landscape of Slavery: The Plantation in American Art" by Angela Mack
The "River of the Little Owls," and the communities found along it, have shaped much of Kenyon's sense of place…
Read The Story
Character takes top priority as the Lords work to turn around a football program that historically produces more…
Read The Story
How a boy from Boston waxed philosophical at Kenyon, hitched a ride to the White House with a hotshot senator and…
Read The Story