Book Shelf
New releases from members of the Kenyon community.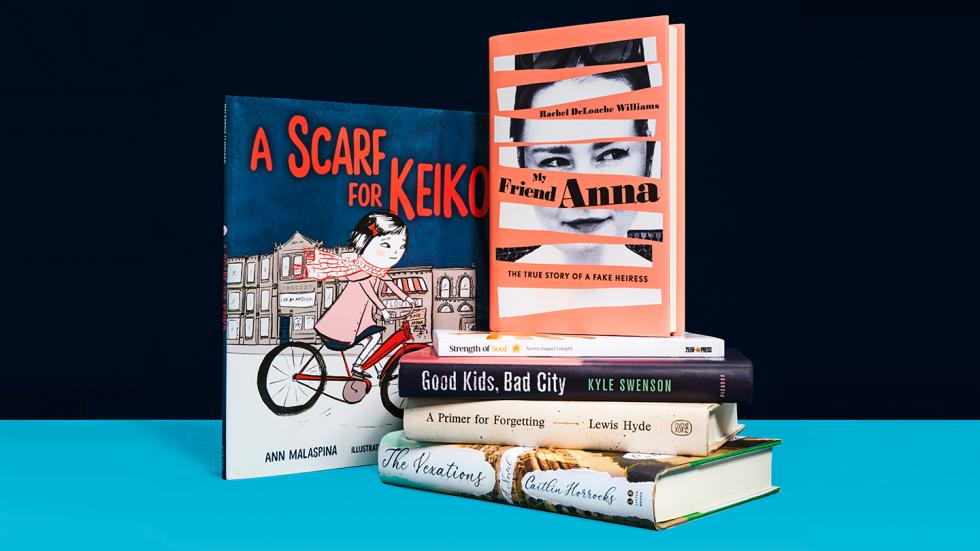 Editor's Note: Any of the books mentioned here can be ordered through the Kenyon College Bookstore at shopkenyon.com.
'The Vexations'
BY CAITLIN HORROCKS '02
In her debut novel, acclaimed writer Horrocks conjures a world around French composer Erik Satie, his siblings and Paris in the Belle Époque, described by The Washington Post as an "unusual, quietly beautiful meditation on the work and strife behind art that has endured for generations." Intrigued? "The Vexations" is the official selection of the next Kenyon Alumni Book Club. Join the action at bookclub.kenyon.edu. (Little, Brown and Company).
'Strength of Soul'
BY NAOMI RAQUEL ENRIGHT '00
Enright, an Ecuadorian and Jewish American educator and activist from New York City, draws upon her own experiences with racism, and explores how she cultivated her "strength of soul" in this book that is equal parts memoir and call to action. (University of Chicago Press: 2Leaf Press).
'A Primer for Forgetting: Getting Past the Past'
BY LEWIS HYDE
In his most recent book, which Publishers Weekly describes as a "delicate, allusive thought experiment," Richard L. Thomas Professor of Creative Writing Emeritus Lewis Hyde explores questions around our memories — both cultural and personal — and the times when forgetfulness is actually more useful than memory. (Farrar, Straus and Giroux)
'My Friend Anna: The True Story of A Fake Heiress'
BY RACHEL DELOACHE WILLIAMS '10
When "Anna Delvey," a self-proclaimed German heiress, invited Williams on a free vacation in Marrakech, Williams could never have imagined she'd return home deep in debt and devastated by the discovery of her so-called friend's elaborate con. She tells her side of this viral true crime story in her debut book. (Gallery Books, Simon & Schuster).
'A Scarf for Keiko'
BY ANN MALASPINA '78
In 1942 Los Angeles during World War II, a young Jewish boy, Sam, and his Japanese American neighbor, Keiko, learn to knit in school so that they can make socks for American soldiers. This children's book offers a gentle, age-appropriate introduction to complex issues like political oppression, injustice, racism, suffering and inclusivity. (Lerner Publishing Group: Kar-Ben Publishing)
'Good Kids, Bad City'
BY KYLE SWENSON '07
While working as a newspaper reporter in 2011, Swenson received a call from a paroled convict named Kwame Ajamu that would change his life. A 2011 story that Swenson wrote for Cleveland Scene eventually helped exonerate three men. Swenson expands upon his earlier investigations in this gripping tale of criminal injustice in the heartland. (Picador)
---
Additional New Releases
Christopher Bartley (Chris Frueh '85), "A Season Past"

Monica Cure '02, "Picturing the Postcard: A New Media Crisis at the Turn of the Century"

Edward E. Curtis IV '93, "Muslim American Politics and the Future of US Democracy"

Fred K. Drogula '92, "Cato the Younger: Life and Death at the End of the Roman Republic"

John D. Emens '83, "Always More French Fries at the Bottom of the Bag: A collection of poems and spiritual reflections"

Kelly Stanton Fordon '89, "Goodbye Toothless House"

James A. Glassman '92, "The Houstorian Calendar: Today in Houston History"

Michael J. Green '83, "By More Than Providence: Grand Strategy and American Power in the Asia Pacific Since 1783"

William P. Hustwit '02, "Integration Now: Alexander v. Holmes and the End of Jim Crow Education"

Allison Joseph '88, "Confessions of a Barefaced Woman"

Matt Laney '93, "The Four Guardians (Pride Wars)"

Eric D. Lehman '94, editor, "Quotable New Englander: Four Centuries of Wit and Wisdom"

Janet E. Lord '88 P'19, "The Right to Inclusive Education in International Human Rights Law"

Jeffrey K. Mann '92, "May I Kill? Just War, Non-Violence, and Civilian Self-Defense"

Sante Matteo '71,"Il secondo occhio di Ulisse: Saggi di letteratura e cultura italiana" (Pacini Editore); translation by Associate Professor of Italian Simone Dubrovic

Anne Morrissy '01, "Running the Reds: The First 100 Years of the Water Safety Patrol: 1920-2020"

Claire Petitt '94, illustrator, "We Thought You Were a Platypus"

Richard H. Schmidt '66, "Sing to the Lord an Old Song: Meditations on Classic Hymns"

Joan Silverman '73, "Someday This Will Fit: Linked Essays, Meditations & Other Midlife Follies"

Katherine H. Terrell '95, "Richard Coeur de Lion"

William J. Wainwright '57, "Elements in Religion and Monotheism: Monotheism and Hope"

Fred Waitzkin '65, "Deep Water Blues"

Associate Professor of Philosophy Jason W. Waller, "Cosmological Fine-Tuning Arguments: What (if Anything) Should We Infer from the Fine-Tuning of Our Universe for Life?"

Andrew Welsh-Huggins '83, "Fatal Judgment: An Andy Hayes Mystery"
The "River of the Little Owls," and the communities found along it, have shaped much of Kenyon's sense of place…
Read The Story
How a boy from Boston waxed philosophical at Kenyon, hitched a ride to the White House with a hotshot senator and…
Read The Story
Character takes top priority as the Lords work to turn around a football program that historically produces more…
Read The Story