'Willingness to Engage'
Getting to know Ira Sukrungruang, the new Richard L. Thomas Professor of Creative Writing.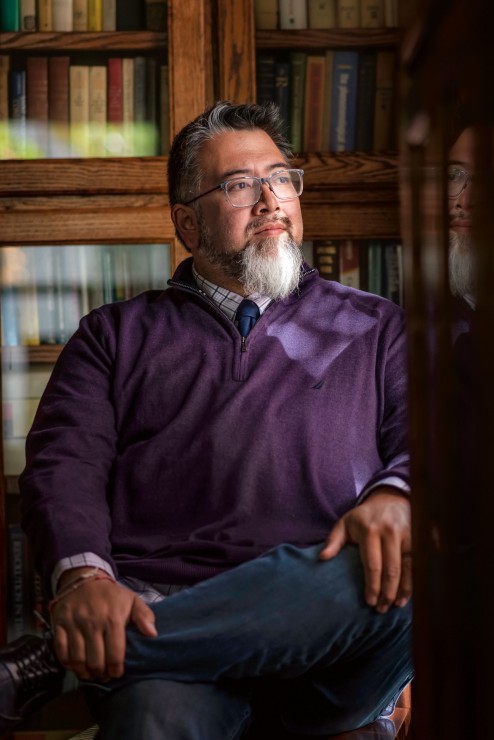 Author of:
Three nonfiction books ("Buddha's Dog & other Meditations," "Southside Buddhist" and "Talk Thai: The Adventures of Buddhist Boy"), one short-story collection ("The Melting Season") and a poetry collection ("In Thailand It Is Night")
Online:
Twitter and Instagram: @sukrungruang
Birthplace: Chicago
What drew you to Kenyon to teach?
About 20 years ago, while I was doing my M.F.A. in Columbus, a friend, Geoff Schmidt '86, came for a visit and asked if I could drive him to his alma mater. He was giving a talk and reading at the College. I agreed, and we made our way to Gambier. Geoff went to do his thing and I just walked around, enthralled and enchanted, wondering if I had accidentally stumbled onto a pristine movie set of a college campus. Nope, it was Kenyon, with its beautiful literary tradition.
What's your proudest accomplishment to date?
Easy. Potty training my 3-year-old.
What's the most meaningful thing you've learned from your students?
Their eagerness. Their motivation. Their ambition. Their willingness to engage in conversation, which is a gift.
What's the best advice anyone has ever given you?
You can't help everyone. But you can help one.
Which books, movies, songs and albums have changed your life?
Book: Ta-Nehisi Coates' "Between the World and Me." Movie: "Lost in Translation." Song: Elton John's "Tiny Dancer." Album: Digital Underground's "This is an EP Release."
What else would you like people to know?
I'm a cheese snob. I go a little crazy if I don't eat Asian food at least three times a week. And my toddler son says his favorite thing in the world is when I pick him up from school, and that always melts me.
Character takes top priority as the Lords work to turn around a football program that historically produces more…
Read The Story
How a boy from Boston waxed philosophical at Kenyon, hitched a ride to the White House with a hotshot senator and…
Read The Story
The "River of the Little Owls," and the communities found along it, have shaped much of Kenyon's sense of place…
Read The Story