Snapshots of Life on the Hill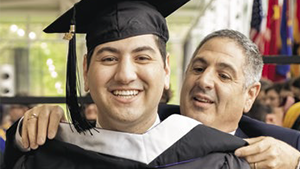 Family Ties
Every year at Commencement, Kenyon alumni are invited to take part in the hooding ceremonies of their graduating children. Pictured here, Myles H. Alderman Jr. '82 P'14, '18, participates in the hooding of his son, Brooks H. Alderman '18, on May 19. The younger Alderman graduated from Kenyon with a degree in political science.
Quad Pods
Four temporary modular units were installed on campus in the spring. Starting in the fall, the units will house library services and provide study space during construction of the new library. Three modular units on Ransom Lawn, totaling about 14,000 square feet of space, will host the library's core services, including circulation, research and reference, Helpline, special collections and archives, public printers, periodicals, new books, computer workstations and study spaces. A
3,000-square-foot modular building between Watson and Norton halls will provide seating for more than 100 students.
Bells of Success
Kenyon's third annual Bell-A-Thon raised $687,044 in donations with the help of 1,075 donors and a one-to-one trustee match. Live streamed from the belltower of the Church of the Holy Spirit, the event featured performances from student groups such as the Kokosingers and ballroom dance team, and conversations with professors like P.F. Kluge '64 and Perry Lentz '64.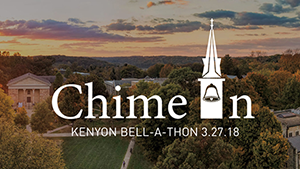 '81
Karen M. Regan Jaffe, Cleveland Heights, Ohio, is almost five years into retirement but busier than ever: "My Parkinson's disease has put much on my plate," she writes, "as a member of the Michael J. Fox Foundation Patient Advisory Council, a co-founder of InMotion (a wellness center for PD), and as a Team Fox $1M fundraiser." She received the 2018 InMotion Parkinson's Visionary Award in April.
'12
Caroline K. (Gruman) Furste now works in business development in the Chicago office of Mayer Brown. "The best part is working with Irene M. Wilburn '12," Callie writes, "an attorney at the firm. We've come a long way since our days cramming for exams at Olin … but then again it feels a bit like we've come full circle!"
'52
"I have just reached my 87th birthday and am still going strong. Of course there are a few bumps in the road, but I am succeeding to surpass these. I volunteer at the local hospital in the cancer unit encouraging other patients and am still professor on the Yale faculty and senior adviser of the Yale Bahamas Eye Program. I keep active in the local YMCA men's meeting. I still think of the excellent non-science courses at Kenyon and regret I had too little time to take more of them. Best regards to all."
— I. Willard "Brook" Abrahams, Meriden, Connecticut