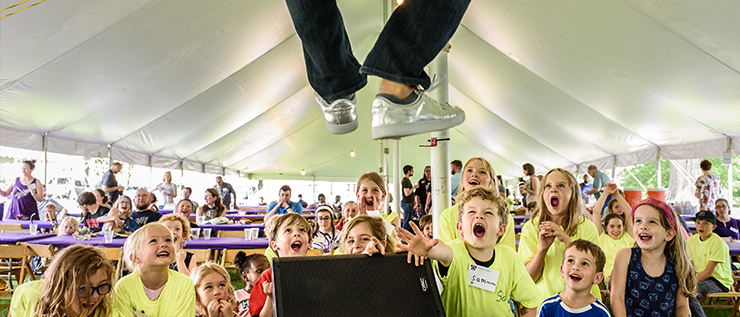 Jump for Joy! Grammy-nominated musician Zak Morgan '94 entertains children at a 2018 Reunion Weekend family concert.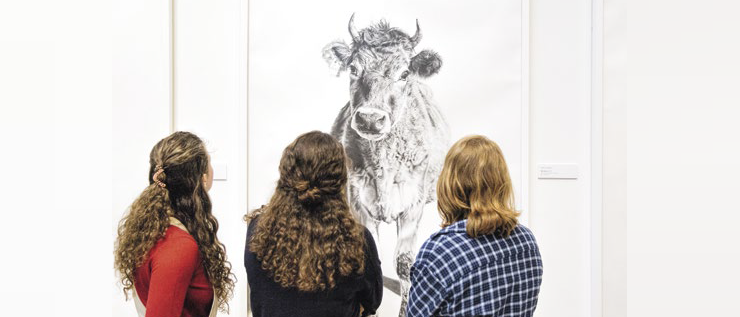 Gund Gallery visitors admire "Bos taurus," by Addison Wagner '18, at the annual senior student art exhibition in May.
General Kenyon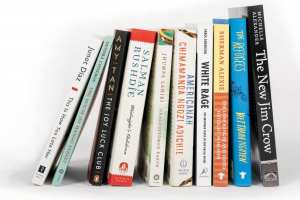 Read along with these six Kenyon courses from the comfort of your own home.
Read More
Alumni News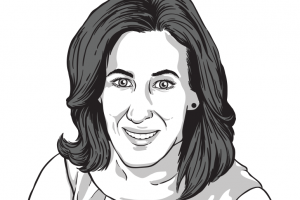 Workplace guru Mary Abbajay '86 gives tips on etiquette for reaching out to alumni.
Read More
Society & Politics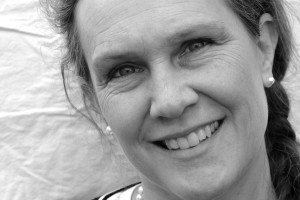 In conversations about race, be curious and open, racial justice educator Debby Irving '83 says.
Read More
Student Life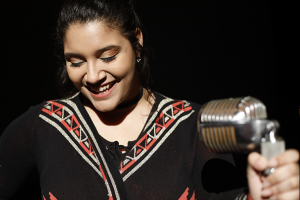 Stand-up comic Delaney Barker '20 mines the college experience for laughs.
Read More
Student Life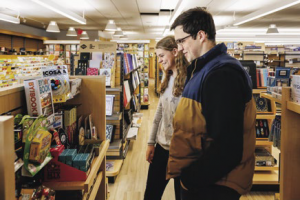 With renovations complete, the Kenyon Bookstore embraces its role as a community hub.
Read More
Kenyon in Quotes
"Participation in politics gives students clarity and enables them to understand their strengths." — Diane Anci, vice president of enrollment management and dean of admissions, on the role activism can play in college admissions decisions, in the Atlantic.
Athletics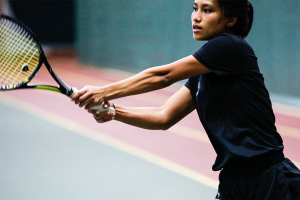 Neuroscience major Diana Aboubakare '18 faces a big match. But first, she heads to class.
Read More
Alumni News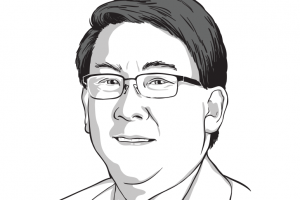 In retirement, Doug Wang '78 pays it forward.
Read More
Arts & Culture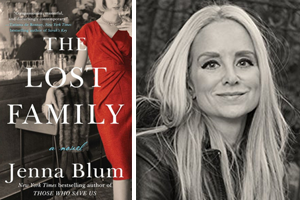 Jenna Blum '92 had never written an overtly political novel. Was now the time?
Read More
Alumni News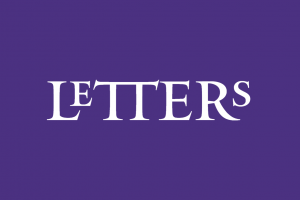 Readers share their thoughts, stories and questions about diversity, equity and inclusion at Kenyon.
Read More
Snapshots of Life on the Hill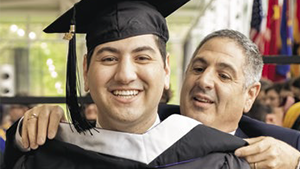 Family Ties
Every year at Commencement, Kenyon alumni are invited to take part in the hooding ceremonies of their graduating children. Pictured here, Myles H. Alderman Jr. '82 P'14, '18, participates in the hooding of his son, Brooks H. Alderman '18, on May 19. The younger Alderman graduated from Kenyon with a degree in political science.
Quad Pods
Four temporary modular units were installed on campus in the spring. Starting in the fall, the units will house library services and provide study space during construction of the new library. Three modular units on Ransom Lawn, totaling about 14,000 square feet of space, will host the library's core services, including circulation, research and reference, Helpline, special collections and archives, public printers, periodicals, new books, computer workstations and study spaces. A
3,000-square-foot modular building between Watson and Norton halls will provide seating for more than 100 students.
Bells of Success
Kenyon's third annual Bell-A-Thon raised $687,044 in donations with the help of 1,075 donors and a one-to-one trustee match. Live streamed from the belltower of the Church of the Holy Spirit, the event featured performances from student groups such as the Kokosingers and ballroom dance team, and conversations with professors like P.F. Kluge '64 and Perry Lentz '64.
'87
"I am living my same wonderful rural life. My husband is a farm vet, I am a small-animal vet, and we have a flock of 100plus sheep that keep us busy when we're not working. Our son graduated from South Dakota State University and now teaches high school animal science and agriculture. One daughter is at Lafayette College in eastern Pennsylvania and one daughter is at Grinnell College in Iowa, so we went two for three on small private liberal arts colleges. Both girls are admissions tour guides (I was a tour guide for three years at Kenyon). Since their schools are both very similar to Kenyon, they're always excited to tell me when they've had a family on tour who has also visited Gambier!
"
— Lisa Sell, St. Michael, Minnesota
'85
Jan M. Richardson, Ridgeland, Mississippi, joined the Keep Mississippi Beautiful office as assistant director in November 2021. "I was honored to receive the Madison County School District High School Parent of the Year award for the 202122 school year" she updates.
'02
Carrie N. Simon, Ithaca, New York, completed a master's in natural resource management from Cornell in 2019 and an A.S. in graphic design from Tompkins Cortland Community College in 2021. "Currently working at Cornell as a program coordinator for the Lund Fellows Program in Regenerative Agriculture, using
my free time for my art and design work, and busy raising my kiddos, who will be 7 and 9 this summer."