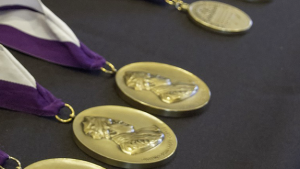 Feting the Founder
Kenyon's annual Founders' Day celebration
in October brought with it the signing of the Matriculation Book, reflections on the College's history and faculty awards. Professors Joel Richeimer P'21 and Clara Román-Odio P'11,'18 received Bishop Philander Chase medals for 25 years of distinguished service, and Professor of English Sarah Heidt '97 was awarded the Faculty Advising Award. 
Cultural Conversations
This winter, two separate issues received much attention and discussion both on and off campus. In February, Playwright-in-Residence Wendy MacLeod '81 canceled an on-campus production of her original play, "The Good Samaritan,"  after members of the faculty and student body expressed concerns about its representation of a Guatemalan youth. Unrelated, but around the same time, a new "whiteness" discussion group formed at Snowden Multicultural Center, with a goal of exploring "what it means to be a white person while benefiting from societal privilege, as well as what it means to be a white ally to marginalized groups," according to the Collegian. The Bulletin is considering how to bring some  of the issues raised on campus, by alumni and others, to these pages in future issues.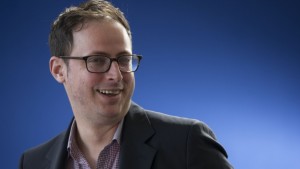 Silver Lining
Nate Silver, the statistician and journalist best known for correctly predicting the electoral outcome of 49 states during the 2008 presidential election and all 50 in 2012, will give the graduation address at Kenyon's 190th Commencement ceremony on May 19. "Nate Silver is uniquely positioned to offer remarks to our graduating class on what it means to apply rigorous thinking and careful analysis to a variety of questions," President Sean Decatur said. 
'97
Lindsay Buchanan Burke, Arlington, Virginia, practices law with Covington & Burling in Washington, D.C., now from her home office, while overseeing the virtual schooling of three kids in the next room. "As an employment lawyer advising many of the world's largest companies, I've been at the center of employers' responses to #MeToo, Black Lives Matter and the coronavirus pandemic," she informs. "It's been a busy and exciting time."
'19
"I'm going into my second year as an assistant English teacher in a rural area of Nagasaki, Japan. It's rice-harvesting season as I write this, which is exciting! There's
really nothing like fresh rice. But shout-out to Peirce rice for being a close second."
— Clara L. Altfeld
'67
Michael L. Ulrey, Mount Vernon, Ohio, shares how different life looks in Gambier this year: "Everyone wears masks. The usual corner of the Wiggin Street coffee shop is not available for our old-timers' coffee klatsch. We sit outside on the porch of the old bookstore, talk to passersby — both students and village residents — and of course solve the world's problems. Math Mondays have started up again — as Zoom meetings, of course. It's great to see the students' involvement in writing papers, creating online content and doing internships in data analytics for sports teams and other commercial ventures." Ulrey gave a presentation in November about how he used math in his post-Kenyon career.