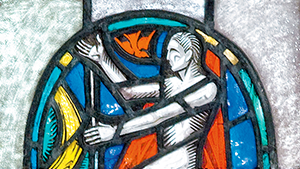 Treasures in Glass
For the College's limited edition book on the literary windows of the Great Hall in Peirce Hall, Professor of English Jennifer Clarvoe wrote about "Song of the Open Road," Walt Whitman's celebration of American character and freedom.
Armed with Confidence
Lords football coach Chris Monfiletto took a .500 record into his third season: "Our only expectation for our team is that we approach each day armed with the confidence of having used adversity as an opportunity for improvement. If we can empower the leaders on the team to hold themselves accountable for recognizing these growth factors, then our small successes will snowball and enable our players to do some special things."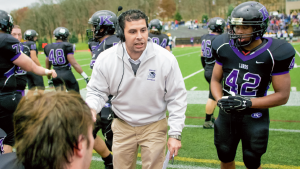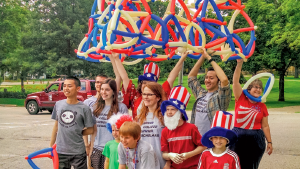 Hip to be Square
Math ruled at the Independence Day parade in Gambier.
Professor of Math Judy Holdener marshaled a dozen Summer Science Scholars, who created a balloon sculpture of a Sierpinski tetrahedron, a three-dimensional fractal. Holdener has for years hoped to enter a "float" in the parade, and this year was spurred on by math major Robin Belton '16.
'73
David J. Snell and his wife left South Carolina for Seattle, where he serves as deputy regional flight surgeon for the FAA Northwest and Mountain Region, covering seven states, 90,000 pilots and 1,500 air traffic controllers. "Not much in the way of flying — only a desk," David observes, "but more than enough angst from controllers and pilots. Now in the position to certify senior airline pilots that I flew with in the USAF, back in the day when we both had the rank of captain. We'll miss the ongoing company and tales from J. Scott Douglas and Debra, permanent residents of Hilton Head Island."
'89
"I just returned from a weekend on Gambier Island attending Alumni Council meetings. As always, I connected with so many fabulous people across generations. The highlight — aside from tequila shots at the VI — was a networking session with students and alums. My insecurities led me to wonder what I have to offer in terms of career advice. But speaking with students, I was reminded how terrifying it is to be graduating from college and figuring out what's next. When I told them it's OK not to know, it's OK to change your mind, I could literally see their shoulders relax and a wave of relief sweep over their faces. Of course my mommy instincts kicked in, and I wanted to hug them all and make them soup. It was also awesome to see my daughter, Shea C. Wilt '25! When not on campus, I'm happily living life in Kirkland, Washington, with my husband and son. I love my job with the King County Library System, and I see my BFF Abbe Jacobson Kopf as often as I can!"
— Kyla K. Carlson
'81
"Afforded more time during lockdown, I stepped into a new endeavor as a booking agent, working with five artists from the U.S. and Canada, hunting and securing them gigs and routing concert tours nationally. It's fun, a nice complement to my ongoing role as a DJ on community radio and presenter of house concerts, and recalls the days as concert chair of the Kenyon Social Committee."
— Douglas Gertner, Denver