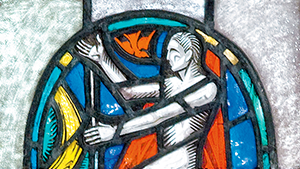 Treasures in Glass
For the College's limited edition book on the literary windows of the Great Hall in Peirce Hall, Professor of English Jennifer Clarvoe wrote about "Song of the Open Road," Walt Whitman's celebration of American character and freedom.
Armed with Confidence
Lords football coach Chris Monfiletto took a .500 record into his third season: "Our only expectation for our team is that we approach each day armed with the confidence of having used adversity as an opportunity for improvement. If we can empower the leaders on the team to hold themselves accountable for recognizing these growth factors, then our small successes will snowball and enable our players to do some special things."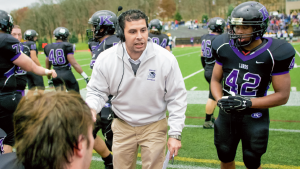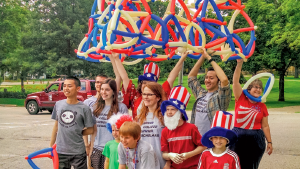 Hip to be Square
Math ruled at the Independence Day parade in Gambier.
Professor of Math Judy Holdener marshaled a dozen Summer Science Scholars, who created a balloon sculpture of a Sierpinski tetrahedron, a three-dimensional fractal. Holdener has for years hoped to enter a "float" in the parade, and this year was spurred on by math major Robin Belton '16.
'63
David H. "Dusty" Stiles, Northridge, California, does studio design and repair at Beverly High School, video and sound projection at church, and produces an annual photo calendar featuring shots he's taken on his travels around California. A grandson, now 7 months old, was born with Aicardi-Goutières Syndrome, a rare genetic disorder affecting the white matter of the brain and causing short life expectancies. "This is one of those situations where you dig in and make things work as best you can," Dusty writes.
'66
Victor H. Sparrow III wrapped up 10 years of teaching in Hangzhou, China, and in full retirement now counsels Chinese students and studies Chinese culture and language at home in Baltimore.
'00
Michael J. Tabacco practices healthcare law in D.C. and Maryland. He founded a Blockchain-based company to streamline health insurance payments to physicians, and his team received its first large-sum investment this summer.