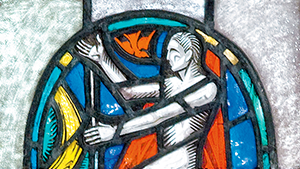 Treasures in Glass
For the College's limited edition book on the literary windows of the Great Hall in Peirce Hall, Professor of English Jennifer Clarvoe wrote about "Song of the Open Road," Walt Whitman's celebration of American character and freedom.
Armed with Confidence
Lords football coach Chris Monfiletto took a .500 record into his third season: "Our only expectation for our team is that we approach each day armed with the confidence of having used adversity as an opportunity for improvement. If we can empower the leaders on the team to hold themselves accountable for recognizing these growth factors, then our small successes will snowball and enable our players to do some special things."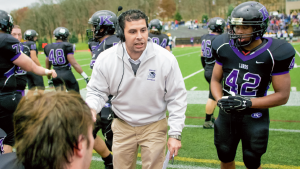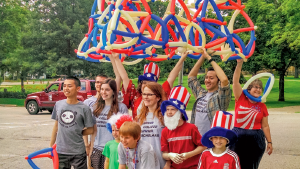 Hip to be Square
Math ruled at the Independence Day parade in Gambier.
Professor of Math Judy Holdener marshaled a dozen Summer Science Scholars, who created a balloon sculpture of a Sierpinski tetrahedron, a three-dimensional fractal. Holdener has for years hoped to enter a "float" in the parade, and this year was spurred on by math major Robin Belton '16.
'65
Robin F. Goldsmith, Needham, Massachusetts, presented a keynote address titled "RE, PO, BA, or BS?" to the Minneapolis-St. Paul International Institute of Business Analysis return-to-in-person Professional Development Day conference in May. The next day, he presented "Does Being Promoted Make You a Jerk?" to the Portfolio, Leadership and Strategy Conference, also in Brooklyn Center, Minnesota.
'88
Chris Tejirian and family are moving from Japan back to the U.S. this summer, to western Massachusetts. "We loved living in Japan for four years. Our twins attended an international school but also the local junior high school for half of every summer, which enriched their experience. Japan was an especially good place to be during the pandemic. I postponed my thoughts of semi-retirement and took an assignment in which I can work remotely. Check out my podcast, Trails Around the World."
'07
Claire E. Navarro welcomed second child Eliot to the family in 2022. "I spend most of my time chasing him around or building fairy houses with 4-year-old daughter Quinn," she writes. "I also recently switched jobs at my longtime employer, Washington University in St. Louis, and now work full-time on Washington Magazine."