Flight Time
Katharine Sears '95 finds satisfaction specializing in airplane weapons and sensor systems.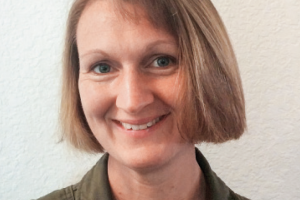 Lieutenant Commander Katharine Sears '95 fell into a military career like a windblown paratrooper alighting on a bed of feathers. She wasn't sure in which direction she was headed, but the Navy provided a soft landing. "I don't think anybody can anticipate what to expect in the military, but the Navy has been good to me," Sears said.

After graduating from Kenyon with a bachelor's degree in international studies, Sears spent the next seven years working in the private sector, including five years with Marriott International, before she was laid off in 2001. Serendipity met necessity and a Naval Flight Officer was born.
"I lost my job and started looking for something else to do and decided to try out this Navy thing, and here I am twelve years later," Sears said. "When people ask me why I joined the Navy, I tell them that I really have no idea."

The Navy seemed to fit a personality inclined toward wanderlust and variety. "I knew that you changed jobs and moved around a lot and I liked those aspects of it," she said. "In the Navy, you never only have one job. It is not like working in the private sector where you tend to stay in the same place, doing the same thing, for a number of years. In the Navy, I have been able to move around a lot and try different things. That's a plus for me. It keeps me entertained."

A native of Washington, D.C., Sears completed Officer Candidate School and flight training in 2002 to serve as a Naval Flight Officer, specializing in airborne weapons and sensor systems. While not a pilot, she has logged more than 1,000 hours of flight time. "If you've seen the movie Top Gun, my job is like that of Goose. I'm not at the flight controls, but I'm the one telling the pilots where to go."

Most of her flight time has been on the P-3C Orion, a four-engine turboprop anti-submarine and maritime surveillance aircraft. The planes "find enemy submarines and put weapons on them to end the threat," she said. "They also have surveillance, intelligence, and reconnaissance roles."

Designed in the 1950s, the planes are roomy, slow, and scheduled to be replaced by new patrol planes, but Sears carries an abiding affection for the older aircraft. "There is a lot of room on them. You can actually get up and walk around. And we land on land. The P-3 is too big to land on a carrier. But if we got into a situation where somebody wanted to shoot us down, we'd be a sitting duck. So you just hope you stay out of those situations."

Sears makes sure the crews in her squadrons have the skills, training, resources, and planning to track enemy ships and attack them, if necessary. "Some of the missions are awesome, but one of the hardest things I have to do is write reports after every tactical flight," she said. "The paperwork is the worst part of the job."

Sears has served in Japan, the Philippines, Southeast Asia, and on several U.S. bases. A career highlight began in 2007 when she reported to the U.S. Pacific Command in Hawaii for a three-year tour that included working for the Intelligence Directorate, helping monitor military activity in the People's Republic of China. "That was an amazing experience," she said. "I worked with some impressive people. It provided me with a lot of knowledge that has been helpful in my tours since then, and showed me how I fit into the P-3 community and what it brings to the fight."

She is stationed at the U.S. Naval Air Station in Jacksonville, Florida, a hub for maritime patrol reconnaissance activity on the East Coast, where she serves as patrol squadron operations officer, instructor tactical aircraft coordinator, and mission commander.

Although Africa was her area of concentration in the international studies program at Kenyon, she never served there. However, her Kenyon education prepared her in other ways. "The development of my writing and research skills while I was there left me in great shape to be a Navy officer," she said. "Kenyon gave me the ability to study something and present it in an understandable way to others who don't have time to read through stacks of papers."

The Navy opened aviation training to women in 1972, but naval aviation remains a man's world. Sears is just one of four female flight officers among about 50 officers in her squadron. "It's something I don't even think about anymore because I've spent twelve years working mostly with men," she said.

Sears met her husband in flight school. He left the Navy in 2010 to attend graduate school and is a stay-at-home father to their six-year-old son. "It would be very hard for me to do this job if I didn't have a spouse who was available to be home," Sears said. "The demands of aviation are especially hard when you have a family."
After a decade of intense construction, Kenyon's master plan gets a remodel of its own.
Read The Story
Set aside the stereotype of the farmer as a man wearing overalls and a straw hat, perched atop a tractor by a cornfield…
Read The Story
Delving into the history of design and material culture, a journalist-scholar discovers the humble dinner dish…
Read The Story