Bookend Love
Kenyon couple champion mysteries and authors at their Ann Arbor bookstore.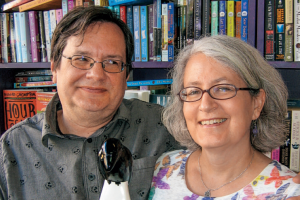 Gazing, no doubt contentedly, from high atop a bookcase, a small raven in ceramic form presides over the comings and goings in Robin and Jamie Agnew's bookstore in downtown Ann Arbor, Michigan.

For their part, Robin '82 and Jamie '80 welcomed its arrival at their store, Aunt Agatha's Mystery, Detection, and True Crime Books.

The Mystery Writers of America presented the statuette to the Agnews during a May 1 awards gala in New York City, where they received the organization's Raven Award, which recognizes outstanding achievement in the mystery field outside the realm of creative writing.

In addition to offering a plethora of new and used books, the Agnews have helped establish an Ann Arbor book festival and have avidly championed both established and new authors. Calling their store "beloved," the mystery-writers association said Aunt Agatha's is "a must-stop destination for author tours in the Midwest."

For the Agnews, some of the seeds for their success were planted at Kenyon. "It was my secret vice at Kenyon, going to the library and checking out (mystery writer) Ngaio Marsh, Agatha Christie books. I discovered Ngaio Marsh at Kenyon; I had already read all of Agatha Christie by the end of middle school," Robin said. "I had a professor, Jackie Robbins (now Kenyon's director of Advancement Information Services), in a social-history class. She told me about Dorothy L. Sayers, quite a literary mystery writer."

Jamie had a literary bent, too; he served as a co-editor of Hika. He later earned a master's degree in English literature. Robin was born on Michigan's Mackinac Island, where three generations of her family, the Mussers, have operated the landmark Grand Hotel. Her sister, Margaret (Mimi) Musser Cunningham '82, and their brother currently manage the resort. Jamie, of Pittsburgh, met Robin during his senior year in Gambier.

"We had mutual friends and we were at the dining hall and I told a stupid joke and only one person laughed. I looked and it was Robin; that's as good a basis for marriage as you're going to find," Jamie said. They married in 1982, although opening a bookstore wasn't part of their life plan.

Some years later, though, Jamie was working at a large bookstore and Robin continued to enjoy reading mysteries. Bookstore. Mysteries. A plot was hatched. In 1992, they opened Aunt Agatha's, named after their beloved mystery-writer. Jim Huang, who operated at Kalamazoo, Michigan, mystery bookstore, advised them and became a friend. Huang now manages the Kenyon College Bookstore.

At the time, the Agnews' plan seemed sound. "When we started, the economy was going pretty good and people were buying a lot of books," Robin said. "The common notion was that no mystery bookstore had gone out of business," she said, quickly adding, "But that has changed." In recent years, large bookstore chains as well as some independent stores have fallen on hard times. Aunt Agatha's has prospered because it has a firm grip on the literary genres it offers and because of the enthusiasm of its proprietors. "The giant stores were like the dinosaurs, but we're smaller, faster-moving mammals and are surviving," Jamie said.

Walls of the 1,000-square-foot store are lined with fourteen-foot tall bookcases; the store offers about 28,000 new and used volumes from domestic and foreign authors of mysteries, true-crime stories, espionage sagas, and the like. "I buy almost all of the books and put them on the shelf," said Jamie, so he knows where everything is when curious customers arrive.

Robin serves as president of the Kerrytown BookFest, held annually in September in Ann Arbor. Meanwhile, the store averages one book signing a month. "A lot of people we've had for their first signings are now New York Times bestsellers," Jamie said. Their "Mystery Author Night" in 2009 featured Loren Estleman, Peter Leonard, and his father, Elmore Leonard. The store celebrated its twentieth anniversary by hosting about fourteen authors for signings.

Customers come from northern Ohio and across Michigan. Visiting faculty and international visitors to the University of Michigan shop in the store. Although Aunt Agatha's has a website, online sales are not a major part of their business, the Agnews said. Large web-based retailers make for tough competition, though.

The couple seem up to the challenges. A liberal-arts institution such as Kenyon "teaches you how to think, how to do anything, how to problem-solve," Jamie said. Plus, smaller, more personal stores such as theirs seem to be the new paradigm, he said. "We feel like it's a resurgence, people want to go somewhere and talk about books. Our book club is prospering," Robin added.

Walk into the store and there's a good chance one of the Agnews will greet you. Jazz by the likes of Duke Ellington or Artie Shaw or Louie Armstrong or Benny Goodman might be playing; no hackneyed background music in this store.

And the small raven, which overlooks Aunt Agatha's cozy lobby and gathering space, will sit silently, never speaking. After all, this is a place where the books do all the talking.
Delving into the history of design and material culture, a journalist-scholar discovers the humble dinner dish…
Read The Story
Set aside the stereotype of the farmer as a man wearing overalls and a straw hat, perched atop a tractor by a cornfield…
Read The Story
After a decade of intense construction, Kenyon's master plan gets a remodel of its own.
Read The Story