Readers React
In the previous Alumni Bulletin we asked readers to share their thoughts, stories and questions regarding diversity, equity and inclusion at Kenyon. To everyone who took the time to respond to the call for letters: Thank you. The (many) notes we received were candid, thoughtful, thought-provoking and moving. Some were deeply personal while others were critical. Exploring these issues, and others, in an honest and meaningful way is central to the mission of this magazine. And we can't do it without you.
Painting Party
Kenyon students, faculty and staff came together for a community art project on Sept . 29 to transform a 575-foot-long, 12-foot-high construction barrier into a public canvas that will evolve during the two year construction of the Kenyon Commons library.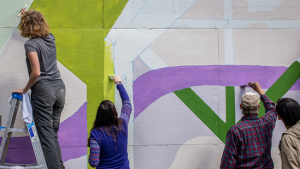 A Load of Bologna
Although the namesake lunch meat was nowhere to be found, Kenyon's traditional Bologna Loaf lunches — which date back to 1987 and take their name from a Calvin and Hobbes comic strip — drew students and faculty alike to the Science Quad on Wednesday afternoons this summer. Serving as both a delicious free lunch and a chance to socialize and take a break from research, the fortnightly event regularly attracts more than 150 attendees. Kenyon provides a main course, and research groups take turns bringing desserts from strawberry shortcake to dairy-free almond-amaretto cupcakes with chocolate frosting.
'82
Rory D. Mach is "cheerfully watching his skin turn leathery in the southern California sun," he updates. This year marks 30 years of "blissful" marriage to Margaret C. Chapin '81. Son Ryan Chapin Mach '14 relocated from Brooklyn to Los Angeles, while daughter Katherine M. Mach '17 lives in Philadelphia, which "in no way precludes her parents from annoying her from afar," he notes.
'72
Richard A. Rothermel retired a few years back as Otsego County public defender after 33 years there. Now Otto will split time between St. Thomas and Arnold Lake, New York. "Must be something about water," he muses. "Life has been good and will be even better with more time for grandkids. Kenyon education made the difference."
'74
William Nininger, Woodbury, Connecticut, is still singing, songwriting and playing guitar with various groups of musicians, including Peter Moffitt '72.