Readers React
In the previous Alumni Bulletin we asked readers to share their thoughts, stories and questions regarding diversity, equity and inclusion at Kenyon. To everyone who took the time to respond to the call for letters: Thank you. The (many) notes we received were candid, thoughtful, thought-provoking and moving. Some were deeply personal while others were critical. Exploring these issues, and others, in an honest and meaningful way is central to the mission of this magazine. And we can't do it without you.
Painting Party
Kenyon students, faculty and staff came together for a community art project on Sept . 29 to transform a 575-foot-long, 12-foot-high construction barrier into a public canvas that will evolve during the two year construction of the Kenyon Commons library.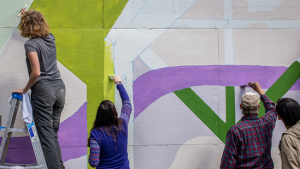 A Load of Bologna
Although the namesake lunch meat was nowhere to be found, Kenyon's traditional Bologna Loaf lunches — which date back to 1987 and take their name from a Calvin and Hobbes comic strip — drew students and faculty alike to the Science Quad on Wednesday afternoons this summer. Serving as both a delicious free lunch and a chance to socialize and take a break from research, the fortnightly event regularly attracts more than 150 attendees. Kenyon provides a main course, and research groups take turns bringing desserts from strawberry shortcake to dairy-free almond-amaretto cupcakes with chocolate frosting.
'15
Mesa L. Owen lives in Norwood, Colorado, with partner Sherwood and their dogs. "We get outside as much as possible, whether it's rafting, mountain biking or rock climbing. I got my master's in social work last year and have started a small practice. Wish me luck!"
'03
Natalie Philpot, Manchester Center, Vermont, is "still living her best single-mom life in southern Vermont with her two beautiful daughters and portly cats," she reports. Working in substance misuse prevention, she spoke at Vermont's Recovery Day as a featured voice of recovery. "Unable to make it to Reunion — bummer! Performed in a musical that weekend. Once a theater geek, always a theater geek."
'15
Samuel M. Teeter has been hanging out in Austin, Texas, with Nathaniel S. Katz and Hetty A. Borinstein while working for Cycorp, "a not-at-all-sinister artificial intelligence company that is attempting to re-create human common sense using a language of logical propositions," he describes. "When I'm not doing that, I'm writing a novel about my great-grandfather and practicing medieval combat in the park.