Readers React
In the previous Alumni Bulletin we asked readers to share their thoughts, stories and questions regarding diversity, equity and inclusion at Kenyon. To everyone who took the time to respond to the call for letters: Thank you. The (many) notes we received were candid, thoughtful, thought-provoking and moving. Some were deeply personal while others were critical. Exploring these issues, and others, in an honest and meaningful way is central to the mission of this magazine. And we can't do it without you.
Painting Party
Kenyon students, faculty and staff came together for a community art project on Sept . 29 to transform a 575-foot-long, 12-foot-high construction barrier into a public canvas that will evolve during the two year construction of the Kenyon Commons library.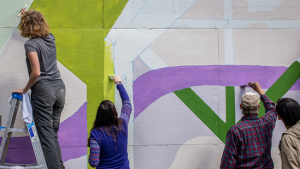 A Load of Bologna
Although the namesake lunch meat was nowhere to be found, Kenyon's traditional Bologna Loaf lunches — which date back to 1987 and take their name from a Calvin and Hobbes comic strip — drew students and faculty alike to the Science Quad on Wednesday afternoons this summer. Serving as both a delicious free lunch and a chance to socialize and take a break from research, the fortnightly event regularly attracts more than 150 attendees. Kenyon provides a main course, and research groups take turns bringing desserts from strawberry shortcake to dairy-free almond-amaretto cupcakes with chocolate frosting.
'83
Kelly F. Doyle, Cary, North Carolina, runs a teaching clinical practice at UNC-Chapel Hill's Graduate School of Nursing Psychiatry. "I now have a small private psychiatry practice and am considering a post-doc fellowship in neuroscience up at Dartmouth," she updates. "I'm also a long-time company member at Burning
Coal Theatre Company in Raleigh, where we produced 'The 19th Amendment Project,' a collection of 10-minute plays by a very diverse group. I curated the piece, wrote one of the plays and played Elizabeth Cady Stanton in another." Kelly tapped her network of women playwrights and artists from her days in the Brown Playwriting Program to create a piece celebrating the centennial of women's suffrage. "This past year, grief has been something of a constant — with the loss of my lovely mom in August and close friends from Kenyon and some beyond.."
'75
Meg Merckens, Amana, Iowa, and her husband, Tom, recently moved into a smaller house in the Amana Colonies, a couple of villages over from their previous home of 25 years. "I worked on stage at the Old Creamery Theatre (in Garrison and Amana) for 31 years," she updates, "and then Tom and I started a small, 99-seat nonprofit theater in 2008 called the Iowa Theatre Artists Company. We'll be closing the doors on that company this year, and I will continue to freelance as an actor/storyteller."
'13
Maya A. Artis, Plainfield, New Jersey, is enjoying her role as director of communications at Olive Branch Educators. She has resumed piano lessons and loves the opportunity to get back into her art. This fall, Maya moves to Charlottesville, Virginia, to begin at the UVA School of Law. "Most of all, I enjoy trading laughs and stories with co-host Eliza A. B. Weeks on our podcast, Dear Human." Eliza lives in Baltimore — job-hunting after finishing a master's of food studies, focusing on the power of storytelling to amplify diverse voices in the food system — and also recommends you give some Dear Human episodes a listen.