Readers React
In the previous Alumni Bulletin we asked readers to share their thoughts, stories and questions regarding diversity, equity and inclusion at Kenyon. To everyone who took the time to respond to the call for letters: Thank you. The (many) notes we received were candid, thoughtful, thought-provoking and moving. Some were deeply personal while others were critical. Exploring these issues, and others, in an honest and meaningful way is central to the mission of this magazine. And we can't do it without you.
Painting Party
Kenyon students, faculty and staff came together for a community art project on Sept . 29 to transform a 575-foot-long, 12-foot-high construction barrier into a public canvas that will evolve during the two year construction of the Kenyon Commons library.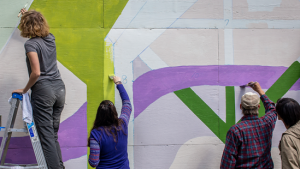 A Load of Bologna
Although the namesake lunch meat was nowhere to be found, Kenyon's traditional Bologna Loaf lunches — which date back to 1987 and take their name from a Calvin and Hobbes comic strip — drew students and faculty alike to the Science Quad on Wednesday afternoons this summer. Serving as both a delicious free lunch and a chance to socialize and take a break from research, the fortnightly event regularly attracts more than 150 attendees. Kenyon provides a main course, and research groups take turns bringing desserts from strawberry shortcake to dairy-free almond-amaretto cupcakes with chocolate frosting.
'16
Meg M. Thornbury moved from Longmont, Colorado, last summer and began her master's in social work at the University of Pittsburgh. "My ESA, Lupe Fiasco, is no longer a fiasco and now has a new kitten sibling named Bebop! They're helping me heal: I got COVID-19 from my mom, Amy Tryon Thornbury '88, on March 13. Unfortunately, we're both long-haulers and still have symptoms. Stay masked, stay safe."
'74
Hal Real, Rockland, Delaware, co-founded the National Independent Venue Association, creators of the #SaveOurStages movement, once the pandemic began. "If you believe in the importance of independent live music, comedy and performance venues, please visit nivassoc.org and support us," Hal writes. "All Kenyonites are invited to join us at World Cafe Live in Philly when we finally get to enjoy live music together again on the other side of this crisis!"
'94
Ravana Wijeyeratne, Hantana, Sri Lanka, updates, "My dream of retiring before 50 came true — not by choice, but from insane pressure of financial-sector mergers and takeovers that made me exit the company where I've been CEO since 2007." Ravi got out the winter before the pandemic — "a relatively better time to sell! Other than focusing on my golf swing and looking out for better scuba destinations, not much to do!"