Readers React
In the previous Alumni Bulletin we asked readers to share their thoughts, stories and questions regarding diversity, equity and inclusion at Kenyon. To everyone who took the time to respond to the call for letters: Thank you. The (many) notes we received were candid, thoughtful, thought-provoking and moving. Some were deeply personal while others were critical. Exploring these issues, and others, in an honest and meaningful way is central to the mission of this magazine. And we can't do it without you.
Painting Party
Kenyon students, faculty and staff came together for a community art project on Sept . 29 to transform a 575-foot-long, 12-foot-high construction barrier into a public canvas that will evolve during the two year construction of the Kenyon Commons library.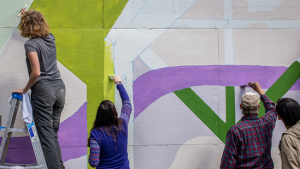 A Load of Bologna
Although the namesake lunch meat was nowhere to be found, Kenyon's traditional Bologna Loaf lunches — which date back to 1987 and take their name from a Calvin and Hobbes comic strip — drew students and faculty alike to the Science Quad on Wednesday afternoons this summer. Serving as both a delicious free lunch and a chance to socialize and take a break from research, the fortnightly event regularly attracts more than 150 attendees. Kenyon provides a main course, and research groups take turns bringing desserts from strawberry shortcake to dairy-free almond-amaretto cupcakes with chocolate frosting.
'17
Nathaniel E. Shahan, a paralegal with Latham & Watkins in New York City, lives in Morningside Heights near Claire E. HarnEnz '17 and Michael W. Michnowicz '16, his regular Settlers of Catan opponents.
'02
Abby G. Brethauer was named associate head coach of the men's and women's swimming teams at Tufts University in Medford, Massachusetts. Previously, at the University of Mary Washington in Virginia, Abby received six Coach of the Year honors. At Kenyon she was team captain, an NCAA national record-holder and a 13-time All-American. A New England native, Abby told Tufts Athletics she is excited to "be in the best city and cheer the Sox in person!"
'15
Sydney Carney-Knisely is now assistant field hockey coach at the College of Wooster.