Readers React
In the previous Alumni Bulletin we asked readers to share their thoughts, stories and questions regarding diversity, equity and inclusion at Kenyon. To everyone who took the time to respond to the call for letters: Thank you. The (many) notes we received were candid, thoughtful, thought-provoking and moving. Some were deeply personal while others were critical. Exploring these issues, and others, in an honest and meaningful way is central to the mission of this magazine. And we can't do it without you.
Painting Party
Kenyon students, faculty and staff came together for a community art project on Sept . 29 to transform a 575-foot-long, 12-foot-high construction barrier into a public canvas that will evolve during the two year construction of the Kenyon Commons library.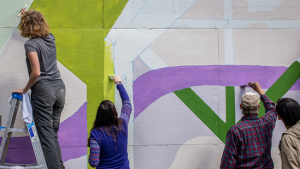 A Load of Bologna
Although the namesake lunch meat was nowhere to be found, Kenyon's traditional Bologna Loaf lunches — which date back to 1987 and take their name from a Calvin and Hobbes comic strip — drew students and faculty alike to the Science Quad on Wednesday afternoons this summer. Serving as both a delicious free lunch and a chance to socialize and take a break from research, the fortnightly event regularly attracts more than 150 attendees. Kenyon provides a main course, and research groups take turns bringing desserts from strawberry shortcake to dairy-free almond-amaretto cupcakes with chocolate frosting.
'97
Barrett Coker Krise, Atlanta, informs, "Coming out of the pandemic, we've had lots of positive change. I live in the historic Cabbagetown neighborhood with my husband, Eddie, and 7-year-old daughter Vivian (aka Avie). We completed a major renovation on our house, thankfully just before lockdown, so that made the work-from-home/do-every-thing-from-home period much more pleasant. And then, after nearly 20 years in philanthropy with the Community Foundation for Greater Atlanta, I joined Bell Oaks Executive Search as a partner in June 2022. It's been such a great transition, and I'm loving the chance to help our clients connect to exceptional, culturally aligned, hard-to-find talent in high-level roles."
'00
Beko O. Reblitz-Richardson, Oakland, California, spent 10 days on vacation in Japan with his youngest son (age 12). "We enjoyed tromping around Tokyo and Kyoto, visiting many temples and other sites. This summer, we're doing a family trip to Kenya."
'81
Doug E. Page informs, "People keep telling us we are living their dream — with the children long out of the nest, we are downsizing: Selling our home in the Philly suburbs and moving to a rented apartment in Center City overlooking Washington Square National Park. Letting go of things is not easy, but we are making good progress. Anyone need a large collection of American Girl items and two dolls, Molly and Samantha?"