Readers React
In the previous Alumni Bulletin we asked readers to share their thoughts, stories and questions regarding diversity, equity and inclusion at Kenyon. To everyone who took the time to respond to the call for letters: Thank you. The (many) notes we received were candid, thoughtful, thought-provoking and moving. Some were deeply personal while others were critical. Exploring these issues, and others, in an honest and meaningful way is central to the mission of this magazine. And we can't do it without you.
Painting Party
Kenyon students, faculty and staff came together for a community art project on Sept . 29 to transform a 575-foot-long, 12-foot-high construction barrier into a public canvas that will evolve during the two year construction of the Kenyon Commons library.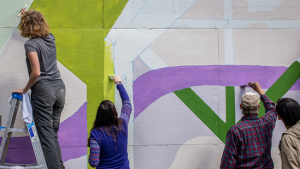 A Load of Bologna
Although the namesake lunch meat was nowhere to be found, Kenyon's traditional Bologna Loaf lunches — which date back to 1987 and take their name from a Calvin and Hobbes comic strip — drew students and faculty alike to the Science Quad on Wednesday afternoons this summer. Serving as both a delicious free lunch and a chance to socialize and take a break from research, the fortnightly event regularly attracts more than 150 attendees. Kenyon provides a main course, and research groups take turns bringing desserts from strawberry shortcake to dairy-free almond-amaretto cupcakes with chocolate frosting.
'66
Frank B. "Burt" Dibble, Rye, New Hampshire, still practices medicine at a hospice facility and serves on the town zoning board, while his wife, Mae, practices law half time. "Her firm has an office in Cape Coral," Florida, Burt shares, "which led us to a condominium there. She will carry on some practice and I can do my work remotely. I never contemplated being a snowbird, so this is a real pivot in our lives."
'09
Max D. Reisman, Los Angeles, sold his first movie to Universal Pictures. "This will be all the more exciting once movie theaters exist again!" he jokes.
'08
Josephine (Comas Bardot) Trueblood, Monrovia, California, reports that the Bobcat Fire in Los Angeles National Forest came all too close: "We were under evacuation warning for over two weeks," Josie writes. "As a precaution, we evacuated our daughters, Ushuaia and Iguazu, to my sister's home while my husband and I stayed behind. In the midst of all the scary chaos, we experienced a great sense of community with our neighbors and had incredible support, both from our immediate family and our precious squad of Kenyon aunties and cousins, Agnese Melbarde, Lauren K. Burley and Olga Novikova. As we faced the possibility of losing everything, these three incredible Ladies did a terrific job supporting and comforting us; we could not have done it without them! Our neighborhood was not lost despite the fire reaching 1,500 feet from us." Josie is a clinical research nurse in the Diabetes and Metabolic Research Institute at City of Hope.