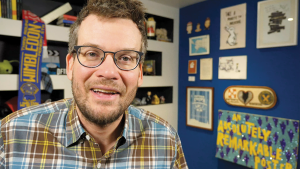 Congratulations from John Green
Knowing that the newly admitted Class of 2024 would miss out on a traditional high school graduation, bestselling author John Green '00 shared a message of encouragement and, as he's apt to do, a good story. When Green missed his own Commencement, the late Professor of Religious Studies Donald Rogan threw him a non-traditional ceremony that was even more meaningful.
The Best of Both Worlds
The "Music and Entrepreneurship" course taught by Professor of Music Ted Buehrer '91 had a viral moment on TikTok thanks to a class visit from LA-based composer Kenneth Burgomaster '91.
Maeve Griffin '23 recorded a clip of the Zoom video conference in which Burgomaster explained how he used samples of Miley Cyrus' voice to write a series of short transitional riffs for the TV show "Hannah Montana" — micro-compositions that have found fame in their own right as a popular TikTok sound.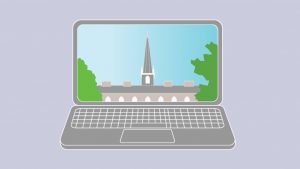 Kenyon From Your Couch
Amid concerns over the COVID-19 pandemic, Kenyon has suspended all on- and off-campus alumni events. Stay connected with your fellow alumni by joining one of our virtual "Kenyon from Your Couch" events, which range from readings and discussions to campus tours and performances.
'74
"You know how we all went through that period for a few years after graduation — that period of lots of weddings, when lots of friends got married? Well, now we have entered that other period: lots of funerals. Parents, friends, classmates ... Oy! We are still alive, happy and well in Michigan."
— Tom Neely, Grand Rapids, Michigan
'99
Kelly C. (Harkless) Lyles, Cockeysville, Maryland, and her husband, Rob, have identical twin daughters (10) and a son (13). "In 2016 I started an environmental consulting company, KLT Group," she writes, "and have been enjoying the balance of the built and green environments."
'99
Kara M. McClurken, Charlottesville, Virginia, writes, "In addition to my day job as director of preservation services for the University of Virginia Library, I have been moving forward on building a multigenerational playground." Kara and Brian P. Gibney's son, Bennett McClurken-Gibney, passed away at age 5 in 2018. "Bennett's Village will be the first all-abilities playground in central Virginia. Bennett's Village will honor our bright boy's spirit and help bring folks of all ages and abilities together." Learn more at bennettsvillage.org.