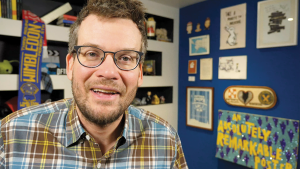 Congratulations from John Green
Knowing that the newly admitted Class of 2024 would miss out on a traditional high school graduation, bestselling author John Green '00 shared a message of encouragement and, as he's apt to do, a good story. When Green missed his own Commencement, the late Professor of Religious Studies Donald Rogan threw him a non-traditional ceremony that was even more meaningful.
The Best of Both Worlds
The "Music and Entrepreneurship" course taught by Professor of Music Ted Buehrer '91 had a viral moment on TikTok thanks to a class visit from LA-based composer Kenneth Burgomaster '91.
Maeve Griffin '23 recorded a clip of the Zoom video conference in which Burgomaster explained how he used samples of Miley Cyrus' voice to write a series of short transitional riffs for the TV show "Hannah Montana" — micro-compositions that have found fame in their own right as a popular TikTok sound.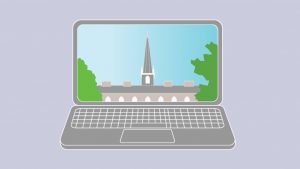 Kenyon From Your Couch
Amid concerns over the COVID-19 pandemic, Kenyon has suspended all on- and off-campus alumni events. Stay connected with your fellow alumni by joining one of our virtual "Kenyon from Your Couch" events, which range from readings and discussions to campus tours and performances.
'63
"I'm doing well, still teaching 12th grade full time at HarvardWestlake School in Los Angeles. It's all virtual at the moment, but I've managed to figure out a way to make cinema studies and philosophy in art and science work as well as they can in Zoom. The kids are bright and eager, even in a virtual setting, but we all long for a return to the real classroom — but not until it's safe."
— Theodore L. Walch, Studio City, California
'01
Andrew W. Kahrl, Charlottesville, Virginia, was promoted to full professor in the departments of History and African American and African Studies at the University of Virginia.
'02
Nora E. Colburn moved back home to Columbus, Ohio, to join the faculty at OSU Wexner Medical Center in the Division of Infectious Diseases and Department of Clinical Epidemiology. "I am so thankful I work with an incredible team during the pandemic," Nora reports. "In the midst of dealing with COVID, I gave birth to my son, Aiden, in July. I never dreamed I would be a pregnant ID doctor and epidemiologist during an unprecedented global pandemic! Thankfully, maternity leave has been very quiet and restful!"