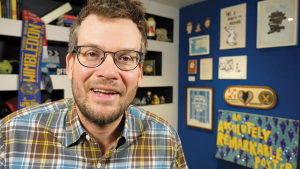 Congratulations from John Green
Knowing that the newly admitted Class of 2024 would miss out on a traditional high school graduation, bestselling author John Green '00 shared a message of encouragement and, as he's apt to do, a good story. When Green missed his own Commencement, the late Professor of Religious Studies Donald Rogan threw him a non-traditional ceremony that was even more meaningful.
The Best of Both Worlds
The "Music and Entrepreneurship" course taught by Professor of Music Ted Buehrer '91 had a viral moment on TikTok thanks to a class visit from LA-based composer Kenneth Burgomaster '91.
Maeve Griffin '23 recorded a clip of the Zoom video conference in which Burgomaster explained how he used samples of Miley Cyrus' voice to write a series of short transitional riffs for the TV show "Hannah Montana" — micro-compositions that have found fame in their own right as a popular TikTok sound.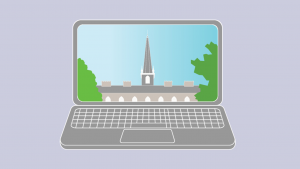 Kenyon From Your Couch
Amid concerns over the COVID-19 pandemic, Kenyon has suspended all on- and off-campus alumni events. Stay connected with your fellow alumni by joining one of our virtual "Kenyon from Your Couch" events, which range from readings and discussions to campus tours and performances.
'71
Mark S. Frank lives in Pittsburgh but has founded a youth arts program in Acre (Akko), Israel, for underserved Israeli Arabs and Jews. Called Northern Israel Center for Arts and Technology, it serves marginalized Arab and Jewish youth "in a nurturing, art-filled, sunlit space," he reports. "Middle and high school students use 3-D printing, digital photography, and filmmaking and production technology (while) breaking down barriers between one another." Because so many Israeli Arabs and Jews tend to study in separate schools, Mark reports, the center sees results stemming from both groups learning to break their stereotypes about each other.
'16
Madeline R. Thompson, St. Louis, Missouri, began a new job as a clinical research coordinator for a study with mothers who use marijuana during pregnancy. Madi explains: "We follow their baby's development from the first trimester to the time that their child is 2. I get to be with newborns at work, which is the dream!"
'68
Ronald K. Bliss, Colorado Springs, Colorado, together with an Air Force Office of Special Investigations colleague, gave a presentation titled "The Iranian Revolution: A View from the Nest of Spies" to a political science class at Colorado College in February. Ron informs: "Largely a recounting of our personal experiences as OSI counterintelligence agents in Tehran 41 years ago, it appeared to have been well-received. So far as we could tell, only one student fell asleep."