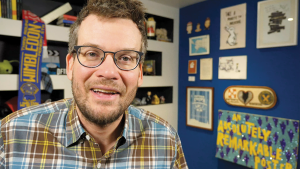 Congratulations from John Green
Knowing that the newly admitted Class of 2024 would miss out on a traditional high school graduation, bestselling author John Green '00 shared a message of encouragement and, as he's apt to do, a good story. When Green missed his own Commencement, the late Professor of Religious Studies Donald Rogan threw him a non-traditional ceremony that was even more meaningful.
The Best of Both Worlds
The "Music and Entrepreneurship" course taught by Professor of Music Ted Buehrer '91 had a viral moment on TikTok thanks to a class visit from LA-based composer Kenneth Burgomaster '91.
Maeve Griffin '23 recorded a clip of the Zoom video conference in which Burgomaster explained how he used samples of Miley Cyrus' voice to write a series of short transitional riffs for the TV show "Hannah Montana" — micro-compositions that have found fame in their own right as a popular TikTok sound.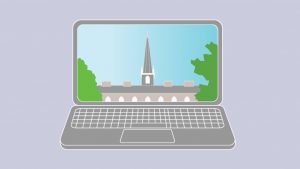 Kenyon From Your Couch
Amid concerns over the COVID-19 pandemic, Kenyon has suspended all on- and off-campus alumni events. Stay connected with your fellow alumni by joining one of our virtual "Kenyon from Your Couch" events, which range from readings and discussions to campus tours and performances.
'14
Kristina Miklavic, Lillehammer, Norway, enjoys her job at the Equality Centre working on projects including "how structures in local politics across Norway dictate who gets to participate; an online tool box for health personnel regarding sexual health among elderly; a workshop for teachers regarding anti-racism; and a project we've newly started on getting body image and self-esteem in the school curriculum." Kristina enjoyed a three-week visit from Anabel Yahuitl Garcia last spring: "Road trips around western Norway enjoying the beautiful fjord landscape, and we even got to meet up with Catherine P. Lloyd and enjoyed some kayaking on the fjord."
'94
Colleen H. Grazioso, Manchester Center, Vermont, "had a great time celebrating Melissa F. 'Missy' McClaran's 50th birthday in Vermont this year!"
'88
"It was exciting to be back in Gambier dropping off our daughter Emily Gisser '26! It's pretty remarkable to me how the College balances established traditions and change. I was really impressed with Orientation and Convocation — and maybe a little sentimental. A lot has changed, no surprise; but the VI still pours drinks, Peirce is still magical and McBride still smells like ... McBride. It was also great to make a quick detour and catch up with William B. Lockwood '91 as we continued our college drop-off road trip."
— Barry M. Gisser, Minneapolis