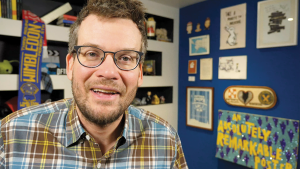 Congratulations from John Green
Knowing that the newly admitted Class of 2024 would miss out on a traditional high school graduation, bestselling author John Green '00 shared a message of encouragement and, as he's apt to do, a good story. When Green missed his own Commencement, the late Professor of Religious Studies Donald Rogan threw him a non-traditional ceremony that was even more meaningful.
The Best of Both Worlds
The "Music and Entrepreneurship" course taught by Professor of Music Ted Buehrer '91 had a viral moment on TikTok thanks to a class visit from LA-based composer Kenneth Burgomaster '91.
Maeve Griffin '23 recorded a clip of the Zoom video conference in which Burgomaster explained how he used samples of Miley Cyrus' voice to write a series of short transitional riffs for the TV show "Hannah Montana" — micro-compositions that have found fame in their own right as a popular TikTok sound.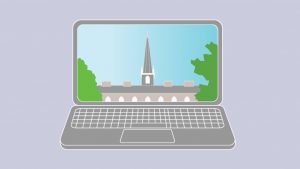 Kenyon From Your Couch
Amid concerns over the COVID-19 pandemic, Kenyon has suspended all on- and off-campus alumni events. Stay connected with your fellow alumni by joining one of our virtual "Kenyon from Your Couch" events, which range from readings and discussions to campus tours and performances.
'15
Benjamin S. Levine finished law school in Los Angeles in May 2021 and spent the year working for a federal judge in Sacramento, where he currently lives with Sarah M. CohenSmith '14 and eats lots of tacos. They visited David W. Floyd '14 and Lily Moaba '14 in Mexico City this winter and have had a great time seeing Kenyon NorCal friends, including Kaitlin C. Donnelly, Theodore W. Meyer, Jackson M. Wolf, Isaac M. Pedisich '13 and David C. Vick '12.

'57
"For the past year and a half, Ronald E. Kendrick, Bill R. Abbott, The Rev. Ron E. Greiser, Jim D. Morgan, Al N. Halverstadt Jr., R. Brad Bennett, Henry J. Steck, Bob B. Kohn, Ernie A. Norehad, Phil W. Fox and I have been meeting monthly by Zoom. It's brought us together in many unexpected ways. As might be expected, politics intruded on some discussions, but usually we found common ground that cooled tempers. What I found most interesting was how often we returned to our Kenyon education when arguing different points of view. Considering that we graduated 65 years ago, it's an impressive validation of the Kenyon education.
"
— Donald A. Fischman, Cranberry Township, Pennsylvania
'59
"I returned home from a monthlong trip to Boynton Beach, Florida — longest vacation away from home I've ever taken. Life has been good to me. My health has been good, and I keep busy volunteering at a local golf course, which provides all the free golf I want. My other happy place is my garden and yard, where I spend as much time as weather will permit. The current crisis in Eastern Europe reminds me of the student from Hungary whom Kenyon fostered in 1956 during that revolution. It seems incredible that such turmoil is happening again.
"
— Max M. Bermann, Canton, Massachusetts