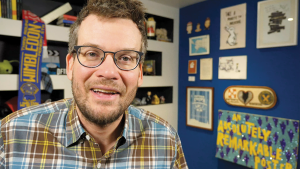 Congratulations from John Green
Knowing that the newly admitted Class of 2024 would miss out on a traditional high school graduation, bestselling author John Green '00 shared a message of encouragement and, as he's apt to do, a good story. When Green missed his own Commencement, the late Professor of Religious Studies Donald Rogan threw him a non-traditional ceremony that was even more meaningful.
The Best of Both Worlds
The "Music and Entrepreneurship" course taught by Professor of Music Ted Buehrer '91 had a viral moment on TikTok thanks to a class visit from LA-based composer Kenneth Burgomaster '91.
Maeve Griffin '23 recorded a clip of the Zoom video conference in which Burgomaster explained how he used samples of Miley Cyrus' voice to write a series of short transitional riffs for the TV show "Hannah Montana" — micro-compositions that have found fame in their own right as a popular TikTok sound.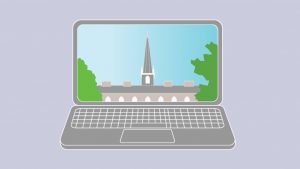 Kenyon From Your Couch
Amid concerns over the COVID-19 pandemic, Kenyon has suspended all on- and off-campus alumni events. Stay connected with your fellow alumni by joining one of our virtual "Kenyon from Your Couch" events, which range from readings and discussions to campus tours and performances.
'92
"Jill finished her master's degree in education from Western Connecticut State University. Her student teaching assignment is at my hometown K-8 school, 20 minutes from our house. Anna is sorting through colleges, looking to major in music or psychology. When travel lacrosse dematerialized, Christopher joined the high school cross-country team and wound up in the top 10 as a freshman. As for me, after 20 years with Nielsen, I have a new parent company, Media Rights Capital, best known as the film and television studio responsible for 'House of Cards,' 'Ozark,' 'Knives Out' and 'The Lovebirds.' I'm still training clients on our Music Connect product and troubleshooting."
— Guy J. Tino, Brookfield, Connecticut
'09
Dublin, Ohio, writes, "Life in lockdown has been sweet, with my husband, Brady, and my three cats! I have been working from home for a year with Advocacy and Protective Services, Inc., a nonprofit offering guardianship services to over 3,200 individuals with disabilities. The writing and research skills I acquired at Kenyon serve me well as I prepare a variety of legal documents! My cats love the camera interaction of video calls and lying on my papers." Toni has been cooking with her sister virtually, picking a recipe and cooking together on their Alexa Echos.
'90
"Prior to COVID my children had all been so busy; it was nice to reconnect with them and watch them take up surfing — one of the few activities allowed. Hugh G. Pastoriza III '91 organized some great Zoom calls, where I was able to catch up with Kristin (Swanson) Pastoriza, Mary K. Witte, David E. Elliott, Christopher L. Cook, Christopher M. Wick, Aurora M. Gonzalez, Andrew R. Cuncannan, J. Chalmers Browne '91, Sarah (Crosby) Vokey and Robert L. Melican. With Mary and Kristin, I connected with Jessica Hart Selden and Alexandra Manolovici Wernink on a cocktail Zoom call, where we lamented missing our reunion and looked forward to planning a weekend get-together when we all can travel again."
— Hugh G. Pastoriza III '91 o