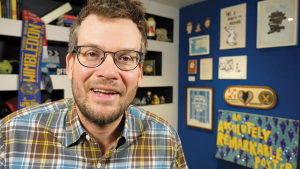 Congratulations from John Green
Knowing that the newly admitted Class of 2024 would miss out on a traditional high school graduation, bestselling author John Green '00 shared a message of encouragement and, as he's apt to do, a good story. When Green missed his own Commencement, the late Professor of Religious Studies Donald Rogan threw him a non-traditional ceremony that was even more meaningful.
The Best of Both Worlds
The "Music and Entrepreneurship" course taught by Professor of Music Ted Buehrer '91 had a viral moment on TikTok thanks to a class visit from LA-based composer Kenneth Burgomaster '91.
Maeve Griffin '23 recorded a clip of the Zoom video conference in which Burgomaster explained how he used samples of Miley Cyrus' voice to write a series of short transitional riffs for the TV show "Hannah Montana" — micro-compositions that have found fame in their own right as a popular TikTok sound.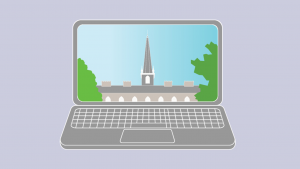 Kenyon From Your Couch
Amid concerns over the COVID-19 pandemic, Kenyon has suspended all on- and off-campus alumni events. Stay connected with your fellow alumni by joining one of our virtual "Kenyon from Your Couch" events, which range from readings and discussions to campus tours and performances.
'95
David J. Bouman and his wife returned to Washington, D.C., after several years in Kyiv, Ukraine, with the U.S. State Department. He writes, "Giles M. Roblyer '96 and his son and I saw a bear while backpacking in West Virginia in May. In July I caught up with Benjamin H. Douglass '98, Laurie (Danner) Douglass '98 and Amy E. Danner '98 the day they finished a bike trip from Gambier to Alexandria, Virginia. We road-tripped to the Pacific Northwest for a few weeks of remote work and got to see Brian J. Binge and Kendra S. Carpenter, Shannon B. Wilkinson and Laura (Baker) Wilkinson '99, and Neil A. Butler and their families."
'59
Fred C. Mench, Murfreesboro, Tennessee, shares that he's in a onestory house — "saves the knees" — and teaching Latin online as an adjunct at Middle Tennessee State University. "Still ambulatory."
'67
The Rev. Dr. William C. Scar, Aiken, South Carolina, is now a widower, and updates, "I am simply lousy without a loving partner." Bill still enjoys seeing a handful of patients with special needs despite his retirement, and spent a few days with fellow Phi Kap Roger G. Wallace and his wife Sharon on Johns Island. "They are as delightful a couple as they were over 50 years ago," he notes. "Be well, everyone."