Keeping Gambier Connected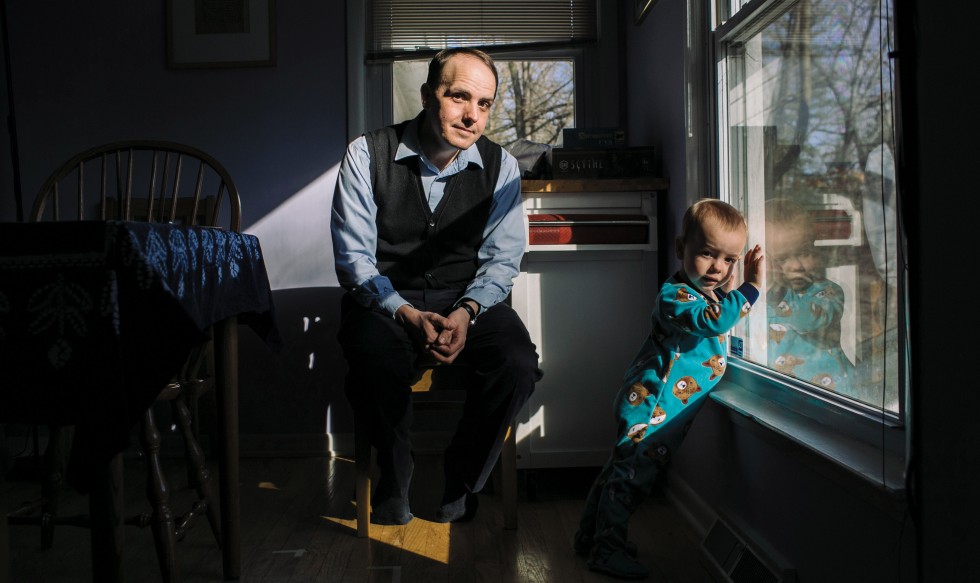 In addition to being the Village of Gambier's newly elected mayor, having begun his four-year term in January 2020, Leeman Kessler '04 is known across the internet for his "Ask Lovecraft" web series, in which he impersonates the early 20th-century American supernatural cosmic horror writer H.P. Lovecraft. He spoke to the Kenyon Alumni Magazine from his Gambier home, which he shares with Chaplain and Harcourt Parish Priest-in-Charge Rachel Kessler '04; their two children, Amanda (6) and Martin (2, pictured); and a border collie mix named Bilbo.
Online:
Birthplace:
Ogbomoso, Nigeria
How would you describe yourself in a sentence?
Normally I say "Nigerian-born, clergy spouse, H.P. Lovecraft impersonator mayor," but that's not really a sentence.
In a time of physical distancing, what role do you see yourself playing in keeping the Gambier community connected?
This has been so difficult, because so much of how I engaged with the community was in person at the coffee shop, the post office, the bookstore, the VI, the church, Peirce and on and on. Meeting people by schedule or by accident and hearing from them directly informed so much of my mayoral routine. Now I'm trying to make do with phone calls, email and that most ephemeral of connections — social media. Still, we're all doing what we can to keep people informed about what's happening in the area. Our hope is to have as little additional disruption in the village on top of everything else and to make ourselves as available as possible.
How do you reconcile being mayor of a small Ohio village with having a hometown so far away?
Gambier has rapidly become my hometown. I've grown up in a lot of different places — I was born in Africa and grew up for a good long while in Nashville, Tennessee, and then lived in Toronto for almost a decade. So I've always been mobile. And Gambier is an international community. There are people here from all over the world.
What's your proudest accomplishment?
Oofa doofa. That's really hard to say. Creatively, one of my biggest things I'm proud of was getting to perform my Lovecraft show for George R.R. Martin at his Jean Cocteau Cinema in Santa Fe, New Mexico. That was definitely a career high for me. He's been such a huge hero of mine for a long time.
What's the best advice anyone has ever given you?
"No apologies, no preambles." My drama teacher in high school would always yell at you if you said "Well, this isn't going to be very good," or "I'm sorry if you don't like this." He said, "Just start the work. Don't make excuses."
In March and early April, as essential workers fought at the front lines of the COVID-19 pandemic and others flattened…
Read The Story
The Class of 2020 entered college in a time of political uncertainty. They forged deep connections and believed…
Read The Story
In "Stray: A Memoir," Stephanie Danler '06 confronts the demons of her past.
Read The Story