To Kenyon, From China
For Nick Kaufman '19, a Fulbright fellowship in China's Anhui province this spring didn't quite go as planned.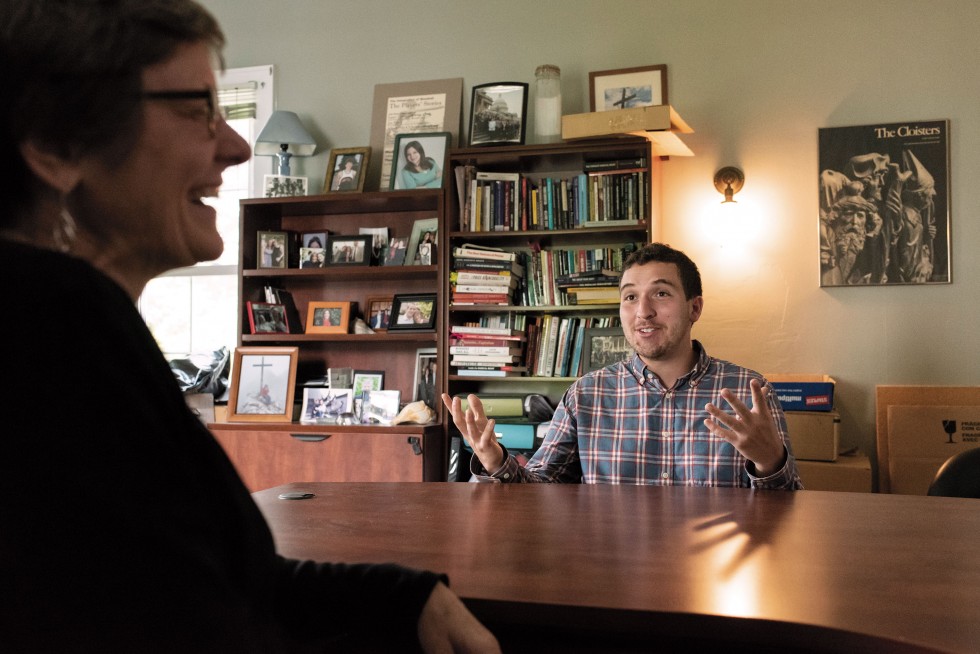 As COVID-19 spread throughout China this winter, Professor of Political Science Pam Camerra-Rowe emailed her former student, Nick Kaufman '19, to ask how he was doing. Kaufman, a Fulbright student researcher, had been living and working in China's Anhui province since August and was grappling with uncertainty about his future there. At the end of January, and before ultimately deciding to leave China, Kaufman responded to Camerra-Rowe with the following note.
Hi Professor!
Thanks for your concern. Yes, it has been a very odd couple of weeks. Coverage of the virus kept a pretty low profile in the Mainland throughout December and early January. It wasn't until I took the train from the southern city of Guangzhou across the border to visit Hong Kong that I became aware of it. I disembarked from the train at Hong Kong Kowloon West railway station, hoisted my backpack on and trotted up the steps, only to be faced by a wall of doctors in hazmat suits who were armed with body-heat scanners. As one wary Hong Kong doctor pointed his gun-shaped thermometer at my forehead, I thought, "I wonder what the deal with this is?"
Temperature checks have become much more common in recent weeks; they are required for riding the subway, visiting museums and even entering the university campus. I do worry that my close rapport with the university guards who monitor students coming in and out of campus has been a hindrance to them performing their duty, however. Last week, Da Yi, a guard I'm close with at the West Gate, was working the temperature checks. Walking in to grab my lunch, I lined up with the other students who were being checked and dutifully removed my cap. Da Yi, upon seeing me, signaled me out of line with a stern "Ni Ke!" (the sinicization of my name).
"Your temperature was perfect yesterday."
"It was."
"Do you feel healthy?"
"Yes."
"Do you think that you have the Wuhan Coronavirus?"
"I certainly hope not."
He gave a satisfied grunt and then waved me through, no temperature check required.
Since then, the university has elected to suspend the start of the spring semester and has instituted a mini quarantine of the campus — no one is allowed in or out. Stuck on the outside, I've had to replace my afternoon ritual of running on the university track with jogging through my neighborhood, instead. Save for a few hearty cab drivers, the streets are largely empty, keeping the pollution down and giving my lungs a break. Mostly everyone is staying inside and avoiding crowds.
It's tough finding fresh meat and vegetables to cook, and I struggled to find an open restaurant. However, a godsend has been a local Anhui chain called Lao Xiang Ji that serves up provincial favorites (mostly chicken over rice). The branch in my neighborhood is the only place open and has served my last three dinners. With a city on edge, petrified about going outside and getting sick — their delivery business is booming.
It's delivering so much that the local delivery guys from Eleme and Meituan (the Chinese equivalent of Uber Eats — but on motor-scooters, not cars) have camped out at the restaurant, motor-scootering off with the next order as soon as it's prepared. They've come to occupy the majority of the dining area, chain-smoking, drinking (drinking and driving laws don't appear to apply to motor-scooter delivery folks) and gambling away their earnings on low-stakes card games of "landlord"— a Chinese favorite.
Initially they were amused to find a seemingly feckless American wandering around their beleaguered city. But now I've become an expected guest, and they raise their glasses at me when I come in and ask if I'm sick of chicken over rice yet.
On a more glum personal note, my girlfriend, Camille, found out this morning that her study-abroad program in China was canceled on account of the virus. So she's headed back to Kenyon rather than out to visit me. Of course, this is quite disappointing, as she was due to arrive in some 36 hours. Perhaps most distressing in the short term is dealing with all the reservations I had made for our visit together, including, but not limited to, dinner at a high-end Shanghai restaurant with a beautiful view of the lit-up Bund, and a weekend of biking through the spectacular karst mountains of Yangshuo in Guangxi.
Now I'm stuck with a hold on a table in Shanghai and down payments I've already paid for two bike rentals. I'm not really sure what to do with them. Maybe I'll ask one of my new motor-scooter delivery friends if he wants to come away with me on a romantic weekend for two.
Have a great week!
Nick
Web extra: In early February, WBUR's "Here & Now" interviewed Kaufman about his experience in China at the outset of the coronavirus outbreak.
In "Stray: A Memoir," Stephanie Danler '06 confronts the demons of her past.
Read The Story
The Class of 2020 entered college in a time of political uncertainty. They forged deep connections and believed…
Read The Story
In March and early April, as essential workers fought at the front lines of the COVID-19 pandemic and others flattened…
Read The Story