Book Shelf
New releases from members of the Kenyon community.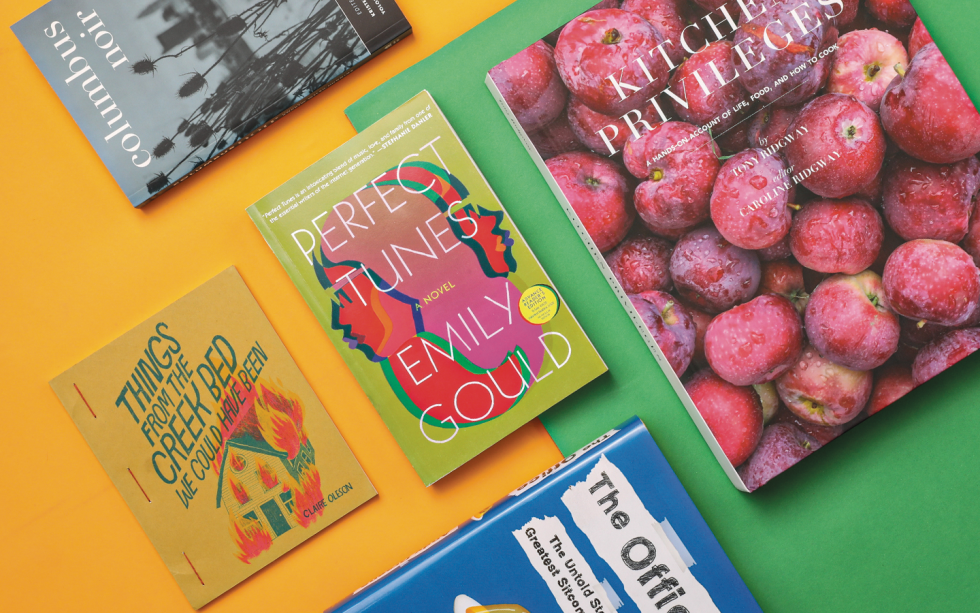 Editor's Note: Any of the books mentioned here can be ordered through the Kenyon College Bookstore at shopkenyon.com.
'Things From the Creek Bed We Could Have Been'
BY CLAIRE OLESON '19
Oleson won the 2019 Newfound Prose Prize after graduating from Kenyon. The short stories included in her first chapbook, which were workshopped during her college writing classes, "explore the watery edges of a gendered self and the briars of strained relationships," the publisher notes. (Newfound)
'Kitchen Privileges: A Hands-On Account of Life, Food and How to Cook'
BY TONY RIDGWAY '66
Ridgway is a household name in Naples, Florida, where his family-run restaurants have fed tourists and locals for decades. "Kitchen Privileges" is a 500+ page cookbook-memoir filled with lush food photography, archival images, family memories, detailed recipes, and tips and techniques for home chefs of all abilities. From apple butter to umami, it's a flavorful collection. (Caroline Ridgway)
'Perfect Tunes: A Novel'
BY EMILY GOULD '03
Journalist, author and Emily Books co-founder Gould returns with "Perfect Tunes," a story about friendship, art, proximity to stardom and family secrets. InStyle magazine calls the book "as much a meditation on what it means to grow up as it is an ode to motherhood and love in its purest form." (Simon & Schuster)
'Columbus Noir'
EDITED BY ANDREW WELSH-HUGGINS '83 P'17
Welsh-Huggins is a legal affairs reporter for the Associated Press, based in Ohio. He is also the author of two nonfiction books and six mystery novels featuring his popular character, private detective Andy Hayes. With the "Columbus Noir" anthology he steps into the editor's seat, curating "a collection of shadowy tales from the city's best storytellers," including former Kenyon Review fiction editor Nancy Zafris '76 and Welsh-Huggins himself. (Akashic Books)
'The Office: The Untold Story of the Greatest Sitcom of the 2000s'
BY ANDY GREENE '04
Greene, a senior writer for Rolling Stone magazine, interviewed cast members, writers, directors, producers, crew members, Hollywood executives and TV critics for this in-depth oral history of "The Office," an American sitcom that aired on NBC from 2004-2013. The result is a collection of behind-the-scenes stories, including newsworthy insights (apparently Josh Radnor '96 auditioned for the role of Michael Scott, which famously went to Steve Carell), humorous and heartwarming anecdotes, and examples of scenes that were left on the cutting-room floor. (Dutton)
---
Additional New Releases
George M. Callaghan '64, "Domino Run: A Novel"
Wesley Davies '17 (illustrator), and Dia L. Michels (author), "This is How I Grow"
Matty Davis '12 and Ben Gould, "Carriage"
Michael C. Davis '75, "Prodigal"
Leonard Felder '75, "We See It So Differently: Creative Ways for Jews to Make Peace When Family Members or Colleagues Disagree About Religion, Politics, and Other Issues"
Kelly Fordon '89, "I Have the Answer: Stories"
Karen Friedland '85, "Places That Are Gone"
Anara Guard '78, "Hand on My Heart: Poems"
Jen Hedler Phillis '01, "Poems of the American Empire: The Lyric Form in the Long Twentieth Century"
Ann Hostetler '76, "Safehold: Poems"
Thomas J. Lappas '96, "In League Against King Alcohol: Native American Women and the Woman's Christian Temperance Union, 1874-1933"
Eric D. Lehman '94, "New England at 400: From Plymouth Rock to the Present Day"
Anthony Lo Bello '69, "Origins of Catholic Words: A Discursive Dictionary"
Tamsin Smith '88, "Between First & Second Sleep"
Robert A. Strong '70, "Character and Consequence: Foreign Policy Decisions of George H. W. Bush"
The Class of 2020 entered college in a time of political uncertainty. They forged deep connections and believed…
Read The Story
In "Stray: A Memoir," Stephanie Danler '06 confronts the demons of her past.
Read The Story
In March and early April, as essential workers fought at the front lines of the COVID-19 pandemic and others flattened…
Read The Story