Bedroom Pop
With live performances almost impossible during the past academic year, it's been a tough time for Kenyon's typically thriving band scene. But even if the Horn Gallery is shuttered, quarantines and quiet periods have done wonders for the burgeoning "bedroom pop" genre of music that lives primarily on the internet.
Case in point: Check out @ohio.martinez on Instagram, the one-woman band alter ego of Dani Martinez '21, and look for links to her lo-fi, DIY show burn of a debut album, "Sentences and Figurines," on Apple Music, Spotify and Bandcamp.
@latenightkenyon
An account was created solely to post pictures
of menus on Instagram so students can know
if it's worth trudging to Peirce at 10 p.m. for
jalapeno poppers. Oh, and there's an avatar
of Borat wearing a mankini for some reason.
That's it. That's the concept.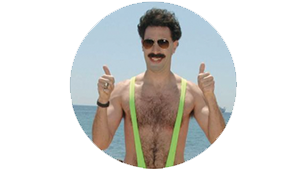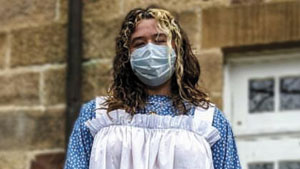 Middle Path Catwalk
A year of social distancing and face coverings has made stand-out fashion even more important on campus. How else to make an impression from a safe distance with half your face behind a mask? On Instagram, @kenyonfashion is "dedicated to capturing the various styles of Kenyon," showing off the bright, creative, fun and fearless sartorial choices of Gambier.
'20
Anne C. Townsend is in Brooklyn, New York, participating in a nine-month nonprofit documentary film program at UnionDocs, and working part-time at WhiteBox, a nonprofit art space.
'83
"All is well in Wilmette, Illinois, with the Clark family. My son James moved from professional soccer to marketing and sponsoring LPGA and PGA events with a new company, Outlyr. My oldest daughter, Annie, following the path of her mom and dad, is in law school at Washington University, hoping to become a disability lawyer. My youngest daughter teaches computer coding to children. I spent the last year helping companies across the country develop their COVID safety and health programs. In September, I had a wonderful night out in Baltimore with Thomas G. Taylor '80, William B. Cook '81 and David Holeman. In June, I was proud to see Adam E. Reed '15 and the Michigan Rattlers play the Lincoln Hall in Chicago — amazing what a classical music degree from Kenyon can lead to!"
— Brent I. Clark
'77
Rabbi Steven J. Lebow, Marietta, Georgia, is co-editing an anthology about his Kenyon advisor, Eugen Kullmann, along with Robert S. Schine '72. The more than 30 contributors include Peter King, Miriam (Dean)-Otting '74, Anthony J. LoBello '69 and Sra. Virginia (Calhoun) de Millan '80.