Bedroom Pop
With live performances almost impossible during the past academic year, it's been a tough time for Kenyon's typically thriving band scene. But even if the Horn Gallery is shuttered, quarantines and quiet periods have done wonders for the burgeoning "bedroom pop" genre of music that lives primarily on the internet.
Case in point: Check out @ohio.martinez on Instagram, the one-woman band alter ego of Dani Martinez '21, and look for links to her lo-fi, DIY show burn of a debut album, "Sentences and Figurines," on Apple Music, Spotify and Bandcamp.
@latenightkenyon
An account was created solely to post pictures
of menus on Instagram so students can know
if it's worth trudging to Peirce at 10 p.m. for
jalapeno poppers. Oh, and there's an avatar
of Borat wearing a mankini for some reason.
That's it. That's the concept.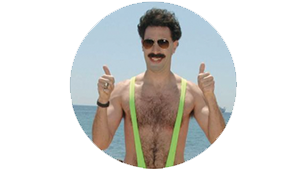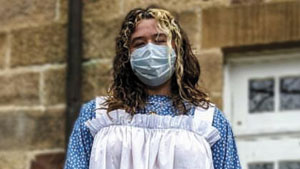 Middle Path Catwalk
A year of social distancing and face coverings has made stand-out fashion even more important on campus. How else to make an impression from a safe distance with half your face behind a mask? On Instagram, @kenyonfashion is "dedicated to capturing the various styles of Kenyon," showing off the bright, creative, fun and fearless sartorial choices of Gambier.
'60
David J. Gury, Cleveland, Ohio, writes, "We returned from nine months in Cleveland Heights with my daughter Jeannine Gury '89 P'20 and grandchildren, taking care of a few health issues at the Cleveland Clinic. In late February, one of Elia's granddaughters in Cuba had a wonderful-looking baby boy."
'81
Brett M. Pierce, Freeport, Maine, has been working in the world of global media for social change, as well as digital storytelling in education. "Excited about my book for teachers that came out in May from Heinemann Publishing, called 'Expanding Literacy: Bringing Digital Storytelling into Your Classroom.' Two beautiful young adult kids and my wife, Kerry, of 25 years. Kenyon buddies are still my best buddies. My commitment to fun remains steadfast."
'73
Maria C. "Mia" Halton, Baltimore, concluded eight years of caregiving when she lost her mother in May 2021. "It was hard work to pick up the pieces," she shares, "but I sold her house and said good-bye. I then found myself in the business of creating this next phase of my life. Two wonderful friends had invited me to join them on a trip to the Galapagos over the holidays, mostly on a small boat. I love to travel, and this trip proved to be the catalyst and jump-start that I needed. I hadn't been able to make art since quarantine hit, but back at it now. I'm also still teaching — ceramics to special-needs populations, and a class designed to encourage participants to identify what it is they want to 'say.' And I'm looking at starting a new kind of retirement com-munity. I see a group of like-minded people coming together into, for example, a one-story industrial building. Each separate space would be open and contain a kitchenette. There would a common kitchen and dining area, also wood and ceramics shops. If this idea strikes your fancy…"