Bedroom Pop
With live performances almost impossible during the past academic year, it's been a tough time for Kenyon's typically thriving band scene. But even if the Horn Gallery is shuttered, quarantines and quiet periods have done wonders for the burgeoning "bedroom pop" genre of music that lives primarily on the internet.
Case in point: Check out @ohio.martinez on Instagram, the one-woman band alter ego of Dani Martinez '21, and look for links to her lo-fi, DIY show burn of a debut album, "Sentences and Figurines," on Apple Music, Spotify and Bandcamp.
@latenightkenyon
An account was created solely to post pictures
of menus on Instagram so students can know
if it's worth trudging to Peirce at 10 p.m. for
jalapeno poppers. Oh, and there's an avatar
of Borat wearing a mankini for some reason.
That's it. That's the concept.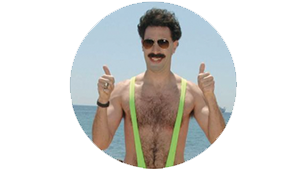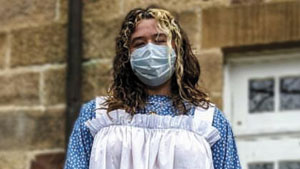 Middle Path Catwalk
A year of social distancing and face coverings has made stand-out fashion even more important on campus. How else to make an impression from a safe distance with half your face behind a mask? On Instagram, @kenyonfashion is "dedicated to capturing the various styles of Kenyon," showing off the bright, creative, fun and fearless sartorial choices of Gambier.
'93
Trish (Segal) Piliado moved from the Pacific Northwest back to Ohio, one county west of Knox, in November after 22 years away. "Was super-excited to reconnect with Randy L. Rock, Amy L. McLanahan and Jennifer A. Carter," Trish writes. "I bought my dream horse farm in the small town of Marengo, 30 minutes north of Columbus and 30 minutes from Kenyon! I also have a guest suite I rent out through Airbnb, so if you need a place to stay near Kenyon, keep me in mind. I took a new job with Columbus City Schools as the supervisor of social-emotional and student support services and am excited to be back in the Midwest."

'71
David A. Caplin, St. Louis, Missouri, informs that although it is "somewhat counterintuitive," his plastic surgery practice has thrived during the pandemic. "Current plan is to continue practicing with a winddown over the next three to five years, transitioning from private practice to academic practice for the last few. I often think back to our years at Kenyon and the many friendships that made those years so special."
'11
Wesley J. Keyser, Chicago, recently embarked on a career change, moving from merchandising/marketing into technology as chief of staff for the Walgreens digital product and engineering team. "I would love to network with any fellow technology professionals!" he writes.