Bedroom Pop
With live performances almost impossible during the past academic year, it's been a tough time for Kenyon's typically thriving band scene. But even if the Horn Gallery is shuttered, quarantines and quiet periods have done wonders for the burgeoning "bedroom pop" genre of music that lives primarily on the internet.
Case in point: Check out @ohio.martinez on Instagram, the one-woman band alter ego of Dani Martinez '21, and look for links to her lo-fi, DIY show burn of a debut album, "Sentences and Figurines," on Apple Music, Spotify and Bandcamp.
@latenightkenyon
An account was created solely to post pictures
of menus on Instagram so students can know
if it's worth trudging to Peirce at 10 p.m. for
jalapeno poppers. Oh, and there's an avatar
of Borat wearing a mankini for some reason.
That's it. That's the concept.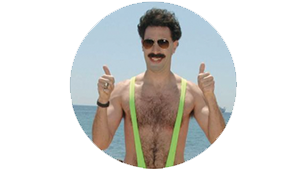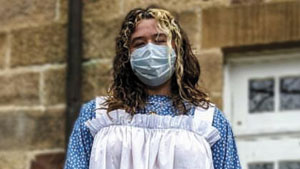 Middle Path Catwalk
A year of social distancing and face coverings has made stand-out fashion even more important on campus. How else to make an impression from a safe distance with half your face behind a mask? On Instagram, @kenyonfashion is "dedicated to capturing the various styles of Kenyon," showing off the bright, creative, fun and fearless sartorial choices of Gambier.
'62
"I'm back in my house in Plevna, Ontario. It's just a 15-minute drive to the family cottage on a lake which we've owned since 1945. We've spent a lot of time maintaining it and recently renovating it after a devastating windstorm last May. I've maintained ties with my former place of residence in Great Barrington, Massachusetts, by taking part in concert choirs and entering oil paintings in local art shows."
— Samuel W. Corbin
'65
"I'm now in a very nice retirement community. I teach classes and take classes with an older adult education program connected to the University of Denver. I teach a class called 'Is America in Decline? Scholarship on the Rise and Fall of Civilizations and the Modern State.' My history major returns with a vengeance. Yes, I think America is in decline — democracies don't last much over 200 years. I still hike in the Colorado mountains and snowshoe in the winter."
— Richard E. Passoth, Denver
'18
Samantha V. Palicz, McLean, Virginia, graduated from George Washington University's School of Medical and Health Sciences with a doctorate in physical therapy and now practices as a pediatric physical therapist in the D.C. area.