Seeing in Both Directions
Bryan Doerries found comfort in the ancient Greek tragedies he studied in college. Here's how he has helped thousands of viewers do the same.
Story by Mary Keister | Photography by Jordan Hollender
Bryan Doerries '98 H'17 wants to bring up the lights on his audience.
It's not just that the dimming of the lights on the audience — a common practice in what is now considered traditional theater, a theater he calls "commodified by capitalism" — has the effect of erasing the audience in an attempt to maintain a spotlight on the stage.
For Doerries, co-founder of Theater of War Productions, it's about the legislation of expression. What does it mean when we give authority to actors instead of those who have come to be moved by their performance? When we privilege the story being told, but not its response, rippling through those who hear it?
An amphitheater is what he's after: "And amphi, theatron, in Greek, means the place where we see in both directions. I see you, and you see me."
Doerries, who majored in classics at Kenyon, ­has deployed this amphitheater model to remarkable acclaim for nearly a dozen years with Theater of War Productions, a social impact company known for presenting dramatic readings of ancient texts as a catalyst for powerful, guided conversations about various societal traumas. Aided by a corps of more than 200 actors including Frances McDormand, Bill Murray, Jeffrey Wright and Samira Wiley, Theater of War Productions has performed for more than 300,000 people across six continents, with performances typically tailored for a specific audience: veterans, correctional officers, health care providers, communities affected by natural disasters and myriad others. The Andrew W. Mellon Foundation recently awarded the company a $1 million grant to support its work.
This academic year, the company has been in virtual residency at Kenyon, staging four productions and hosting workshops with faculty and students. The residency emerged through the recommendation of a working group including faculty, students and staff that formed in summer 2020 to consider programming for the 2020–21 academic year; with some students studying remotely and others on campus, the group aimed to keep its community connected as much as possible.
"We asked: What could we do that's a little bit different and focused on some really important social, cultural and political issues? Bryan's work proved appealing because it takes performances of fairly well-known works and turns the lens of those onto really significant contemporary issues," said Associate Provost of Diversity, Equity and Inclusion Ted Mason, professor of English and senior advisor to the president, who chaired the programming working group.
The residency's productions addressed a range of issues: racialized violence and police brutality; the effects of COVID-19 on individuals and communities; challenges faced by frontline workers; homelessness and poverty. And they ultimately engaged more than Kenyon's community; productions also involved members of the Ohio Five consortium and residents of Knox County, including Mount Vernon Mayor Matthew T. Starr, who acted in several performances.
While the COVID-19 pandemic forced the company to reconsider its method of presentation — "We've been calling [Zoom] the digital amphitheater of late," Doerries said — in many ways, the collective traumas of the pandemic and the inequities it highlighted have only made the company's work more urgent.
"If you're looking for a company that was going to thrive during a pandemic that's compounded by all kinds of other related issues of racism and health-care inequality and state violence, you wouldn't have to look much further than a company like ours," Doerries said, acknowledging this immense blessing, to be able to thrive in such difficult times. "I can't remember a year more productive than this one, except for our first year of existence, when we came out of the gates."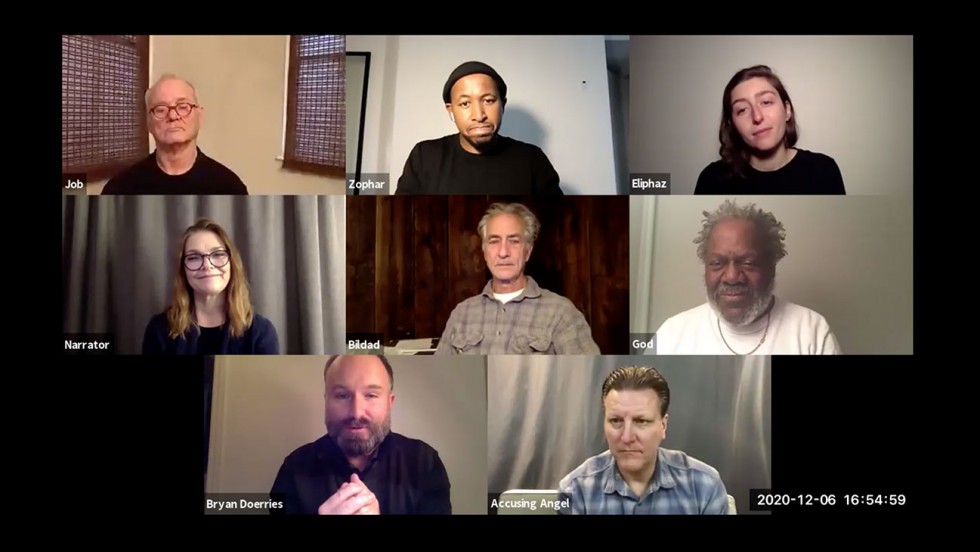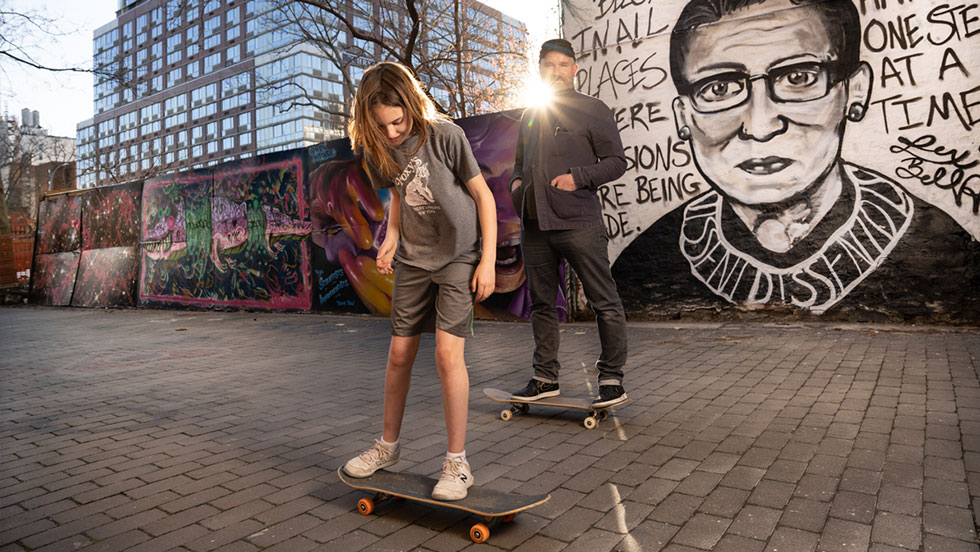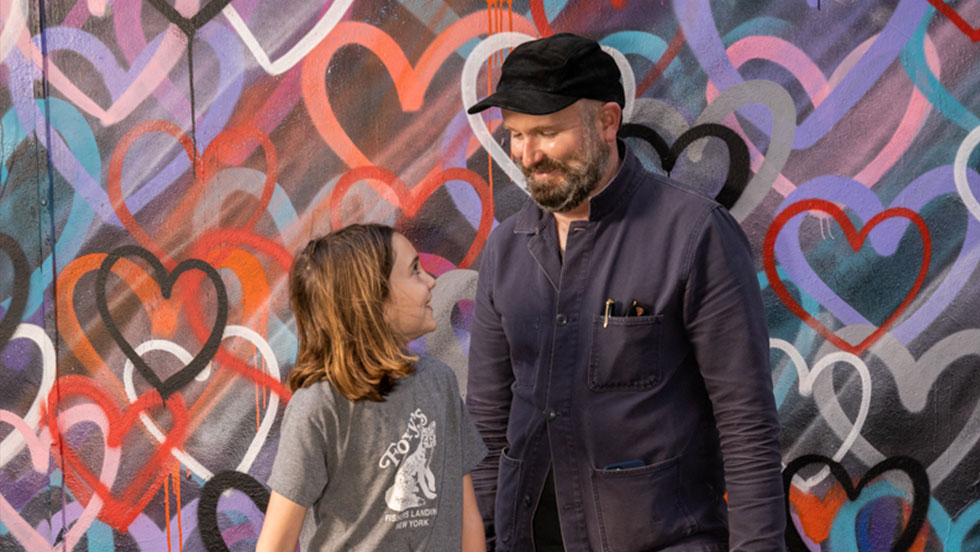 Stages of healing
Doerries co-founded Theater of War Productions in 2009, 11 years after graduating from Kenyon, eight years after earning an M.F.A. in theater directing from the University of California, Irvine, and six years after losing his girlfriend, Laura Rothenberg, to cystic fibrosis after caring for her in the final months of her life. "For weeks after her death," Doerries wrote in his 2015 memoir "The Theater of War," "all I wanted to do was talk about it to anyone who would listen.
"But after her memorial, fewer and fewer people wanted to hear the story. Nevertheless, I kept telling it — in all its graphic detail — even as people seemed to recoil from the manic intensity of my monologue."
In his grief, Doerries turned to a familiar source of comfort: the ancient Greek tragedies he had studied at Kenyon, whose characters had undergone immense suffering to which he could now profoundly relate. His healing journey sparked a thought that would simmer: Could the Greeks help ease the suffering of others who were afflicted?
In the years after Laura's death, Doerries worked by day at an arts nonprofit in New York and by night as an aspiring theater director staging productions of his own translations of classic plays, including "Philoctetes." The story, about a warrior bitten by a snake and abandoned for nearly a decade by his peers on a desert island, spoke to Doerries for its depiction of chronic illness and the toll it takes on both patients and caregivers. After a reading of the play off Broadway, Doerries was invited to present to students and faculty at Cornell University's Weill Medical College; thus was born "The Philoctetes Project," a predecessor to Theater of War Productions.
Soon after that production, Doerries read a 2007 Washington Post article about neglect and mistreatment at Walter Reed Army Medical Center and noticed parallels between the plight of the veterans and the story of Philoctetes. What if, he thought, military members could benefit from the healing powers of the text, too?
Who else could he reach? Who else might be touched?
Creating new hierarchies
As the company grew over the next dozen years, its name changed and its audiences expanded — from health care providers and veterans to, really, any community affected by trauma — but its productions have stayed remarkably true to their original format. After a reading of the chosen text, Doerries facilitates a discussion with panelists carefully chosen for their proximity to the issue they are discussing; a February panel after a "Madness of Hercules" presentation, aimed at addressing gun violence, included the father of a child killed in the Sandy Hook shootings. Doerries then invites the audience to join in a guided conversation.
"Even if you don't have direct proximity, your basic humanity affords you the right to be speaking."
Bryan Doerries '98 H'17
"Our entire society, our entire world, is predicated on this sort of notion of authority and power. We're after creating these new hierarchies, these new types of environments where what affords you the opportunity to speak is not your privilege, is not your education, is not your race or whom you love, any of those things, it's your proximity," Doerries said. "And even if you don't have direct proximity, just your basic humanity affords you the right to be speaking."
Doerries drew upon the structure of Athenian theater when designing these post-performance conversations. Amphitheaters, he explained, were places where citizens could escape the isolation of their struggles and be in community, shoulder to shoulder, acknowledging their burdens together. In Doerries' view, that's what the Greeks intended for their texts: They were always meant to be staged and experienced, not read on the page in solitude. Their power comes from the live performance, and the communal intake and interpretation by the audience.
Theater of War Productions' model has created a space that allows for a freedom of conversation, said Bayla Kamens '22, a classics major from Boston who has participated in a number of the company's post-performance audience discussions. Kamens first came to Theater of War by way of the company's October performance of "Antigone in Ferguson" (part of the company's virtual Kenyon residency). They kept coming back to listen and engage, drawn by both the quality of Doerries' translations and the powerful conversations that were held.
"It's really well-facilitated. Everything stays calm and welcoming, even when people are disagreeing or saying things that you don't think are on point. That's an important part of their formula, that everybody can come and speak and say what they want. And it seems like that really happens," Kamens said.
At the same time, they added, "People should know going in that it is a safe space in the sense that you can say whatever you want to say, but it's a brave space in the sense that you'll be in a room with people saying things that could be hurtful to you. It's on the audience and the people involved in the conversation to respond to that in the moment. Maybe you're not ready to go into a space where people are allowed to say anything they want about this work and anything about this issue — but if you can, it's a good opportunity."
Student audiences often generate particularly deep conversations, Doerries said: "When we've performed for students, particularly 18- and 19-year-olds, they were as good in their sensitivity and openness and willingness to share as audiences that had gone to war or experienced trauma. They were in touch with their own reactions and relationships to these performances in ways that would attune the rest of the room. Young people can attune us to what we should be listening to, because they have yet to succumb to the standardizing pressure of adult life to the point where they are no longer in touch with their own feelings."
Listening with the intent to hear
So how does Doerries keep these audience discussions from going off the rails?
Experience helps: After nearly a dozen years with this production model, Theater of War Productions' staff has developed an acute sense of how to keep conversations on track. "We have an inside joke that we know a conversation is going south when someone says the word 'duality,'" Doerries said. "When someone says something that sounds sort of pseudo-intellectual, we understand that all of a sudden, boy, this thing has moved in a direction that is the opposite of where we hoped."
From the start, Doerries and his chosen panelists use intense modeling to demonstrate what it means to be honest and vulnerable in a public space. "Our best panelists stammer. Our best panelists don't have their words. Our best panelists, they don't say things they've said a thousand times before. They take the risk of being present with their thoughts, and in so doing, model the kind of candor of openness that we're asking of the audience in return."
But a bigger part of the equation, perhaps, is based on trust that the audience will be comfortable with getting uncomfortable. Doerries professes a strong belief "in the emotional intelligence of the audience," in the ability of attendees to listen to someone's thoughts and be able to make a genuine, authentic connection, without falling into snap judgments. Listening with the intent to hear, or to validate, differs from listening with the intent to react.
Sometimes, this model leads to profoundly awkward gaps in the conversational flow. Doerries will let a comment linger before moving on, or he will patiently wait as someone circles around, and around, with their words.
"What do you think trauma sounds like? Do you think it sounds like pithy aphorisms? Like maxims?"
Bryan Doerries '98 H'17
"We have people who get up and just go on forever, and that sometimes really annoys people. But I always say to those people who get annoyed, what do you think trauma sounds like? Do you think it sounds like pithy aphorisms? Like maxims? People who have experienced trauma have been dislocated from their sense of time. They have no idea how long they should be speaking for or if they've been going on for too long. So if we're really here to bear witness to trauma and to have that inform our understanding of each other and these ancient texts, we've got to be ready to listen to some people who might not be able to self-regulate while they're talking, and help them sometimes — in subtle ways, that don't embarrass or humiliate them — wrap up. But never interrupt them. And never condescend to them for not speaking in perfect sentences or being succinct," Doerries said.
These values underpin all of Theater of War Productions' endeavors: Everyone's interpretation of a text holds water. Everyone's personal experience holds true. Everyone has a right to be heard (time permitting). The ways people express themselves should not be legislated.
To Doerries, it's not about the texts, despite his enduring love for these classic stories. He's more interested in how people use the texts as a tool to build "a bridge of humanity," to connect with others in loss, frustration, grief. To see that they don't have to be alone in their suffering, nor separate themselves from that suffering in order to move forward.
"There's been this myth, both in academia but also in Western culture, that you cannot have a rational and rigorous conversation while being emotional. That those two things are oppositional," Doerries said. "But what Theater of War Productions' model puts forth is that it's not just possible, it is requisite, it is necessary. If we are going to be talking about Black and brown suffering, or the fate of immigrants, or any of the issues that we've come to talk about, we must be grounded in the emotional and the spiritual consequences of our policy decisions, or our relationship to state violence. We can't have this conversation simply in a vacuum, within a think tank, within an ivory tower. We have to be grounded in something visceral."
A dawning consciousness
Theater of War Productions considers itself a "live-only" company: With few exceptions, it does not release recordings of its presentations for public viewing after they have concluded. This comports with the traditional structure of Athenian theater, but it also speaks to what Doerries sees as a growing commodification of the theatergoing experience. The work of grappling with societal ills cannot, in his view, be treated as a checklist. It must be done in full view, in full light, both inside and away from the amphitheater.
"What does it mean to have an exchange that can't be consumed? I don't want people coming to 'Antigone in Ferguson' and saying, 'I watched that play about racialized violence; now I can move on with my life,'" Doerries said. "I want people to come to the experience and say 'holy shit, I came in with all these presumptions, and they were all challenged, and upended, and I don't actually know left from right, and it's more problematic and it's more complicated than I ever thought it to be.'
"That dawning consciousness can't just be acquired by going to a play. The rest is hard work that you have to do. And that's where I see our work. It's not social justice or therapy, it's just a door through which people can walk all kinds of paths. And some people don't walk very far. But I can't begin to tell you the number of people who have reported back to us where they've gone because of the experience of the door opening for them because of our performance.
"What if in the academy we treated every exchange we had about humanistic texts with reverence for the fact that the stakes could be that high? What new things would be possible?"
Read more about Bryan Doerries from the Winter 2009 issue of the Kenyon Alumni Bulletin.
A record-breaking gift helps Kenyon enrich its residential experience.
Read The Story
16 reasons Kenyon alumni are optimistic about the future.
Read The Story