Top Chef Rising
Sasha Grumman '10 shares a fresh take on a beloved classic.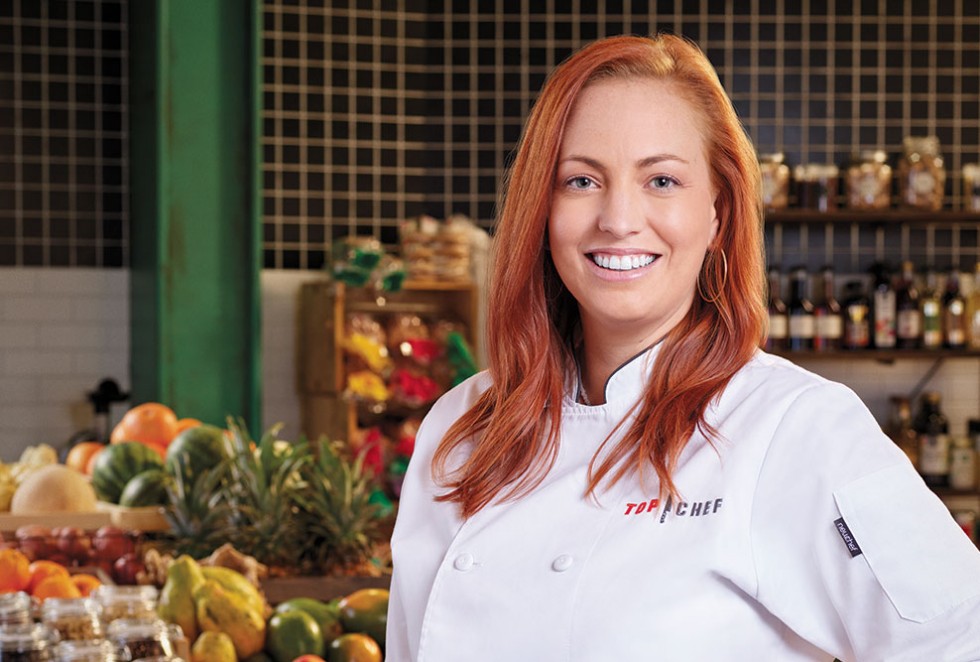 Sasha Grumman '10 grew up in a Sicilian family where cooking together was the norm. She can't recall a single holiday, birthday or celebration that didn't revolve around the dinner table.
"Many lasagnas, meatballs and prime ribs were eaten throughout the years and I think that's really what has built the foundation to my culinary career," she said. "I can't express my gratitude enough that this is my path in life. I get to cook what I love for a living."
If Grumman (known also as "The Fierce Chef") looks familiar, it's because she was among the 15 chefs competing for the title of "Top Chef" on the popular Bravo TV show, which filmed its 18th season under pandemic bubble conditions in Portland, Oregon, last fall.
"It's really magical to think that at my seventh birthday party, I was making fresh pasta with my closest friends. From watching Emeril at age 5, to culinary school in Italy, to being the executive chef of a hotel with Italian themed menus, life has a funny way of navigating you towards your true calling," she said. "Italian food, with flair, is what I do."
When the Kenyon Alumni Magazine asked Grumman to share one of her favorite recipes she chose chicken cacciatore because "it's a classic and it has so much soul. The building of flavor and taking it in any direction that you choose is really up to you. From the spice level to the mushrooms, there is a lot of freedom for the chef here."
Grumman sees recipes as guides; she suggests making this recipe true to its direction the first time and then making adjustments.
"I can't help thinking of my childhood when I make this dish," she said. "I hope it brings you all the comfort and love that it brings me."
Watch Grumman prepare this dish on Top Chef's "Last Chance Kitchen."
---
Chicken Thigh Cacciatore
Recipe
4 T Extra virgin olive oil
4 Chicken thighs, bone in and skin on
2 T Mushroom powder
Salt and pepper
8 oz Pancetta, diced
8 oz Oyster mushrooms (or any you like), gently pulled apart
½ Yellow onion, thinly sliced
1 Orange bell pepper, thinly sliced
1 T Coriander seeds, whole
1 T Fennel seeds, whole
1 T Cumin seeds, whole
4 Bay leaves, fresh
2 C Red wine
4 C Chicken stock
1 can Peeled San Marzano tomatoes, hand crushed
1 C Sultanas (golden raisins)
1 T Preserved lemon, minced
1 T Calabrian chilies, crushed
1 T Parsley, chopped
Basil, whole for garnish
Procedure
• Start with a six-quart heavy bottomed pot, add extra virgin olive oil and turn on medium/high heat.
• Season chicken with mushroom powder and salt and pepper.
• Sear chicken skin side-down until golden brown and flip.
• Add pancetta and render.
• Add mushrooms, bell pepper, and yellow onion and sear well.
• This part is quick! Tilt the pot a little so all of the oils and fats gather in a little pool to one side — add the seeds and bay leaf, and shallow-fry them until toasted in color and aromatic.
• Level the pot out and deglaze with red wine, and reduce until dry.
• Add chicken stock and crushed and peeled tomatoes.
• Turn heat down and simmer until chicken is cooked through — about 15 minutes — use a thermometer to be sure! (165F)
• Keep heat low and add Sultanas, preserved lemon, Calabrian chilies and parsley — cook low and slow for another 10 minutes, just until the Sultanas plump up a little.
• Check for seasoning and adjust as you wish — the preserved lemon and pancetta and seasoned chicken help season the entire dish, so extra salt may not be necessary.
• Serve in slightly warmed bowls and finish with a few leaves of fresh basil and olive oil.
A record-breaking gift helps Kenyon enrich its residential experience.
Read The Story
16 reasons Kenyon alumni are optimistic about the future.
Read The Story
Bryan Doerries found comfort in the ancient Greek tragedies he studied in college. Here's how he has helped thousands…
Read The Story