Annotated: California Calling
Josh Radnor '96 shares the inspiration behind indie folk duo Radnor & Lee's "Ohio."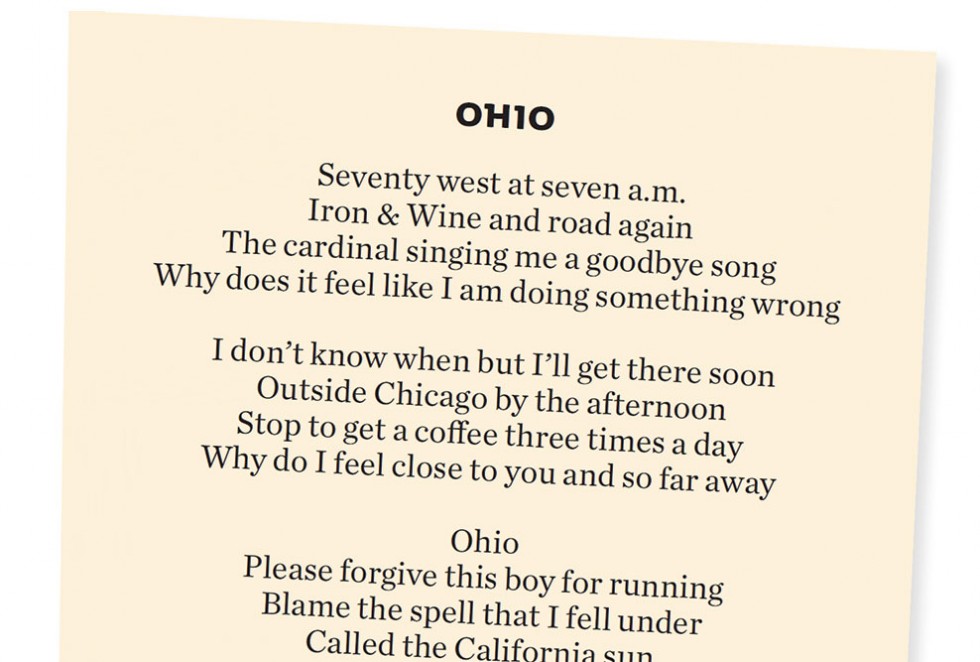 A few years ago Josh Radnor '96, who is best-known for his extensive acting and directing resume, teamed up with Australian singer-songwriter Ben Lee to form a band, Radnor & Lee. They've put out two albums together, "Radnor & Lee" in 2017 and "Golden State" in 2020.
"On the first record, we were a one-guitar band (that guitar being Ben's), but by the time we wrote and recorded the second album I was playing guitar and writing my own songs," Radnor said of his evolving musicianship. "On the day we wrote 'Ohio' (for 'Golden State'), I remember we were just playing around with a melody for a chorus and we both really responded to this A7 chord. Ben was playing the chord progression and, for some reason, I kept wanting to sing 'Ohio' atop the melody. So we landed on a title and very quickly the song became about the places we leave, and on some level, in that leaving, betray."
Both hailing from, in Lee's words, "places where people think Jews don't live," the friends initially bonded not only over their faith, but also the shared experience of "leaving our places of birth in order to do what we wanted with our lives," Radnor said. "Even though we both felt that leaving was essential, there is some strange guilt that lingers, like we had to turn our backs on families and friends in order to follow this other calling. This is all fairly subtle, of course. Neither of us were shamed for our choices. But the song became an exploration of what it means to be from somewhere and ultimately choose to create your life somewhere else."
Radnor also released his first solo EP, "One More Then I'll Let You Go," in April.
---
Ohio
Seventy west at seven a.m.
I remember Ben asking what freeway you'd take to drive from Columbus to California. "70 West at 7 a.m." felt like a great first line to both of us to really set the scene.
Iron & Wine and road again
We kept asking ourselves questions: What would he be listening to? We both like Iron & Wine and it's fun to namecheck other bands and musicians in songs.
The cardinal singing me a goodbye song
Just to get more Ohio in there, I mentioned to Ben that the state bird of Ohio was the cardinal and he loved it.
Why does it feel like I am doing something wrong
The first pang of guilt…
I don't know when but I'll get there soon
Outside Chicago by the afternoon
I love the American road trip sub-genre of music. I don't know if that really exists but it feels like it does, and this song falls squarely into it.
Stop to get a coffee three times a day
Why do I feel close to you and so far away
Ohio
Please forgive this boy for running
Blame the spell that I fell under
Called the California sun
Ben and I both fell deeply and quickly in love with California. During my first stretch in California I was stunned that one could spend February in 72-degree weather rather than in the depths of seasonal depression.
Ohio
Please forgive this boy for leaving
Know you probably don't believe me
But I regret the things I said when I was young
This is one of the key lines of the song, an acknowledgment that our youthful certainty often turns to regret.
I can see the shimmer of the ocean blue
No one ever forgets their first glimpse of the Pacific Ocean.
You gotta get real high to get this view
Who doesn't love a nice double entendre?
But I remember living on flat land
Craving peaks and valleys she just couldn't understand
This was inspired by something my mom said to me years ago, that I liked my life like this: She drew peaks and valleys with her finger, like an EKG; and that she liked her life like this: She drew a flat line. It always stayed with me.
Ohio
Please forgive this boy for dreaming
Every man must search for meaning
For adventure and for fun
Ohio
Can my exit be a lesson
Cause now my tongue's confessin
I regret the things I said when I was young
Is it such a crime
Is it such a crime
I fell in love with life
Is that such a crime
I often can't recall who wrote what line when a song is finished — it's a really fluid process with me and Ben. But this last section was all Ben and I really love it. It's so stark and simple, but also really powerful. The narrator is not certain if he made the right decision but he defends the choice he made — perhaps protesting a bit too much. I really love the line, "I fell in love with life," the implication being that though there's a shadow to all our choices, that can't stop us from making them.
I fell in love with life
Is that such a crime
I fell in love with life
I fell in love with life
Is it such a crime
Is it such a crime
I fell in love with life
Is that such a crime
I fell in love with life
Is that such a crime
One thing that a lot of people comment on about this song is that I'm the one from Ohio but Ben sings the lead vocal on it. From the moment we started writing songs together, Ben encouraged me both as a songwriter and vocalist. On each album he sings lead on only one song. What happened was I was singing it and then he sang through it once and I just really liked the way it sounded when he sang it. I preferred it to my singing it, actually. And I really liked singing the end part, so it all worked out. With Ben singing the lead vocal it became less a literal song about a guy leaving the actual state of Ohio and more about the mythical "Ohio" that we all come from. And that many of us left.
16 reasons Kenyon alumni are optimistic about the future.
Read The Story
Bryan Doerries found comfort in the ancient Greek tragedies he studied in college. Here's how he has helped thousands…
Read The Story
A record-breaking gift helps Kenyon enrich its residential experience.
Read The Story