Hello, Chalmers!
A sneak peek at Kenyon's new library.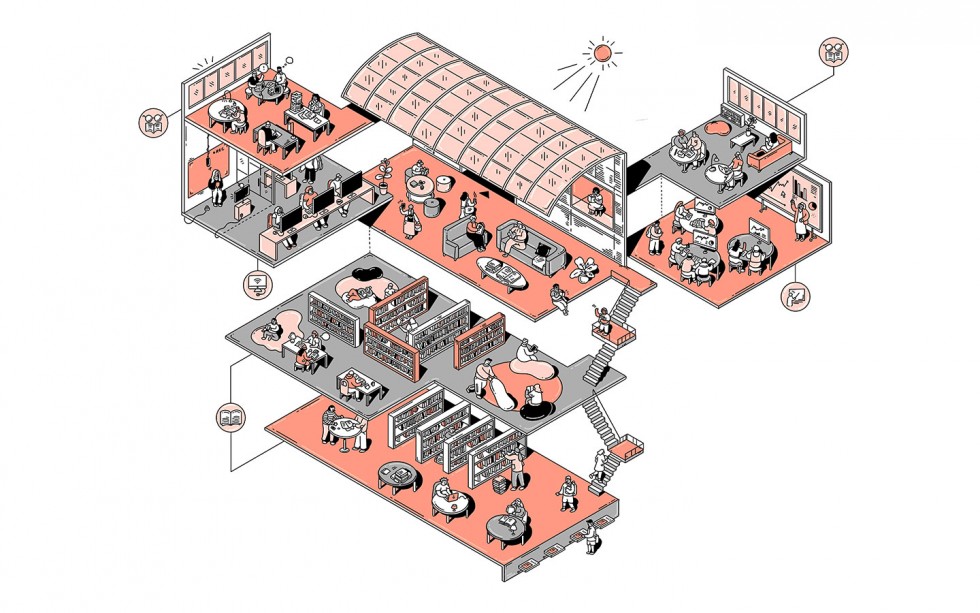 When the doors to Chalmers Library open to the public this fall, visitors will discover a modern, light-filled academic hub in the new West Quad. The building, which replaces the Olin and Chalmers Memorial libraries, is home to state-of-the-art technology for undergraduate research, a concentration of student services (like the Career Development Office and Writing Center), and classrooms that serve as laboratories for educational innovation. In addition, the library will be significantly greener and more energy-efficient than its predecessor, and designed with LEED® Gold certification in mind. A $75 million leadership gift from an anonymous donor, among other significant support, made the project possible. The original Chalmers Memorial Library opened in 1962 and was named for Gordon Keith Chalmers, Kenyon's 13th president, who served from 1937 until his death in 1956. The new Chalmers Library will also recognize his wife, Roberta Teale Swartz Chalmers H'60, a poet, teacher and co-founder of the Kenyon Review.
"This entire building is focused on students' success," Associate Vice President for LBIS and Library Director Amy Badertscher said. With help from Badertscher and her team, we peeked behind the construction walls to highlight some fun and little-known facts about the latest addition to Kenyon's campus.
Lower Levels 1 & 2
The book collections will live almost entirely on the lower two levels of Chalmers Library. According to Chris Hudson, director of collection services, "the monograph collection is housed in the most convenient layout it has ever experienced, while there's ample opportunity for shelf-browsers, and plenty of nooks and crannies surrounding the books on the perimeters of these two floors, where students may squirrel away for quiet study as they did on the upper floors of Olin and Chalmers."
Lower level 2 has plenty of study spaces around the book stacks, with a variety of comfy seating arrangements chosen by students, including individual study cubes with soft benches and tables — study carrels for the modern era. (And yes, you can even put your feet up!)
Level 1
Librarians and student services are centrally located on the main floor, by the atrium, where they are easily accessible to students.
Most likely to appear in selfies? The atrium skylight, which features a glass art installation by David Wilson Design. The skylight spans an opening in the roof of the library that measures 56.5' x 89', according to construction project manager Seth D. Millam. This specially designed art installation generates a dynamic pattern of colors that change throughout the day based on the position of the sun.
Level 1 is home to the largest room in the library, the Robert K. Carver Jr. '79 Reading Room, with views to Middle Path through its two-story windows and a mix of desks and armchair seating for up to 100.
Level 2
Level 2 has an innovation classroom with flat panels, white boards and reconfigurable tables that can be pulled apart and put together in more than a dozen formations. Also here: Student success partners like the Registrar, Career Development Office, Writing Center and more.
Level 3
Technology comes alive on the third floor, with an immersive classroom that has enough projectors and speakers to create an almost 360-degree surround experience, a video wall and a digital collaboration studio with high-end computers.
Students can use the "one-button studio" on this floor to quickly and easily record video and then store it on a USB drive.
Level 4
Thrill-seekers (or anyone not afraid of heights) can snag a study spot in a crow's nest, or reading nook that overlooks the atrium.
There are two reading rooms on level 4 that offer arguably the best views on campus: One overlooks the tree tops along Middle Path, and the other, the West Quad.
---
What makes this building green?
A rainwater harvesting cistern from the roofs of Chalmers Library and Gund Gallery — rainwater is used to irrigate the underground parking garage green roof.
Daylighting and views throughout the building with daylight harvesting sensors to dim lighting.
Low-flow plumbing fixtures to reduce water consumption.
Shower rooms to allow building occupants to bike or jog to and from work in lieu of driving.
Preferred parking for high-occupancy vehicles, fuel-efficient vehicles and electric vehicles (with free charging stations).
Energy model and design to exceed current energy standards required by code with respect to electricity and natural gas consumption.
A record-breaking gift helps Kenyon enrich its residential experience.
Read The Story
Bryan Doerries found comfort in the ancient Greek tragedies he studied in college. Here's how he has helped thousands…
Read The Story
16 reasons Kenyon alumni are optimistic about the future.
Read The Story