Margin of Error
31
Percentage of Kenyon students who have a car on campus.
83
Percentage of Kenyon students who think marijuana should be legal.
25
Percentage of Kenyon students who have attended a religious service in the last month.
Go, Go, Go
Sierra DeLeon '14, a two-sport athlete, packed away her volleyball gear from the fall and shifted into spring in high gear. She strung together multiple explosive performances that included record-breaking Kenyon runs in the 100- and 200-meter dashes, as well as the 100-meter hurdles.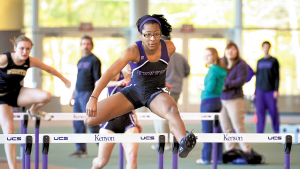 Gimme Five
A casual, weekly dinner series —Top Five—was introduced at Peirce Hall this year and featured a list of five favorites in any field chosen by a professor. Dean of Students Henry "Hank" Toutain dropped in to share his "Top Five Vinyl Records."
1. Suite for Flute and Jazz Piano by Claude Bolling/Jean-Pierre Rampal
2. Abbey Road by the Beatles
3. Heavy Organ by Virgil Fox
4. The Best of Edith Piaf
5. Ridin' High by Jerry Jeff Walker
'07
Lisa King and Sam Shopinski '06, Grosse Pointe Park, Michigan, are "officially outnumbered," she admits. "Isaac was born in January, welcomed by proud big brothers Owen (4) and Ethan (2). We got a minivan just in time."
'16
Joseph P. Duronio, Chapel Hill, North Carolina, attends medical school at the East Carolina University Brody School of Medicine.
'05
David S. Waxman, Oakland, California, calls the last few years "pretty wild: After 12 years, I left the tech world and San Francisco for a quieter life in the suburbs of Oakland, where I'm now pursuing passion projects and attempting to remodel a home. (It looks more like demolition at this point.) Recently, I've been working with local politicians on how to improve the condition of our neighborhood's deteriorating streets and sidewalks. Most days, however, you'll catch me in the garden with my partner or out hiking in the hills with our dog, Pancake."