Margin of Error
31
Percentage of Kenyon students who have a car on campus.
83
Percentage of Kenyon students who think marijuana should be legal.
25
Percentage of Kenyon students who have attended a religious service in the last month.
Go, Go, Go
Sierra DeLeon '14, a two-sport athlete, packed away her volleyball gear from the fall and shifted into spring in high gear. She strung together multiple explosive performances that included record-breaking Kenyon runs in the 100- and 200-meter dashes, as well as the 100-meter hurdles.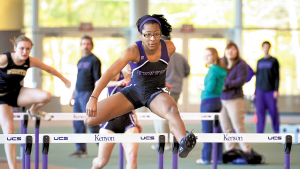 Gimme Five
A casual, weekly dinner series —Top Five—was introduced at Peirce Hall this year and featured a list of five favorites in any field chosen by a professor. Dean of Students Henry "Hank" Toutain dropped in to share his "Top Five Vinyl Records."
1. Suite for Flute and Jazz Piano by Claude Bolling/Jean-Pierre Rampal
2. Abbey Road by the Beatles
3. Heavy Organ by Virgil Fox
4. The Best of Edith Piaf
5. Ridin' High by Jerry Jeff Walker
'15
Laura E. Boniface was palling around in D.C. for three years with other alums — "special shout-outs to Margaret R. Tucker '15, Colin D. Finnegan '15 and Caroline H. Shipman '15," she notes — but decided it was time to hit the books again. Now in her first year of law school at the University of Michigan, Laura says, "The similarly Hogwartsian look of the law quad has her wistfully reminiscing about the more idyllic, bygone days of Kenyon."
'62
Charles E. Albers enjoys retirement in Sarasota, Florida, with his longtime partner, Julie. "There's lots to do here," he informs. Chuck is program director of the Sarasota Economics Club and recently spent time with David W. Hutzelman '62 at the FreedomFest conference in Las Vegas.
'94
Marshall W. Chapin reports that "Bailey, 12, danced on Broadway this summer, and Campbell is 10 and loving soccer." He's working on a project for a large private equity firm, "helping them figure out the electric utility/distributed energy resources space — electric vehicles, wind/solar, batteries. Fun stuff." It's his last year as a Kenyon trustee.