Margin of Error
31
Percentage of Kenyon students who have a car on campus.
83
Percentage of Kenyon students who think marijuana should be legal.
25
Percentage of Kenyon students who have attended a religious service in the last month.
Go, Go, Go
Sierra DeLeon '14, a two-sport athlete, packed away her volleyball gear from the fall and shifted into spring in high gear. She strung together multiple explosive performances that included record-breaking Kenyon runs in the 100- and 200-meter dashes, as well as the 100-meter hurdles.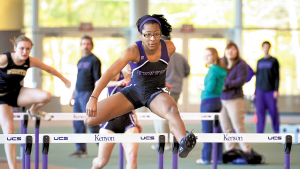 Gimme Five
A casual, weekly dinner series —Top Five—was introduced at Peirce Hall this year and featured a list of five favorites in any field chosen by a professor. Dean of Students Henry "Hank" Toutain dropped in to share his "Top Five Vinyl Records."
1. Suite for Flute and Jazz Piano by Claude Bolling/Jean-Pierre Rampal
2. Abbey Road by the Beatles
3. Heavy Organ by Virgil Fox
4. The Best of Edith Piaf
5. Ridin' High by Jerry Jeff Walker
'80
"After almost 40 years in Fairbanks, Alaska, my wife, Joan, and I moved to Bend, Oregon. Downsizing is not for the faint of heart; it's been quite the odyssey, but we are finally getting settled. If you enjoy being physically active, Bend is a good place. Vibrant arts scene and good restaurants. This winter we will volunteer as mountain hosts at Mount Bachelor, so grab your skis and ask for Doug and Joan in the geeky green uniforms."
— Douglas T. Braddock
'16
Christopher Kei Helm received his M.A. in public policy at Georgetown University. He is now a Presidential Management Fellow at the Centers for Medicare and Medicaid Services' Center for Consumer Information and Insurance Oversight.
'79
Cameron R. Macauley, Harrisonburg, Virginia., started his fourth year as a psychiatric clinician in a hospital emergency room. "In 2018, I transitioned to this job from my former position as a university assistant professor," he explains. Cameron and his wife, Angela, whom he met in Africa in 1994, celebrated their 25th. "Our son Alexander just graduated from high school and is taking a gap year before college, hopefully in a post-pandemic world."