Margin of Error
31
Percentage of Kenyon students who have a car on campus.
83
Percentage of Kenyon students who think marijuana should be legal.
25
Percentage of Kenyon students who have attended a religious service in the last month.
Go, Go, Go
Sierra DeLeon '14, a two-sport athlete, packed away her volleyball gear from the fall and shifted into spring in high gear. She strung together multiple explosive performances that included record-breaking Kenyon runs in the 100- and 200-meter dashes, as well as the 100-meter hurdles.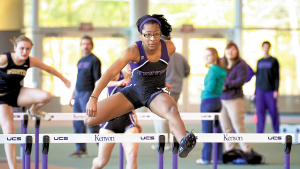 Gimme Five
A casual, weekly dinner series —Top Five—was introduced at Peirce Hall this year and featured a list of five favorites in any field chosen by a professor. Dean of Students Henry "Hank" Toutain dropped in to share his "Top Five Vinyl Records."
1. Suite for Flute and Jazz Piano by Claude Bolling/Jean-Pierre Rampal
2. Abbey Road by the Beatles
3. Heavy Organ by Virgil Fox
4. The Best of Edith Piaf
5. Ridin' High by Jerry Jeff Walker
'98
"After serving as press secretary for Gov. John Kasich, I joined Ohio's chief elections officer, Secretary of State Frank LaRose, as his communication director. I'm still residing in Columbus and doing my best to balance being a full-time single dad to two awesome little girls doing virtual schooling, while running a communications team during the craziest election in memory."
— Jonathan E. Keeling, Columbus, Ohio
'93
Gabriel A. Alegria celebrates his two little ones, Natalia (5) and Oliver (3), who've moved with him across the Hudson to Jersey City, New Jersey. "Will be moving back to Peru semi-permanently in 2022," he notes. Gabriel is still recording and touring with the Afro-Peruvian Sextet (afroperuviansextet.com), whose latest recording, "Social Distancing," dropped on Jan. 29. "I don't believe we used to say 'drop' back in the day. I've also taken the job of jazz studies director at NJCU."
'09
Paige L. Markham, Walnut Creek, California, who runs acupuncture practices in Hawaii and California, recently launched a Chinese facial tool line named "Yang Face" (yangface.com). Yang Face honors traditional Chinese medicine, is environmentally conscious and promotes social change, she informs. "Five percent of all proceeds go to my alma mater, Punahou School, so its Hawaiian Studies program can give our youth a strong sense of self and belonging in this world," she shares, noting that her journey, influenced by Kenyon professors, began during study abroad.