Margin of Error
31
Percentage of Kenyon students who have a car on campus.
83
Percentage of Kenyon students who think marijuana should be legal.
25
Percentage of Kenyon students who have attended a religious service in the last month.
Go, Go, Go
Sierra DeLeon '14, a two-sport athlete, packed away her volleyball gear from the fall and shifted into spring in high gear. She strung together multiple explosive performances that included record-breaking Kenyon runs in the 100- and 200-meter dashes, as well as the 100-meter hurdles.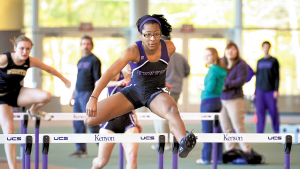 Gimme Five
A casual, weekly dinner series —Top Five—was introduced at Peirce Hall this year and featured a list of five favorites in any field chosen by a professor. Dean of Students Henry "Hank" Toutain dropped in to share his "Top Five Vinyl Records."
1. Suite for Flute and Jazz Piano by Claude Bolling/Jean-Pierre Rampal
2. Abbey Road by the Beatles
3. Heavy Organ by Virgil Fox
4. The Best of Edith Piaf
5. Ridin' High by Jerry Jeff Walker
'06
Justin Lacaillade and Meredith (Wylde) Lacaillade of Chicago welcomed Dexter Nicholas into the family in January. He joins Iris (7), August (5) and Paloma (3). Meredith is taking a leave from her career as a family nurse practitioner to wrangle the children full time. Justin started a new role as global sales leader for Phoenix Controls, a Honeywell division. Justin and Meredith mourn the passing of Randolph Bucey '49, Justin's godfather. Knowing that Kenyon alums make the best godparents, they made Jack Godshall '06 godfather to Augie.
'20
Lily N. Stachowiak moved to Boston to attend Emerson College's publishing and writing master's program, she updates. "Though I've only just begun to dip my toes into the world of publishing, I love working with the written word and surrounding myself with people who have similar passions."
'67
Stephen W. Carmichael, Rochester, Minnesota, was selected as the Honored Member for 2020 by the American Association of Clinical Anatomists.