Margin of Error
31
Percentage of Kenyon students who have a car on campus.
83
Percentage of Kenyon students who think marijuana should be legal.
25
Percentage of Kenyon students who have attended a religious service in the last month.
Go, Go, Go
Sierra DeLeon '14, a two-sport athlete, packed away her volleyball gear from the fall and shifted into spring in high gear. She strung together multiple explosive performances that included record-breaking Kenyon runs in the 100- and 200-meter dashes, as well as the 100-meter hurdles.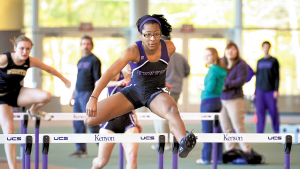 Gimme Five
A casual, weekly dinner series —Top Five—was introduced at Peirce Hall this year and featured a list of five favorites in any field chosen by a professor. Dean of Students Henry "Hank" Toutain dropped in to share his "Top Five Vinyl Records."
1. Suite for Flute and Jazz Piano by Claude Bolling/Jean-Pierre Rampal
2. Abbey Road by the Beatles
3. Heavy Organ by Virgil Fox
4. The Best of Edith Piaf
5. Ridin' High by Jerry Jeff Walker
'15
Javier "Jay" Leung, Helsinki, Finland, joined Salesforce as a solution engineer for marketing tech and is finding his feet in the competitive world of enterprise sales. He and Johanna enjoyed a very snowy winter in Helsinki, which offered great conditions for cross-country skiing. They celebrated two years of marriage in January.
'18
"Disney lied. It is not the happiest place on Earth. Kenyon is. My time at Kenyon was magical — the friendships made and lessons learnt were timeless!
"
— Theuni "Anika" A. Rodriguez, Colombo, Sri Lanka
'88
Shelley G. SwankAnderson and Kevin J. Anderson, Peoria, Illinois, celebrated reuniting with Bret Frye after eldest daughter Kiele L. Anderson '21 moved to Marietta, Ohio, and got a checkup at Bret's dental practice. Middle child Leah N. Anderson '23, Kenyon women's soccer goalkeeper, had a blast studying in Edinburgh. Shelley has been busy delivering Meals on Wheels this year. "Some elderly and shutins who count on the program for a daily hot meal are living in terrible circumstances in some cases and complete squalor in others. Support your own local programs to help the poor, disabled and shutins!"