Margin of Error
31
Percentage of Kenyon students who have a car on campus.
83
Percentage of Kenyon students who think marijuana should be legal.
25
Percentage of Kenyon students who have attended a religious service in the last month.
Go, Go, Go
Sierra DeLeon '14, a two-sport athlete, packed away her volleyball gear from the fall and shifted into spring in high gear. She strung together multiple explosive performances that included record-breaking Kenyon runs in the 100- and 200-meter dashes, as well as the 100-meter hurdles.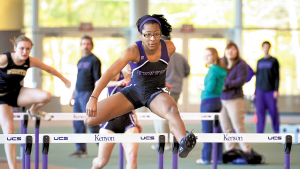 Gimme Five
A casual, weekly dinner series —Top Five—was introduced at Peirce Hall this year and featured a list of five favorites in any field chosen by a professor. Dean of Students Henry "Hank" Toutain dropped in to share his "Top Five Vinyl Records."
1. Suite for Flute and Jazz Piano by Claude Bolling/Jean-Pierre Rampal
2. Abbey Road by the Beatles
3. Heavy Organ by Virgil Fox
4. The Best of Edith Piaf
5. Ridin' High by Jerry Jeff Walker
'72
John H. Emack, Rocky River, Ohio, updates that adjusting to pandemic life for him meant playing golf with Norman E. "Norm" Schmidt '71 once a week all summer. "We had no problem maintaining social distancing on the golf course!"
'79
Gary D. Snyder moved from the East Coast to Bozeman, Montana, in 2018, now that he is an art consultant and adviser and no longer tied to a gallery space. "Although planning on semi-retirement," Gary writes, "I became excited about a Bozeman artist, Ben Miller, who paints by fly-casting (flycastpainting.com) and ended up presenting his work in a pop-up gallery in an old historic grain mill in Bozeman." Gary enjoyed seeing roommate Louis B. Fox '78, who has been in Bozeman for over 15 years.
'87
Allan L. Maca Jr., New York City, hosts the National Geographic series "Ancient China from Above." "Episodes premiered worldwide in August and are now streamable," he informs. "We spent 40 days crisscrossing China; it was a joint effort with Chinese scientists, so we had incredible access. I hope you'll enjoy the show; let me know what you think!"