Mysteries of the Mind
Research by Greg Carr '04 seeks to ease the lives of those who suffer from psychiatric disorders.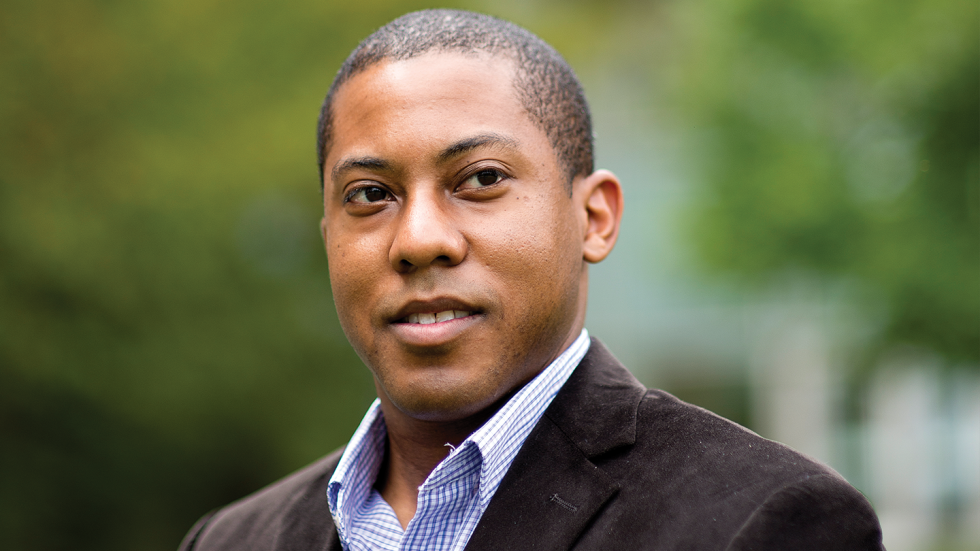 Greg Carr '04 has a formidable job description: He works at the Lieber Institute for Brain Development in Baltimore, Maryland, where he leads the in vivo pharmacology activities of the group with the goal of identifying novel therapeutics for the treatment of neurological and psychiatric disorders.
In layman's terms, he heads a team of researchers committed to developing new drugs for schizophrenia that are more effective than the currently available treatment options.

"The schizophrenia drugs on the market help to alleviate some of the symptoms such as psychosis," said Carr, who majored in neuroscience at Kenyon. "While such relief is critical to patients, these drugs have little effect on the severe cognitive symptoms of the disorder, including learning and memory deficits. There's a large unmet need for cognitive enhancers."

The Lieber Institute, he says, is committed to looking at the molecular pathways of brain diseases. "The most exciting part for me is that we collaborate closely with clinicians who interact daily with patients," Carr said. "We're actually able to translate the results from the clinic to basic, cellular research, and then bring our findings back into the clinic in the form of potentially improved therapies."
Carr has been at the Institute for almost a year, but it was a relatively short move both physically and intellectually from his previous job at the National Institute for Mental Health in Bethesda, Maryland, where he worked as a postdoctoral fellow in the Clinical Brain Disorders Branch and studied genetic models of cognitive impairment.

Psychiatric disorders have always been his area of ­interest. His doctoral work at the University of Pennsylvania was in anxiety and depression, though he shifted his focus in his postdoc work. "I switched to schizophrenia because there seemed to be a lot more activity on the genetic underpinnings of schizophrenia," he said.

Research, however, was a different trajectory than he saw for himself when he came to Kenyon. "I was thinking pre-med when I left high school," said Carr, who grew up in Providence, Rhode Island. An introduction to psychology class with Hewlet McFarlane, professor of neuroscience, changed his career direction. "It was the biological basis of psychology. For me, the research end of things is more interesting than the clinical practice."
McFarlane remembers how Carr stood out in that class. "Because of construction we had unusually large classes then, eighty to ninety students," McFarlane said. "One kid turned in a paper that was flawless. I paid attention. No freshman turns in a paper without typos." He talked with Carr about becoming a neuroscience major, hired him in his lab, and then gave him recommendations when he graduated.

Carr credits the diversity of coursework at Kenyon—as well as the access to professors such as McFarlane—for his success. "Neuroscience is an interdisciplinary field," he said. "At Kenyon I wasn't sequestered in a lab. I was able to take political science, art history, and English courses. That's the interdisciplinary experience from an early age that really helped in training."

He now lives in Silver Spring, Maryland, with his wife, Jennifer, and their two-year-old daughter, Elizabeth. But he reaches back often to the Hill. He spoke to students on campus in April about his work at the Lieber Institute, and when he's looking to hire research assistants, he calls his former professors at Kenyon for recommendations. "Networking has helped me in my career," he said.
But it's more than an obligation of giving back. "Hiring good researchers is one of the most difficult parts of my job. It helps to be able to talk to people you trust who can recommend someone they believe has the skill set to be successful."
Kenyon's land trust turns a golf course into a public nature preserve—including space for environmentally friendly…
Read The Story
A reigning force on the young-adult best-seller list, Ransom Riggs '01 pulls in readers with haunting imagery and…
Read The Story
Like many college yearbooks, Kenyon's "Reveille" has fallen on hard times in recent years. Observers blame uneven…
Read The Story