Well Versed
English major meets graduation goal by publishing "Honeyvoiced," a book of poetry.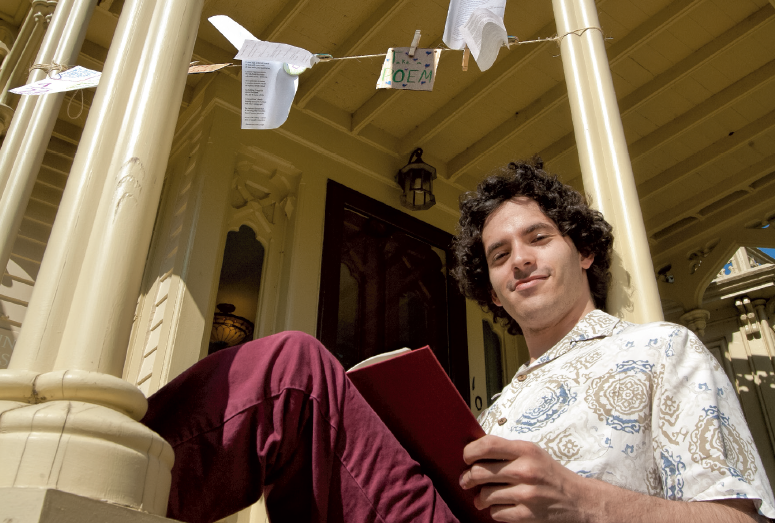 The final weeks of college resemble the last mile of a marathon for seniors: finishing coursework, studying for comps, job hunting or applying to graduate school. Jordi Alonso '14 added a creative hurdle in his final weeks at Kenyon by participating in the 30/30 Project, a poem-a-day writing venture sponsored by Tupelo Press, a nonprofit literary publishing house.

On each of the thirty days in April, Alonso wrote and submitted a poem for publication on Tupelo's website.

"The point of the poetry marathon is you're forcing yourself to come up with theoretically amazing work with 24-hours notice. And you have to do that for thirty days," said Alonso, an English major with a creative-writing emphasis.

But he had another reason for taking on such a rigorous project at a particularly hectic time: "When I came to Kenyon, one of the things on my bucket list was to basically have a sellable book when I got done," Alonso said. When the Cincinnati native walked into the Kenyon Athletic Center in his graduation robes in May, he had accomplished his goal. His first poetry collection, Honeyvoiced, including some work he wrote for Tupelo, will be published
by XOXOX Press.

Alonso's first volume of poetry was inspired by the work of the ancient Greek poet Sappho. He was attracted to her use of adjectives, the sensuality of her work, and her imagery of food, something prevalent in his own poems. Few of Sappho's verses remain intact, so he meditated on the recovered fragments and built his poems around hers. To understand her work as clearly as possible, he taught himself ancient Greek — a daunting task, despite growing up in a bilingual Spanish-English home and given his fluency in French.

Sappho's fragments are not his only influence, however. Alonso names American poets H.D., Edna St. Vincent Millay, Billy Collins, and Melissa Stein among his favorites. "He is wildly enthusiastic about poetry," said his former teacher Janet McAdams, the Robert P. Hubbard Professor in Poetry and professor of English. "He loves the past," McAdams said. "He loves going to readings by living writers. I don't know if I've engaged with a student as engaged with poetry as he is."

Alonso describes his writing process as "nebulous," but says he writes a lot, carrying around a notebook at all times, filling its pages with poems every two or three months. Many of the poems, he said, aren't worthy of publication or even the effort of revision. Still, his commitment to his craft has paid off. In addition to being one of the youngest poets chosen to participate in Tupelo's 30/30 Project, Alonso has published poems in the Portland Review and the Southampton Review. In August, he will move to Long Island, New York, and begin work on his master's degree in fine arts in creative writing at Stony Brook Southampton University.

"I think that for Jordi poetry is a lifelong commitment," McAdams said. "He is one of the students who will leave our creative writing program and whom I expect to keep hearing from and hearing about."

Fragment 192
by Jordi Alonso

I had to eat
with my eyes
as you took
a ripe peach
from the bowl
and its skin
scented yours
and I thought
we should kiss
when you bit into it,
when you licked
at the cleft
and its juice
wet your chin.
Don't clean
off your fingers
on the linen,
there is silk
in my room
and rosewater in
gold-knobbed goblets.
Kenyon's land trust turns a golf course into a public nature preserve—including space for environmentally friendly…
Read The Story
Like many college yearbooks, Kenyon's "Reveille" has fallen on hard times in recent years. Observers blame uneven…
Read The Story
A reigning force on the young-adult best-seller list, Ransom Riggs '01 pulls in readers with haunting imagery and…
Read The Story