How a Swim Coach Spends a Summer Day
The summer months don't always mean coaches can take a breather. It's Tuesday, June 26, and Tracy Menzel '09, assistant coach for the Lords and Ladies swim teams, is on day four of her third week directing a series of youth camps at the Kenyon Athletic Center (KAC). During her collegiate days, Menzel, a native of Greencastle, Indiana, was a 16-time All-American and a two-time NCAA champion in the 100-yard breaststroke.
June 26, 2018
5 a.m. I've been getting up early for morning practice most of my life, but 5 a.m. always seems to come too soon. I press snooze on my alarm and pet my dog, George Washington (a Boston terrier) for a bit before getting out of bed. I start the coffee and take a shower.
5:20 a.m. I make cold oats in a jar to take for breakfast. It's rolled oats, frozen mixed berries, chia seeds and almond milk. I got the idea from the mom of one of our swimmers, who has a vegan cooking show on YouTube.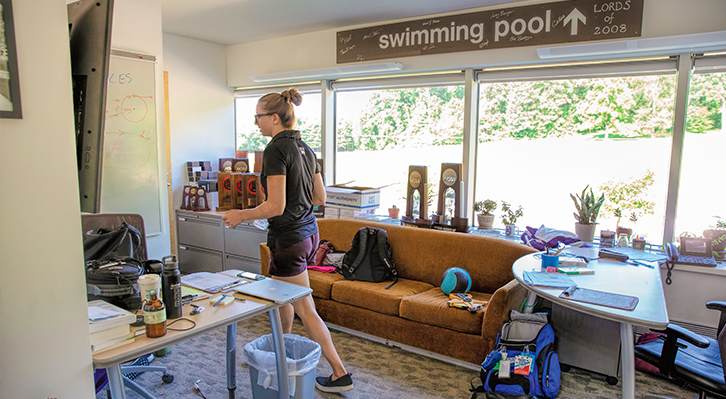 5:35 a.m. I arrive at the KAC pool. Hannah Saiz '13, our volunteer assistant who is also working camps, is already here and setting out workouts and prepping the pool.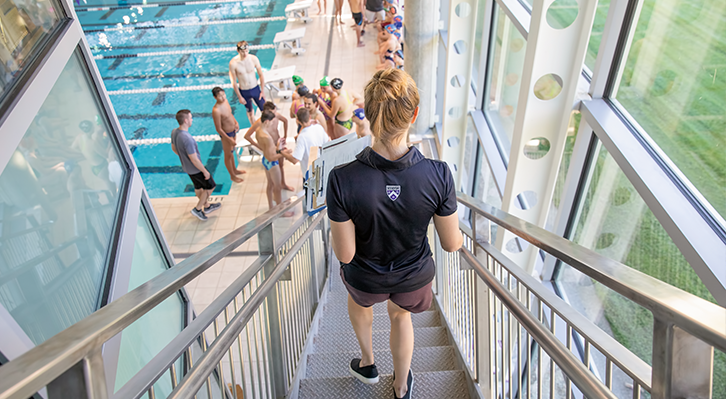 6 a.m. Practice starts. At this point, I've only seen most of our campers swim freestyle. Today I get to see their talents in other strokes.
7:30 a.m. Practice ends. We meet briefly with the campers and send them to breakfast with the counselors.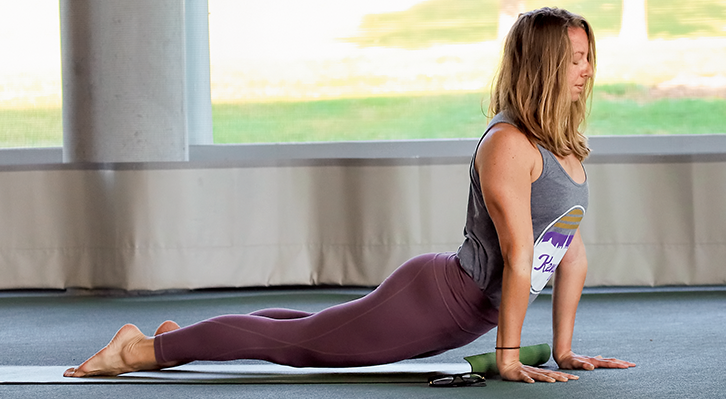 7:50 a.m. I go to the indoor track, set up my yoga mat and put my YogaGlo app to use. I love that my job involves interacting with students, but I need some quiet time every day to recharge.
8:30 a.m. I grab my computer and my breakfast and head into our stroke technique lecture. Steve Jungbluth, assistant coach at University of Florida, is presenting on relay starts. I take notes on how he interprets angular velocity to apply to the arm swing in relay starts.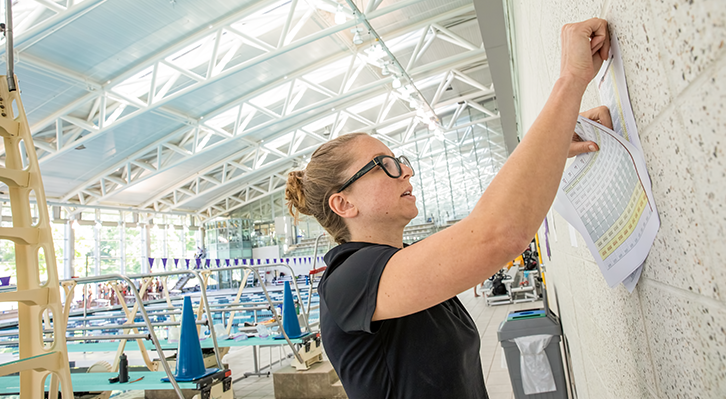 9:30 a.m. I leave the lecture early to set up our data recording sheets on the pool deck. As the camp director, I am in charge of making sure everything happens on time throughout the day.
9:45 a.m. Coaches, counselors and campers come on deck and we start our "3 T Circuit," which is technique, training and testing. I enjoy demonstrating for the campers and giving them feedback.
10:30 a.m. We switch stations and now I am timing power rack, a 12.5-second weight-resisted sprint.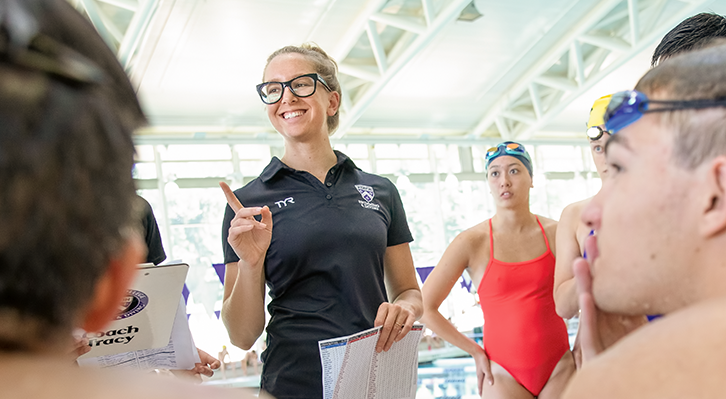 11:15 a.m. We switch stations again and now I am recording time, tempo and stroke count for the 4 x 25s.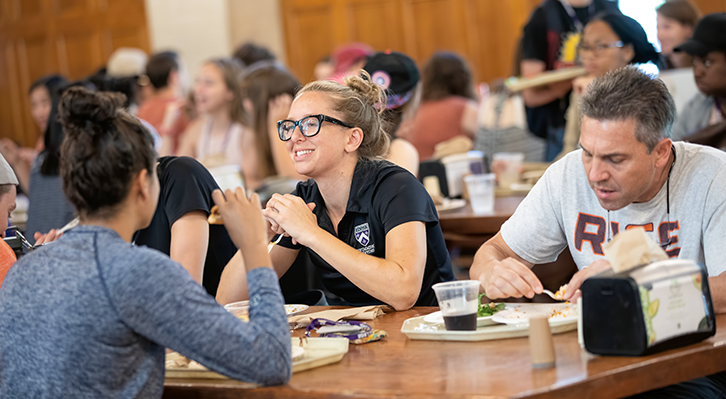 12 p.m. We finish up the 3 T Session and I go to lunch at Peirce Hall. I head for the vegetarian station, where I put a base of spinach on my plate and then get some bean enchiladas, rice and a tomato-cucumber salad.
1 p.m. Technique lecture, this time a Q&A with Steve and the campers.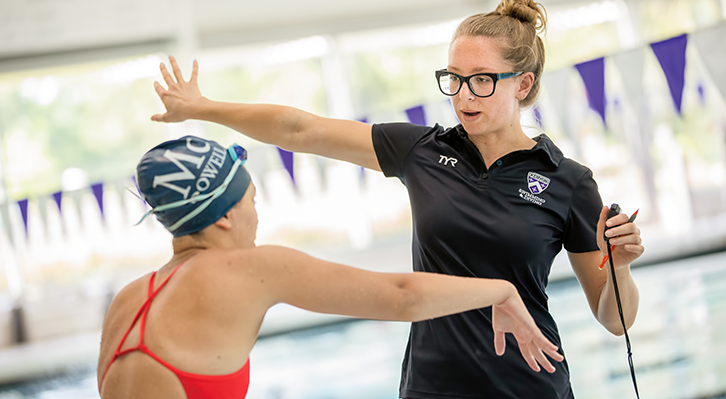 1:45 p.m. This afternoon is one of my favorite parts of camp – 4 x 25 from a dive, where each camper gets one-on-one feedback from a coach. It allows me to do all of my favorite things about coaching: Create a connection with the student, praise their strengths and challenge them to find a way to be better.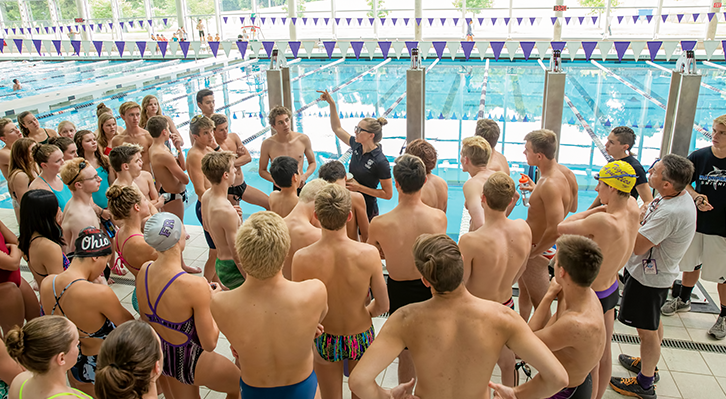 4 p.m. We wrap up the last 3 T session 30 minutes late. Our coaches and counselors look relieved. They have worked hard the past three weeks and we are almost to the end. I give the campers the option of doing dryland work with me or going up to the dorms with the counselors. I am surprised when more than half stay.
5:30 p.m. Pizza party in the basement of Old Kenyon.
6:15 p.m. Our evening lecture begins. Head Coach Jess Book '01 is presenting on growth mindset and performance.
7:45 p.m. The lecture ends and we announce to the campers that they get to sleep in tomorrow an extra 30 minutes. They are excited (the coaches and counselors even more so). I go home to the McIlvaine Place Apartments. George Washington greets me at the door and immediately wants to play. My husband, Kevin, is making pizza and a salad for dinner. We eat and catch up on the day.
8:45 p.m. Bedtime. I am currently reading a book on motor skill learning, "Nonlinear Pedagogy in Skill Acquisition: An Introduction." I read for about 20 minutes and then turn the lights out to fall asleep.
What will it take to boost socioeconomic diversity at Kenyon? And why does it matter?
Read The Story
As the Kenyon Review celebrates a milestone birthday, the Bulletin explores how the storied journal became a leading…
Read The Story
These students are living their dreams and claiming their places in the workforce.
Read The Story