Act Like You've Been Here Before
Rachel DeLoache Williams '10 shares her approach to navigating the first days of a new job.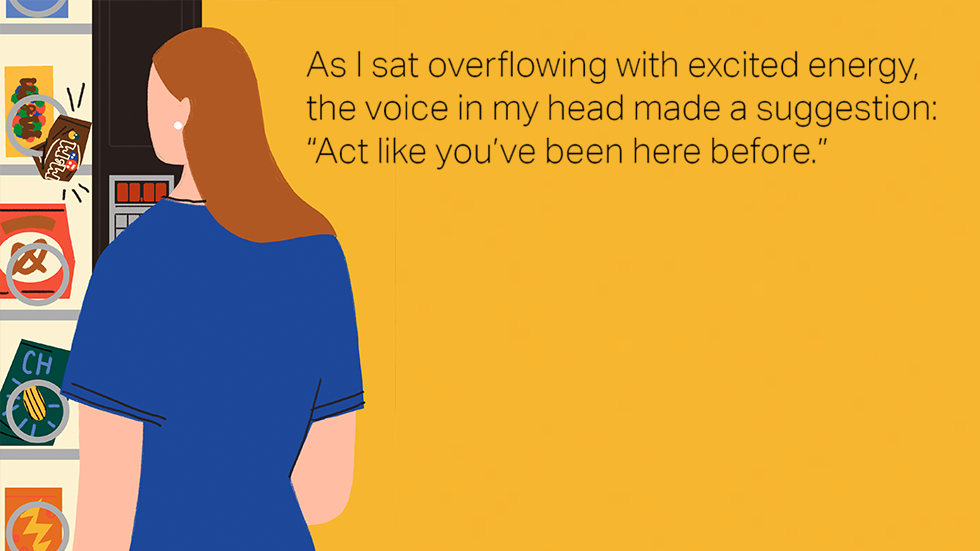 I chose a denim blue shift dress and pearl earrings for my first day of work. My upper eyelids were lined with an inky black ode to the iconic French females — Françoise Hardy, Jane Birkin and Brigitte Bardot — whose style I idealized at the time. I readied early in the back room of my grandmother's apartment on the Upper West Side, a space I moved into a month earlier after spending a few weeks at home in Knoxville, Tennessee, following my graduation from Kenyon.
The subway platform beneath 103rd Street and Broadway was hot and damp, the air thick and smelly. It was the type of heat that made me think of Harper Lee and the way she described a Maycomb summer in "To Kill a Mockingbird" — "Men's stiff collars wilted by nine in the morning. Ladies bathed before noon, after their three-o'clock naps, and by nightfall were like soft teacakes with frostings of sweat and sweet talcum." I swallowed a laugh as I imagined life in Maycomb versus the gritty city mix around me.
In Times Square, tourists walked in freeform, ignoring the left-right, here-to-there sidewalk decorum of locals. The Condé Nast building towered imposingly just off to the side, with a grand metallic awning and a fancy looking lobby that was visible through the glass wall of its sleek front entrance. As I pushed through the revolving door, I spotted a familiar face.
"Williams! I'm glad to see you back, my dear. Does this mean you got the job?" Adam asked from behind the security desk. I'd met him the day prior, when he checked me in for my interview. My face broke into a wide smile and I nodded. "Congratulations," he said, offering a high five and then a temporary ID, to use until my official badge was ready.
The elevator opened on the 22nd floor to reveal a long foyer with closed glass doors at each end. Between them, across from the elevator, images from the magazine's archive hung on a cream-colored wall in black frames with white mattes: Louis Armstrong, Greta Garbo, Fred Astaire — some people I recognized, others I did not.
On a little black box next to the glass doors, a red light blinked when I tried to scan my badge, so I turned back and perched on a leather bench, waiting nervously for Paul. He was late. I was early. Paul had two days to train me, to teach me everything there was to know about his assistant position, a job that was now mine.
As I sat overflowing with excited energy, the voice in my head made a suggestion: "Act like you've been here before." It was a line my soccer coach used to say when my team scored a goal or won a game; excessive celebration would suggest that such achievements were rare. It was better to stay calm; to take note of how you got there and to focus on what would come next.
Paul breezed in moments later, carrying an iced coffee, and launched quickly into animated chatter. He was fluent in a language I was just learning, referring to photographers and designers by just their first names. My brain scrambled to decode his commentary, as best I could. That first day flew by, filled mainly with administrative instructions having to do with invoicing, budgets and expense reports.
The second day things shifted.
"I printed something to that printer over there. Can you grab it?" my new boss asked.
"Yes, ma'am." I answered reflexively. It was the tone of her voice that made me do it. The sky darkened, winds blew, nary a second passed.
"I know I'm undoing your good manners," she said firmly, "but if you ever call me ma'am again, it will be your last day."
I soon found reprieve in the floor's small kitchen where I decided to invest in a bag of peanut M&M's. Coins made a clinking sound as I dropped them one at a time into the vending machine's deep belly. In response, the silver spiral spun counterclockwise, loosening the yellow bag before stopping, just before the candy dropped.
I banged at the window with my hand. The bag sat still. And so I did what anyone might do, backed up four paces and ran full-speed at the machine, slamming my shoulder hard into its face. At the moment I made full contact, in walked the magazine's extremely proper, astonishingly elegant managing editor. The bag was unmoved.
"Rachel," she said breathily, in her coolly measured British accent, "are you finding something infuriating?" Too embarrassed to speak in words, I sighed audibly and pointed.
"Ah, I see," she replied, stepping toward the machine. She turned and with a swift flick, tapped her hip against the window. The M&M's fell with a satisfying plunk.
"How did you do that?" I asked.
"Brute force," she replied.
I bent down to pick up the candy and stood up laughing. "Of course," I said, "I have so much to learn."
Rachel DeLoache Williams '10 is a journalist and photo editor living in New York City. She has worked at Vanity Fair since 2010. Read more Bulletin coverage of her work here.
As the Kenyon Review celebrates a milestone birthday, the Bulletin explores how the storied journal became a leading…
Read The Story
These students are living their dreams and claiming their places in the workforce.
Read The Story
What will it take to boost socioeconomic diversity at Kenyon? And why does it matter?
Read The Story