Life, Unscripted
Hanaa Ibrahim '22 opens up about her journey from Gaza to Gambier.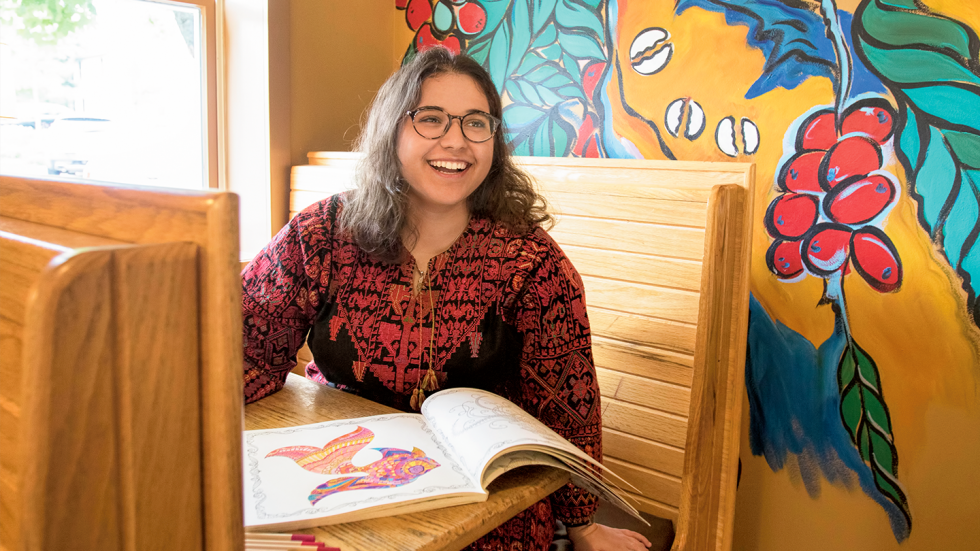 On an April afternoon, more than halfway through her first semester at Kenyon, Hanaa Ibrahim '22 stood in front of an intimate gathering of her peers in Peirce Dining Hall's Bemis Music Room. She had agreed to speak as part of the Diversity Advisors' Storytime, a bimonthly series that invites Kenyon community members to share their personal experiences. For Ibrahim, it was an opportunity to paint a more nuanced picture of her home, Palestine.
Wearing traditional Palestinian dress for the occasion, Ibrahim explained up front that her remarks would be unscripted, at one point noting, "I'm just trying to be vulnerable." Vulnerability has been on Ibrahim's mind a lot lately, now that she's at Kenyon. For several months last year, she even wasn't sure if she would make it to Kenyon.
Ibrahim grew up in Gaza City, the largest city in Palestine, and developed an interest in language-learning and writing at an early age. In middle school, she connected with AMIDEAST, an American nonprofit organization that specializes in international education, training and development activities in the Middle East and North Africa. She enrolled in English language classes through the organization and, in her sophomore year of high school at Gaza City's Holy Family School, looked into spending a year abroad as an exchange student.
"I've always been a curious person. I really wanted to leave and see the world," she said over a frozen chai at Wiggin Street Coffee this summer. "But my family was hesitant. Because I was young, they were scared about me coming back to Gaza (after a year away) and being shocked because the life there is so different. They were scared I wouldn't like it there anymore."
Instead, they told her, she should set her sights on going abroad for college.
Ibrahim said that growing up, she felt torn between her love of Palestine — its physical beauty, people and cultural traditions — and her desire to flee from the fear and political instability that limited her options. Ibrahim was 8 years old when the Gaza War broke out in 2008. Though she didn't fully understand what was happening at the time, she remembers the constant threat of bombings, and a period of time when her entire family slept on the floor of their living room because it was the only room in their house without windows.
Two additional conflicts, in 2012 and 2014, left an even stronger mark.
"One night, it was really raining and there was no electricity," she recalled in our interview. "I remember being in my room, and there was a bomb threat at a mosque 500 feet away from our house. That was one of the most real moments where I thought, 'Okay, I might die tonight.'"
One thought that powered her through those dark times was her determination to attend college in America. It was through AMIDEAST, which offers scholarship opportunities for students to attend American colleges and universities, that Ibrahim first learned about Kenyon. She fell in love with the school from afar and, when she learned that she had been accepted and had received a scholarship to study at Kenyon through AMIDEAST's Hope Fund (for talented Palestinian youth who possess leadership potential), she felt as if her dream had come true.
There was just one problem: When she applied for a permit to leave Gaza (residents of Gaza must get permission from Israeli authorities to cross the border), her request was denied, with no reason given, and she was placed on a waitlist to leave.
"It was one of the worst periods of my life," she said. "There was always this conflict between, am I going to go, or am I not? Am I going to get to live my dream, or am I not? I stayed home for three months, every day waking up and waiting for a message to come to me, saying, 'Okay, go to the border. You are leaving.' It was constant stress."
With her future hanging in the balance, she logged onto her Kenyon class's Facebook page and typed out a message to her (hopefully) future classmates.
"I have never felt so nervous," her post began:
"If you're a Palestinian living in Gaza, there are many struggles that you have to face every time you attempt to leave this very small place. ... If I couldn't be at Kenyon, please know that I really wanted to be. Please know that I was excited to be with you and meet you all. There's still hope, and soon I might be able to get out, too. But if I didn't, please have fun on my behalf. And still consider me as one of you."
Ibrahim missed what was supposed to be her first semester at Kenyon, but, after three months, AMIDEAST was able to help her get the permits she needed to travel to the U.S. She's here, now, with no plans to visit home any time soon — upon leaving Gaza, Ibrahim said she had to sign paperwork agreeing not to attempt to return home for at least a year.
Since arriving in Ohio, Ibrahim has focused on adapting to life in an American college town, where other students' worries sometimes seem worlds apart from her own. As Ibrahim's father told her after she left for Kenyon, "your body is there but your mind and heart are back home."
She has immersed herself in psychology classes, in part to help her process trauma from her past, and her very real fears for her loved ones' safety.
"One of the things I realized when I came here is that I really didn't process what happened for all of those years," Ibrahim said. "When your brain knows that you are not safe, it keeps shutting down (traumatic) memories so you will survive. But, once you realize that you are in a safe place, like at college in the U.S., things keep coming back in memories, and in nightmares and flashbacks."
She has good and bad days, but Ibrahim said she's found immense support from administrators, professors and the international student community (her "international family") at Kenyon.
"One friend told me that the most important thing is to know your purpose here. Once you know your purpose here, it's easier, and you're more focused," Ibrahim said. "I think my purpose here is to represent my country, be a good person and help people by being there for them, doing good, and representing my morals and my identity."
For Ibrahim, this includes speaking publicly about her life experiences — educating people about the conflicts, wars and destruction in her homeland, but also demonstrating how hopeful and optimistic Palestinians have been in the face of adversity. "This is how we live through our lives, with the hope that things will get better," she said.
At Kenyon, Ibrahim recently led a class on the dabkeh, traditional Palestinian dance, and a workshop on embroidery — two of her long-time passions.
Her academic interests have expanded, as well. Initially, Ibrahim was most interested in pursuing a career in clinical psychology, but after taking an introductory economics class, she said she is exploring a double major in psychology and economics, and wants to learn more about the field of behavioral economics.
"As much as I emphasize the fact that I am Palestinian, there is much more to my identity," she added. "There are other parts of me that are growing and blossoming through this place. ... I'm really grateful and happy to be here."
These students are living their dreams and claiming their places in the workforce.
Read The Story
As the Kenyon Review celebrates a milestone birthday, the Bulletin explores how the storied journal became a leading…
Read The Story
What will it take to boost socioeconomic diversity at Kenyon? And why does it matter?
Read The Story