A Lost Dream Reawakens
Andrew Welsh-Huggins '83 P'17 embarks on a journey to reconnect with a former tutor.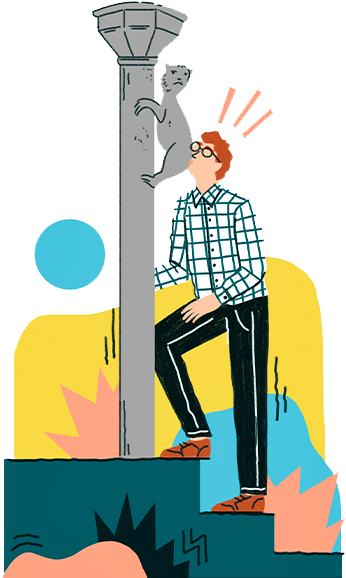 In the city of Girona, in northeastern Spain, tradition holds that visitors who kiss the rear end of a lion sculpture are guaranteed to return someday. I hope this is true. But there is another way to visit Girona again, as I learned recently. It just takes a little longer.

From Wales, I decided to change language and cultural scenes and go to Spain, specifically the region known as Catalonia.

I wrote those words more than 30 years ago in a report to the Thomas J. Watson Foundation, describing the tail end of my post-graduation year abroad as a Watson Fellow. In those days as now, the foundation funds independent study overseas for liberal arts grads. (Kenyon no longer participates in the program.) A classics major, I proposed that I live in Ireland, learn Gaelic and write a historical novel about Saint Patrick. They agreed, a bit to my amazement, and by July I was abroad.

By January, my Irish was fluent, my novel was faltering, and I had discovered why travel brochures don't promote the Emerald Isle during winter. In the serendipitous spirit of the Watson, I moved on to Wales, where I learned Welsh, boned up on Europe's minority language movement, and turned a visit from my Kenyon girlfriend, Pam, into a marriage proposal. With my fiancée finishing a master's back in the States, I sought out more language experiences, and warm weather, and headed for the Mediterranean.

For 10 days I studied in the northeastern city of Girona with a tutor so devoted to Catalan he refused to speak Spanish, regarding it as a tongue of fascist oppression under Franco. He regaled me with the legacy of famous Catalonians, from artist Salvador Dalí to cellist Pablo Casals, and noted proudly that not only had James Joyce's "Ulysses" been translated into Catalan, but TV's "Dallas" had as well. It was a lesson in understanding the diversity of the world's many languages, big and small, that I never forgot.

Back home, energized by all this linguistic activism, I pursued an academic career before my life took a different turn professionally. I lost touch with my tutor and nearly everyone else I met during the Watson year. In time, the experience seemed almost like a lost dream.

Then came the day our oldest daughter, Sarah, informed us she was dating a man from near Barcelona — the capital of Catalonia.

Fast forward four years. We are headed to Spain for a wedding celebration following the ceremony in Ohio. In anticipation, I ask the Watson Foundation for any correspondence from my time abroad. Though I'm not optimistic, a 34-page PDF of hand- and typewritten notes pops into my inbox the next morning.

I had long forgotten the name of my tutor and so am amused to see from my reports that his first name — Xevi — is the same, with a regional variation, as that of my son-in-law, Xavi. I'd unearthed Xevi's name after all these years. But could I find the man himself?

With no luck on my own, I turned the quest over to Xavi's father, a retired engineer. He soon found a promising email address."I'm looking for a Xevi Planas," he emailed on July 16, "who 30 years ago met in Girona with an American boy."

The reply came nine minutes later.

"El Xevi Planas de qui parles sóc jo." I am the Xevi Planas of whom you speak.

We arranged a meeting at a cafe in Girona for 11 a.m. on July 27, our last day in Spain. As we hurried down narrow, cobblestone streets toward our destination, I grew more and more nervous. What would the two of us have to say to each other after all this time? And more to the point, how would we say it?

"I'm afraid my English has gotten much worse since we met," Xevi apologized in Catalan as we greeted each other outside La Terra cafe. "That's all right," I said in English. "So has my Catalan."

For the next hour over coffee and carrot cake, with my son-in-law translating, we reminisced about our time together and lives afterward. Xevi, a former journalist, discussed his work as an advocate for Catalan's language and culture. I related my own career as a writer. The violence spurred by a referendum on Catalonian independence was still a few weeks away, but Xevi's passion for what he considered his real country came through loud and clear. Fragments of my year abroad reassembled themselves in my memory, reminding me how much the Watson expanded my horizons after graduation.

Too soon, it was time to part ways. But first, there was one more sight to see. With my acquaintanceship with Xevi renewed, and with a new Catalonian family nearby, I climbed a set of stairs and planted my lips on the auspicious lion's south end, ready to make that promise come true.

Andrew Welsh-Huggins '83 P'17 is a journalist and mystery novelist living in Columbus.
How Margaret Willison '07 turned her love of pop culture into a mini media empire.
Read The Story
Kenyon alumni from different disciplines explain how long-term stress takes a toll on our health — and how we…
Read The Story
From doughnuts to e-cigarettes, Kenyon students use science to educate middle schoolers on addiction.
Read The Story