Riding the Podcast Boom
Nadia Reiman '05 broadcasts the importance of storytelling about and for diverse voices.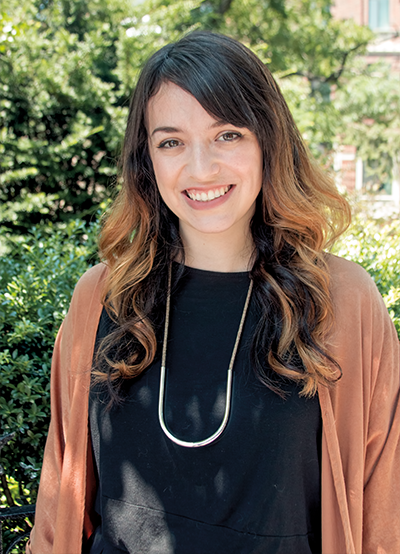 As a Kenyon student, Nadia Reiman '05 developed a passion, and talent, for audio storytelling. After nearly a decade spent working as a producer for StoryCorps, she is now a senior editor at NPR's Latino USA. The Bulletin spoke with Reiman about her career in radio, the impact a study abroad program had on said career, the importance of diverse voices in podcasting and more.
Q: What was your Kenyon experience like?
A: We couldn't really afford college, but Kenyon gave me a full ride. They paid for everything but my books. I ended up taking a less traditional route than a lot of Kenyon students take, just because my decisions were very much dictated by what we could and couldn't afford. Professors like Clara Román-Odio, Víctor Rodríguez-Núñez and Katherine Hedeen were like my parents away from home. Back then, Kenyon wasn't super diverse, so I felt a little bit like an odd duck. It took me awhile to get my sea legs, but, by my junior year, I felt more like a part of the community. I had a really good group of friends who I still am in touch with and love.
Q: How did Kenyon help you get your start in radio?
A: I was involved with WKCO. I did it for fun and really enjoyed myself. When I went abroad to Costa Rica, I hoped to figure out what it really meant to be Costa Rican, because I hadn't been there since I was (a child). But I had a hard time adjusting because I speak Spanish fluently, and Costa Ricans essentially saw me as a Costa Rican … (even if) culturally, I wasn't. I remember feeling really sad, and asking myself when the last time was that I felt really happy. I realized it was when I was working at WKCO. I looked at Costa Rican Radio U's lineup and (discovered) that the one thing they didn't really have at the time was an indie-rock music show. So I pitched them a show ... and they picked it up. I did it every Friday while I was there, and then I found somebody to take it over. It's been on the air for 10 years. It was the beginning of me realizing that I could do something substantial with radio.
Q: Tell me about your current job as senior editor at Latino USA.
A: We're the only Latino-focused news show on NPR, and we're a national show. Over the last two years, our podcast audience has nearly doubled. The show is growing by leaps and bounds and it's such a privilege to be part of an organization (dedicated to) telling stories from my community. It's a job that's tailor-made for me: It's about radio, it's about storytelling, and it's storytelling about and for people of color.
Q: How do you feel about the big podcast boom that has happened in recent years?
A: I think it's fascinating. I have always been here for the experimental incubator podcast world that has been popping up — I want more of it, not less. Like everybody else in the industry, I'm terrified that it's a bubble, because I would like a job forever. I want more people of color on the air, making the shows and making the decisions. The thing is, this country is becoming more and more diverse by the second; it's going to be a totally different-looking country in 2025. We need to have a podcast world and a media landscape that reflects who we are. In that sense, podcasting still has a long way to go, in terms of being inclusive. But that's why we're here — we're going to keep pushing for that.
Web extra: Listen to a recent Latino USA podcast.
This interview has been edited for length and clarity.
How Margaret Willison '07 turned her love of pop culture into a mini media empire.
Read The Story
Kenyon alumni from different disciplines explain how long-term stress takes a toll on our health — and how we…
Read The Story
From doughnuts to e-cigarettes, Kenyon students use science to educate middle schoolers on addiction.
Read The Story