Beyond Borders
How an internship with the Immigrant Worker Project inspired Eric Thornton '18 to change course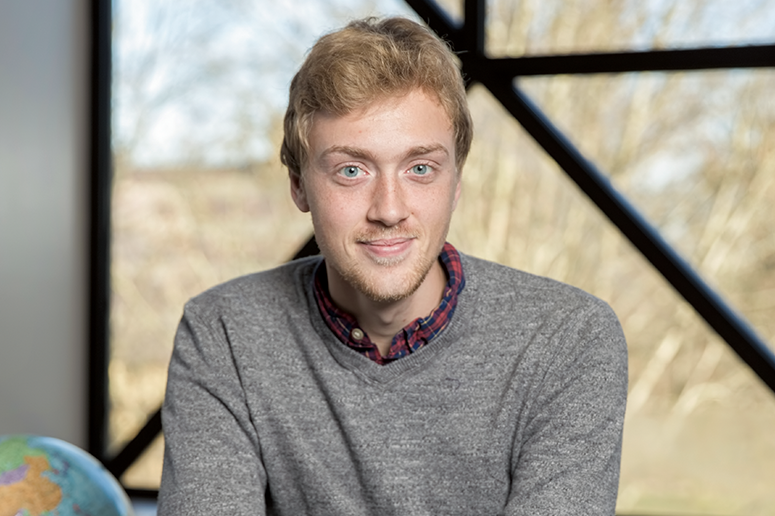 Eric Thornton '18 spent the summer before his junior year in Morocco. The international studies major had received a prestigious Critical Language Scholarship from the U.S. Department of State to study Arabic there. But in addition to his linguistics education, Thornton found himself in the midst of a real-life civics lesson — one that made him think deeply for the first time about immigration policy and who has the right to call a country home.

"In Tangier, where I lived, you could see Spain across the water," Thornton explained. Even though Thornton could see the country while running downtown, many of the young Moroccans he talked to had no hope of ever stepping foot there.
"There's a real socioeconomic border that exists. You have to have a certain income and a certain status to be able to immigrate to Spain," Thornton said. "The question of immigration was constant there." It made him think about America's own border. "There are millions of people who live very close to the U.S. who are shut out simply because of immigration laws that were decided in the 1920s, 1930s, and in 1996. It got me thinking more deeply about what sorts of situations these immigrants are coming from."

The experience provided a perfect segue into the popular "Immigration, Citizenship and National Identity" class Thornton had signed up for in the fall. One of the aims of the class, taught by Assistant Professor of Political Science Nancy Powers '83, is to help students learn about the complexities of the immigration system. "Through the class, the students come to understand how difficult it is to write laws and policies that encompass all the people you'd like protect," Powers said.

To better understand how these policies operate in real life, Powers connects her students with Jeff Stewart, head of the Canton-based Immigrant Worker Project (IWP), a nonprofit that advocates for rural immigrant workers in Ohio. Part of Stewart's work involves helping immigrants who are facing deportation apply for asylum. For the past few years, Stewart has given Powers' classes real-life cases to research. Students are tasked with finding corroborating data, articles or information that would help support the immigrants' cases.

Thornton and his partners were given the case of a Guatemalan couple who had been extorted by local gang members in their home country. They had fled to the U.S. after the husband had been poisoned.
The more Thornton researched their case and immigration policy, the more frustrated and angry he became. "Especially in this climate, people talk about legal immigration as if it's an easy and obvious path that all immigrants should take," he said. "But I don't think most people understand how time-consuming and complicated it is to go through the process. Some of these immigration waiting lists are backed up 20 years."
Thornton wanted to do more to help these immigrants. He filled out an application for a summer internship at IWP and was one of only three interns selected for an internship last summer. "Eric stood out from the rest, not just because of his great academic recommendations, but also the fact that he fought through a scorpion sting to do the Skype interview," Stewart recalled.
Most of Thornton's time with IWP was spent interacting directly with asylum seekers. He drove them to court hearings and to medical appointments. He sat patiently with them for days as they filled out their biographical information. And, during the last few weeks of the summer, he ran a camp for undocumented Guatemalan high school students.

It was heartbreaking work — especially juxtaposed next to all of the headlines about new U.S. travel bans. "If more people could hear their stories and understand the situations that a lot of immigrants are coming from, I think there would be a lot more sympathy and understanding to the community as a whole," Thornton said.

Indeed, every single person Thornton interacted with had an incredibly tragic tale of how they came to the U.S. Each seemed worse than the last. There was the 13-year-old boy who had fled his country after gang members threatened his family. There was the undocumented, and beloved, nurse — the mother of two American children — who was scheduled to be deported in October. There was the woman who had been held hostage, beaten and raped for two years.

Most of these people, Thornton knew, would not be successful in their asylum applications. "The reality of working in an immigration office was very different than the class," he said. "Courts are constantly delayed. You can wait a year or more between court dates ... and, in the end, their case is really at the discretion of one person."

Occasionally, though, there was uplifting news. "The first day of training, we filled out naturalization forms with a Venezuelan couple who had won their asylum case," Thornton said. "It was a good feeling to be able to help someone and see that the system doesn't always fail people."

The IWP clients, in turn, came to trust Thornton. "The empathy and understanding that Eric displayed for folks, many who had suffered horrific violence back home, was remarkable," said Stewart.
And the experience has Thornton considering a change in his own career path. "I had never thought about law school prior to working with the Immigrant Worker Project," he said. "I had always been on the teaching track. But after seeing the selfless work the immigration lawyers there are doing, it's inspiring me to try and make a similar impact."

Rebecca Meiser is a freelance journalist living in Cleveland. Her stories have been published in The Wall Street Journal, Good Housekeeping, SB Nation, New York Magazine, Tablet, Cleveland Magazine and other publications.
How Margaret Willison '07 turned her love of pop culture into a mini media empire.
Read The Story
From doughnuts to e-cigarettes, Kenyon students use science to educate middle schoolers on addiction.
Read The Story
Kenyon alumni from different disciplines explain how long-term stress takes a toll on our health — and how we…
Read The Story