The Cheerful Critic
How Margaret Willison '07 turned her love of pop culture into a mini media empire.
Story by Lisa Rab | Photos by Kelly Davidson
During my first conversation with Margaret Willison '07, she receives 52 text messages in 53 minutes, and the Slack channel she shares with her fellow podcasters is flooded with messages. Do any of these virtual conversations distract her from the one we're having? Perhaps. But I can't tell because Willison is a professional talker. She jumps easily from discussing 19th-century British literature to the joys of eavesdropping on Twitter. Such conversational acrobatics — or what she calls her "scalable personality" — are part of what has made her so popular on social media. She is the rare human who can tweet 58 times a day to her 15,000 followers and still sound sincere.
By day, Willison (@MrsFridayNext on Twitter) is a librarian at the Massachusetts Institute of Technology. But in her free time, she is one of social media's rising cultural commentators. She co-hosts a podcast called "Appointment Television," co-writes the weekly e-newsletter "Two Bossy Dames" and appears on NPR's "Pop Culture Happy Hour" as a recurring guest host. Her popularity coincides with a podcast boom: Since 2016, podcast ad revenue has grown by 85 percent, accords to Adweek, and 57 million Americans listened to at least one podcast a month last year. Neither "Appointment Television" nor "Two Bossy Dames" relies on advertising — they collect monthly donations from fans. But if these projects ever started paying her bills, Willison would happily turn her digital endeavors into a career. "I never set out to have my miniature media empire," she said. "I've just always been really good at having opinions."
Those opinions are grounded in literature and history, both of which Willison studied at Kenyon. What makes her approach to criticism stand out, though, is a relentless positivity. Whether discussing the Netflix return of "Gilmore Girls" or the BBC drama "Call the Midwife," she respects her subjects for who they are and what they're trying to accomplish, rejecting the cynicism of many of her peers. "I want to be a voice that shows that intelligence and enthusiasm are not diametrically opposed," she said. "There is just as much honor in loving something astutely as there is in criticizing it aggressively."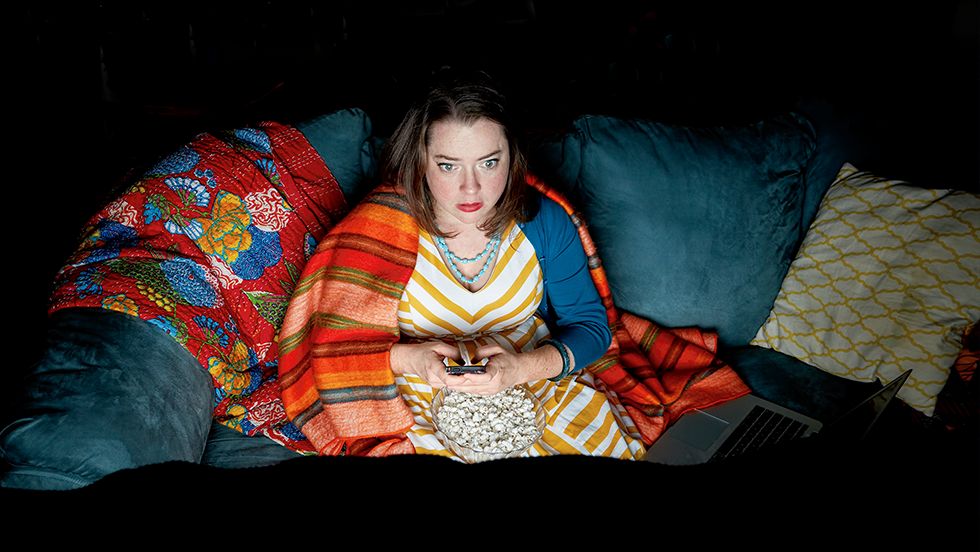 Growing up in Boston, Willison watched Alfred Hitchcock movies with her dad and read Agatha Christie novels recommended by her mother. When she was 10, her favorite movie was "Vertigo," a 1958 Hitchcock thriller about a detective who suffers from a fear of heights. Roger Ebert called it "one of the two or three best films Hitchcock ever made" — which means that even before she hit middle school, Willison had excellent taste. By the time she was 15, she had decided to "be myself as loudly as possible." People who were attracted to her personality would come closer, she reasoned, and everyone else would leave her alone.
At Kenyon, she discovered that academic prowess and a love of pop culture were not mutually exclusive. One of her favorite professors was Glenn McNair, who teaches African American history and adores "terrible reality television," Willison said. McNair was fascinated by the way shows such as "Love and Hip Hop" reflected the culture at large. Willison adopted a similar approach, admitting she gets "enormous satisfaction" from the world of YouTube and GIFs. "I try not to be didactic about where you find joy or meaning," she said.
Kenyon also introduced her to friends who would shape her professional life. Near the beginning of her first year, Willison wandered into the dorm room of Kathryn VanArendonk '07 and noticed her book collection. Both women were fans of the "Thursday Next" series — detective stories by British author Jasper Fforde, in which literature dominates pop culture and the characters jump in and out of the fictional world of famous novels. Willison had obtained an advance copy of the next book in the series and asked if VanArendonk wanted to borrow it. From then on, the two were fast friends. They became suitemates during the Kenyon-Exeter program in England, where they discovered — and crashed — a literary convention at which Fforde was the featured speaker. At night, they would hang out in VanArendonk's room, drinking cheap wine and critiquing "The Bachelor."
VanArendonk went on to earn a doctorate in English from Stanford University, and wrote her dissertation about the similarities in narrative structure between serial novels and television shows. She's now a television critic for New York Magazine's culture website, Vulture. Willison studied library science at Simmons College in Boston. There, her professors encouraged her to embrace the social media that library patrons might want to use in their daily lives. Willison, who calls herself an "inveterate eavesdropper," found Twitter to be the "perfect medium." She could listen to the conversations of smart, entertaining strangers, and no one would stop her from joining them.
As she finished graduate school in 2012, podcasts were transforming the way people consumed audio. In VanArendonk's view, their intimate format breeds a sense of community in a fractured world.
"They bring into focus this sort of chaos of information that's available to you," Willison added.
NPR launched "Pop Culture Happy Hour" in 2010, promising to discuss movies, television and "cringe-inducing" soundbites from that summer's shows. Willison was an early and avid listener. When the podcast's hosts offered to let anyone who emailed them do a recap of reality television on air, Willison jumped at the chance. Her email led to a friendship with host Linda Holmes, who asked Willison to appear more regularly on the podcast. She participated in her first full episode in September 2014, and now appears up to six times a year.
Web extra: Listen to a recent episode of "Pop Culture Happy Hour" featuring Willison.
Meanwhile, on the show's Facebook fan page, Willison had befriended fellow librarian Sophie Brookover. The two women read the internet voraciously, and would often share the same books or articles in their social media news feeds.
As the Jewish high holidays approached in the fall of 2011, Willison noticed a photo of freshly baked challah on Brookover's Facebook page. "Wow, that looks incredible," Willison commented on the loaves of sweet, braided egg bread.
"Do you want one?" Brookover responded.
Willison lives in Boston, Brookover in New Jersey. They had never met in person. But Willison sent Brookover her mailing address, and soon enough a package of mini bread loaves arrived. The two later met for lunch in Philadelphia, and a real-life friendship bloomed. Brookover had co-authored a 2008 book called "Pop Goes the Library: Using Pop Culture to Connect With Your Whole Community." She shared Willison's belief that boy bands and young adult novels were worthy of serious consideration, and that the line between low- and high-brow culture was constantly moving. Teenage girls, she points out, were the first to recognize the importance of icons such as the Beatles, Frank Sinatra and Harry Potter. Eventually, Brookover suggested that she and Willison work on some kind of cultural criticism project together. In October 2014, they launched "Two Bossy Dames," a weekly compilation of GIFs and tongue-in-cheek cultural commentary that now has 7,200 email subscribers.
Willison's media presence keeps expanding. In April 2015, another Kenyon graduate, Andrew Cunningham '08, invited her to appear on his book-discussion podcast, "Overdue," to talk about "Little House on the Prairie." Three months later, he asked her to come back. Cunningham and his co-host, Craig Getting '08, didn't know Willison well, but enjoyed working with her and hoped that her many librarian Twitter fans would broaden their audience. Soon, Cunningham had another idea: Did Willison want to start a television podcast? His interests tend toward "Star Trek" and "Fargo," while hers center on what he calls British "bonnet dramas." But Willison said she would love to participate — as long as VanArendonk, who analyzes television for a living, could be their co-host.
In September 2015, the three Kenyon alumni launched "Appointment Television." Each week, they help listeners navigate the vast array of television shows in a conversation that feels like a chat between close friends — because it is.
"It's a great chance to get together and laugh about some good pop culture, or some bad culture," Cunningham said. By the end of 2017 they had a small but loyal fan base, with 2,500 to 3,000 new downloads each time a new episode is released.
Willison realizes how serendipitous this sounds, and how fortunate her career path has been. "People like me and they offer me opportunities," she said. She figures that the best way to repay them is by taking each opportunity seriously, and working hard to make sure it succeeds.
Like many social media personalities, Willison's personal and professional lives blur on her Twitter feed. She's careful not to complain about her day job; in fact, few of her followers know she works at MIT. But she does tweet about online dating, and the creepy messages she sometimes receives from suitors. Once, for example, she met a man on Twitter, had coffee with him and then told him she wasn't interested, but he continued to send gifts to her at work, anonymously, for a year afterward. Such interactions worry Willison. She still tweets constantly, but is thoughtful about which details to reveal.
Along with her growing media presence, Willison has attracted some critics. But the fact that listeners must seek her out — either by subscribing to her newsletter or her podcasts — keeps their numbers relatively low. "No one is hate-reading my newsletter," she quipped. And she's quick to "mute" listeners who harass her on Twitter, removing their posts from her timeline.
She's also aware that having thousands of followers gives her a powerful platform to express her political views, which tend to be feminist and liberal. She often tweets about queer culture and drag culture — subjects that interest her as a bisexual woman, and that she wants to promote. Willison knows that because she presents herself as "very sweet and very feminine," she has privileged access and approval from certain social circles. She posts pictures of herself in flowery dresses and bright red lipstick; her Twitter avatar is a picture of herself peering seductively over librarian glasses. She believes this persona has hidden her from online trolls who might otherwise attack her.
---
In a November 2017 episode of "Appointment Television", the hosts are discussing the Netflix mini-series "Godless" — a 19th-century Western set in a New Mexican town populated primarily by women.
"I love stories where almost all the men have died," Willison gushes.
"I know," VanArendonk responds, and you can hear the smile in her voice. "It's very violent, though."
One of the stars is Sam Waterston, who VanArendonk quickly identifies as the "eyebrowed lawyer from 'Law & Order.'"
"Eyebrowed lawyer from 'Law & Order' I know," Cunningham says.
"Sam Mc-whatsit ... I don't know."
VanArendonk laughs.
The three friends record every week using Google Hangout and Skype, and Willison has a habit of delivering one-liners that force Cunningham to push back his chair and leave the screen until he can compose himself. Her voice is an essential part of her appeal. Simultaneously high-pitched and gravelly, it's infused with a Marilyn Monroe kind of breathiness. She often sounds exuberant and bubbly, even when discussing a show she doesn't like. "Margaret can be sarcastic, but her whole critical identity is sincerity and stunning intelligence," VanArendonk said.
Willison is keenly aware of how that identity is connected to the business side of her media enterprise. Both "Appointment Television" and "Two Bossy Dames" rely on Patreons — online fundraising sites that allow listeners to contribute monthly donations to creative projects. "Appointment Television" pulls in $300 a month and "Two Bossy Dames" garners $600. This is more than enough to cover the shows' expenses, but is not what Willison would call fair compensation. She and her "Appointment Television" co-hosts have "irons in the fire" to court advertisers, she said, but that's tough to do when you're not part of a larger podcasting network. Their dream would be to join Maximum Fun, a network whose podcast stars include comedians John Hodgman and Patton Oswalt. Meanwhile, Willison enjoys her day job at the MIT Libraries.
When they're not recording, the hosts stay in touch via daily Slack chats, like the one Willison was having when I called. She's accustomed to sharing everything with her friends there: What should she wear to her first therapy appointment? Who should they talk to about an alarming bill being debated in Congress?
Even the interviews I conducted for this story became fodder for the Slack channel. I know, because Willison tweeted excerpts from those private conversations to her thousands of followers. "Margaret does this thing where you'll be recording the podcast, right, and you'll think she's completely distracted and isn't even listening to what you're saying, and then she'll be like, 'Oh, right, sure,' and then throw in some VERY insightful comment and it is VERY frustrating," VanArendonk wrote about the interview she gave me.
"Honestly, it's going to be a bit of a problem for us that this profile even exists."
When I emailed Willison to ask if my inquiries had upset her friends, she laughed and said not to worry. "Everyone is just apprehensive about what effect all this attention is going to have on the size of my already unmanageable ego," she wrote.
This is Willison at her self-deprecating best. She's proud of her ability to share intimate details of her life online, but she's also human, which means she cares what other people think. Even someone who has built a career by being herself "as loudly as possible" craves the respect of her peers. "To Twitter, I am an open book," she tweeted. "To my alumni magazine I want to be like, a FANCY PLAQUE."
Lisa Rab is an award-winning journalist based in Charlotte, North Carolina. Her work has appeared in Harper's Magazine, Mother Jones, Politico Magazine, Washingtonian, The Washington Post, The Village Voice, Success and Yoga Journal, among other outlets.
In her own words, Margaret Willison recommends her favorite podcasts.
"Criminal"
A half hour-long podcast that tells a true, contained story about some aspect of criminal behavior every other week, from an incarcerated man making himself indispensable to a riot that ensued when a sly bar owner made the world's most expensive bourbon into jello shots.
"It's Been a Minute with Sam Sanders"
A twice weekly show out of NPR that alternates between in-depth interviews with fascinating people every Tuesday and a weekly news roundup every Friday evening. Host Sam Sanders' endearing personality is just the spoonful of sugar necessary to make the medicine of the weekly news swallowable — and the segment at each episode's end, where listeners share the best thing that's happened to them all week, is guaranteed to make you cry.
"Judge John Hodgman"
John Hodgman, the comedian most famous for making up facts as a "resident expert" on "The Daily Show with Jon Stewart," dons fake judges' robes and adjudicates listeners' petty disputes with ample hilarity and surprisingly deep emotional insight.
"The Memory Palace"
Nate DiMeo's concise episodes on historical figures and happenings manage to pack a world of emotional richness into their short run-times
— each eight to 30 minute episode contains a story so grippingly told that you'll wonder why Hollywood has yet to turn any of them into movies.
"Overdue"
Even if you aren't lucky enough — like me — to be friends with Andrew Cunningham and Craig Getting (both Kenyon '08), listening to this podcast where they read books unfamiliar to them and alternately riff hilariously upon and engage meaningfully with their contents will make you FEEL as though you are. It's the best beginning to any Monday.
"Still Processing"
After my friends recommended it for months, I finally started listening to this New York Times podcast last summer and was immediately furious with myself for waiting so long. Wesley Morris, who covers film and culture, and Jenna Wortham, who writes about people and tech, have hypnotically compelling conversations about culture, race, gender and sexuality. You won't be able to stop quoting them.
"Thirst Aid Kit"
Bim Adewunmi and Nichole Perkins, two of my favorite Buzzfeed culture writers, run this hilarious podcast where they discuss celebrities or fictional characters for whom they thirst (i.e. have a crush on), what drives their desires and how they, and other women in the world, express it. The show is hilarious, charming and — with its emphasis on clearly foregrounding female desire — quietly revolutionary.
"Uncivil"
I hate to call something "of the moment," but given the country's ongoing national reckoning with the legacy of the Civil War, this engrossing podcast, which reexamines some of the most enduring myths about it, could not feel more vital.
"Unfriendly Black Hotties"
As with "Overdue," I am lucky enough to call Christina Tucker and Kamille Washington friends, a privileged position that I appreciate anew with every brilliant, uproarious episode of their show, whether they're covering the latest kerfuffles in higher education, or the true meaning of our current political administration's Zodiac signs, or alternating back and forth between facts about the extreme lives of blue whales and the reality of mass incarceration in America.
"You Must Remember This"
This immersive podcast, hosted by film critic and historian Karina Longworth, looks at "secret and/or forgotten histories of Hollywood's first century," balancing camp and scholarly research with minute precision. She takes subjects like the Manson Murders, or Hollywood's involvement with the House Un-American Activities Committee (HUAC), and explodes them, telling both the stories you expect and the ones you never knew to look for before.
Kenyon Casts
Here are three additional podcasts by Kenyon alumni that are worth a listen.
"Pod Save America"
Co-hosted by former Obama staffer Tommy Vietor '02, its tagline is "A political podcast for people not yet ready to give up or go insane." Vietor also hosts a sibling podcast, "Pod Save the World."
"Dear Hank & John"
Literary phenom John Green '00 H'16 and his brother, Hank, take questions from listeners and offer "dubious" advice.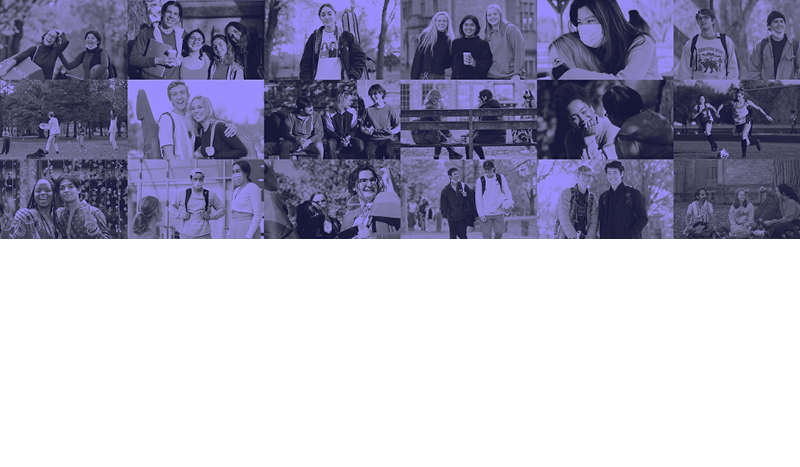 "Out There"
Host Willow Belden '07 explores the transformative experiences others have in the outdoors.
Kenyon alumni from different disciplines explain how long-term stress takes a toll on our health — and how we…
Read The Story
From doughnuts to e-cigarettes, Kenyon students use science to educate middle schoolers on addiction.
Read The Story