How a Tennis Star Prepares for Game Day
For All-American Diana Aboubakare '18 and the Ladies tennis team, an afternoon match against rival Denison University is on the slate and a streak of nine consecutive Kenyon wins is on the line. Aboubakare is fired up, but the neuroscience major from Orange, California, can't afford to focus solely on tennis. Here's a look at her day.
March 27, 2018
7:50 a.m. I'm awake before my alarm which is not unusual on game days. Instead of going back to sleep, I play around on my phone, checking social media and emails. In my house we have a Vietnamese word for this and it roughly translates to 'roasting.'
8:05 a.m. I get out of bed and head to the bathroom to get ready. When I get back to my room, I make my bed and then apply my daily skincare routine.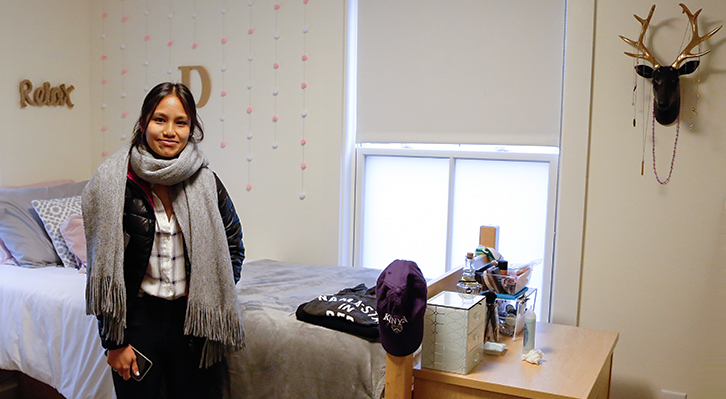 8:13 a.m. Time to pick out my outfit. The weather is isn't looking so good, so I must think of something that works with rain-appropriate shoes. I go for jeans, a top and black booties. As for makeup, I normally just wear mascara, but for game days I opt for eyeliner. It's kind of like how field sports play with that black stuff under their eyes.
8:35 a.m. I get to Peirce and head into the servery for my typical breakfast: a fried egg, some potatoes (hash brown triangles are my favorite!) and a piece of toast. I go back later for a bowl of oatmeal with cinnamon, brown sugar, smooth peanut butter and slices of banana. I also grab a cup of water. I have to stay hydrated before a big match!
9:30 a.m. Heading to Higley for my first class, but stopping in Smather to print out an assignment that needs to be turned in today.
9:40 a.m. "Intro to Environmental Studies" class. Guest speaker is Professor Alexander, who covers the role of economics within the environment.
11:00 a.m. Nothing pressing right now, so I help my teammate create a handout for her presentation. I also use the down time to plan out a rough schedule for the next couple of days. Periods of little to no work make me uneasy because I know all of the assignments will hit at once.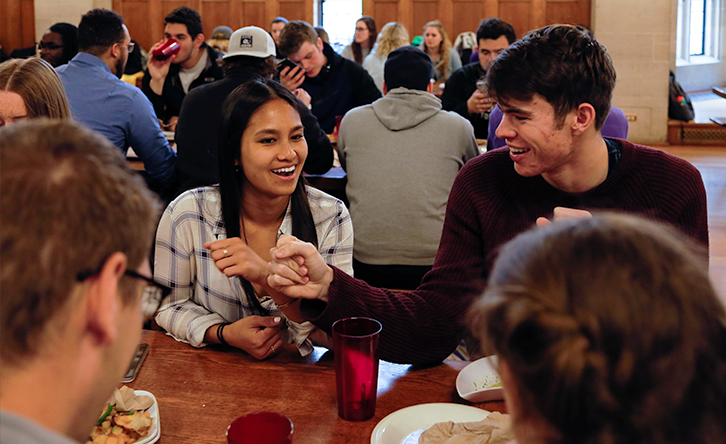 11:50 a.m. Lunch at Peirce. I have Ponzu steak with white rice (I put Sriracha and soy sauce on top of the rice) and also a side of green beans. That gives me protein, veggies and carbs. All very important for game day!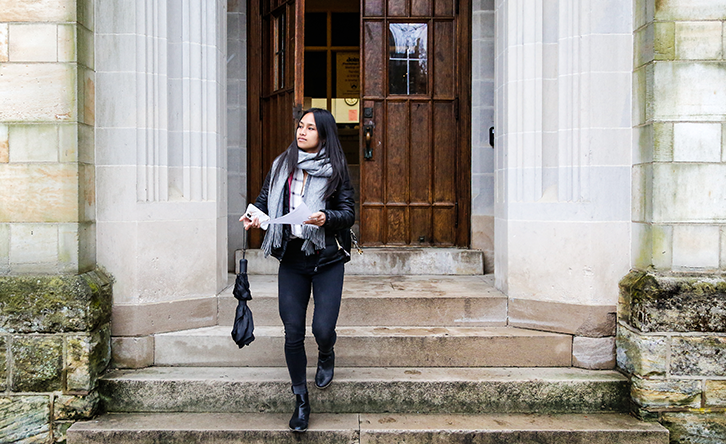 12:30 p.m. I head to back to Smather to meet up with my lab partners to plan for our experiment.
1:10 p.m. Neurobiology lab. I'm bummed that I can only stay and help for a little while before I have to head down to the KAC to get ready for our tennis match.

2:00 p.m. In locker room at the KAC to pack my racquets and shoes into my bag and change into my uniform, including my lucky socks that say 'fearless.' The socks are worn and I'm embarrassed to admit they have quite a few holes, but I'm very superstitious on game days. Once my uniform is on, I always pull over purple sweats that I call Barney pants and a gray crew neck sweater. Then, white Converse on my feet.
2:28 p.m. On the bus and ready. I play on my phone the whole trip to keep myself awake.
3:20 p.m. Arrive at Denison and I find the closest bathroom to put up my hair.
3:23 p.m. Coach tells us warm-ups will start at 3:30 p.m., so I change out of my Converse and take my jewelry and sweats off. I also use this time to re-grip my racquet. I try not to get too caught up in the conversations around me so I can mentally prepare for the match. I also take three Motrin. It's part of my superstition and unhealthy, I know.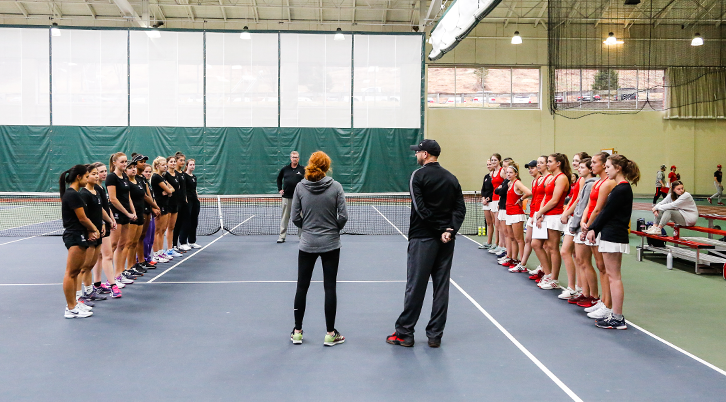 3:30 p.m. We start warm-ups, running around all four courts followed by dynamic stretching.
4:30 p.m. Erika Oku is my doubles partner this year and we begin our match against the Big Red.
5:43 p.m. Erika and I lost, 8-3. We'll have to play smarter next time and learn to adapt to their playing style earlier in the match. In all honesty, I'm in a bad mood because we didn't go all out and could've done much better. I keep it to myself, however, and I cheer on our other doubles team that is still playing.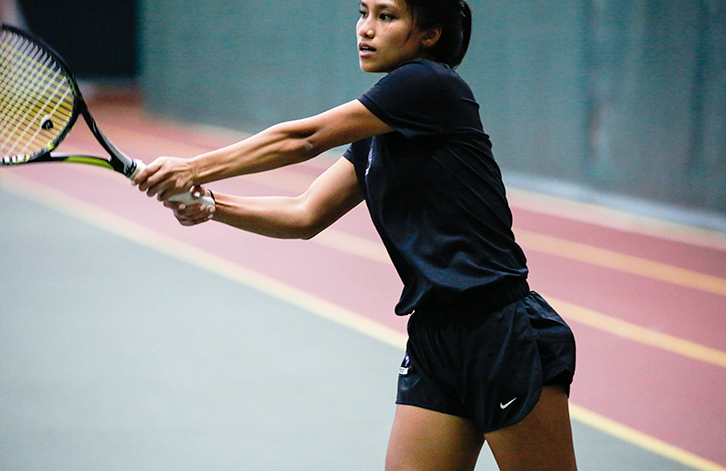 5:57 p.m. On to singles play. I don't think I've played anyone as much as I have played this opponent and I'm determined to win, especially since she won the last time we played.
8:37 p.m. I finished my singles match and won, but it was close. I won the first set 6-4, lost the second 4-6 and then won the third set 6-2. I have always wanted to finish off a match with an ace and I finally did it tonight!
9:58 p.m. We end up beating Denison, 6-3, for our tenth straight win. We pack up and head to Elms Pizza Parlor for dinner. As we pull up, I realize we went here my freshman year after losing to Denison, 8-1. Oh, how the tides have turned!
10:46 p.m. On the bus and heading back to campus. I try to stay awake with my usual tactic of looking through all of my social media.
11:20 p.m. Arrive at the KAC. I unload my gear, put my dirty clothes on my loop and shower.
11:50 p.m. A small group of us walk up the hill, eager to get home. We continue to reminisce about the match.
12:00 a.m. Finally home. My boyfriend calls right as I get to my room and we talk for a little bit. After we hang up, I get ready for bed.
12:17 a.m. In bed! Tired and ready to sleep.
Students, alumni and faculty address questions they have been wrestling with as issues of inclusion ignite debate…
Read The Story
Ted Walch, teacher to the stars, directs his final play … for now.
Read The Story
How far has Kenyon come in welcoming a diverse, inclusive community — and what hard work lies ahead?
Read The Story