Seminar from Your Sofa
Juggling work, family life, breaking news updates and constant distractions from social media can sometimes make it hard to sit down, read a book and just think. If you ever wish you could head back to the Hill and take a seat around the seminar table, we've got the next best thing. With a focus on diverse topics, readings and authors, we've collected the syllabi from six intriguing Kenyon courses for you to read (and, in some cases, watch) along with from home.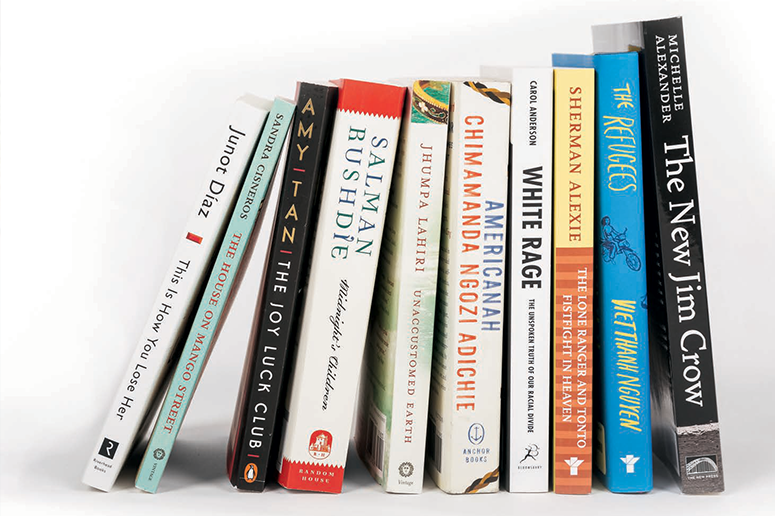 ENGLISH 391:
Ethnic-American Fiction: Short-Story Cycles
Ghassan Abou-Zeineddine, visiting assistant professor of English
From the course description: "We will examine the ways certain Ethnic-American writers practice this expansive literary form that is not simply a sum of its parts, but rather an intricate communication between its parts to produce a luminescent mosaic. We will consider the narrative risk of redundancy in the form's use of repeated motifs and study how authors circumvent this risk. This examination will also seek to explore the diverse range and complexities of the Ethnic-American experience, which is often shaped by immigration, religion, gender, sexuality, political history and a sense of community belonging."
Reading list:
Junot Díaz, "This is How You Lose Her"
Amy Tan, "The Joy Luck Club"
Edward P. Jones, "All Aunt Hagar's Children"
Sandra Cisneros, "The House on Mango Street"
Sherman Alexie, "The Lone Ranger and Tonto Fistfight in Heaven"
Viet Thanh Nguyen, "The Refugees"
Jhumpa Lahiri's "Unaccustomed Earth"
Alice Mattison, "In Case We're Separated: Connected Stories"
---
HISTORY 209:
History of North American Indians
Patrick Bottiger, assistant professor of history
From the course description: "This course will highlight the fact that American Indians are intimately intertwined with the histories of various European colonial empires, African peoples and the United States, but also that Indian peoples have distinct histories of their own that remain vibrant and whole to this day."
Reading list:
Timothy Pauketat, "Cahokia: Ancient America's Great City on the Mississippi"
Pekka Hämäläinen, "The Comanche Empire"
Luther Standing Bear, "My People the Sioux"
Malinda Lowery, "Lumbee Indians in the Jim Crow South"
LaDonna Harris, "A Comanche Life"
---
ANTHROPOLOGY 254:
Asians In/Through Pop Culture
Sam Pack, associate professor of anthropology
From the course description: "This course will examine the ways in which Asians have been constituted in popular culture and have constituted themselves through popular culture. The primary objective will be to challenge students to rethink the very notion of the popular and view popular culture not as something trivial but as a critical mode of production with racial, ethnic, political and economic ramifications."
Reading list:
Kent Ono and Vincent Pham, "Asian Americans and the Media"
Euny Hong, "The Birth of Korean Cool"
Christine Yano, "Pink Globalization: Hello Kitty's Trek Across the Pacific"
Ian Condry, "The Soul of Anime: Collaborative Creativity and Japan's Media Success Story"
Andrew Weintraub, "Dangdut Stories: A Social and Musical History of Indonesia's Most Popular Music"
Film list:
"Who Killed Vincent Chin?," directed by Christine Choy and Renee Tajima-Peña
"Ms. Swan at the Candy Store," MADtv sketch (available on YouTube)
"Linsanity," directed by Evan Jackson Leong
"Sa-I-Gu," directed by Dai Sil Kim-Gibson, Christine Choy and Elaine Kim
---
HISTORY 412:
Race, Politics and Public Policy
Glenn McNair, professor of history
From the course description: "This course will examine the impact of race on politics, political parties and public policy in the United States from the 1930s to the present. Topics will include federal housing policy, urban renewal, the construction of the highway system, the civil rights and Black Power movements, the rise of the Republican Party, busing, affirmative action, congressional redistricting and the War on Drugs."
Reading list:
Ira Katznelson, "When Affirmative Action Was White"
Thomas Sugrue, "The Origins of the Urban Crisis"
Rick Perlstein, "Nixonland"
Charles Murray, "Losing Ground: American Social Policy, 1950–1980"
Michelle Alexander, "The New Jim Crow: Mass Incarceration in the Age of Colorblindness"
John McWhorter, "Winning the Race: Beyond the Crisis in Black America"
Carol Anderson, "White Rage: The Unspoken Truth of Our Racial Divide"
---
WOMEN'S AND GENDER STUDIES 242:
Transnational Feminisms
Marta Sierra, professor of Spanish
From the course description: "The course builds on four key concepts: development, democratization, cultural change and colonialism. Because transnational feminisms are represented by the development of women's global movements, the course will consider examples of women's global networks and the ways in which they destabilized concepts such as citizenship and rights."
Reading list:
Amalia Mesa-Bains and bell hooks, "Homegrown: Engaged Cultural Criticism"
Fatima Mernissi, "Dreams of Trespass"
Chimamanda Ngozi Adichie, "Americanah"
Sangtin Writers and Richa Nagar, "Playing with Fire: Feminist Thought and Activism through Seven Lives in India"
Film list:
"The Shape of Water," directed by Guillermo del Toro
"Warrior Marks," directed by Pratibha Parmar
"Señorita Extraviada," directed by Lourdes Portillo
---
RELIGIOUS STUDIES 391: SPECIAL TOPIC
Hindu Narratives: Fiction, Film and the Postcolonial Imagination
Arun Brahmbhatt, ASIANetwork-Luce Foundation postdoctoral teaching fellow in Hinduism
From the course description: "This course is an exploration of Hinduism and postcolonialism through fiction and film. We will examine how novels and cinema have provided an enduring medium over the past 70 years to grapple with notions of religious identity, history, myth, gender and sexuality."
Reading list:
R.K. Narayan, "The Guide"
U.R. Ananthamurthy, "Samskara"
Salman Rushdie, "Midnight's Children"
Chitra Banerjee Divakaruni, "Palace of Illusions"
Rakesh Satyal, "Blue Boy"
Vivek Shraya, "God Loves Hair"
Film list:
"Amar Akbar Anthony," directed by Manmohan Desai
"Devi," directed by Satyajit Ray
"Ankur," directed by Shyam Benegal
"Hare Rama Hare Krishna," directed by Dev Anand
"Bombay," directed by Mani Ratnam
"Fire," directed by Deepa Mehta
"Kabhi Khushi Kabhie Gham," directed by Karan Johar
"Masaan," directed by Neeraj Ghaywan
Ted Walch, teacher to the stars, directs his final play … for now.
Read The Story
How far has Kenyon come in welcoming a diverse, inclusive community — and what hard work lies ahead?
Read The Story
Students, alumni and faculty address questions they have been wrestling with as issues of inclusion ignite debate…
Read The Story