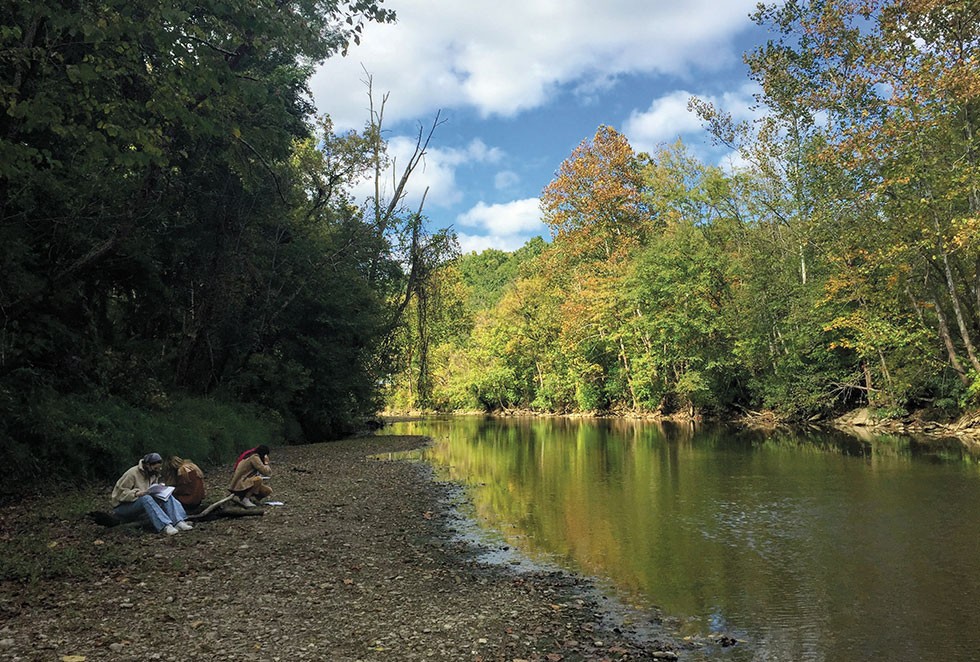 Depending on your mood, Kenyon's rural setting can be an idyllic, unspoiled backdrop against which the perfect college experience can unfold, or a cursed obstacle that prevents you from getting to Trader Joe's in under an hour.
But "Reading the Ohio Landscape" is all about location, and Ruth Heindel makes Gambier and its surroundings central to her course. Outside of phys ed, it's sure to be the most sunshine and movement any student can expect from a 100-level class, with most meetings taking place outdoors at the Brown Family Environmental Center (the syllabus specifically notes walking shoes and sunscreen as essential materials).
"We have an amazing resource here at Kenyon with all of the BFEC lands and surrounding [Philander Chase] Conservancy lands, and some students aren't that aware of it," Heindel said.
Once Heindel explains the basics of field observation — "What can you hear? How do the seasons change? What can you capture in a drawing, or in a photograph?" — students are set loose to choose any spot on Kenyon lands to visit week after week. "It forces students to slow down a little bit and take the time and the care to notice things," Heindel said. "It becomes this kind of grounding moment in each of their weeks."
In addition to field trips to nearby parks and forests, the class visits the Gund Gallery to learn about the intersection of science and Indigenous knowledge and the Kokosing Nature Preserve, a former golf course transformed into a green burial cemetery, as a case study on ecological restoration.
The course culminates in an online exhibition of the class's chosen locations and their field observations. As a bonus, their observations have helped Heindel, who came to Kenyon from Colorado in 2020, learn more about Ohio's geology. "I'm still learning a lot with the students," she said. "This class is only going to get better over time as I learn the surrounding landscape."